So you've decluttered, organized, and decorated your space. Good job! You probably feel like a brand-new person who's got their life together. If you're still looking for ways to elevate your living space, we know just what you need: Scented candles.
STILL SHOPPING AROUND FOR ROOM DECOR? READ THESE:
Not only do a lot of them come in gorgeous packaging that can double as home decor or even art, aromatherapy can do wonders for your mood depending on the scents that you choose! If you don't know where to look, we round up 10 local brands that create some gorgeous scents to help you relax, unwind, and rejuvenate.
Check out these Instagram shops for scented candles:
Saan Saan
Saan Saan is known for their popular amber candles that have a rustic-minimalist look. Their handmade soy candles come in a variety of scents-they even have a Christmas candle collection that'll put you in the holiday spirit: the No. 24 Christmas Cafe and No. 25 Pumpkin & Juniper-both effuse scents of salted caramel, juniper, and pumpkin spice. Better act fast since their candles tend to fly off the shelves as soon as they stock up!
Available online.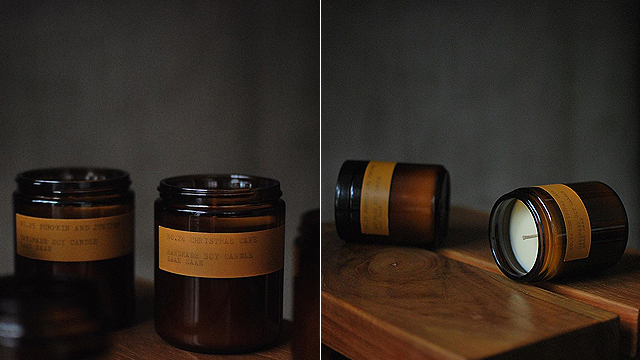 ADVERTISMENT - CONTINUE READING BELOW ↓
Sunny Label
Sunny Label's adorable candles come in the cutest little hand-painted jars that will surely brighten anyone's day. The hand-poured scented candles are made with raw soy wax and are infused with a rich blend of essential oils. They're available in a variety of scents: Moon Soy Candle (lavender and coriander), Sea Soy Candle (wood sage and sea salt), Sunrise Soy Candle (english pear and freesia), Sunset Soy Candle (peony and blush suede), and Mountains Soy Candle (green tea). 
Available online.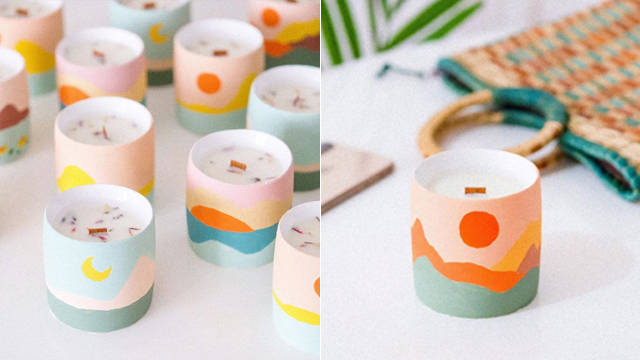 La Vela Manila
La Vela Manila is where you can get crystal-infused scented candles that don't only smell great, but look gorgeous, too. Their hand-crafted Esperanza scented candles come in black tin cans with wood wicks and have a lovely blend of peonies, berries, and musk that'll help you unwind after a long day. They come in a variety of scents like Lakambini (rose and lavender), Bathala (wood sage and sea salt), Tala (vanilla and lily), Aman Sinaya (ocean), Kanlaon (cedar, sandalwood, and oakwood), Mayari (peppermint and eucalyptus), Mapulon (oakmoss, basil, and thyme), and Hanan (coffee). Plus, they've partnered with ThisAbled HeART and Labang Pangkalusugan to raise funds to be able to provide medical and educational kits to PWDs and Lumad Bakwit Schools in Quezon City, Cebu, and Davao.
Available online.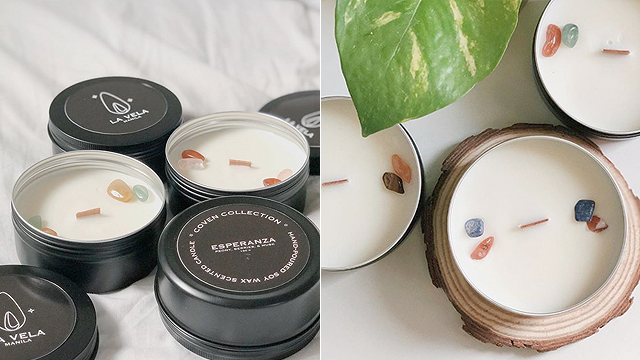 Sunday Zen
If you're into astrology, then you'll want to check out Sunday Zen's collection of zodiac-themed candles. The soy candles are eco-friendly, burn clean, and leave a lovely scent in your living spaces. Each zodiac sign candle is a bit more personalized, featuring a statement that suits each sign. They come in artisan ceramic pots that are kiln-baked and specially glazed in Albay and hand-painted in Laguna, so you're also supporting the livelihood of local craftsmen every time you purchase. 
Available online.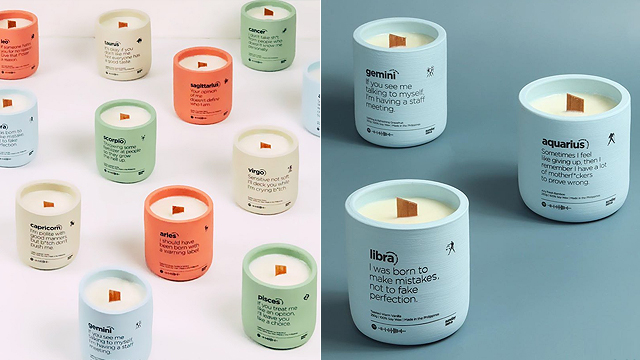 ADVERTISMENT - CONTINUE READING BELOW ↓
Olk Candle
Looking for scented candles that are also eye candy? Olk Candle has a selection of soy candles in tin cans and embellished with blooms that make them double as home decor. You can put them in several corners of your space to spruce up your home! Their candles are made from 100% soy flakes imported from Korea and they're available in a wide selection of scents, so whether you're into fruity or earthy aromas, you're sure to find one to suit your taste. Fun fact: The owner is a licensed candle maker from South Korea!
Available online.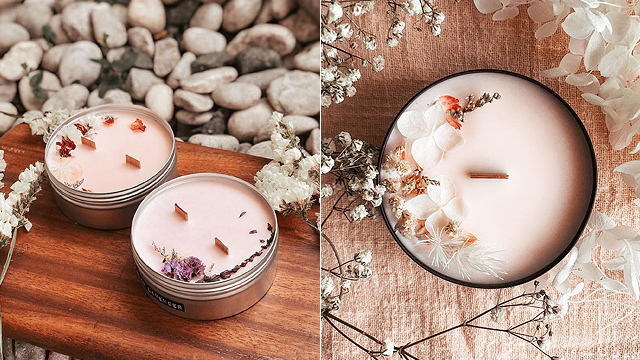 23rd Street Candle Co.
If you're having a marble phase, you'll want to get your hands on 23rd Street Candle Co.'s candles in their gorgeous, refillable marble canisters. The soy candles are topped with crystals and botanical elements that offer healing and rejuvenation. You can get the candles in scents like Inner Peace (rose, orange, patchouli), Lullaby (lavender, geranium, clary sage), Sacred Smoke (cinnamon, vanilla, peppermint), Pixiedust (wild orange, lemon, lime, peppermint), Full Moon (ylang-ylang, sandalwood, bergamot), and more. 
Available online.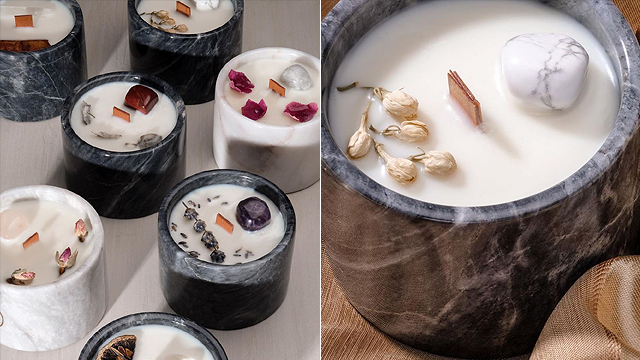 Oonah Handcrafted
Oonah Handcrafted has a Sampler Kit (P680) that contains three 4-oz. scented candles pre-picked from their fragrance selection. Their soy candles are all hand-poured and come in amber small-sized jars that are perfect for small spaces. Each candle has a burning time of 20 to 22 hours. You can place them on your work desk or on your bedside table for instant relaxation. 
Available online.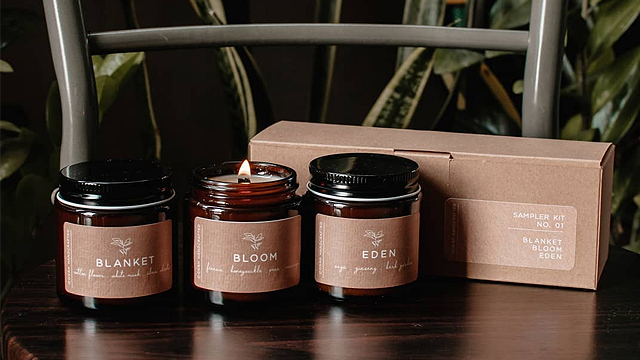 ADVERTISMENT - CONTINUE READING BELOW ↓
Cosmic Candles
Inspired by the stars, Cosmic Candles makes hand-poured soy candles embellished with dried blooms and healing crystals. Each 150g tin can is customizable-just check out their Instagram highlights to see how you can create your own scented candle. Cosmic Candles takes pride in being as eco-friendly as possible by using natural and renewable ingredients that are more affordable. Soy wax burns slower, which lets the scent stay in the air for longer periods of time. Plus, they use wooden wicks which are more sustainable than the usual cotton wicks found in other candles. Wooden wicks give longer-lasting flames and a more even burn, so your candles stay #aesthetic.
Available online.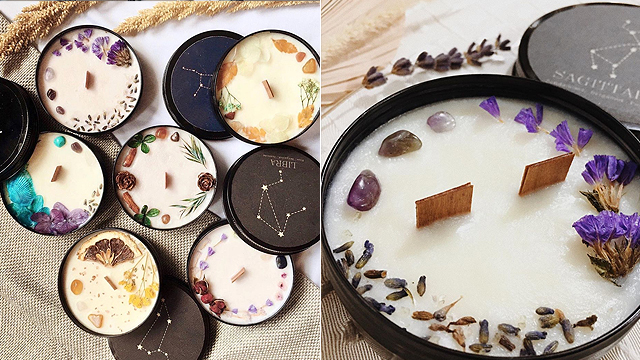 Pahulay
Pahulay in Cebuano means "rest." "Rest, often neglected, is an essential part of our well-being," they write on their Instagram. The owner's way of resting is through watching films, which is why Pahulay's scented candles are all inspired by some of her favorite movies. The soy-wax candles are available in three lovely scents: Grandpa's House (olive and leather, patchouli, and amber) inspired by The Godfather, By The Shore (ocean, sea salt) inspired by Y Tu Mama Tambien, and Rustic Room (cedarwood, cinnamon, pine, and rose) inspired by Little Women. The candles come in a transparent jar with minimalist labels, perfect for your boho-chic aesthetic. 
Available online.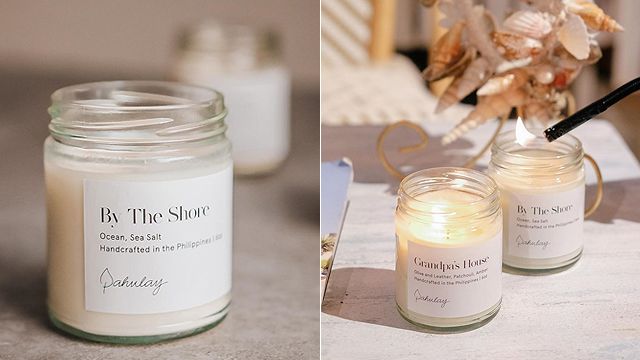 Finn The Label
Finn The Label's scented candles make use of locally sourced beeswax, cold pressed virgin coconut oil, and pure essential oils. Each candle is topped with real dried flowers and ornamental leaves like hydrangea, eucalyptus, and gypsophila and comes in a glass jar. The candles come in four scents: Sacred Bali (champaca, frangipani, and sandalwood), Lavender, Jitterbug Perfume (sampaguita, bergamot, calamansi), and Lavender + Elemi.
Available online.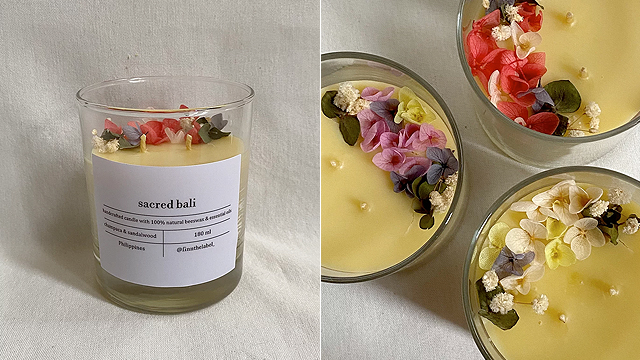 ADVERTISMENT - CONTINUE READING BELOW ↓
STILL SHOPPING AROUND FOR ROOM DECOR? READ THESE:
Check out Spot.ph on Viber to join their Community and subscribe to their Chatbot.