Some of us picked up baking as a hobby during Lockdown Season One and haven't stopped since. (READ: My Friend And I Tried To Make Mochi From Scratch *Virtually* And It Was Actually *Super* Fun). Now that real-life is no longer put on hold, we thought it was time to continue our baking adventures in person. Ginyn, the author of the previous article, and I have already done multiple virtual baking sessions, so it was about damn time we leveled it up and brought it into the real world. It's impossible to bake two separate projects in one living space—we are mere humans living in small spaces—but Bakebe made it possible for us to live out our Nailed It! dreams. (Mexico has the best franchise. And this dream also involves a fully stocked pantry and magical clean up, of course.)
Nothing like some friendly competition to light the fire and ensure maximum chaos—because the more lols, the more memorable, duh. And to raise the stakes, we chose what could possibly be the most complicated project—the French macaron. As if that wasn't enough of a challenge, we chose the super cute Oink Oink Macaron (P1,799 on weekdays and P1,999 on weekends). Just look at their little faces before chomping on them!
ADVERTISMENT - CONTINUE READING BELOW ↓
The Primer
After booking through their website, all you have to do is show up. There is an option to have them pre-measure everything. TBH, that would've been such a big help. (They're also just there to help you out with whatever you need.) But being agents of chaos, we chose to do it ourselves. We even challenged ourselves to beat the time estimate Bakebe set for us, but more on that later.
ADVERTISMENT - CONTINUE READING BELOW ↓
Recommended Videos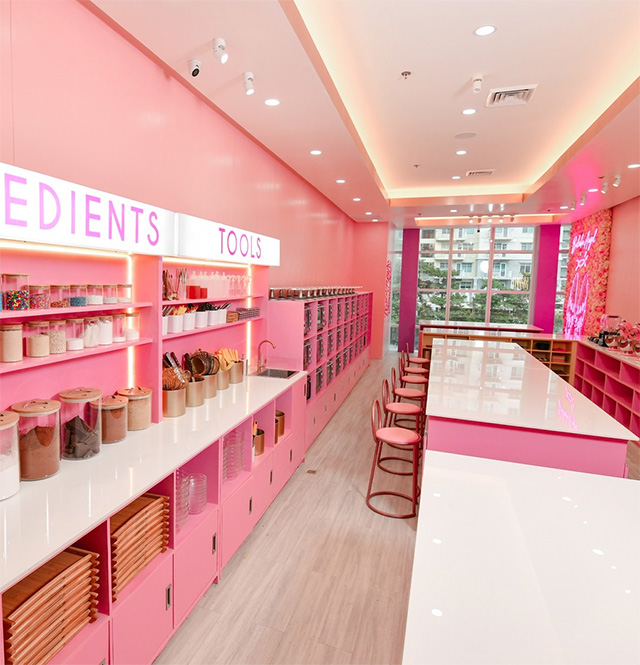 Once you check in with the front desk, they will help you get settled on a counter, pick an oven, and brief you on everything you need to know about the space. They will also give you an iPad which will serve as your cookbook. Be warned that the videos on the app don't always accurately reflect what you have to do IRL, so be sure to properly read the instructions. 
ADVERTISMENT - CONTINUE READING BELOW ↓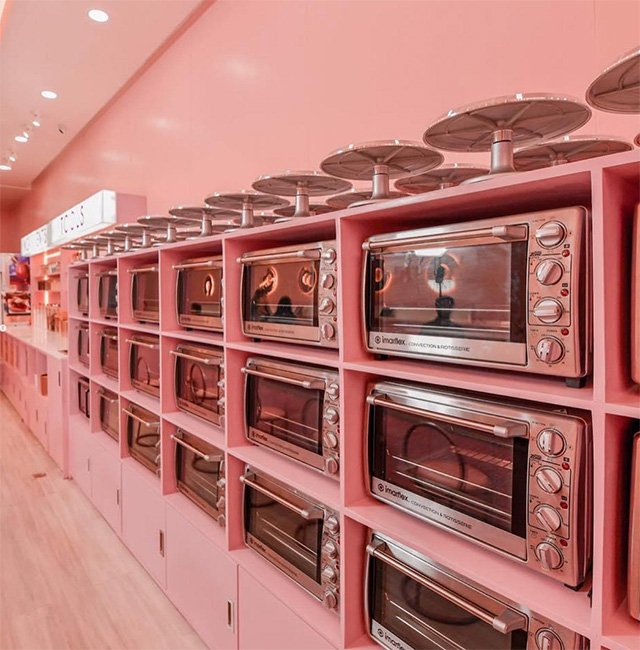 Basically, macarons are made of two parts: the shell and the filling. The shell is an almond cookie made with only ground almonds, egg whites, sugar, and food coloring. The filling is typically a flavored buttercream, which is just butter, sugar, and flavor, occasionally with milk or cream. But because these are piggy macarons, there is a third component: their faces. We used royal icing, which is made of egg whites and confectioners' sugar.
ADVERTISMENT - CONTINUE READING BELOW ↓
Let's Get It (Macar)On!
First up was weighing everything in separate containers. This would've been simple enough, except we couldn't get the precise measurements. I'd always overshoot by a few grams, but it wasn't like I could just return those extra grams into the containers—and I didn't have time to spare—so I just carried on in haste. The delicate process of sifting everything to get the smoothest macaron shells were waiting, and boy, was it time-consuming. I used this time to taunt Ginyn about the progress I was making as she was still weighing ingredients at this point.
Frankly, the sifting stage was endless. Even the staff told us to just junk the portions that refused to go through the sieve. 
Now it was time to figure out the shiny pink KitchenAids—the stuff of dreams, if you, like us, have to settle with handheld mixers at home. There was a bit of a learning curve on just how to attach the whisk. Now we understand why contestants on cooking shows, even the real proper ones like MasterChef, always muck about with the appliances. But having learned my lesson from these shows, I confidently left the egg whites to stiffen while I went back to sifting. Ginyn dutifully watched hers. 
ADVERTISMENT - CONTINUE READING BELOW ↓
Now is also probably the time to mention that I wasn't able to squeeze out a proper amount of pink food dye for the piggies, so I settled for whatever was easy. Blues and purples were in abundance so I squeezed out a tiny amount of those. I was really ready to get creative with the design!
Then it was time to fold all the other dry ingredients in a process called macronage. Honestly, I can't recall if the recipe instructed us to let the machine do it. (I think it did though because Ginyn spent more time by the mixers.) But because this wasn't my first rodeo (I've made macarons once, TYVM), I decided to do it by hand. I kept folding the almond powder in until I figured something wasn't right. The consistency was too wet. I looked down at the bowl of granulated sugar on my workspace and asked Ginyn if she had used hers. Yes, it was supposed to go in the mixer while the eggs were being beaten. Oh well, too late now! So I just chucked it in and the whole mixture looked a little more correct, even if I couldn't get a solid figure 8 with my batter. Close enough, it was time to move on to the next step. Into a piping bag, it went.
ADVERTISMENT - CONTINUE READING BELOW ↓
Unfamiliar with piping, I had the hardest time filling the circles on the silicone molds. This was the only time I consulted the staff. I asked if there was anything wrong with my batter, and was glad to find out it was just my piping technique that needed work. Once that was dealt with, in the oven it went. Typically, this would've been just left out to air dry, but Bakebe helped kill downtime. I used these 10 minutes to regroup and get ready for the next steps. 
Ginyn, who's more used to icing and decorative work, had no trouble piping hers. But it was at this stage that it was clear that we ended up with very different consistencies. Hers was fluffy and well-aerated, like a meringue. I had successfully knocked all the air out of mine, so it was way more flat and runny in comparison.
ADVERTISMENT - CONTINUE READING BELOW ↓
Once the shells had formed—they were dry to the touch—it was time to fan them before they could go in the oven for their real baking time. Of course, we used this time to take pictures of our creations. Mine looked promising, while Ginyn's were looking a little pointy. Make of that what you will.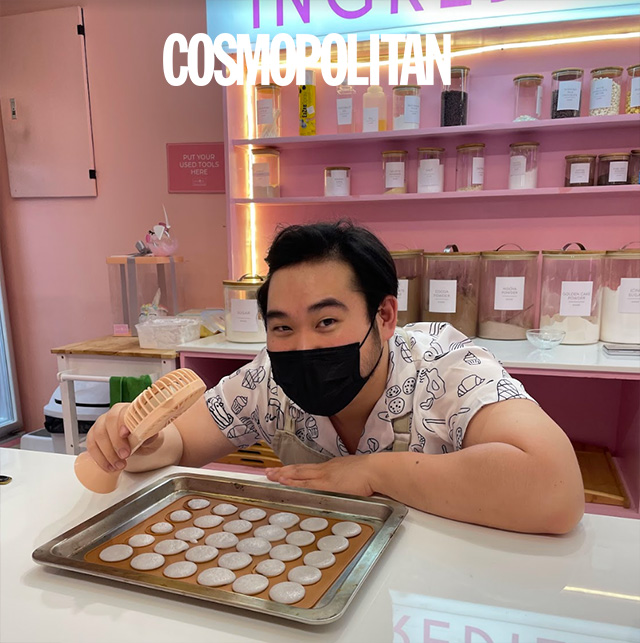 ADVERTISMENT - CONTINUE READING BELOW ↓
Then it was the actual bake time of 20-plus minutes. We went from appreciating the breather to just being plain anxious about the time, so we zipped right ahead to gather the ingredients for the filling. Bakebe went fancy with a ganache filling, which was made of white chocolate, cream, and flavoring. I don't typically do vanilla, so in true chaos mode, I got lychee and lemon instead. He is an artist or whatever.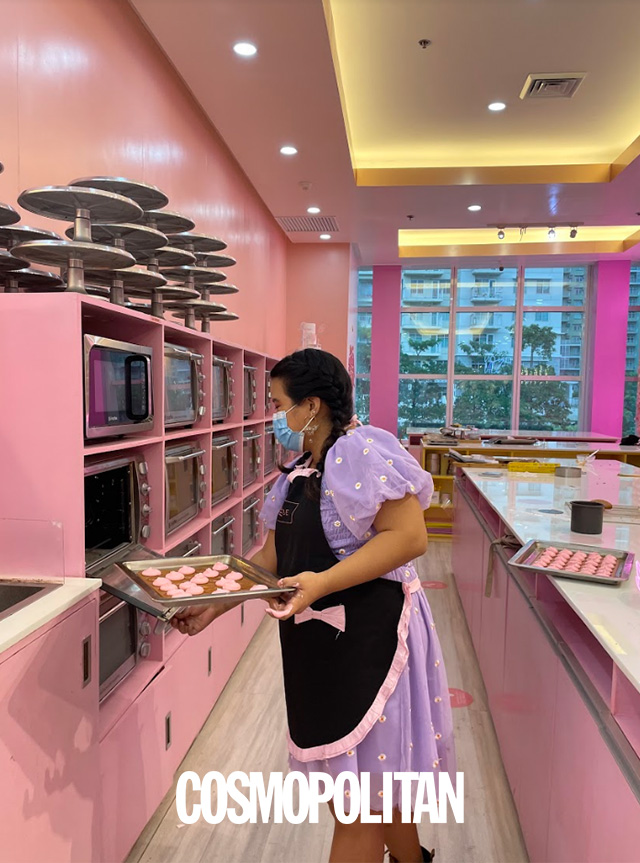 ADVERTISMENT - CONTINUE READING BELOW ↓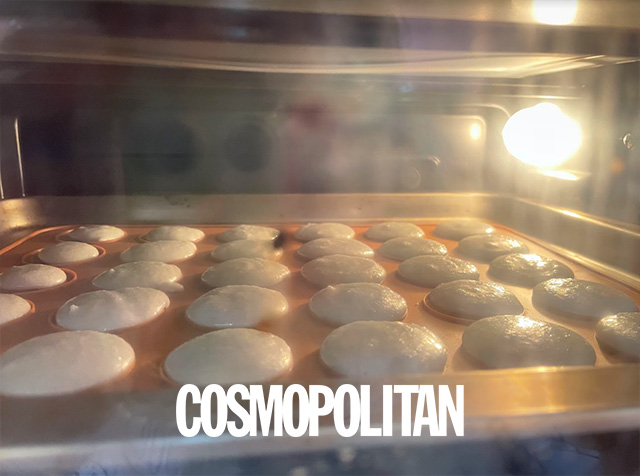 Making the ganache involved blasting the choc in the microwave and then mixing the other ingredients in. Once smooth, the ganache went into a piping bag and into the fridge to cool for a bit. This is to make it more manageable to work with. 
Once the shells were done baking and cooling, mine looked… wrong. They were cracked like crinkles. I knew it was time to change tack as there was no way these would look good as macarons, let alone cute little piggies. Ginyn's came out looking like those meringue candies. Very rustic, very nostalgic, but not quite there for macarons either. This was already around an hour and a half in. Our energy reserves were waning! But it wasn't over yet. Cue the giggles (and the sighs of exhaustion).
ADVERTISMENT - CONTINUE READING BELOW ↓
After we'd recovered, it was time to decorate them. I'll spare you the details of the royal icing prep as it was pretty uneventful. But painting the shells was the most—the absolute most tedious—part of the entire process. Ginyn soldiered on with the piggy faces, then eventually went ahead with doing flower motifs, which made them look like nips. I simply made drops to resemble chocolate chips. I've fully embraced the cookie look. I mean, what are macarons if not cookie sandwiches?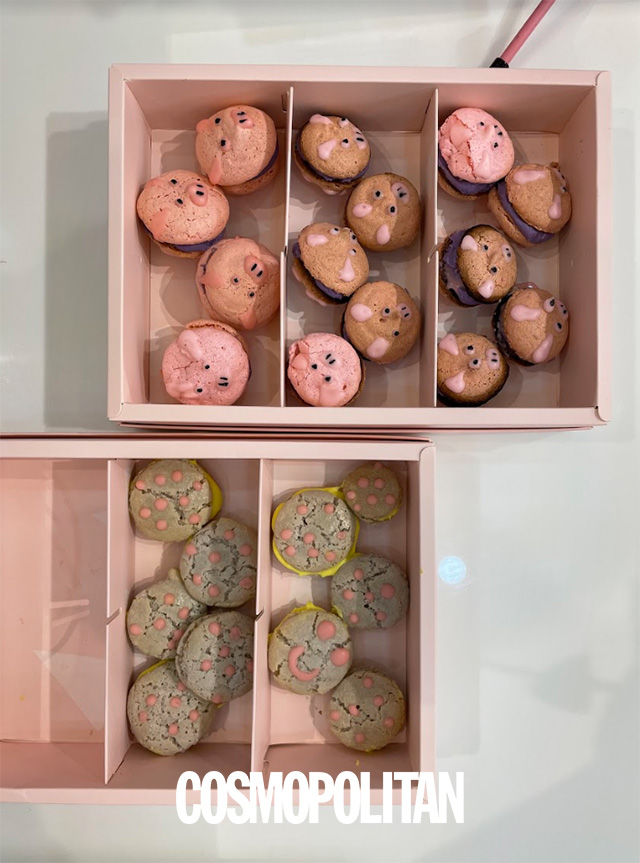 ADVERTISMENT - CONTINUE READING BELOW ↓
Then we matched the shells that were approximately the same size. Even if mine weren't exactly the same sizes, the mold provided enough of a framework that they weren't too hard to match. We filled them, easy peasy. And just like that, we were done. Tired, but done.
Nailed It!
After two (or more) laborious hours of slaving away at a mall, we had our macarons. As expected, we weren't able to finish in the condensed timeframe we hoped for. We started the project with giggles bubbling over. But a little over halfway, we lost steam. Ginyn attributed it to dehydration as we had nary a sip of water. I also chose to stand the entire time, while Ginyn grabbed one of the high stools.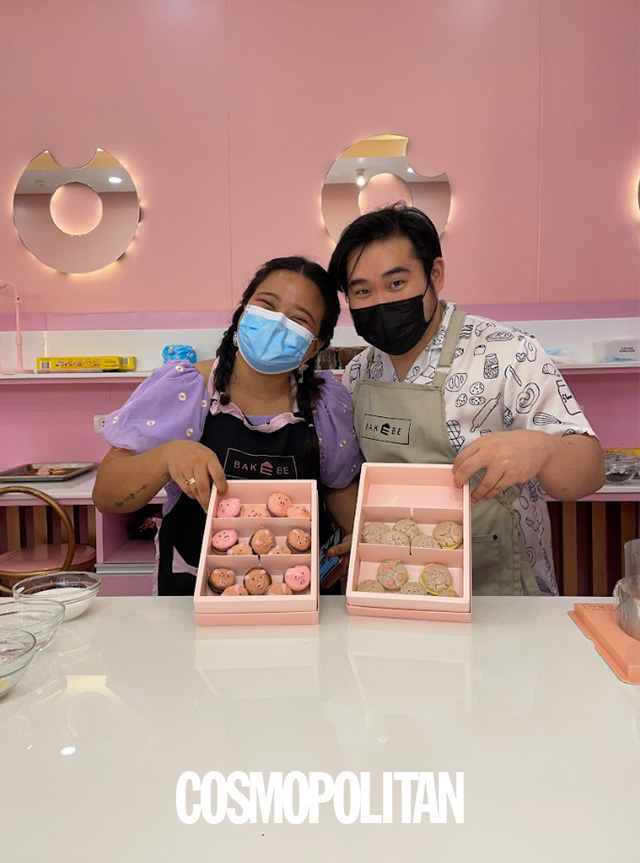 ADVERTISMENT - CONTINUE READING BELOW ↓
All in all, we were glad enough that our macarons resembled actual macarons, albeit those cheap macarons without feet. They can't hold a candle to Bizu (let's not even think about Pierre Herme here!), but hey, not bad for a second try. Others fail completely; in that case, they have the option to redo the project at 50% off. 
All that was left to do was take pictures with our creations. We were so ready to call it a day.
Bakebe is at 2/F SM Aura, 26th Street corner McKinley Parkway, BGC, Taguig. For more information, visit their website or their Facebook page. 
EXPLORE COSMO