People will warn you against going into business with your friends because the change in dynamic could spell disaster not just for your business, but for your bond, too. But for best friends Danielle Tan and Christine Tiu, the opposite happened: Their friendship became even stronger.
It helps that Danielle and Christine are bound together by a strong belief in the craft and craftsmen behind their jointly-owned social enterprise, AMAMI. AMAMI is a jewelry brand that celebrates the centuries-old jewelry traditions of the Philippines, beginning with the country's gold filigree jewelry tradition—which you may not know was actually around even before the Spaniards came.
Through AMAMI, the best friends are reintroducing this dying remnant of pre-colonial culture to younger Filipinos, while at the same time empowering its few remaining artisans so that the craft continues to live on for generations to come.
Read on to find out how Danielle and Christine have gone from best friends since childhood to business partners with a vision.
How they met:
Danielle: We were classmates in kinder but only really started talking in Grade 1. We naturally enjoyed each other's company; even when we weren't classmates anymore from Grade 6 until we graduated from high school, we always managed to find activities we could do together. We were even in very different courses in college and wouldn't have any classes together, but we'd somehow end up in the same organizations!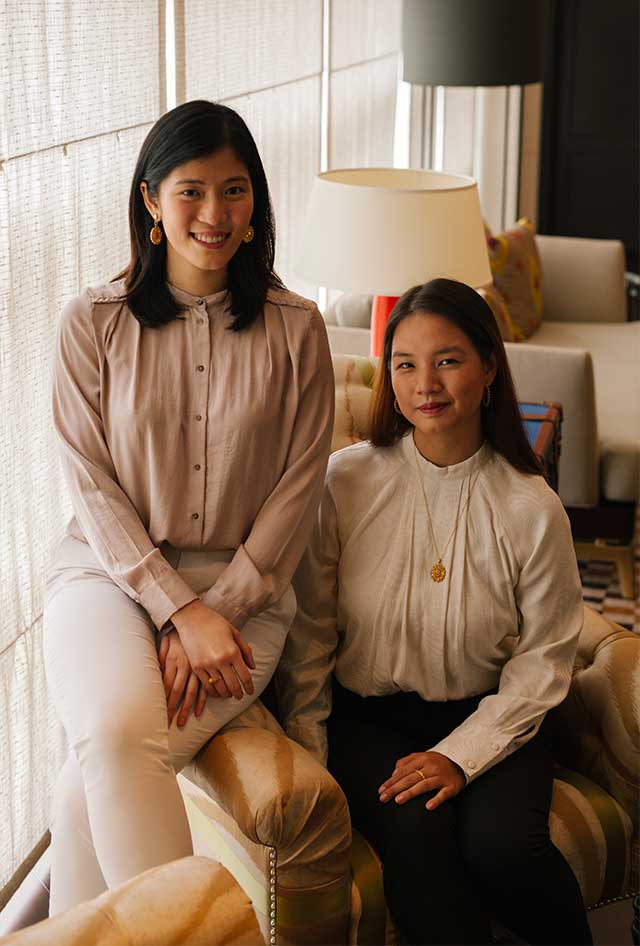 Continue reading below ↓
Recommended Videos
Christine: My earliest memory of Dani was one time in kindergarten; when the bell rang at dismissal time, I don't know why but I rushed to get her green jug for her from our classroom's common shelf. I ended up accidentally spilling her water all over the floor! She (thankfully) does not remember this.
What set them down the social entrepreneurship path:
Danielle: I graduated from Ateneo de Manila University with a double degree in Economics and Applied Mathematics, majoring in Mathematical Finance. While in university, I co-founded and managed my own business for three years, was active in community-based organizations such as Kythe and Consultants for Organization Development and Empowerment (CODE), and gained experience in the banking industry in one of the world's biggest corporate banks. After graduating, I pursued a corporate job as a consulting analyst in Willis Towers Watson and eventually worked on AMAMI alongside my corporate job.
I first dreamt of having my own social enterprise after attending a talk given by Krie Lopez, Messy Bessy's founder, back in 2008. I was amazed at how one could build a business but also positively impact people's lives through it. Since then, I have always wanted to find that balance of earning a living but also making sure that my actions made a positive and personal impact on the lives of the people I worked with.
Christine: Growing up, I often volunteered at charities whenever I got the chance. At 16, I became the Sangguniang Kabataan chairperson of our barangay. I majored in Business Management and minored in Chinese Studies at the Ateneo de Manila University, eventually graduating magna cum laude and program awardee in 2016. I was very active with extra-curricular activities at my university, often spending my weekends with marginalized groups. I eventually co-founded the first campus chapter of Habitat for Humanity Philippines, as well as an award-winning social enterprise providing alternative livelihood for women in fishing communities through fashion. Upon graduating, I went on to work for both for-profit and non-profit organizations. I then pursued my master's degree in China Studies as a Yenching Scholar at Peking University in China.
It was a combination of all these experiences that led me to what I do today. My exposure to the social realities of our country at a young age instilled in me a deep desire to contribute to social justice.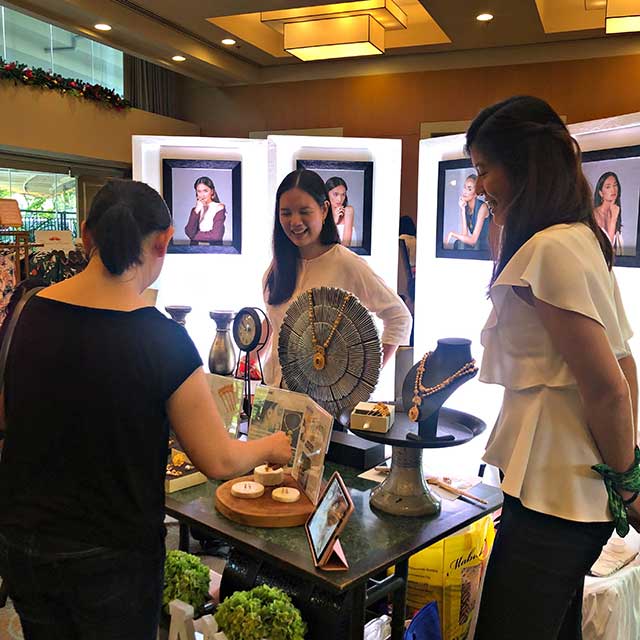 How they came up with AMAMI:
Danielle & Christine: We started out simply wanting to help the artisans we met in Ilocos whose stories deeply moved us. These artisans did not have a stable source of income, and many former artisans have already moved abroad (in search of blue-collar jobs) or moved on to other professions as they believed they could not survive on the craft, or they found the craft process too difficult and time-consuming. They often did not see the value of their work and some were even selling their products at a loss (in thousands of pesos!) out of desperation.
We saw firsthand how beautiful the jewelry they made was and became fascinated as we learned more about the cultural and historical significance behind the craft.
We saw firsthand how beautiful the jewelry they made was and became fascinated as we learned more about the cultural and historical significance behind the craft. At the same time, we learned about the plight of handcrafted gold filigree jewelry in the Philippines. It dawned on us that the craft, despite being unique and beautiful, was also on the brink of extinction.
At the time, the first artisan we met—the most skilled one and one of the last remaining artisans—was on the verge of migrating and leaving his kids behind in search of a blue-collar job overseas. He mentioned that the last order he received had been two years earlier. We knew we had to act quickly in case we could convince him to stay.
We posted on our social media accounts and started selling their pieces to our family and friends who then became our first customers. After their orders were completed, eventually we thought, "Why not create a public page to share what we've learned about the craft, and so others could purchase as well and we'd keep our efforts sustainable?"
We formally launched AMAMI's page in January of 2018. Much to our surprise, our very first post was shared several times over and gained thousands of views within days.
How AMAMI's pieces are made:
Danielle & Christine: Each AMAMI creation is a labor of love, taking no less than a day to make; some pieces even take up to a month to create! They are meticulously and expertly handcrafted by our partner artisans using the same indigenous techniques that their forefathers used. Even the same tools are still used today as they are passed down from one generation to another.
To give you a gist of the general process: Silver or gold nuggets are melted, then they go through a painstakingly long and repetitive process where they are heated and flattened until they can be turned into very fine wires, after which they are molded and shaped into beautiful and intricate designs. This process is called filigree. As a decorative element, tiny globules of gold or silver beads are created to make up the floral design which we call rositas. The process used for this step is called granulation.
How they introduce the Filipino gold filigree tradition to a younger market:
Danielle & Christine: We take traditional elements and incorporate them into our designs to create versatile pieces for today's modern Filipina which are stylish, wearable, and can be worn even on a daily basis. We also incorporated other materials such as freshwater pearls into our designs.
A big challenge was to find ways to make our pieces affordable to a younger market such that they could own a piece of heritage jewelry without breaking the bank. The traditional, full-beaded necklaces were what you would normally see; however, they were naturally more expensive due to the tedious month-long process involved in making one piece. We decided to innovate and focus on smaller, wearable pieces such as minimalist necklaces, rings, earrings, hair accessories, and bracelets.
We believe that to keep this tradition alive, a mindset change is required not just from the market we want to reach, but from the supply side as well. In fact, one of the first comments about the pieces we received was from a young relative of an artisan who said, 'Ang baduy, para sa lola ko lang 'yan!" However, a few months later, as she saw her work featured in media outlets and witnessed several other young Filipinos wearing pieces she helped make, she eventually started feeling proud of what she could do.
Additionally, we make sure to have pop-ups every once in a while, as this is our chance to raise awareness and interact with customers. In a span of two years, we've done 16 pop-ups so far!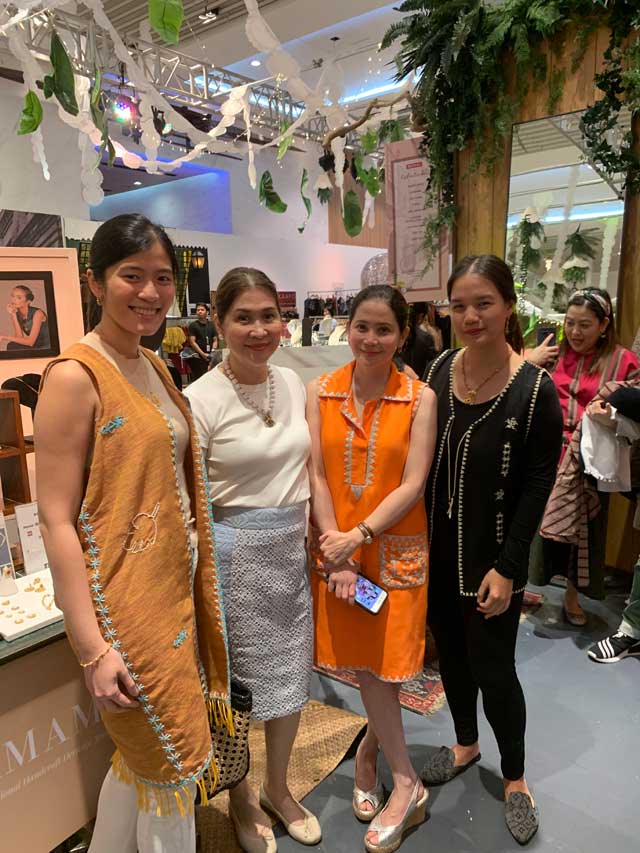 On their relationship with their partner artisans:
Danielle & Christine: We're very close; we consider each other friends! We are open and transparent with our partner artisans; we know about their families, their concerns outside of work, etc. It's a partnership and we help each other. We also make it a point to try to visit regularly and catch up with them.
We were moved when, during one of our visits, the artisan whose home we helped build excitedly showed us a guest room that he was in the process of completing where he said we could stay for our future visits.
How their friendship has evolved:
Danielle: Conversations now are a lot more serious than they were before and most of our time together is now spent on AMAMI. But I believe our friendship has become a lot stronger because we don't just hang out when it's convenient or when we feel like having fun; we see each other now also to work and achieve things together. We've learned to adjust to each other even on our off days and really learn how to give and take and work as a team.
Christine: Many people have warned us that working with friends is never a good idea, but I think it has helped our friendship grow even more. To me, it helps that we are friends because we can always be open and honest. It is also incredibly comforting knowing that someone will always have your back, not just with personal matters but now also with work-related matters. Because we are usually silly and like to joke a lot around each other, at the start we had to figure out how to switch from "friend mode" to "work mode." So far it's worked out. And it's fun because sometimes we'll be discussing a serious topic at work and then suddenly burst out laughing after remembering a memory or inside joke.
For inquiries and orders, visit AMAMI on Instagram or Facebook, or send them an email at hello@amamiph.com.
Follow Cheekie on Twitter and Facebook.