Gelaine Santiago was born in Malolos, Bulacan but moved to Toronto, Canada when she was just three years old, so she's the first to admit that she didn't know much about being Filipino growing up.
That all changed on an eye-opening trip to the Philippines—her first since moving to Canada—which led her and her now-husband, Jérôme Gagnon-Voyer, to launch the Philippine social enterprise directory ChooseSocial.ph in 2014, then the social e-commerce platform Cambio & Co. in 2015.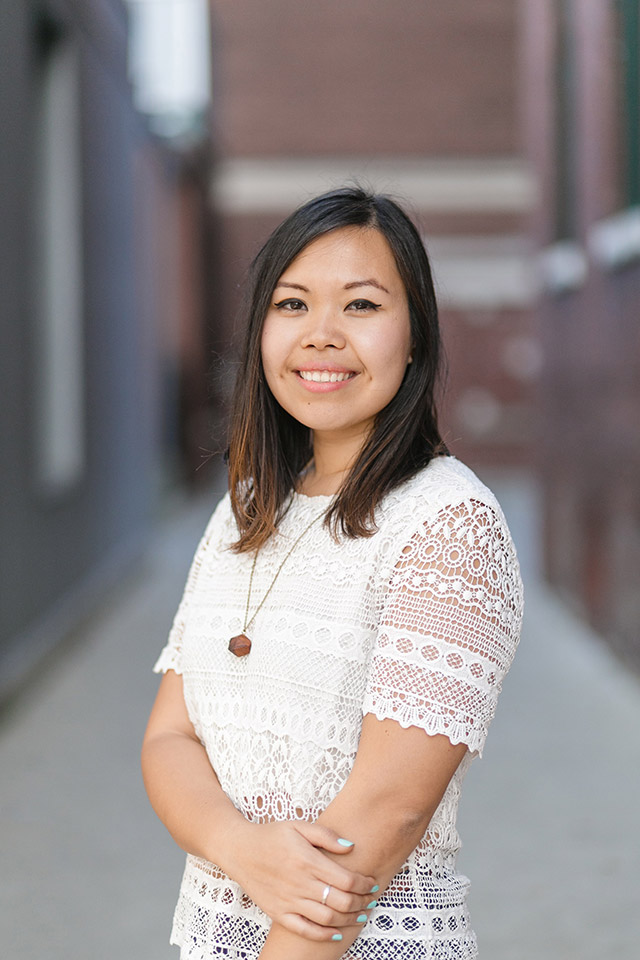 Now 29, Gelaine is one of the Top 25 Canadian Immigrant Awardees for 2019, an honor given to her on June 25, 2019 by the Royal Bank of Canada (RBC) and Canadian Immigrant magazine.
Cambio & Co. is an e-commerce fashion company that sells accessories designed and handcrafted by Filipino artisans—"contemporary, conscious fashion made with Filipino soul"—to customers in Canada, the US, and elsewhere around the globe. The platform carries products by Philippines-based social enterprises, from eco-friendly bags to pre-colonial jewelry to accessories made with traditional textiles and indigenous weaves.
ADVERTISMENT - CONTINUE READING BELOW ↓
Taking off from Cambio & Co., this year, Gelaine and Jérôme launched Sinta & Co., a conscious wedding boutique that makes Filipino wedding accessories and ceremony essentials available to couples abroad who want to wear their Filipino heritage proud in that milestone moment.
Since going down the social entrepreneurship path, Gelaine has gotten much closer to her Filipino side, and she wants to inspire that closeness among other young Filipinos who feel distant from it, like she used to feel. "We're passionate about helping to connect the younger generation of Filipinos in the diaspora with the Philippines by allowing them to wear a piece of their heritage on a daily basis," Gelaine says.
Below, learn more about Gelaine and her mission to champion Filipino-ness around the world.
Her relationship with the Philippines growing up:
For most of my life, I didn't have a close connection to the Philippines. Although I grew up eating Filipino food and surrounded by family, I wasn't encouraged to learn about the Philippines' culture and history, to speak the language, or to be involved with the community. I was really out of touch with my roots, and spent a lot of my adolescence wishing I could fit that traditional definition of what a "real Canadian" is.
It wasn't until I was in my mid-twenties that I realized how important my culture was to my identity. This was the same time we decided to launch Cambio & Co. The way our business has evolved over time has really run parallel with how my own personal journey as a Filipina has evolved. Most of what I know today about the Philippines and my Filipino heritage is what I learned in the last four years of running Cambio & Co.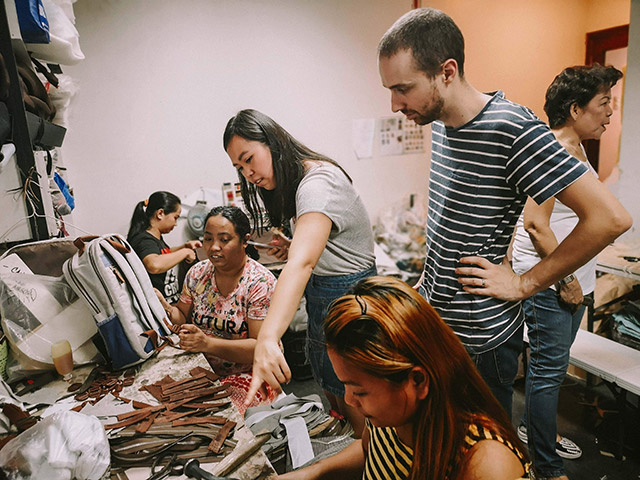 How she got into social entrepreneurship:
I began volunteering when I was thirteen, so I guess you could say social impact has always been a core tenet in my life. Throughout university, I was very involved on campus and ended up taking on a variety of roles within volunteer coordination, marketing, and operations. 
This actually led me to my first full-time position after graduation for a financial company in Toronto. I eventually realized that life in a corporate setting was not for me, and that I needed to do something more meaningful. My husband and business partner Jérôme felt the same way, and we both decided to quit our corporate jobs at the same time.
A few years earlier, we had travelled to the Philippines together (my first time returning since we immigrated) and had discovered an amazing community of entrepreneurs using fashion to provide sustainable livelihood for Filipino artisans. They were creating amazing products, but simply lacked access to the global market. The idea was turning in our minds for a while about how we could help amplify their impact.
ADVERTISMENT - CONTINUE READING BELOW ↓
Since both of us had experience working within non-profits and for-profit organizations, we got to see the best (and worst) of both worlds. When we decided to create Cambio & Co. together, we knew we wanted it to be a business with meaningful impact.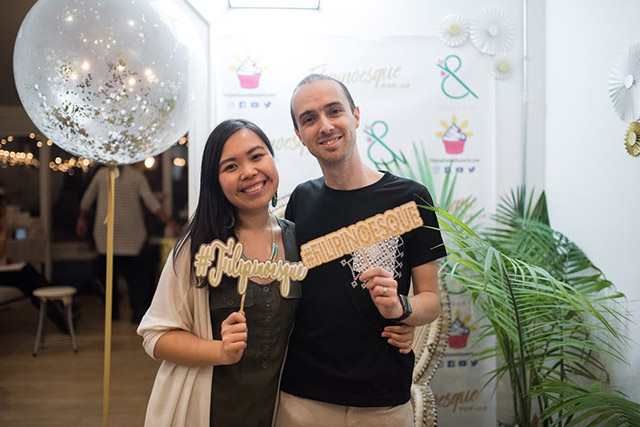 What it's like to have her husband as her business partner:

Jérôme and I met in university while we were volunteers for a non-profit student organization called AIESEC. Through AIESEC, we were both given opportunities to travel and learn about business, leadership, and social impact. I ended up doing a three-month internship in Romania and Turkey with a non-profit youth group, and Jérôme worked with a local organization in Kenya. Our relationship has always been based on our mutual passions for travel, social impact, and cultural heritage.
Even after university, we both continued volunteering for local NGOs and honing our understanding of the social impact space. When we decided to quit our corporate jobs at the same time, we thought it was the right time to build something together. A lot of people think Cambio & Co. was my idea, but it was actually Jérôme who thought of it. He had so much conviction in the idea that he convinced me to get on board.
Running a business with my husband has been one of the hardest things I've ever done, but it's also been one of the best. We've learned to trust one another in ways that are different from a traditional relationship. Jérôme and I each have our areas of strength and responsibility, and we have to trust one another completely that things will get done.
How they manage Cambio & Co. while far from their Filipino partners:
We return to the Philippines every year to meet our partners and the artisans in person, but the rest is online. There are always challenges working with a team virtually, but Filipinos are so deeply embedded in the global community. We're used to communicating online with loved ones overseas, or working for employers based outside of the Philippines. And because Internet access is quite good in the major cities like Manila and Cebu, communication has actually been pretty straightforward.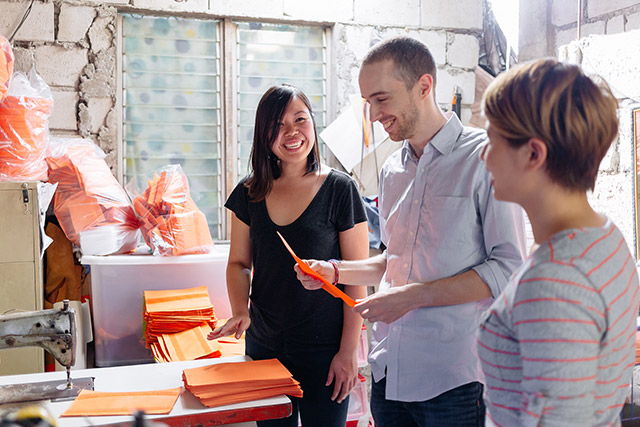 ADVERTISMENT - CONTINUE READING BELOW ↓
There are cultural differences and barriers, though. In North America, for example, people rely heavily on email and our messages would go unanswered for weeks at a time. Eventually we realized that most people in the Philippines prefer Messenger and Viber. Once we switched to that, everything became SO much easier.
About their new social enterprise, Sinta & Co.:
We were inspired to create Sinta & Co. after we went through planning our own wedding. We wanted to incorporate Filipino elements into our wedding day, but it was so hard to find any reliable resources. We realized that other couples must be struggling with the same things. 
Meaning "love" in Tagalog, Sinta aims to be a celebration of the beauty of Filipino heritage, craftsmanship, and culture on your wedding day and is rooted in the same ethical and cultural ethos of Cambio & Co.
About her Filipino customers based abroad:
Everyone's experience is so different and I don't claim to speak for everyone, but I think one of the reasons Cambio & Co. has been able to resonate so deeply with younger Filipinos across the United States and Canada is that many people are searching for reconnection. 
With Cambio & Co., we aren't just selling products. We're sharing stories of Filipino artisans, the regions they're from, the Philippines' rich cultural traditions and craftsmanship, and we're also talking about the Filipino diaspora experience. We get so many messages every week from Filipinos living in various parts of the United States who tell us how they relate so much to our stories and that they feel less alone.
Cambio & Co. provides tangible ways for people to feel connected and accepted, and I'm so proud of that.
How the Top 25 Canadian Immigrant Award happened:
The RBC Top 25 Canadian Immigrant Awards is a prestigious people's choice awards program that involves multiple levels of selection. They received 3,000 nominations, and I had the privilege of being nominated by a Filipina in the community who was familiar with Cambio & Co.'s work and had been a customer of ours.
A panel of judges then reviewed each of the 3,000 nominations and shortlisted them into the top 75 candidates. From there, the public is asked to vote for each of the candidates. Once the voting stage ends, the committee of judges reviews all applications again based on votes and merit, and then names the top 25.
To be honest, I was surprised to be nominated, even more to have been named a winner. I'm honored and humbled to be able to represent the Filipino community.
Her relationship with the Philippines now:
My relationship with the Philippines has become so much deeper, more complex, and more nuanced. I realize there were many things I had been taught to believe as a child which simply are no longer true, or are the result of deeply embedded colonial mentalities.
Working with Cambio & Co. has also given me a much more nuanced perspective of poverty, what makes and keeps people poor, and what creating meaningful livelihood and opportunities for others looks like.
ADVERTISMENT - CONTINUE READING BELOW ↓
As a child, I spent a lot of time feeling ashamed of my Filipino identity. Then as an adult, I felt guilty for not being "Filipino enough." I realize now that how I choose to express my culture and identity is personal. Similar to how there is no such thing as a "real Canadian", there is no such thing as a "real Filipino."