Hands up if you saw those intricately detailed, ethnic-inspired skirts Catriona Gray has been wearing—one at a Miss Universe event in Bangkok and another at the Miss Universe headquarters in New York—and immediately wanted one in your closet.
Both skirts are by Niñofranco, a Davao City-based label launched by 26-year-old creative director Wilson Limon. Through wearable fashion, Niñofranco champions the craft of Mindanao's ethno-linguistic tribes; in fact, the marsala skirt on Catriona features T'boli embroidery, while the denim skirt was hand-embellished by artisans of the Tagakaolo tribe.
ADVERTISMENT - CONTINUE READING BELOW ↓
Catriona is not the first local celeb to don Niñofranco—so have Marian Rivera, Matteo Guidicelli, Sharon Cuneta, and Boy Abunda. The most recent celeb to sport Niñofranco's modern take on tribal wear is Daniel Padilla, who rocked a B'laan hand-woven scarf on a trip to Japan.
ADVERTISMENT - CONTINUE READING BELOW ↓
Recommended Videos
We sat down with Wilson to learn about his passion for promoting tribal artistry, how Catriona ended up in those gorgeous skirts, and how you, too, can get your hands on a Niñofranco piece.
On Niñofranco:
"The idea behind my brand is to create something really affordable for the market, but at the same time has a touch of culture," Wilson says.
Wilson produces wearable basics that bear only tribal accents—that way, the distinct artistry of our indigenous groups becomes more accessible to people, especially young ones, who want to wear it proud.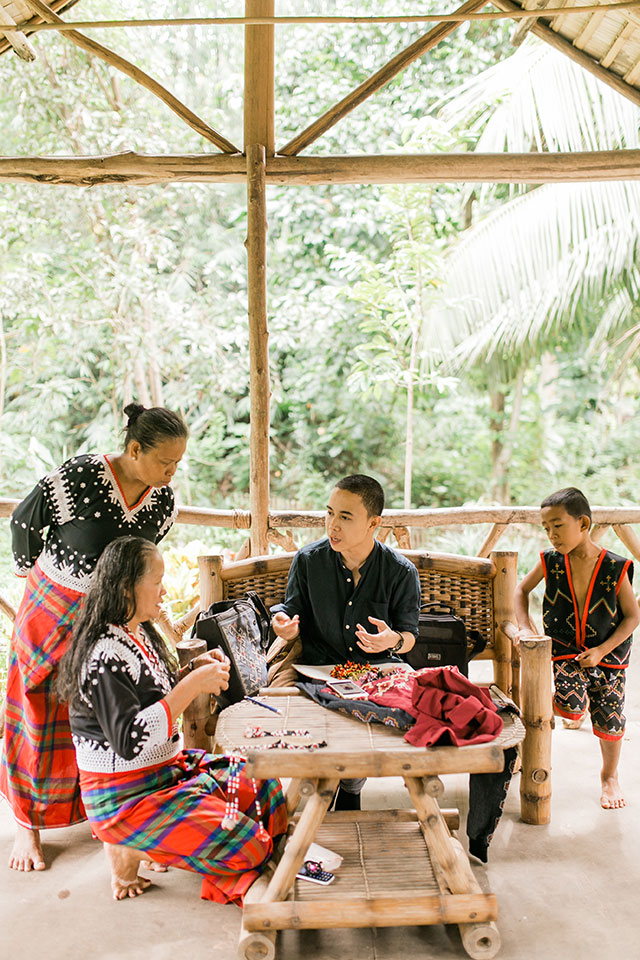 ADVERTISMENT - CONTINUE READING BELOW ↓
Among the things you'll find in Niñofranco's racks are scarves, shirts, button-downs, pullovers, kimonos, jackets, pants, skirts, and barongs. Prices start at P1,500 and can go up to P18,000 for more intricate picks. Wilson also accepts orders for custom-made pieces, which take two to three weeks to complete.
ADVERTISMENT - CONTINUE READING BELOW ↓
On how his pieces ended up on the reigning Miss U:
Wilson shares that Ton Lao, one of Catriona's stylists, first reached out to him on Instagram after she won Binibining Pilipinas 2018. He sent over one of his pieces for Catriona to wear, but didn't want to keep his hopes up that Catriona actually would. "Kung susuotin, keri. Kung hindi, I don't mind," he reveals of how he felt at the time.
That one piece turned out to be that marsala T'boli-inspired skirt. Catriona tagged Niñofranco in her OOTD post on Instagram, and soon, Wilson's phone was blowing up with follows, inquiries, and orders—both locally and from abroad.
Since Catriona loved the skirt so much, Ton then asked Wilson to send more pieces, and one of those he sent over was the Tagakaolo hand-embroidered denim skirt that Catriona proudly wore in New York once she had already been crowned Miss U.
ADVERTISMENT - CONTINUE READING BELOW ↓
Wilson later DMed the reigning queen a video which shows how Niñofranco works with tribal communities, and he says "sobrang nasiyahan siya."
On how he got into contemporary ethnic fashion:
Wilson admits that he didn't initially plan on going down this path; he ended up here four years ago as a fashion design major working on his thesis at the Philippine Women's College of Davao.
"We were tasked to reinvent the traditional and the ethnic," he says. "I was assigned to do a study about the Bagobo Tagabawa tribe here in Davao."
Wilson did his research, got together with the tribe's artisans, and produced a 15-piece athleisure collection that featured digital printing and beading inspired by the tribe's handiworks.
A year later, he joined the Stellar Mindanao Fashion and Design Competition, this time seeking inspiration from and teaming up with members of the T'boli tribe. The result was an array of gender-bending pieces adorned with T'boli embroidery that went on to win him the competition's top honor.
ADVERTISMENT - CONTINUE READING BELOW ↓
In 2017, he snagged a finalist spot in the first-ever Bench Design Awards, a nationwide competition for which he brought together T'boli patterns and stitching and Bagobo Tagabawa beadworks in one contemporary collection.
Throughout his work with the tribes, his love for their unique artistry and craftsmanship bloomed. "I realized that we have a beautiful culture that shouldn't be hidden in the mountains," Wilson says. "I want to at least have this contribution to the communities…And I'm really inspired by what they do; it's very tedious pero kaya nilang gawin."
ADVERTISMENT - CONTINUE READING BELOW ↓
On properly appropriating indigenous cultures:
In working with tribes, Wilson opts to use their existing patterns and rearrange them or offer color direction instead of completely creating his own patterns—that way, the designs are not only easier for the artisans to replicate, but also stay faithful to their culture.
Wilson's time as a fashion design major at the Philippine Women's College of Davao gave him the training he needed in engaging with IPs, which is how he maintains sensitivity and respect when dealing with them, seeks their feedback when working together, and continually learns about them to better understand their story.
Wilson has now worked with members from four Mindanaoan ethno-linguistic tribes—the Bagobo Tagabawas, the T'bolis, the Tagakaolos, and the B'laans—and has maintained great relationships with them. He has also begun collaborating with Itnegs from Abra, and hopes to connect with artisans from the country's other ethnic groups in the future.
ADVERTISMENT - CONTINUE READING BELOW ↓
How to get in touch with Niñofranco:
Customers may place orders through Niñofranco's Instagram. For information on pop-ups, bazaars, and trade fairs Niñofranco is part of, follow the brand on Instagram or Facebook. For more information, visit www.ninofrancoph.com.
EXPLORE COSMO