The saying goes, "Behind every great man is a great woman." But at Snacks and Ladders, Marge Soliman works side by side with best friend and owner Louie Lao as they hustle to be the best board game café in Manila.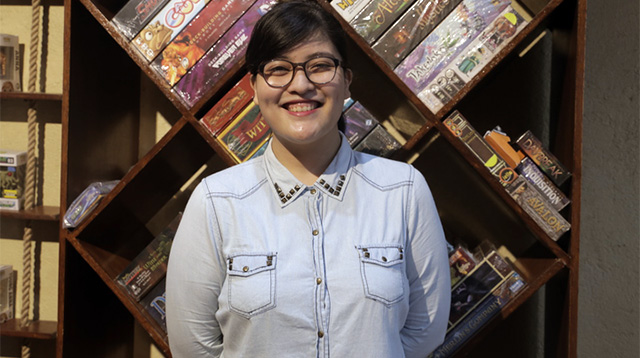 What kind of experience did you have before accepting your new role at Snacks and Ladders?
ADVERTISMENT - CONTINUE READING BELOW ↓
I took up Hotel Restaurant and Institution Management in Culinary Arts at CSB. Cooking is my greatest passion and I worked really hard for it. I spent a year interning at Hyatt Regency Rhode Island. I loved working abroad! The training was intense but I was motivated. In many ways, I became more independent because of that internship. I cooked my own food (duh), washed my clothes, and tidied the apartment. Eventually, I flew back to the Philippines. I spent some time working as a commis in the kitchens of Sala Bistro, Blackbird, and City of Dreams. I saw great food unfold right before my eyes. These experiences really prepared me for Snacks and Ladders.
Talk to us about the turning point in your career. How did you become the Executive Chef and Operations Manager at Snacks and Ladders?
In high school, when everyone else was partying, our barkada was more into board games and chill hangouts so I wasn't really surprised when Louie started a board game café. He approached me about being in charge of the food and beverages. I was only supposed to be a consultant but I jumped in as the Executive Chef shortly after. I didn't even really think about it. I just said yes! Because it wasn't about the money—it was about growth. I told myself, if it booms, then good for me. If it doesn't, then it's a lesson learned. It was a win-win situation.
ADVERTISMENT - CONTINUE READING BELOW ↓
Recommended Videos
How has it been so far?
The business has been going really well! We are so blessed. I made the entire menu, managed the costs, found suppliers, and tested everything! It's been really hectic but I take it day by day. I trained the entire staff—waitresses, bartenders, and cooks. I taught them everything they needed to know. I even conducted simulations. The funny thing is that I don't call myself a "chef." In the industry, one has to really earn that title. I'm not sure if I'm there yet. Somewhere down the line, I'd like to train some more, to really master the craft.
Talk to us about your menu.
We focused more on snacks, not full meals, although we have rice bowls to cater to Pinoys' needs. It's Filipino-American fusion, that's why we also have Nachos and Chicken Poppers. I would say it's unique, delicious, and confident. Why confident? The food speaks for itself. I'm not saying everyone would like it—we cannot please everyone—but I put a lot of heart in the food I make.
ADVERTISMENT - CONTINUE READING BELOW ↓
Any plans of expanding in the future?
In terms of food, definitely! Right now, we're still experimenting. I just told Louie I want to figure out how to throw in salted egg in there. Salted egg shake? Who knows!
We've also been talking about building another branch in the South. I live in Paranaque and I drive to Maginhawa every day so it'd be more convenient for me to manage a branch in the South but I told him that we should take things slow and see what we can do later on.
What's the best feedback you've gotten?
Running this place for the past six months has been very fun. I love seeing families come in. Nakakagaan ng loob. The staff's been really great as well so most of our positive reviews are because of them.
I really appreciate Louie for taking a chance on me. He's told me that he couldn't have opened Snacks and Ladders without me and I told him that I owe so much of my professional growth to him and this opportunity.
ADVERTISMENT - CONTINUE READING BELOW ↓
What are your plans for the future?
In the near future, I want to start teaching culinary arts. Down the road, I want to open my own business in the South. Maybe a travel café? 
What advice do you have for young entrepreneurs?
In order to succeed, you should be wise about your decisions. You don't need a big sum of money; you just need a big heart. Everything else will follow. 
Check out Snacks and Ladders' Facebook and Instagram for more information. 
Follow Ysa on Instagram. 
EXPLORE COSMO