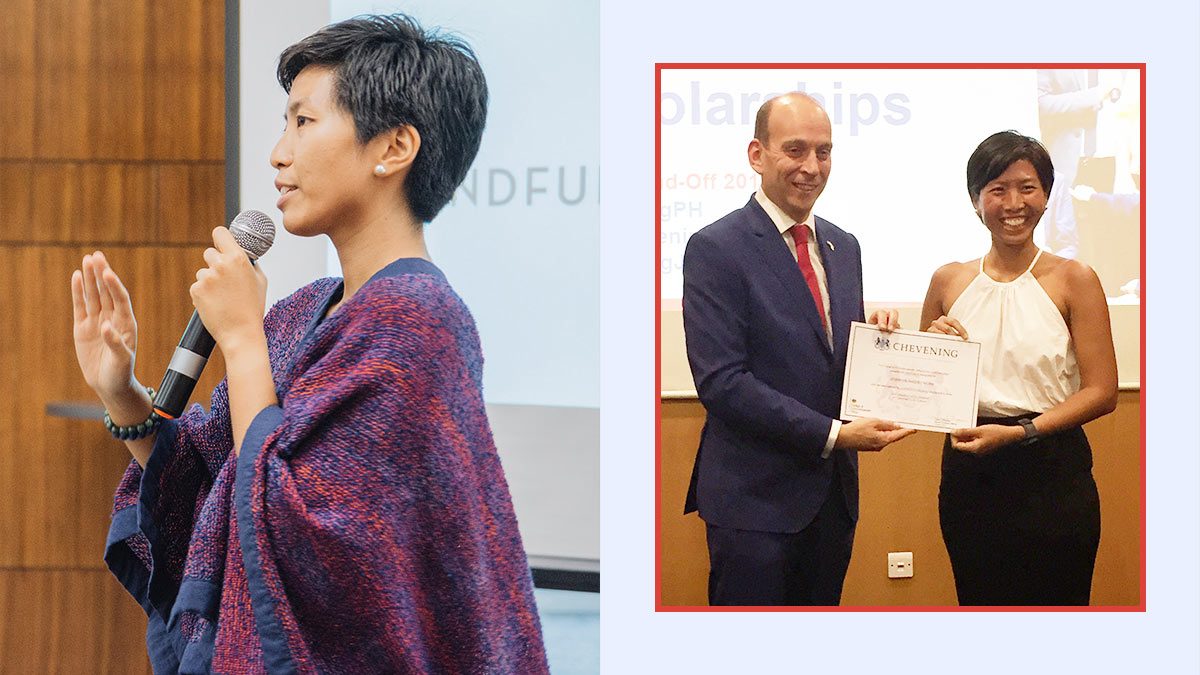 Jen Horn, 33, is the founder and CEO of MUNI, a cause-driven company that advocates for a healthier, more sustainable world through events and experiences that encourage people to be more mindful of their everyday choices. She also serves as a consultant in sustainability communications and community engagement, advising companies and organizations to adopt more pro-environment practices. Now, she adds Chevening scholar to that list.
The Chevening Scholarship is a global scholarship program by the British government that awards fully-funded scholarships to enable outstanding future leaders to pursue one-year master's degrees in their chosen field at any UK university. Prominent Filipinos who hold the distinction of being Chevening alumni include Commission on Human Rights chair Chito Gascon and broadcast journalist Howie Severino. This year, the program welcomed 36 Filipino scholars, with Jen among them.
Here, Jen tells us what set her down the sustainability path, how she landed the Chevening scholarship on her second try—she failed to get in the first time she applied—how she's doing now as an incoming Masters in Sustainable Development student at the University of Surrey, and what she plans to do when she comes back home.
Describe the work you do in the Philippines.
In MUNI, we advocate for a healthier, more sustainable world through learning and networking events that endeavor to transform how people shop, eat, travel, and do business. We start conversation and action towards various topics on sustainable lifestyles—whether it's zero-waste living, sustainable dining, responsible travel, sustainable fashion, and so on.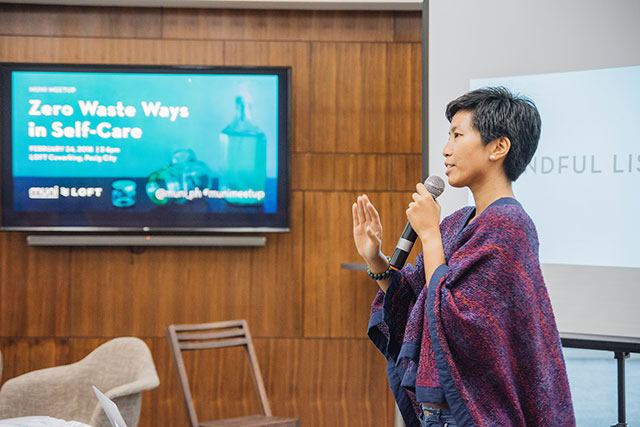 It really started as an advocacy for me, something I just wanted to do. But from mounting our first big event, the MUNI Market, to showcase healthy, local, and eco-friendly products back in 2014 to bringing this culture of mindful, sustainable living into corporations through our Employee Eco-engagements while at the same time encouraging individuals through our public MUNI Meetups and special events like MUNI Travels, the past years have really shown me that there is a growing interest and openness to adopting more sustainable practices in individual lifestyles, as well as in business.
How did you get into advocating for sustainability?
Some early triggers were documentaries like The Story of Stuff and Objectified, each different but both tackling the finite resources of the planet and how we should think of things in a more circular versus linear way. I had first encountered them in 2009 or 2010 while running another retail business with a friend and they had really made an impression on me, but I didn't know what to do differently. Instead, I focused on changing my own personal behaviors: how I shopped, ate, and traveled.
In 2012, I was in Baguio at the height of a tree-cutting issue for the expansion of a retail complex, and that made me realize that business should be done differently. I then thought: wouldn't it be great if there were a community we could learn from, share ideas with, and ultimately be inspired by to keep finding ways to live more sustainably? And that's where MUNI began.
Why did you decide to apply for the Chevening Scholarship?
One, I wanted to increase my own technical knowledge of sustainability, and options really just weren't available locally. I was also hopeful that it would allow me to reach more people through better, more informed content up on MUNI, and also garner more interest from businesses who are interested in integrating sustainable development principles into their own companies.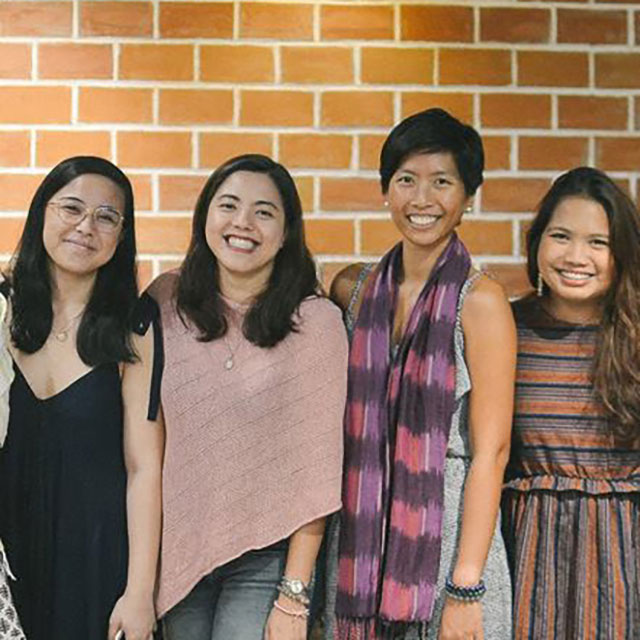 Two, I wanted to connect with a global community of leaders and sustainability advocates, both from the Chevening community and from the folks over at the University of Surrey's Centre for Environment and Sustainability, to which I had applied.
Please walk us through your journey applying for the scholarship.
I needed to accomplish the application form, and I really took the time to think about my answers, so it pays to have a look at the questions and give them a good think well before the deadline.
If you log on to www.chevening.org, you'll find most of the information you need there. It's quite a long process from submitting your application in November, to getting shortlisted for an interview in February, to having your interview in April or May, then getting your results by June. From there, it's a whirlwind of getting the additional items like your medical check-ups, IDs, etc.
You first applied for the scholarship in 2016 but didn't make the cut. What do you think gave you an edge this time?
I feel like the first time I had applied for the scholarship, I was not super clear yet on what I wanted to do or where I wanted to take my career and my company. Granted, I may have had my own thing with MUNI, but there were still a number of directions I could go.
The second time around, I had ample time to really think about the application questions and see where I wanted to be when I applied again in 2017. Because I wanted to focus more on sustainable lifestyles education, communications, and also working with corporations, and use that to build a better case for myself when I reapplied, I did exactly that by trying to find more meaningful and relevant work experiences and projects before the next application and interview cycle.
Besides tuition, what other inclusions does the scholarship offer?
Chevening is more than a scholarship scheme, but one that they've emphasized is a leadership program. Apart from funding your tuition and providing an allowance to cover your basic expenses, one of the biggest values from the Chevening program is the support from the British government's Foreign and Commonwealth Office to help ensure that you're all sorted in terms of transitioning into the UK, while also connecting you to a national and global community of other individuals who are all trying to do awesome things in their own right.
What arrangements did you have to make from the time you were accepted to the time you arrived in Surrey?
Besides turning over things with my team, I had to get all the administrative things done like my medical check-up, my visa, my IELTS (English language test—but I took this a few months before I knew I was accepted because this can take quite a bit of time), and packing—all while making sure I made time for family and friends.
Being part of the Chevening program helped a lot in facilitating my UK visa, in addition to just having the program's support throughout the entire process.
My university has also been amazing in its support for international students, what with all its facilities, accommodations, constant communications, and even a meet and greet service to bring you to campus once you arrive in London.
You've been in Surrey just a few days. How are you adjusting to life there so far?
It's too early to say, but I'm a legal (temporary) resident already; I just needed to secure my Biometric Residency Permit. Right now, I'm still adjusting to the time difference, mainly because I still keep in touch with several folks back home via email to do remote work.
My first week here, I kept thinking that all the stereotypes about British weather were right. It's a bit of a challenge for me to adjust as an extremely tropical person, and also very lamigin.
Adjusting in terms of homesickness, also too early to say, but I also feel like I'm fairly adaptable. I can make friends, and I'm also very independent and comfortable doing things on my own, so I think it's essential to have a balance of both so that you integrate well enough in your surroundings but are also not completely dependent on other people for your survival.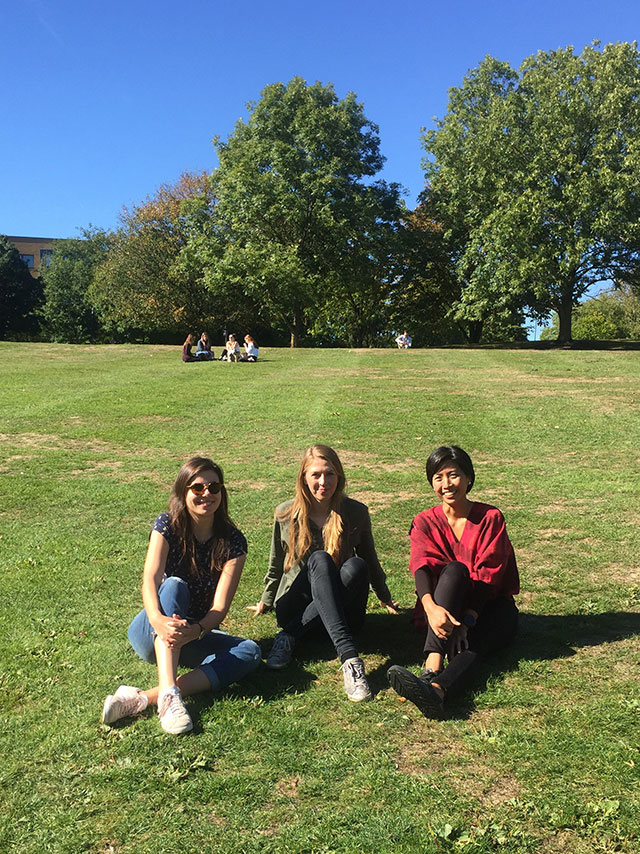 What do you plan to do with the knowledge you've gained when you return to the Philippines?
One thing I hope to do is be able to transfer knowledge that I gain here back in the Philippines and make it relevant to our local context, whether through online resources or in-person workshops and learning sessions.
I definitely want to further the work that we already do with MUNI and perhaps enable more community leaders to start creating conversation and action around sustainable living within their respective communities—whether it's a local barangay, school, or company. I also want to continue the conversation with individuals and empower them to continuously think of what more they can do in their lifestyle, and with their surroundings and community.
I also want to be able to impact corporations more deeply and really help them integrate more sustainable thinking and action in their company operations, going beyond token CSR activities like tree-planting activities. While there is some value in those activities, I want to be able to challenge companies to think more about what they can do, while hopefully working with them hand-in-hand to find those areas where we can help them improve.
What advice can you give other aspiring Chevening scholars from the Philippines?
First is to just give it a shot, and to have a look at the application form because I feel like they're important questions to reflect upon in building your professional career, whether or not you're already gunning for a Chevening scholarship. Also, exhibit leadership and networking skills, a passion for your chosen field or profession, and some sort of track record in making things happen.
So, I encourage aspiring applicants to: 1) think long and hard about their applications, 2) find really meaningful references (who will not only write you glowing reference letters, but also give you a lot of confidence and meaningful advice in your pursuit of a scholarship), and 3) just own it.
Once you've decided that this is the thing for you, you will find ways to bring yourself closer to it. You may not get it on your first try, but for me, even the attempt at getting it has also really developed me further as a person. Now that I've got it, I'm really excited for the possibilities I can pursue with it.
Recommended Videos