Sushi bake. Ube cheese pan de sal. Basque burnt cheesecake. Milky cheese donuts. Korean cream cheese garlic bread. These are just some of the food trends we've had during quarantine. Now add all the food we already loved before the pandemic—like every chocolate chip cookie out there—on top of that, and we're sure your pa-deliver list is pretty long right now. No judgment, though! Everyone's just trying to establish a sense of normalcy in our current situation. 
READ MORE:
How Getting Fired During The Pandemic Affected My Finances
11 Money-Saving Tips That Actually Work, According To Pinays
I Am A Financial Advisor; This Is How Much I Make In A Month
But while we're trying to cope in the middle of a pandemic, we might not have been able to keep tabs on our expenses—not as closely as we used to, anyway. Curious about how much money millennials have been spending on food, we asked three Pinays to track their food orders (takeout and delivery) for a week.
Marja* (26) makes around P30,000 to P35,000 a month. She spends roughly P4,500 to P5,000 a week on food deliveries. During quarantine, Marja joined a lot of food groups on Facebook, and that's how she decides what to order. Her food expenses have gone up during quarantine partly because she does her best to support small businesses. She tells Cosmo, "Since I don't go to malls anymore and most of my 'leisure' habits have been cut off, my only outlet now is eating and trying out good food. Plus, I spend more for both me and my mom." According to her tracker, she mostly ordered food for lunch and dinner. Her cheapest order was hotsilog from J&I Eatery (P60); the most expensive, jjajangmyeon, sweet and sour pork, and mandu from Sa Chun Sung Korean (P1,500). 
Continue reading below ↓
Recommended Videos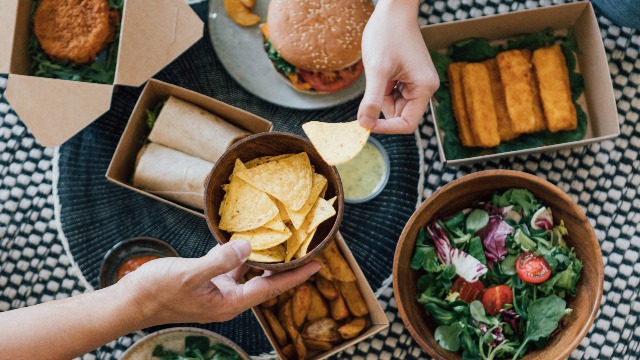 Like Marja, Gia (28) spends so much on food now because her other expenses—transportation, alcohol, coffee, and shopping—have gone down. Her income range is P50,000 to P70,000 a month, and depending on the week, she spends anywhere from P5,000 to P7,000 on non-homecooked meals. Gia adds, "It gives me this sense of control because in a way, the unknown, especially with this pandemic, is giving me anxiety—even if we're already six months into the lockdown. Don't get me wrong, I enjoy cooking home food, but I miss the pleasure of eating out and having someone prepare food for me while I enjoy it. I feel like eating good food from takeout is a treat I'm able to give myself since I can't 'treat myself' to things I enjoy outside (like traveling!)." Looking at her tracker, she spent the least on Korean pull-apart bread from Lola Ester's (P500) and the most on pasta, burgers, ice cream, and rice bowls from Wildflour (P2,111).
Tisha (25) and her family almost never cook at home, so even before there was a pandemic, they've always relied on takeout and food delivery. She explains to Cosmo that for her family, "having food delivered is easier than having to prepare, cook, and clean all the pots, pans, and plates [they'd] have to use." Tisha's income falls in the P30,000 to P37,000 range, with her food expenses being around P300 to P1,000 per week since she's not really expected to pay for family meals. A lot of what she orders are chips and desserts including a pint of ice cream and a solo cup from Merry Moo (P565 + P39 delivery), truffle chips from Aroma Truffle (P400 + P70 delivery), and three cookies from Ben's Cookies (P270 + P39 delivery).
How much money have *you* been spending on food orders lately?
*Name has been changed.
***
What does your zodiac sign say about you? Subscribe to Cosmopolitan Philippines and find out!
Follow Ysa on Instagram.