Hailey Bieber may have a famous dude's last name, but please be advised, friends: she is much more than The Biebs' bae—she's a badass model and businesswoman who's famous in her own right, and she was relevant way before Justin was even in the picture.
Like any independent woman, Hailey has always had her mind on her money and her money on her mind. From modeling in runway shows to snagging mega campaigns with UGG, Tory Burch, Dolce & Gabbana, Versace, and literally dozens more, Hailey has made a name and a lane for herself over the years. I mean, Forbes did say she's going from "model to mogul," and it wasn't wrong. In other words, she's established a pretty impressive—and hefty!—net worth in just a short time. Five years ago, she had a tenth of the coins she does now, which, love that for her. Naturally, it's only right that we open her wallet and break it all down, yes? Yes.
First, let's talk Hailey's modeling career
Hailey is represented by IMG models—you know, just one of the biggest international modeling agencies of our time. She had her big break in 2015 when she nabbed a gig with Ralph Lauren...and she's continued to kill it ever since in major campaigns, on major runways, and across the pages of major magazines. Proof: Here she is slaying the latest cover of Vogue Australia:
View this post on Instagram
And here she is in a Saint Laurent campaign:
View this post on Instagram
And here for Victoria's Secret:
ADVERTISMENT - CONTINUE READING BELOW ↓
View this post on Instagram
Oh, and a little Tommy Hilfiger runway throwback circa February 2016 for good measure: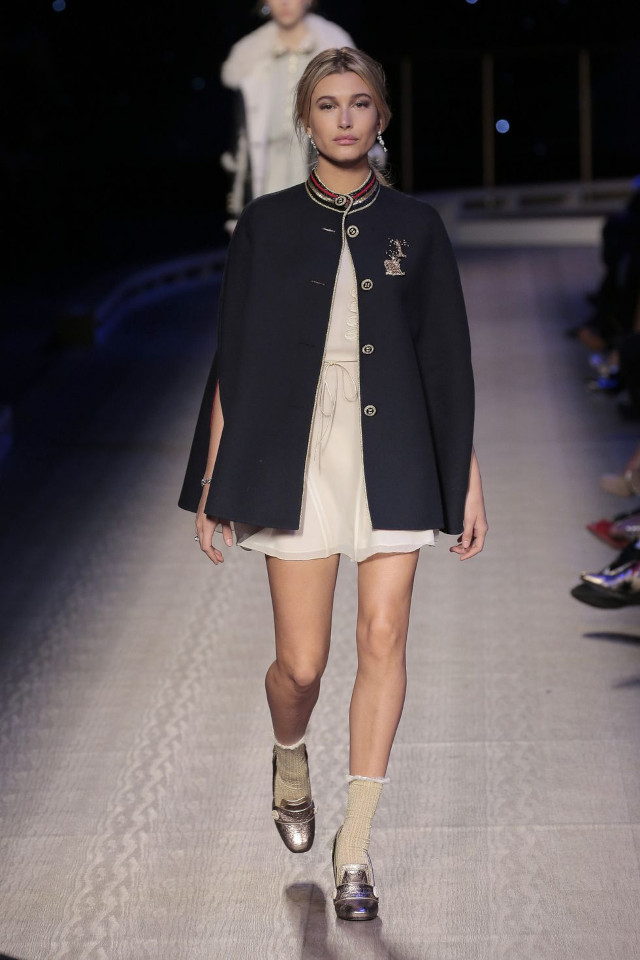 We don't know what Hailey made per runway show or campaign because models' salaries vary vastly depending on how recognizable their name is. According to the Bureau of Labor Statistics, most models in NYC make (on average) $48,130 (P2.6M) a year. But obviously, Hailey is what the people call a ~supermodel~, so she's waaay more than likely getting paid stacks above that estimate.
Her new skincare brand Rhode is taking over
In June 2022, Hailey joined the swarm of celebs who have ventured into the skincare and beauty industry. The brand's Glazing Fluid and Lip Treatment were among the initial launches and were so well-received by fans and other stars. Since Rhode hasn't been in the world a full year yet, there isn't a bunch of intel on how much the company is bringing in just yet. But! Given its popularity—she was named a Forbes 30 Under 30 thanks to the brand's success and covered one of the magazines—it can be safe to assume that they're not hurting!
View this post on Instagram
She designed SO MANY collections back in the day
And by back in the day, I mean the harrowing time that was 2016. Becoming a bonafide ~business woman~ was apparently always on Hailey's vision board, because long before she was the founder of a skincare line, she launched a line of handbags with the Australian brand The Daily Edited, a shoe collection with Public Desire, and a makeup collection with ModelCo. And in 2018, she did a jean collab with Rag & Bone. Of course, what this really means is that Hailey agreed to model for these brands, while also lending her name to products she had partial creative control over. So yes, you can assume she made tons of money.
Don't you dare forget about her #SponCon days
Hailey's Instagram has always been very lacking in #SponCon, so there are no cringe-y receipt photos of her holding hair gummies—thank gawd. But let it be known that she was part of the model squad that got paid to endorse the infamous mess known as Fyre Festival.
View this post on Instagram
Just sayin'.
She's also done TV work
Remember in 2017 when Hailey was the official host for Drop the Mic on TBS? Her salary wasn't reported, but it's TV, dammit, so you can bet she pocketed a decent amount of $$$ for the gig.
View this post on Instagram
So, what's Hailey's total net worth?
According to Celebrity Net Worth, Hailey has $20 million (P1.1B)  in her bank account, which is about 10-times more (!!!) than she did back in 2018! Gotta love a woman who gets her cash to appreciate.
ADVERTISMENT - CONTINUE READING BELOW ↓
***

This article originally appeared on Cosmopolitan.com. Minor edits have been made by the Cosmo.ph editors.