When Bianca Consunji was accepted into Columbia University's Masters of Science in Journalism program, she thought she'd stay in New York for a maximum of two years before returning to Manila. Now, six years later, she's built a successful career in the Big Apple.
She has worked for publications like Mashable and Bustle, and is currently the Supervising Producer of BuzzFeed News. Her career takes her to locations around the globe to document interesting stories.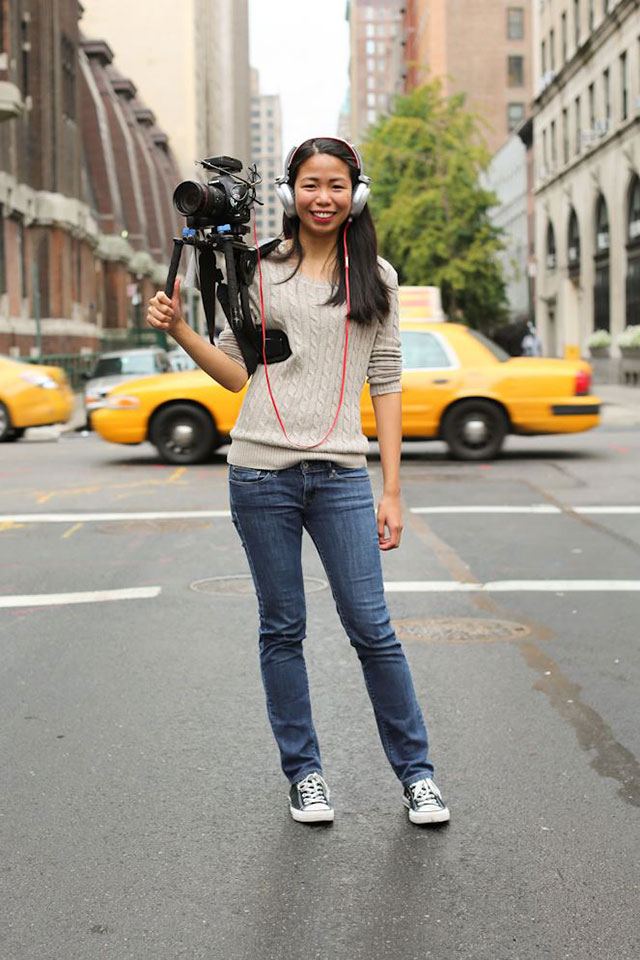 The 32-year-old looks back at her journey and shares with Cosmo how she went from being a magazine editor in Manila to a multimedia journalist in New York.
Continue reading below ↓
Recommended Videos
Describe your career in the Philippines before you went to Columbia University in 2011.
I started working in media even before I graduated from college in 2007, freelancing for the Philippine Daily Inquirer and several magazines. As a freelancer, I tried everything: writing, styling, and even makeup. Classic jack-of-all-trades, master of none. Then I worked as an associate editor for a women's magazine from 2008-2011. During those years, I would occasionally attend workshops and conferences around Europe. I learned a lot about digital media and a little bit about video, but not enough to make a career out of it.
Why did you decide to go to grad school, and why did you choose Columbia University? 
During a 2009 multimedia workshop in Berlin, two of my German instructors sat me down and had a very frank conversation with me about my career. They told me that they saw potential, but that I should go to graduate school abroad in order to fulfill it. I remember protesting because it was expensive, and they gently told me that I needed to find a way to make it happen. Later that year, I sent my application to the Columbia Journalism School.
I chose Columbia primarily because I wanted to live in a commuter-friendly city (I don't drive), and because it's a prestigious school. I now understand that going to an Ivy League university doesn't necessarily mean much, but when you're in your early 20s on the other side of the world, you get sucked in by photos of well-manicured lawns and cable-knit sweaters.
What were the challenges you faced in applying for grad school and getting a scholarship in the US? 
Applying to get in turned out to be relatively easy as compared to paying for school. I had a lot of published clips and some reporting experience, so I sent those together with a bundle of recommendation letters and a written exam. But Columbia is very expensive, and notoriously selective when it comes to financial aid; I have friends who are six figures deep in debt. 
There was no way that I could afford millions of pesos for a year of graduate school. My family is fairly well off at home, but my parents strongly felt that it was time for me to stand on my own feet. They barely batted an eyelash when I said I got into Columbia, which I resented at that time, but now realize was for my own good.
I don't know what I was expecting back then—a fiesta in honor of my admission? I'm now glad that they were skeptical about my choices in life, because I had to prove that I really stood by them.
When I first applied, I got only $6,000 (almost P300,000) in financial aid. Tuition alone was about $60,000 (over P2.9M) and that didn't include living expenses. I turned to Sheila Coronel, who runs Columbia's investigative program (and is currently dean of students), for advice. She said that scholarships are very competitive, and if I wanted a shot, I had to step up dramatically.
I deferred my admission for a year and spent that time doing more intense reporting, networking, and applying for various scholarships. In the end, when I reapplied for a scholarship, I received the Scripps-Howard Fellowship for International Reporting. It covered 80 percent of the tuition (almost P2 million in scholarship money).
I was in the airport for a trip with my family when I got the news, and I started crying hard in the departure area. It was the first time that money changed my life overnight, because it meant that I could finally go to school. That year changed my relationship with money. That period forced me to become an adult.
How much did it cost to get your master's degree in New York?  
Here's the official breakdown of studying at the Columbia Journalism School for a year: They put it at approximately $101k (around P5M) now. I definitely didn't spend $32,000 on living expenses; I probably spent half that amount. I didn't have a credit card then, so I paid for everything in cash and always lived below my means. My parents bought me my plane ticket ($1,200 or P59,000) and I spent maybe $1,500 (around P74,000) on various expenses in the run-up to my move to New York.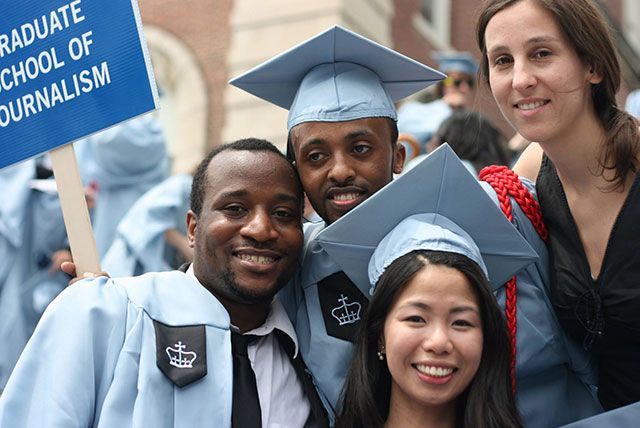 Aside from your scholarship, how were you able to cover your expenses in New York?
While I was working in Manila, I used my freelance money for personal expenses, and put away my entire salary of P25,000 ($500) every month so I could save up for a rainy day. The rainy day turned out to be graduate school.
I lived very cheaply when was in graduate school from 2011-2012. I passed on convenient student housing because I found an apartment for half the price 30 minutes away from Columbia. I made most of my meals at home, and rarely drank or went out (partly to save money, and partly because the workload at school was so intense). Including rent ($550 or P27,000 a month—a real steal in New York), I probably spent $1,000 (P49,500) a month while I was in school. One of my friends at school did the same thing; he graduated debt-free because he slept on a couch in the Bronx for $300 a month the entire year, and saved up prior to going to school. I couldn't work because of my visa, and also because the professors advised against it, even to Americans. I was in grad school for one year; I figured I would take the entire time to focus on learning new skills and rebooting my career.
When you were studying in New York, did you ever think you'd end up working and living there after graduating?
I always said I would be in New York for a "minimum of one year, maximum of two." I've been here for six years now, with no immediate plans to leave (I just got a green card). I was in a very serious relationship back then and thought I'd go back and get married. We broke up and that freed up my life for a lot of other opportunities. I have no regrets; I won't say anything other than the demise of that relationship wasn't my fault.
How hard is it for Filipino citizens to get a job in the publishing industry in New York? How did you overcome those challenges?
It was pretty hard in 2012, and I imagine it might be harder these days. I'm lucky I fell in love with video production during grad school. It offered more opportunities to young journalists right out of school, because it was a valuable technical skill.
In the five years since, things have changed a lot, but one piece of advice I can give to foreigners coming over is to embrace the diversity they offer to the field. There's no point in trying to blend in as an American—because you never will.
Diversity is sought after and valued in New York, although I can't say the same for many other cities. Plus, I had a technical skill in hand. Everyone can claim to be a writer, but you can't pretend to know how to make a video.
And if you want to stay, be prepared to work long hours. Volunteer for grunt work. A lot of the experience you had abroad won't immediately be valuable to recruiters here, but they will come in handy later in your career—so don't erase those years you spent doing something different, either. As they say, ang di marunong lumingon sa pinanggalingan, di makakarating sa paroroonan.
Describe your experience in Mashable. How were you able to make ends meet given the cost of living in New York?
I applied to a lot of internships while I was at school, and I met the Mashable recruiters at the Columbia career fair. We kept in touch, and they liked my work enough to offer an internship. It did become an issue when they found out I wasn't American; they almost took it back and needed days to deliberate. And when I started, I worked my butt off for a year for $10/hour (which is crazy low) on the OPT card, which allows foreign students to work anywhere for one year after graduation. They offered me an entry-level job as an associate producer at $45,000 (around P2.2M/year), which increased over time. I had a ton of fun, even as an intern. I made good friends and learned how to drink cheap beer.
As always, I kept my expenses low. My advantage is that I never moved apartments. I was a grad student paying rent for $550 (P27,000) a month in 2012, and I still keep my apartment at $605 a month in 2017. It's unheard of in New York, and it's nice to be able to put money into savings instead of rent. I still save as much as possible; I recently needed to pay thousands of dollars in legal fees for my green card on the same month I went on a two-week trip to Maui. There will always be rainy days.
Give us a breakdown of the typical monthly living expenses in New York.
Rent is always the biggest expense for anyone. I probably spend about $1,500-2,000 a month as a whole, and that goes to rent, transportation, utilities, groceries, drinking, eating out, the gym, and random things I buy on Amazon. I tend to cook as a hobby and my office provides catered lunches and free snacks (It's a huge perk!), so I've cut down significantly on eating expenses.
After Mashable (2012-2015), you moved on to Bustle and stayed there until early 2017. This March, you moved to BuzzFeed. What was the transition like?
I left Mashable because I wasn't going to ever be head of video. Too many people knew me from when I was an intern, and it's hard to break free from old perceptions when people met you when you were just starting out. I moved to Bustle to build a team from the ground, did that for two years, and then went to BuzzFeed News. 
What made you decide to move to BuzzFeed? Tell us what it's like to work for them.
I'm a supervising producer at BuzzFeed News, where I handle the YouTube team for short documentaries, explainers, and experiential deep dive videos. I wanted to fully move on to news, and the BuzzFeed News staff has Pultizer Prize winners and many other awe-inspiring veterans in the industry. I may not be in charge of the whole department anymore, but I'm learning a lot from more experienced journalists while still building something from the ground.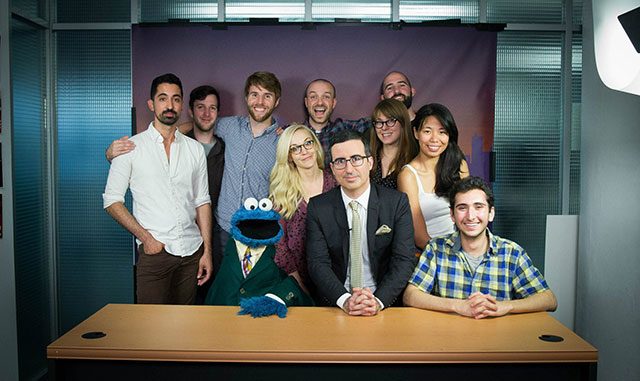 I bought my stock options from Mashable and Bustle. It's a good benefit to be able to invest in work you've done in the past. My jobs have always covered healthcare, dental, and in some cases, transportation. The BuzzFeed office has catered lunches, free snacks, and a flexible working environment, but most importantly, an environment where I can learn and grow. I travel for work to places I wouldn't normally vacation in, which lets me see the world from a different perspective. I'm very fortunate.
How different is the publishing industry in the U.S. from the Philippines?
I can't fully compare, because I never worked in hard news in the Philippines. Lifestyle, my former beat, is an entirely different field, with a different set of rules and ethics. In the jobs I worked here, we couldn't receive gifts worth more than $25. I once wrote a freelance article for The New York Times, and they sent me a questionnaire asking if I had traveled for free recently, and for whom. 
I work much longer hours, and Americans have notoriously short vacations, but the compensation is worlds apart from the Philippines. I remember getting paid P2,500 per article back home (regardless of how long I spent on it) and thinking that was fair. 
It's laughable that we expect diversity and fairness from our reporting back in Manila when media outlets barely pay enough for you to live independently. Many writers and editors come from at least middle-class backgrounds, and in return, you have a fairly monotonous roundup of stories, because you don't get perspectives from different backgrounds. 
Again, it's hard to compare. New York is where people around the world come and try to make it: it's a very dense population of some of the smartest and most ambitious people on earth. You're always trying to stay ahead and be the best at your job. It's often exhausting, but also exhilarating. The media industry in New York is very different from the rest of the country, so salaries and opportunities here aren't comparable to other cities in the U.S.
What are your most memorable job-related stories?
I've covered homelessness, gender inequality, technology, immigration, and education in the six years I've spent in New York. I've reported on conflict minerals in the Democratic Republic of Congo, visited some of the poorest states for investigative stories, shot on set with the Sesame Street Muppets, and filmed celebrities such as Brad Pitt, John Oliver, Mark Ruffalo, Julia Stiles, and Zachary Levi (although celebrities are usually my least favorite shoots because they're accompanied by their PR people, and they can sometimes be very bland). It's amazing how willing people are to open their lives and hearts to journalists, and I appreciate that.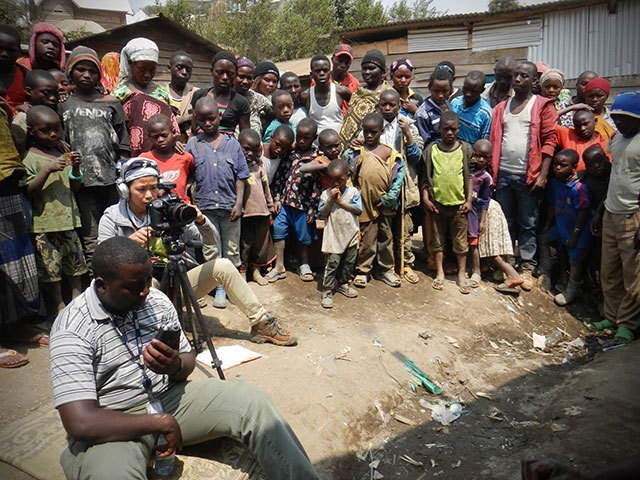 Please give advice to young millennials who are looking to study and then work in the U.S.
Do it in a way that makes the most financial sense; you're not guaranteed a job in the US, so spend as if you were coming back home to a Philippine salary. I can't overstate how much my parents helped me, but I wouldn't have gotten the scholarship if they didn't push me to stand on my own feet. And when you do get to another country, be prepared to hustle and be humbled.
I was on an H1B visa for years, but on the advice of my lawyer, I applied for (and luckily received) an EB1 visa/green card. It was tough knowing that I could go any day if I lost my job. And if it's an option at all, try to stay in the country without relying on a job or a person. It's the best way to maintain your independence.
Follow Bianca on Instagram and Facebook.
Visit Kate on KateWasHere.com and follow her on  Instagram and Twitter.