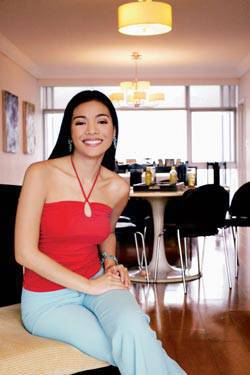 "I give 100 percent to every story I do, from a small report to a major international coverage," says news anchor Vicky Morales with a smile. Her job gives her such a high that she can't sleep right away after her late-night report on GMA-7's
Saksi
.
Set On Being A Newscaster
Vicky was taking up Management when Accounting turned out to be harder than she thought. She switched to Communications after seeing news reporters on TV: "I thought I could probably do well in this profession.
Malakas 'yung loob ko
."
In 1990, she was hired as a segment reporter for two ABS-CBN weekly magazine shows (Options and Tatak Pilipino), but she really wanted to become a newscaster. After catching an announcement on a late night newscast that GMA-7 was looking for new talents, Vicky went for it. She didn't have it easy, though. For three months, she learned the ropes the hard way from senior beat reporters.
Vicky learned that going on air live was different from how she pictured it. "I thought it was just [all about] smiling for the camera. But you have to be very alert, and knowing that millions are watching you, the thought can be a little frightening," recalls Vicky. "I was fresh from college. I didn't really know much about the news [at the time]. I had to learn quickly, read the papers and the tabloids, and listen to AM radio."
Ready For Anything
Fourteen years on, her job has seasoned her enough to face any task—from jetting abroad on short notice and sleeping and eating very little, to rappelling down a building. "It's a really interesting job; no two days are the same."
She's surely had quite a number of adventures while covering lighter news like the 2005 Conclave at the Vatican and Precious Lara Quigaman's Miss International triumph, and doing more difficult reports like the documentary on then missing Filipina banker Maria "Pipay" Cruz and the ordeal of American missionary couple Martin and Gracia Burnham in the hands of the Abu Sayyaf.
She was cited as a finalist at the Asian TV Awards (2004) and at the New York Festivals (2001 and 2002) for her investigative documentaries for
I-Witness
and is changing ordinary people's lives in
Wish Ko Lang!
(for which she won as Best Public Affairs Program Host at the PMPC Star Awards for TV in 2004).
Her secret to hard-hitting news and ground-breaking success? "I just keep approaching my job with the same energy, the same excitement, and optimism. We can still make the world a better place by what we're doing."
Continue reading below ↓
Recommended Videos