Anjenette "Chit" V. Lacson, 24, was born and raised in Isulan, Sultan Kudarat and studied and practiced as a teacher in Davao City, but thanks to the prestigious Japan Exchange and Teaching (JET) Programme, she now teaches English in Matsuyama, Ehime, Japan.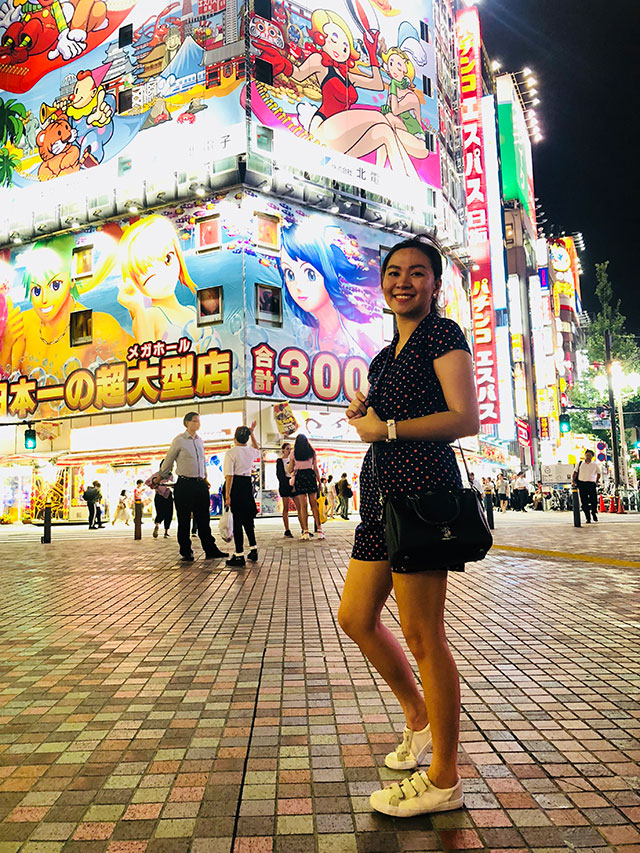 Launched in 1987, the JET Programme is an initiative by the Japanese government that promotes internationalization in Japanese communities through cultural exchange and foreign language education with participants from around the world. Chit learned about the programme in her senior year of college in 2014, but she didn't think to apply because she knew how competitive the programme was—until 2017, when Cosmo.ph published an article on the first two Filipinos to ever get in the programme. Chit read it and promptly found the encouragement she needed.
After a grueling application process which saw her gathering requirements, going through an interview, doing a teaching demo, and taking an English test, Chit came out among the 40 Filipino teachers who got in the programme this year.
Now, Chit has begun to settle into life in Matsuyama, a Japanese city far from Tokyo where she's able to enjoy both the conveniences of urban living and the slow pace of the countryside. But she admits that the decision to leave the Philippines wasn't easy. "I had to leave my comfort zone, family, and friends behind, and having to immerse myself in a culture and language that I'm not accustomed to is a great challenge," she admits. However, she's positive that she made the right decision. She says, "For once in my life, I feel like I did the right thing."
Here, Chit takes us through a day in her life as an Assistant Language Teacher (ALT) in Matsuyama.
7:35 a.m. – I head to work by bike. I work for three different schools: one junior high school which is my base school and two elementary schools. I spend the first three days of the week at my base school, while I spend the last two days at the elementary schools. My schools aren't too far from my apartment. It takes me 10 to 20 minutes to get to each school by bike.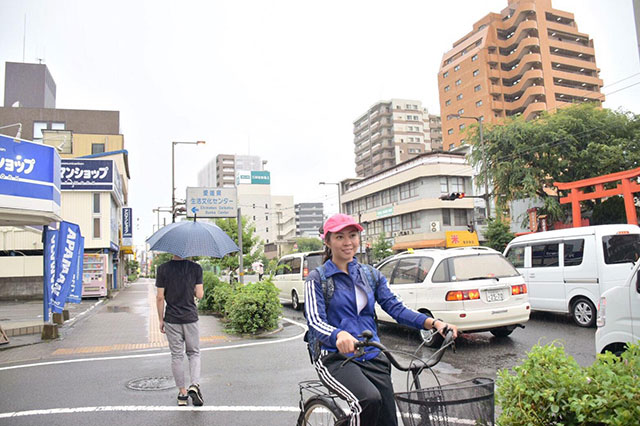 The last thing you would want to happen is for you to come to school or to meetings late. This is the most challenging part for me, since being late is hardly ever a big deal for us Filipinos. In my first few days here, I had to take the train to attend meetings and get to places, but I always got lost so I'd get to places past the meeting time. Asking for directions was a challenge for me since I speak very little Japanese, but Japanese people are naturally helpful and they will try to help you in every way they can.
7:50 – 8:00 a.m. – I talk with the Japanese Teachers of English (JTEs) that I work with and discuss the lesson for the day. Being an ALT requires so much creativity because sometimes, you'll only know what the lesson for the day is five to 10 minutes before the class. After panicking a little, I go ahead and prepare teaching materials needed for the day's session.
8:00 – 8:10 a.m. – Every day before classes begin, we have a short meeting. Of course, it's all in Japanese so my supervisor tells me all the important details discussed during the session.
8:20 a.m. – Class usually starts at 8:20 a.m. After each period, we have a 10-minute break.
As a teacher back home, I was in charge of everything; as an ALT here working with JTEs, I have no control over students because I am not the main teacher. It is frustrating sometimes when you can't do anything about classroom discipline. Sometimes you want to try different approaches that you think are fitting to the learning needs of the students, but it's difficult to share your thoughts and ideas and your input may not be welcome.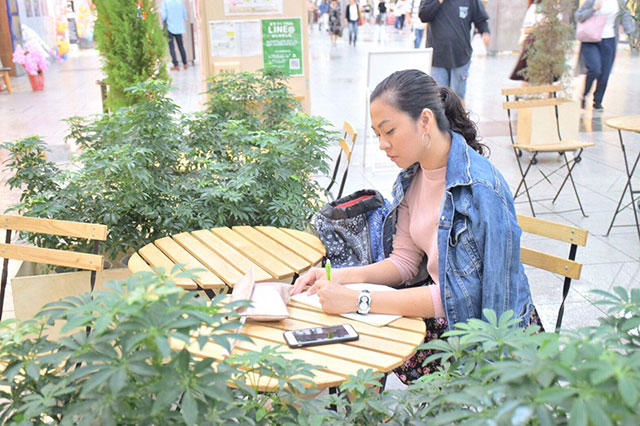 The education system here varies greatly from that of the Philippines. It is more intense in terms of academics and club activities. In some schools in the Philippines, students can choose not to join club activities, but here, it is a must to be part of a club.
Learning English as a second language is difficult for students here so I need to learn and use various teaching methods that are suitable to their learning needs.
12:30 p.m. – We have "kyuushoku" (school lunch). During lunch, I eat with the students in the elementary schools and we get to eat exactly the same food. You have to finish everything in 30 minutes.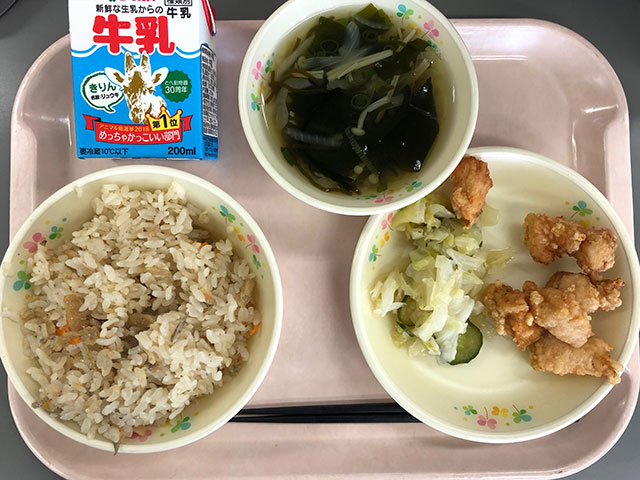 It pleasantly surprised me to witness how responsible the students here are. Kids don aprons and masks and help serve school lunch. The sense of social responsibility is very evident at such a young age. I can't help but say "sugoi" (great or amazing) every single time.
After eating, some students ask me to play with them. I can opt not to, but I think it is the best time to establish rapport with them, so most of the time, I do.
1:00 – 1:15 p.m. – Everyone cleans up after lunch, including the teachers. I help in the cleaning, too, which I normally didn't have to do as a teacher back in the Philippines.
1:35 – 3:25 p.m. – Classes resume. They end at 3:25 p.m., but I have to stay until 4:00 p.m. Usually I get to attend two to four classes at my base school and four to five at my elementary schools, so I ask all the teachers I work with if there is anything I can help them with, like proof-reading test questions and checking papers, since they are very busy.
4:00 p.m. – Work ends, but you don't just grab your bag and leave. You have to say "Osaki ni shitsurei shimasu," which means "Excuse me for leaving before you," to your workmates who are still busy working even after classes finish.
5:30 p.m. – I cook dinner at home or have dinner with my ALT friends.
7:00 – 8:30 p.m. – I have private Japanese language lessons twice a week. I don't have to, but I'm very eager to learn the language. If I don't have a language lesson, I usually hang out with my ALT friends at a local café or just study Japanese at home.
Occasionally, we have "enkai" (Japanese work party), which means eating and drinking with workmates and doing karaoke. What happens at enkai stays at enkai—we don't talk about it the next day. Enkai is not necessarily required, but it is socially expected and it would be great to hang out with your workmates outside the workplace. But in terms of work relationships, colleagues remain colleagues here, unlike in the Philippines where workmates become friends. Generally, I think Filipinos are friendlier.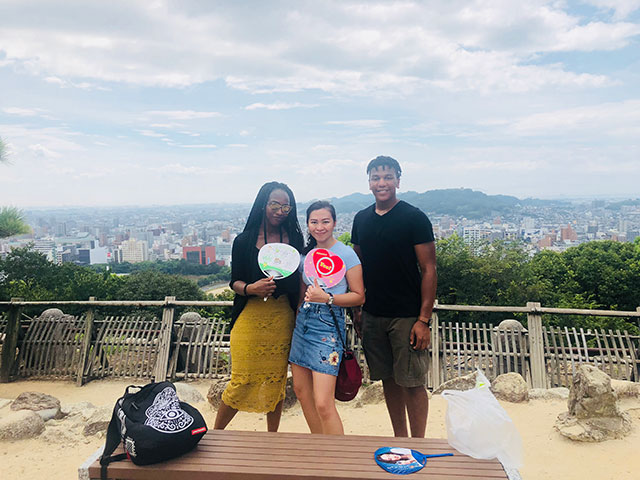 Be ready to shell out around 4,000 – 7,000 JPY (around P2,000 – 3,500) for enkai—drinking or partying here is definitely not cheap!
10:30 p.m. – My favorite part of the day: Chilling on my couch with a bottle of booze or lying on my futon and thinking about how my day went! (Yes, it's normal not to have a bed here!)
I'm more than happy to be here, but there are also days when I get incredibly lonely. There will be really bad days, but I think life will always be like that wherever you are. Oddly enough, I feel at home in a foreign land, but I have to adapt to everything and change some of my ways.
At the end of the day though, I remind myself that I am a Filipina and always will be. 
Recommended Videos