How many times have you tried talking yourself out of a purchase only to walk out of a store with a brand new ~*baby*~ to add to your growing collection? When it comes to the things we're passionate about, we do whatever it takes to make it work. 
For video producer Shin Francisco, cameras are what keep her creative spark alive.
What made you take up photography?
I am fascinated by Japanese photographers. My dad used to work in Japan so we have a lot of Japanese magazines at home. I browse through them regularly to familiarize myself with how they compose their shots. It's basically how I got into photography.
When did you start collecting cameras? 
I started collecting film cameras late last year. Prior to that, I already owned a Canon AE-1 Program and Konica C35 EF3.
When did you buy your first camera? How much was it?
I bought my first mirrorless camera in February 2018. It cost P22,000 for the body, and I used the money I got from a freelance job to pay for it. 
How many cameras do you own?
I currently have 12 Film cameras and one mirrorless camera: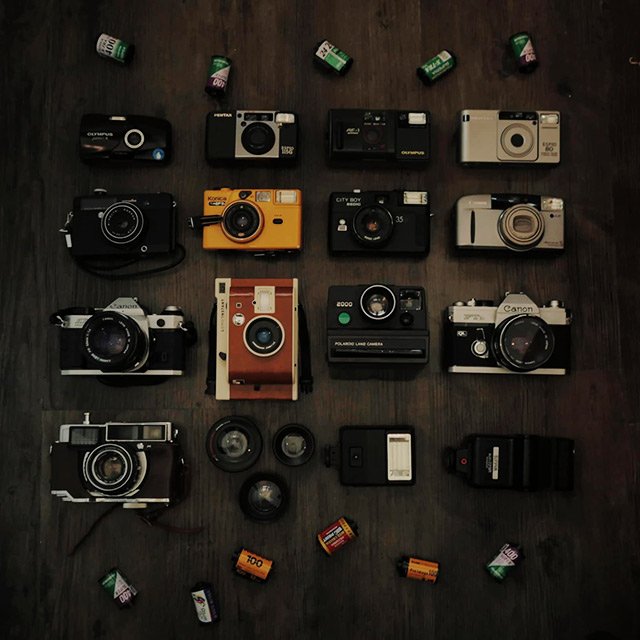 Continue reading below ↓
Recommended Videos
Canon AE-1 Program w/ 50 1.4 (2012; given by my uncle)
Konica C35 EF3 (2017; P3,000)
Lomo'Instant San Remo (2017; P6,000)
Pentax Espio 115G (2016; P2,500)
Olympus AF-1 (2017; P1,500)
Canon Autoboy S (2017; P1,000)
Canon FTB QL w/ 50mm 1.8 (2017; P5,000)
Sedic City Boy 35 (2017; P1,000)
Pentax Espio 80 (2017; P2,500)
Fujica 35 EE (2017; P3,500)
Minoltina P (2018; P1,000)
Olympus mju II (2018; traded for two fresh rolls) 
Panasonic Lumix G7 - body (2018; P22,000)
Which model is your favorite? Why? 
My favorite is the Olympus Mju-II. I got it from a friend; she asked me to give her two fresh rolls as payment. I got it that way because she doesn't like selling cameras with technical hitches—it has minor issues but these do not affect the quality of the images. I have faith in this camera, so it was a risk I was more than willing to take! What I love about this camera is the sharp 35mm f/2.8 lens, and the body is very small. A friend once told me how she hated carrying big/heavy cameras—it's as if you have a plantsa hanging around your neck. That statement hit me hard, and my love for POS cameras was born.
What are your "dream" cameras? 
Digital: Panasonic Lumix GH5S 
Film: MAMIYA 7 II 
Which do you prefer: film or digital cameras? Why?
I can't really decide; they both have their pros and cons. Film cameras (35mm) give me the hue of colors I want but it can't take videos, which is something I need for my job. On the other hand, a digital camera lets me take videos but they don't give me the color I want, unless I edit the image, of course. It's more practical to use a digital camera—it makes my life easier—but I like being broke from buying film rolls.
Check out Shin's work on Instagram. 
Follow Ysa on Instagram.