When I was asked if I could do this challenge, I was literally in the middle of curating my online shopping cart of bawas-init wardrobe. I basically had the same bralette, but in different colors. These days, people say dressing up real cute while working from home helps us become more productive. Needless to say, the shopaholic in me interpreted that as buying more because naka-sale and uso pa ang loungewear ngayon.
That "scarcity mindset" is described by assistant professor Caroline Roux of Concordia University as not having enough and the fear of missing out. According to her, "Consumers tend to think more in terms of scarcity, or not having enough time, not having enough money, not enough product that they might want to buy as gifts, and they also tend to become a bit more competitive." If not, impulsive. I know my spending habits need some work, but I didn't know they were *THAT* bad. So, I said yes to the challenge.
The first thing that came to mind: "Keri lang, one week lang naman. Easy." Boy was I wrong. Putting a stop to this was easier said than done. If someone had told me earlier that revenge spending is the most likely clapback of quitting cold turkey, then I would not have gone down that road until it's too late. By late, I meant checking out five swimsuits two days into the challenge. Proud na proud pa ako sa sarili ko that I survived more than a day na walang gastos and that I probably deserve a reward ~in advance~. And yet here I am now: Do I really need five swimsuits in the middle of a raging pandemic?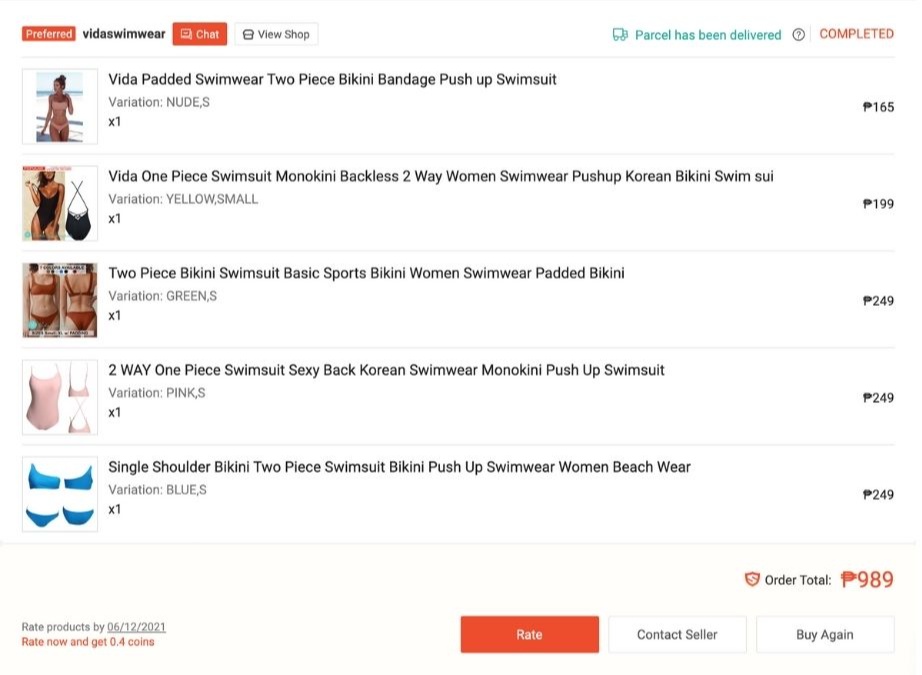 Continue reading below ↓
Recommended Videos
Below are just some of the items in my online shopping cart that I decided to hold off on buying.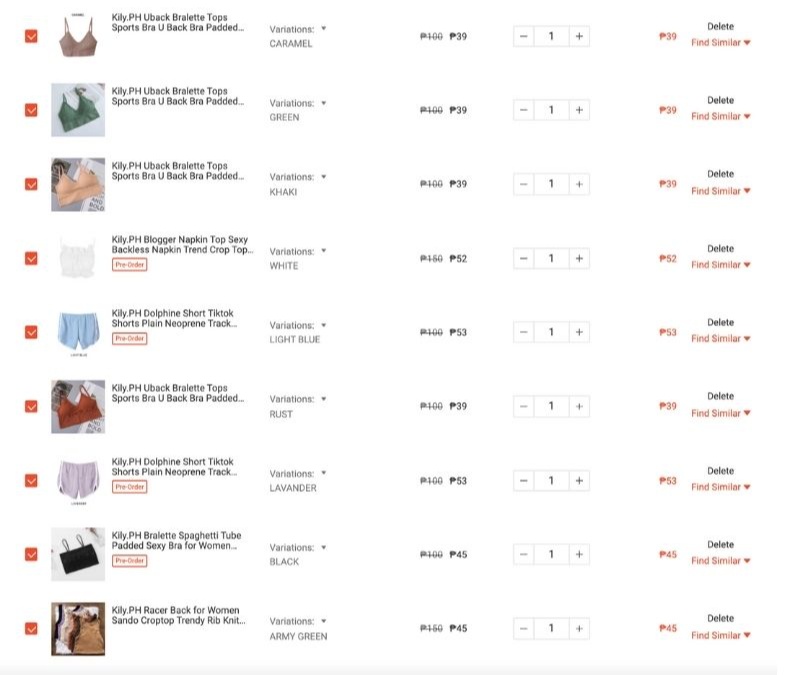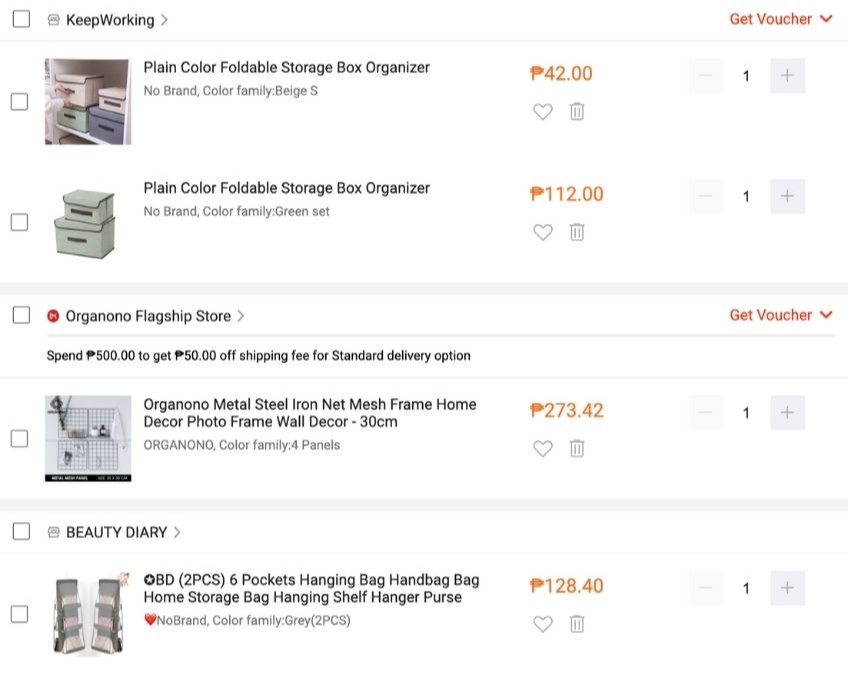 That wake-up call with the five swimsuits was a game-changer, but an internal grasp of this nasty habit is just the first step. Doing something about it, even for a week of no online shopping, was what made a difference.
I replaced a bad habit with a healthier one.
According to James Clear, the author of #1 New York Times bestseller Atomic Habits, "If you expect yourself to simply cut out bad habits without replacing them, then you'll have certain needs that will be unmet and it's going to be hard to stick to a routine of 'just don't do it' for very long." TLDR: You don't just stop a bad habit, you replace it with a good one that satisfies the same desire.
Within a week of no online shopping, I found myself finishing a book I've been reading for months, trying all sorts of workouts (while figuring out which one I like the most), and teaching myself how to paint in oil pastel. 
It's not enough to simply avoid e-commerce apps at all costs and pretend they don't exist because they do; Babalik at babalik pa rin ang temptation. What I had to do was to replace the time lost from mindlessly scrolling and adding items to my cart with new routines. Within a week of no online shopping, I found myself finishing a book I've been reading for months, trying all sorts of workouts while figuring out which one I like the most, and teaching myself how to paint in oil pastel. Online shopping was merely one easy way to kill time, and swapping it with other activities definitely gave off the same amount of endorphins without spending.
I created friction between me and the purchase.
Other than boredom, I realized that social pressure ang puno't dulo ng problema ko. Coming up with a game plan to reduce the chances of that feeling also helped. As much as I enjoy knowing the latest budol home-corner item and watching fashion hauls, I had to pin down social media as my biggest insecurity trap. My future self-esteem—and definitely, my wallet—would thank me for unfollowing home makeover groups (because I know I don't need one!) and certain influencers just to keep up with the latest trends.
Creating friction means I have to lessen the convenient charm that online shopping prides itself in. Deleting e-commerce apps on my phone was the most obvious deed. Another thing that worked was removing automatic log-in and easy payment methods within my e-commerce accounts since nakakatamad to manually input my account details every online purchase.
On top of that, Pinay Youtuber Nadine Felice Co shared that setting personal financial rules, like never letting your bank account go below a certain amount as well as adding an extra column in your budget tracker where you have to explain why you need to buy *that* item, allows you to slow down and think twice before clicking that checkout button.
I decluttered with a twist.
Decluttering was a big part of this weekly challenge. But I realized that the traditional KonMari Method doesn't really work for me because my constant excuse was lahat naman ng gamit ko nags-spark joy. I always tell myself I should keep this item because it makes me happy. Rather, what I did was I picked up each of my stuff and asked if someone else would be happier with it. I saw that many of my online purchases were unnecessary, if not redundant.
Letting go of these items didn't just make another person happy, but it also urged me to feel content—that right now I have more than enough of everything I need and there is no rush to get the next best thing because bear with me, nandiyan pa rin 'yan years from now and chances are magiging mas mura rin 'yan. Until I can afford double off that price, 50 of my add-to-cart items can wait.
I'm learning to buy more experiences, not things.
Dr. Thomas Gilovich, a psychology professor at Cornell University, conducted a 20-year study to conclude that material things only bring fleeting happiness. "We buy things to make us happy, and we succeed. But only for a while. New things are exciting to us at first, but then we adapt to them." Sooner or later, our online purchases will become a mundane part of our lives and we put ourselves in situations where we have to keep raising the bar and get that latest budol.
This time around, I want to invest more in experiential purchases. Saving up my spending money to try a workout class or attend a pottery workshop via Zoom causes a different kind of excitement and thrill, instead of that impatient, "nagmamadali" na feeling I get from tracking my online deliveries. Walang magbabago sa buhay ko when I get my hands on the latest laptop, but challenging myself to finish a new workout or sitting through with imperfections in a pottery class surely will. 
This time around, I want to invest more in experiential purchases. 
"You can really like your material stuff. You can even think that part of your identity is connected to those things, but nonetheless they remain separate from you. In contrast, your experiences really are part of you. We are the sum total of our experiences," Dr. Gilovich said. Perhaps material things last longer, but experiences are what lingers the most in our minds.
I'm going to focus more on who I wish to become.
Siyempre a week of holding back on online shopping won't change my whole life around. But it's enough of an initiative to pause and process how my spending habits are formed. James Clear also shared in his book that our goals shouldn't stop at producing outcomes (for example, this challenge), but it's getting to that deepest core of visualizing the identity that we want: "Who is the type of person that could get the outcome I want?"
As for me, I want to be a mindful and responsible consumer. Blindly following trends and purchasing on a whim contradict the person that I want to be. And this challenge is just one small win to prove that new identity to myself. The real test comes pagkatapos nito. If you want to adopt the same challenge in your lives, celebrate at the end of it all but don't stop there. Keep showing up for yourself and go claim that new identity!
***
Cosmopolitan Philippines is now on Quento! Click here to download the app and enjoy more articles and videos from Cosmo and your favorite websites!
Follow Alyssa on Instagram.