In 2014, Sophia Lee won first place in the Scholastic Asian Book Awards for her book, What Things Mean.
Have you always wanted to be a writer?
Actually, for most of my life, I was training to be a lawyer because I grew up with a father that was such a force in my house. That's what I wanted to be. It was always just the law. My mistake was that I never asked myself why. I just assumed that I would love it because he and I are almost the same person—we have the same taste in everything. Ally McBeal was such a big thing for me. It's so witty. I mostly loved that she wasn't afraid to be emotional, but she could also be very rational. It wasn't until I got into law school that I realized how different the law was from what I envisioned it to be.
The law requires you to deal in facts, and it was hard for me to do that because I always imagine all these back-stories for cases I had to deal with during exams. My answers were so far off from what the teacher expected, and it was because I had imagined all these characters and lives. When I answered my exam questions, it was almost like I was writing a fiction book. I always knew I was a good writer—I did well in my essays and reports, but I never saw writing as an end point; I always viewed it as a stepping-stone. I also never wrote creatively for myself. I didn't know we were allowed to want something like that.
Continue reading below ↓
Recommended Videos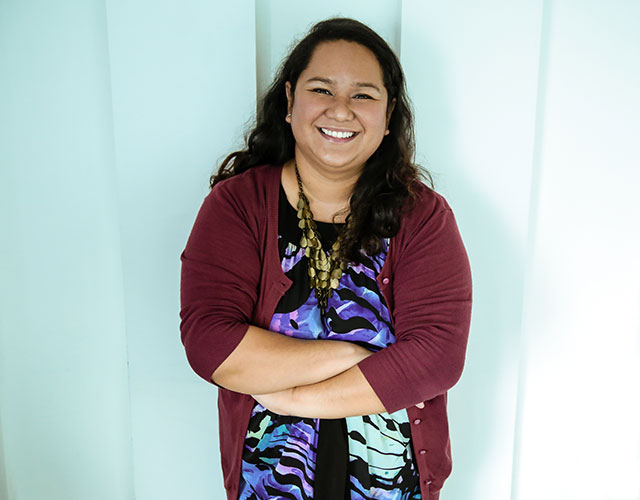 What changed?
I was miserable. It didn't feel right. I started looking at different options. I took a leave of absence from law school and when I went back, I shifted into the evening program so I can have a job during the day. I needed an escape. During that year, I wrote for a non-profit, for a glossy magazine, and for a food show. When it was time to take the bar, I failed. It was the first major thing that I had failed at in my life. It made me realize that I absolute did not want to spend one more minute studying for the bar.
I was writing fiction for a content company at the time. They supplied short stories to mobile subscribers; people who don't pick up books are given access to short fiction. My editor told me, "I know you're just doing this as a [side hustle] to law school and I'm not sure that you know, but you're a lot better than people who submit to us. Maybe it's something that you should explore." That's when I started looking for writing classes. I wanted to do short courses but couldn't find any. I looked into the Creative Writing MA program at UP Diliman. I ended up really loving it. When I started, things fell into place so quickly. One of the classes was creative writing for young adults. The requirement was to write a novela, and that's where I wrote the first chapter of What Things Mean. 
My teacher was the one who encouraged me to join the Scholastic contest. After class one day, she pulled me aside and said that she had been teaching creative writing for a long time, but that she had not seen a manuscript like mine before, and it excited her. She told me that I was a good writer, that my voice was right for this. That meant so much to me because I came from law school, where everything I was doing was wrong. It had been so long since someone told me that I was good. I was in a sea of all these brilliant legal minds who were like, "Yes, I love the law! Let's not sleep. Let us study forever!"
Can you tell us more about the Scholastic Asian Book Award?
It's an international competition that's specifically for Asian writers with Asian stories. As long as you're writing for readers age 6 to 18, you can join. Scholastic wants to contribute to the conversation on diversity. There's this international campaign called "We Need Diverse Books," and it started because a lot of people noticed that so much of what's out there in children's literature is so "white." And it's not because white people are the only ones writing all the time. The Scholastic Asian Book Award's idea is similar, but it aims to bring forth more Asian stories, because we don't have enough of that. For the Philippines specifically, I feel like we're still so focused on Western culture, and I think that's partly because of the books we grew up with. I grew up with Caucasian role models in characters like Nancy Drew and Elizabeth and Jessica Wakefield, but while many of their experiences were universal, there were some issues unique to us that those books couldn't address. Going back to what I said about not feeling like it was right for me to write books when I was younger—that's because the books I read weren't about us. They weren't reflective of the life I was leading, of the issues that I was facing.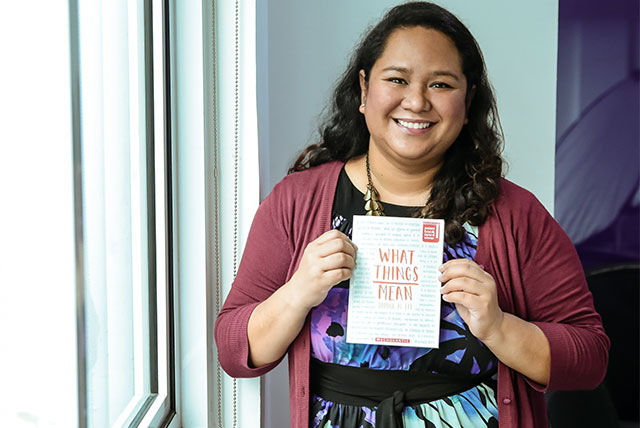 What are some of your challenges when it comes to writing?
Because I write so many things and for so many other people, writing isn't always easy for me. There's writing that you do for yourself and writing that you do for others. The writing that I do for others is easier because there are guidelines. When I write for me, the ideas take so long. Sometimes it'll be weeks or months before I'm able to write a paragraph. It takes me time to imagine it. When I come upon the perfect sentence or image, that's what gets me going. I write a chapter or two, and then I stop again.
What can readers look forward to in What Things Mean?
The story is about a girl named Olive. She's fourteen and she's kind of a misfit. She looks different from everyone in her family. She lives with her mom, aunts, and cousins, who are all mestizas. She's a dark-skinned person with giant hair that never conforms. And she's always looking for answers and no one seems to want to give her any. As far as she can tell, all the differences in her life are because of this man she doesn't know—her father. Every chapter is a word, and it begins with a definition of that word. The definitions are brought to life in that chapter, and it pushes the narrative forward. As the story continues, the way she defines things become different. I want the reader to understand that they don't have to be boxed by definitions, that they can define things for themselves. They can live by whatever terms they want.
For the longest time, especially while I was growing up, being dark-skinned was a bad thing. I had a lot of well-meaning aunts give me skin-lightening products because that's just how it is. For them, they're doing you a favor. I knew that if I were going to write a Filipino story, it would be someone who was kayumanggi. I want the struggles to be there, but also, I want the character to realize that it's not a bad thing to have dark skin. That's why she's named Olive. 
Follow Ysa on Instagram.