Enderun Colleges may have several cum laude awardees each graduating year, but it only has one valedictorian who gets to the deliver the graduation speech. Any cum laude student can actually apply to be a valedictorian, and a panel determines who receives the award.

This year, the valedictorian address was delivered by Bea Gonzales, who is graduating as a summa cum laude from Enderun College's batch 2018. And, when you read her speech (and her story below), you will agree with us when we say Enderun chose well.

Bea, who tutored students in college, calls her graduation speech her last "tutorial session," and tells her graduating class: "Today's lesson will be about why you shouldn't aim to be valedictorian."
As a child, Bea shares that she always dreamed of being a valedictorian, a summa cum laude, and then a successful doctor or astronaut. "I wanted to be great," she says in her speech.
As she grew up, Bea realized that the definition of a textbook valedictorian was not enough. "People think that the valedictorian is someone PERFECT — top grades, pleasant conduct, and Kate Middleton hair. But why aim for perfection, when you can instead aim to serve as an inspiration?"
Continue reading below ↓
Recommended Videos
For Bea, the desire to make a difference motivated her to reveal the most vulnerable part of herself to her class (and to everyone who reads this).
"I am standing in front of you with shaking knees and waterproof mascara admitting that I am mentally ill and sharing my story. Because I hope to inspire you to overcome your own challenges, learn from life, and be brave enough to share yours too...I fell and got hurt on impact. But today, I want to use that hurt to create an impact."
Bea was diagnosed with depression at age 14, generalized anxiety disorder at 17, and bipolar disorder at 19. "When I was off from school, I was 20 years old then, everything was hard. It came to a point where I wasn't eating, getting out of bed or talking — I wasn't talking at all and that went on for, I don't know how long, I don't even remember," the 22-year-old tells SmartParenting.com.ph via a phone interview. 
"It felt like I was in a catatonic state, I couldn't really feel anything. It took a toll on my parents and my older brother, Anton, because they were the ones in the house, they were the ones dealing with me, and they saw me like that. I think it hurt them more than it hurt me. I could see how hard they were trying to get me out of that. I was just unresponsive — that was the hardest part I think."

Bea recounts how her mom, Jo, an accountant, took a year of leave from work to take care of her as she also had to take a semester off from school.

Her mom, whom Bea calls her best friend, focused on helping her heal. "She really helped me get better. She brought me to therapy, we spent time together, and we even went to yoga classes. She wanted to make sure that I knew there was someone there for me."  
"I tell her everything. I can't imagine going one day without talking to her," Bea shares. "For my mom, I admire her bravery — she's a go-getter. She won't take no for an answer, that's her whole thing."
"I am here today, not as the highest achiever, not as a star athlete, nor a Dean's Lister. I am here as an Enderun student urging you all to scrap your idea of a valedictorian."
Grateful for the love she received, Bea tried her best to return the love the way she knew best. She had always been grade conscious because of her parents, but not because they pressured her. 
"When I was in grade school, my goal was to be in the Top 3 of the batch because when you're in the Top 3, you get a discount from your tuition fee. And I wanted to give that as a gift to my parents because I couldn't really afford to give them anything. So, I wanted to give them that at least."

She was an Enderun scholar for her four years in college. Apart from maintaining a grade point average of 1.75, she had to work 120 hours each semester at the student-to-student tutoring program, the Academic Success Center.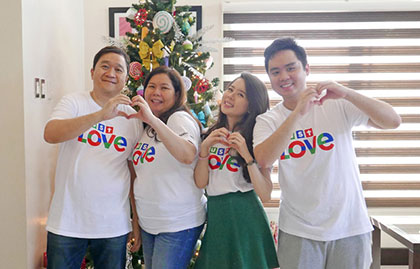 At first, tutoring was merely something she had to do, says Bea. Later on, it became a passion. Tutoring sessions could go for as long as six hours, and a number of her tutees weren't even part of the tutoring program. The passing grades of her tutees were enough for Bea to keep helping other students. She fondly remembers tutees who would treat her to ice cream or a meal at a fast food restaurant.

"They just asked me for help because they really wanted to learn. I could really see their drive to learn. And they never ever forgot to say 'Thank you,' and that really meant a lot to me."
Kindness without expecting anything in return is something she shares with her father, Joey, a lawyer. "My dad is my superhero and my role model. He grew up on the streets, literally on the side of the railroad. He grew up without a dad, and he worked his way through school. He earned scholarships and was able to graduate law school. He even went to Harvard. He's my idol."
"He didn't come from a very well-off family, so all of our relatives who have financial issues, they go to him. He gives legal advice for free especially to those who can't pay him anything," she shares. 

"Actually, a lot of people go to the house bringing vegetables or fruits. Kasi sabi nila, 'Kahit ito man lang, Attorney, i-accept mo naman.' He's that kind of person. If you need help, he'll help you without expecting anything in return."

Her father was perhaps foremost in her mind when Bea told her fellow students, "Let us smile at people on the street, ask how our friends are doing, and give gifts just because…Let us be kind and let us make an impact."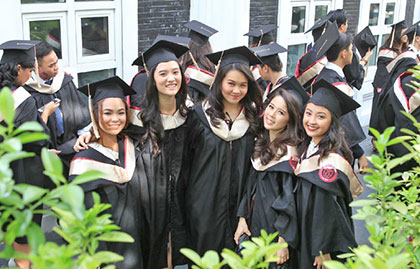 Bea says what really motivated her to apply for the valedictorian award was the people around her. The award was the embodiment not just of her success but, more importantly, of the love she received to get to where she was now. 
"The people behind my success — my parents and my tutees — they were the ones who were pushing me to go up for that award. So when I presented it, I didn't present my achievements. I presented theirs. They deserve that award, I wanted to celebrate them.

"A part of it is also, of course, a personal desire to get better. I think it's impossible to make it through hardships without that desire within yourself to move forward. But really I think it's the support of my family and my friends. I couldn't have done it alone. I wouldn't be here if I were alone." 

Grades matter, but they're not the most important, says Bea. "People will forget your grades two or three years from now, but they'll never forget your kindness. If you were the person who always said 'Hi' to Kuya Guard, Kuya Guard would never forget you. And, I think that matters a lot more than what reflects on your report card."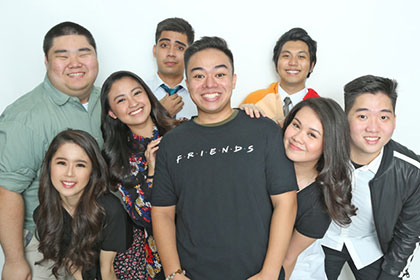 And, take it from someone with exceptionally high grades, scores can't give real, lasting happiness. "What really makes me the happiest," Bea says, "are the people around me. I genuinely love going to school, not just because of the lessons, I mean I love learning, but I love my professors and my friends. They're just people that I really love and they make me happy."
And her most significant accomplishment so far? "I'm just proud that I'm alive — that I didn't fall into that dark, dark place that I can't get out of anymore. And then now, I actually have the chance to help others who might be in the same place I was. If I can save at least one life that's more than enough for me."