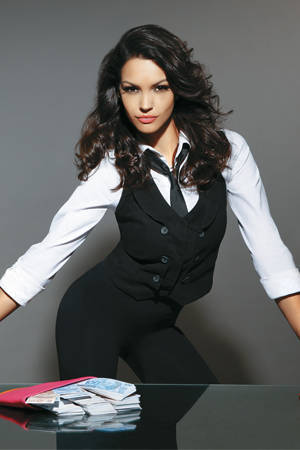 Hi Donna!

I'm currently working for a company with a casual work vibe. At the same time, I'm in my second year of law school which requires me to follow a corporate dress code. To this day, I can't figure out how to transition from casual to professional. I can't wear my law school clothes to work because the last time I did I ended up upstaging my boss with my outfit. My plus-sized frame does not help either—I'm heavy from the waist down (pouchy belly and full, wide hips included), plus I have bigger-than-normal arms.

I hope you could help me out. Thanks in advance!

Giselle, 24
Hi Giselle!
I understand how confusing it must get sometimes to make a seamless transition from work to school and vice versa, but it can be done! Let's start by streamlining the items in your wardrobe and keeping them in a neutral color palette with punches of color. Say, all your basics will be in black, gray, and beige—these would be your pants, tops, blazers, skirts, etc. Then have one or two punchy colors like red or orange or any other fave color of yours for accent pieces like your tops or belts, etc. This way, no matter what you pick out, they will always match. You can dress up your casual school outfits by simply layering on a smart blazer, and wearing pumps. These two items will instantly upgrade your more casual work outfits.
ADVERTISMENT - CONTINUE READING BELOW ↓
To target your problem areas, wear darker colors for your bottoms. This will minimize your puson and hips.

Hope this helps you out! Thanks for writing!
Love, D

You can now get advice straight from our Fashion Director, Donna Cuna-Pita. For your style inquiry, send your name, age, and question to Donna with the subject "Fashion 101." Email  her at cosmophilippines@gmail.com. She'll answer one question every week!