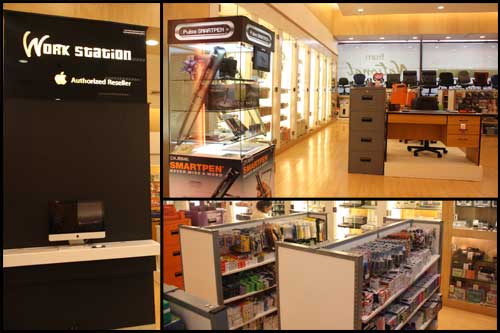 Gone are the days when the phrase "office supplies" meant stacks and stacks of paper, folders, envelopes or piles of paperclips, notepads, staplers, pens, and pencils. Since almost everyone's job these days depend heavily on technology (read: computers), wouldn't it be cool if a so-called office supplies section actually offered gadgets, too?

One of our favorite go-to places (since we were kids!), National Bookstore recently expanded to accommodate the working girl's growing needs with their cool new section called the Workstation. Yes, this one-stop office hub still has all the "traditional" office supplies like pens, pencils, paper, notebooks, and filing materials. But, it also has other major office equipment like computers, printers, scanners, cabinets, tables, and chairs.

Workstation also carries the full line of Apple computers and gadgets, including MacBooks, iMacs, iPods, and accessories. They even have the new MacBook Air and the latest iPods (hey, we need our sounds while we work, right?)!

Only the store in Glorietta 5 has the full array of Apple products, although you can still make special orders through other stores. Other branches will have other Apple products available soon, too.

Looking for cute new office supplies or a new gadget as Valentine's gift for your sweetie? Visit any Workstation branch inside National Book Store in Glorietta 5, SM Calamba, or SM San Pablo. It also has two stand alone stores in Glorietta 3 and Market! Market!
Recommended Videos