With COVID-19 still a global threat, many of us quietly ask ourselves: What does the future look like? Where do we go from here? Are we going to be okay? The truth is, no one has all the answers—all we can do is persist.
And while the pandemic brought us uncertainty, it also gave us some much needed clarity. Now, more than ever, we know what we value most: our family, our health, and in many ways, our community. Brought about by yearning for lasting and meaningful change, we began to look past our own needs and ask: How can we look out for one another?
Cosmopolitan Philippines presents six fun, fearless, forward Filipinos who've built, protected, and celebrated communities during these hard times. They've also created their own safe spaces online, choosing to use their social media influence for good.  
***
Ayn Bernos
Did you know that Ayn Bernos began creating content through a blog called Sun-kissed Somewhere? A few years later, she started a YouTube channel and did beauty and fashion hauls before spending nine months teaching English in Spain. While she was there, Ayn launched Morena the Label, which aimed to help "morenas become more vocal about their skin color pride without having to say much." As we all know, it became more than just a clothing brand; it was a conversation starter. In July 2019, Camp Confidence Radio was born, a podcast where they talk about self-love, confidence, and success—they're now on their fourth season! This young content creator has accomplished so much but in January 2021, something unexpected happened: Ayn blew up on TikTok. Her account, @AynPeroTagalog, amassed 2.4 million followers in seven months!
ADVERTISMENT - CONTINUE READING BELOW ↓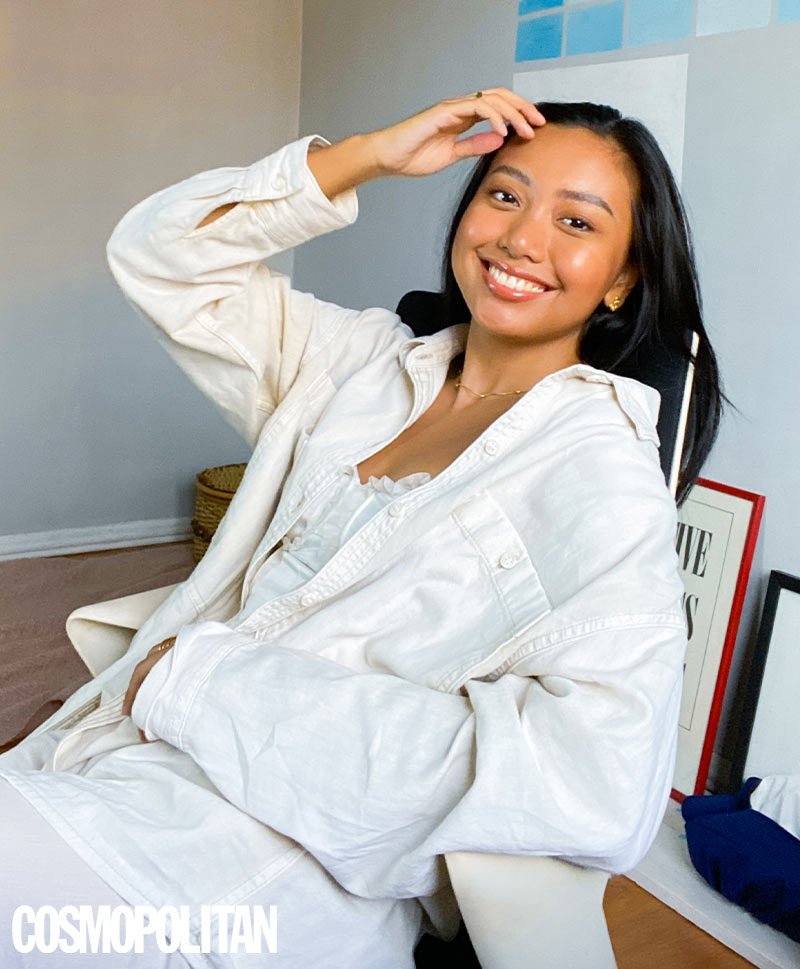 Ayn told Cosmo that her navigating this new platform has taught her to be more intentional about the content she puts out there: "Because of TikTok, ang dami ko ng new insights, new views. Ang dami ko ng natutunan about other people that I never really knew before…It's not always about reacting to issues. It's about understanding where people are coming from and how I can create the most positive impact. What I learned through TikTok is if their initial impression of you is somebody they need to fight, then they won't listen. The path to education and progress is through understanding, 'Bakit sila ganito?'…What is the root of this ideology and how can we address that in a way na we get to have them on our side? You have one shot to get people to listen to you."
It looks like the world is definitely ready to hear more of what this morena beauty has to say. ICYDK, Ayn is one of the Top 100 delegates vying for the Miss Universe Philippines crown this year, and if she wins, she'll be representing the country in the 70th Miss Universe competition.
Dora Dorado
With over 104.3k followers on TikTok, 63k followers on Twitter, and 25.2k followers on Instagram, Dora Dorado initially didn't expect to build a career on social media. When he first joined TikTok in 2019, he shared that it was just for fun. Fast forward to August 2020, what started out as dance videos eventually branched out to *viral* socio-political commentaries ranging from consent, to mass testing, voter registration, and more. "Nung time na 'yun, it was more of I had feelings I wanna share. The people responded [to] it, and a lot of people resonated din with what I was saying," he mentioned. 
ADVERTISMENT - CONTINUE READING BELOW ↓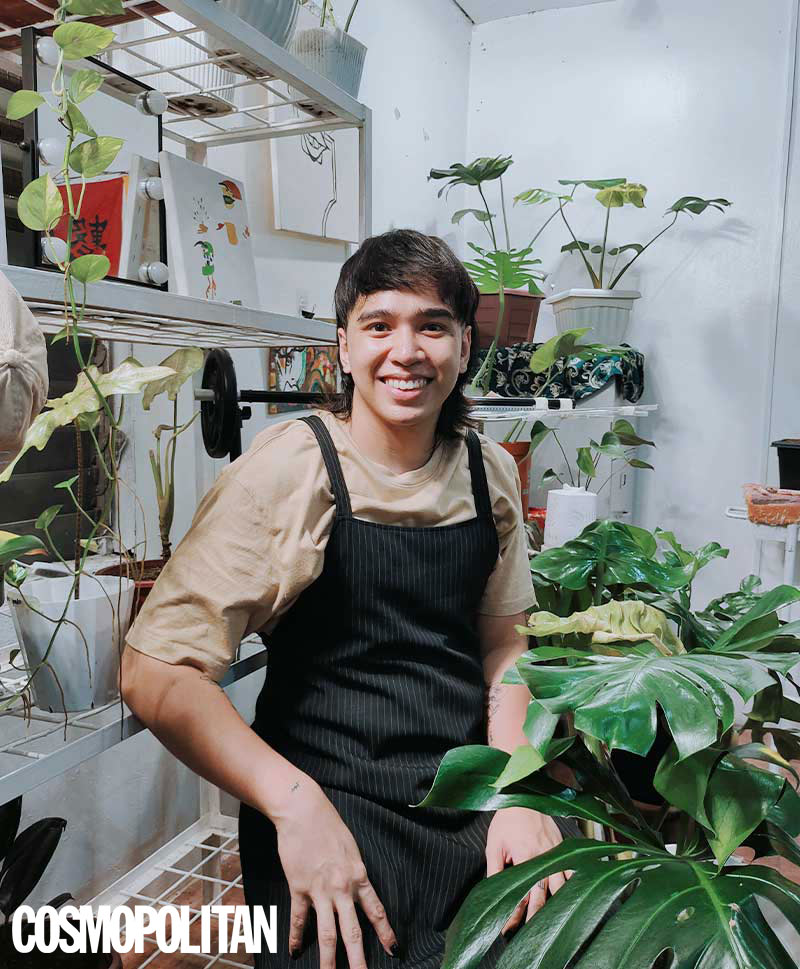 Dora told Cosmo that creating content is something he enjoys because he gets to put his own character and humor to it. When it comes to tackling social issues, he makes sure to include mainstream media and feature Philippine pop culture to make his videos more relatable. For Dora, it's always important to take into account what the audience is saying.  
ADVERTISMENT - CONTINUE READING BELOW ↓
Currently, Dora is a host on Magic 89.9 and is also pursuing post-grad studies at the Ateneo Law School. According to Dora, "With all the stuff I've said on social media, at the end of the day, I'm just still a regular citizen. Me going to law school, getting that degree, and becoming an attorney will put more power into my hands, more power into my words. It will give me the hardware I need to create more substantial opinions on social issues, na alam ko na talaga yung sinasabi ko." 
Anjanette Tadena
Anjanette worked in the agriculture sector for years before deciding to pursue a path with more of an impact. In 2018, she started her own social enterprise called Myco PH where they teach farmers how to cultivate mushrooms. Anjanette joined and won the Young Southeast Asian Leaders Initiative (YSEALI) incubator competition held in Laos, intending to use the seed funding to begin face-to-face training for Myco PH. Unfortunately, the pandemic hit just as she returned to the Philippines. So instead, she used the money to start a donation drive—to help farmers and fisherfolk stay afloat. This is how the youth-led NGO, For Our Farmers (FOF), began.
ADVERTISMENT - CONTINUE READING BELOW ↓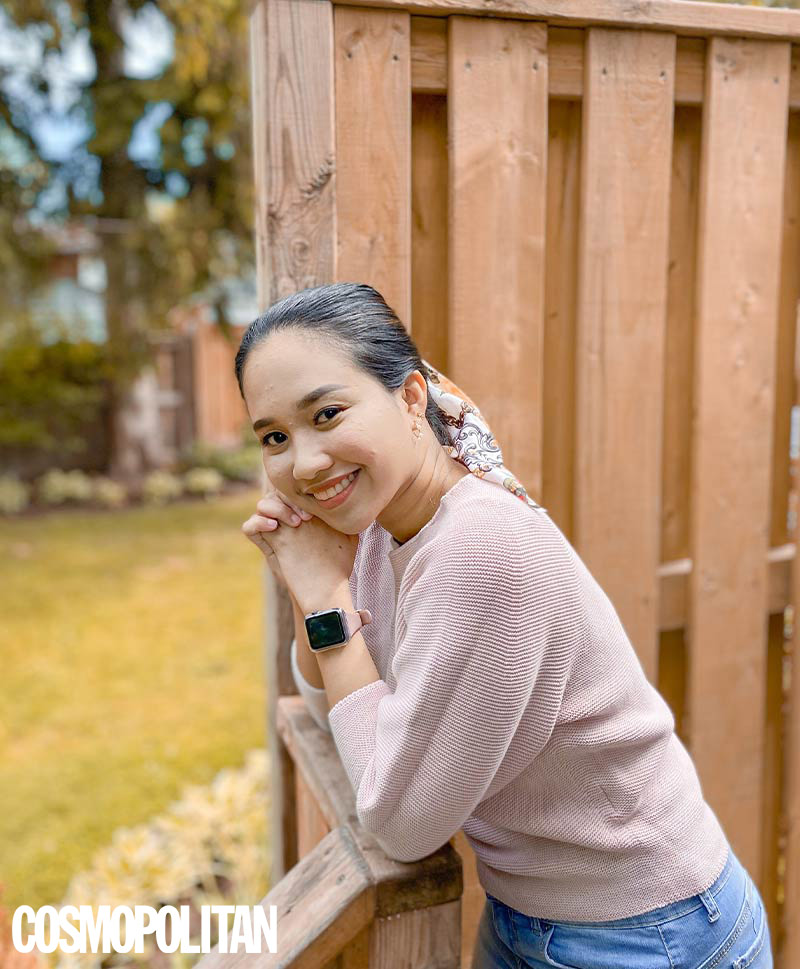 What started out as grocery packs to provide immediate relief soon became much bigger: Their Sponsor-A-Farmer initiative eventually included term life insurance, hermetic technology bags, and water-bill subsidy—all for P500. In July 2020, an Instagram follower emailed FOF asking how they can support one of the farmer's education; soon after, they launched the For Our Farmers' Scholarship, to address the "problem of declining numbers of youth enrolled in school, specifically those from the farming community." (You can sponsor a scholar by donating P2,000.)
ADVERTISMENT - CONTINUE READING BELOW ↓
Speaking about their crowd-funding initiative, Project Sagip, Anjanette said that they turned to Twitter to get the word out. She shared, "Lucky us, we found a teammate who was based in Japan at the time and she was one of the heads of Team JaDine. Yung isang retweet niya translated to a lot of donations. One year after, they are still our partners. They donate to our cause." Right now, For Our Farmers has a learning center up and running and they're working on expanding their operations to more provinces soon.
Macoy Averilla
It's been four years since Macoy Averilla (aka Macoy Dubs) released their first dubbed video, but it seems like this content creator is only getting started. Known for their comedy skits and being the voice behind catchphrases like #GandaKa and "Shelemet," Macoy is an online personality who currently has 14.7k subscribers on YouTube, 146k followers on Instagram, 774.8k followers on TikTok, and over 1.1 million followers on Facebook.  
ADVERTISMENT - CONTINUE READING BELOW ↓
They told Cosmo, "I was really a frustrated creative way back [in] 2017, when I was working in [an] advertising agency. Wala talaga akong outlet to unleash the creativity, and 'yun ang naging mantra ko to create dubbed videos." In 2020, right when Macoy started getting into TikTok, the internet met the cool and fun persona, Auntie Julie. She's your progressive tita from Poveda who wears pearls, loves hanging out at Mary Grace, and knows all the tea, LOL!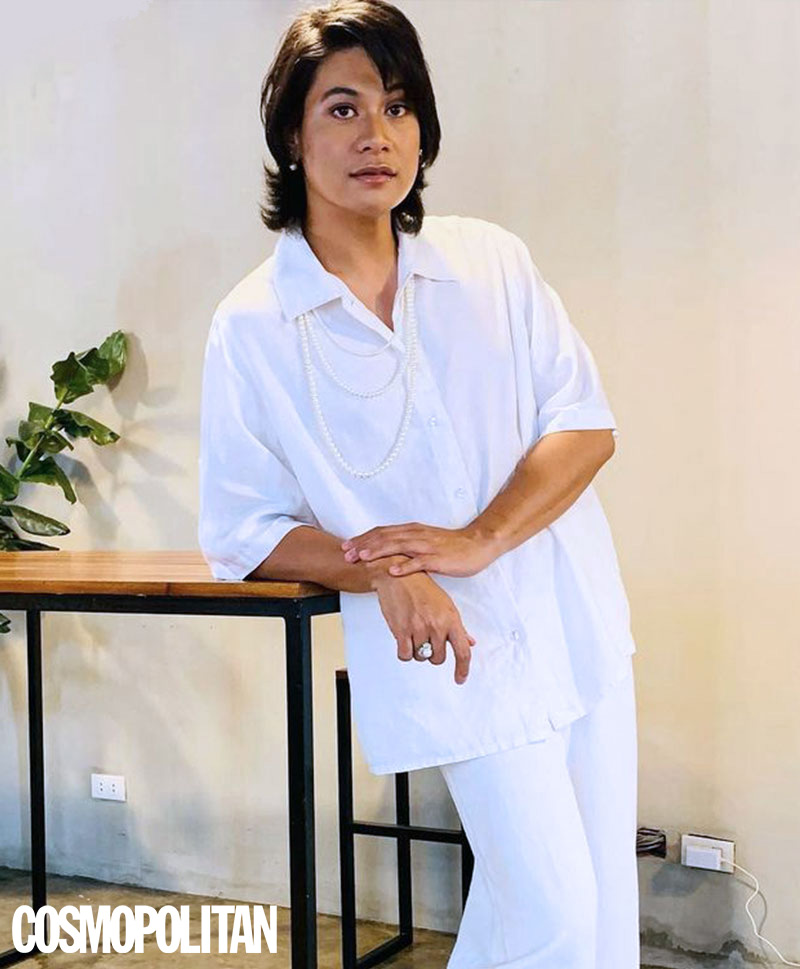 ADVERTISMENT - CONTINUE READING BELOW ↓
Through the years, Macoy has entertained netizens with videos covering all kinds of topics—from the daily scenarios you experience in life, to serious socio-political issues. "Of course, nage-evolve rin yung paggawa natin ng content. Sometimes, we also use our voice for the common good. We also use our platform to speak out and discuss several topics and advocacies like sex education, HIV awareness, and mental health," they added.
As a content creator, Macoy describes their process of producing videos as something with far more meaning. Apart from uploading and sharing posts on social media, they also encourage critical thinking. "I want my followers to be in the know and to know who I am. I also upload videos wherein I share my interests, and I like people to think. I want to impart something kasi. Dapat after you watch the video, you [learned a lesson]. Parang meron ka pa rin, 'Ay, napaisip ako dun' or 'Uy oo nga 'no.' Parang may eureka moment," they explained. Fun fact: Their viral dubbed video of Mean Girls was actually meant to highlight Filipino pop culture and give recognition to local shopping places like Greenhills! In the future, Macoy hopes to collaborate with fellow content creators and brands who support the same advocacies and share the same vision and energy as they do.
ADVERTISMENT - CONTINUE READING BELOW ↓
Issa Barte
After leaving the corporate world, Issa Barte and two of her best friends launched For The Future (FTF) with a party in Poblacion because they wanted to "make caring for the environment fun." Issa told Cosmo, "We wanted to send the message that anyone can be a part of this. You don't have to be extraordinary to do something for our world." Their team has grown since then, with many of them working from all over the world. United by a simple goal of making a better tomorrow, FTF does their part when it comes to reforestation, typhoon relief, and education.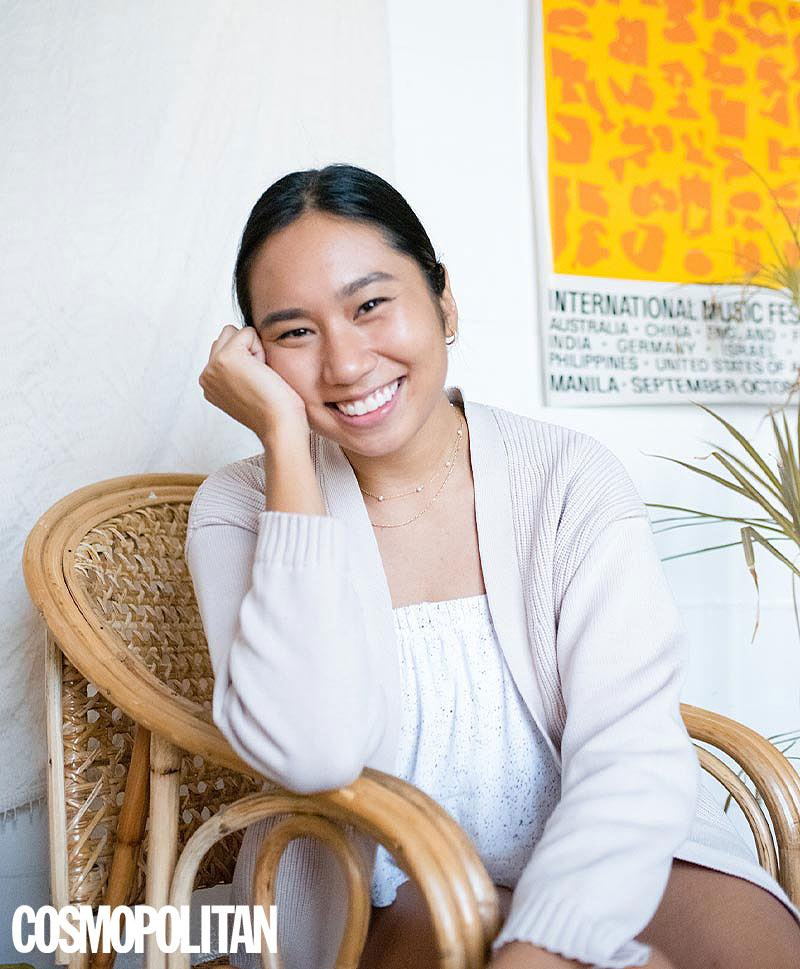 ADVERTISMENT - CONTINUE READING BELOW ↓
In partnership with One Million Lights Philippines and Kids for Kids, one of their major campaigns is The Light Project. Issa explained, "There are 10 million Filipino families that are still off-grid; they depend on kerosene lamps, which is really expensive. Solar light can let them save, work at night, go to their boats, farms, or upland communities safely. It's P900, but it can last them five years." But this is just one of the many projects they're currently a part of. As expected, it can all become overwhelming—but Issa doesn't shy away from talking about the hard stuff.
"It's like those moments when I just want to give up or give in to these bad emotions…Is what I'm doing actually, in the most honest sense, helping? If I answer myself, it's usually a no. I try to be honest with my team. We process these things together. We go back to the stuff that we've already done. Impact is impact, no matter how small it is. If we stop now, we're really not going to help anyone," she said. For The Future is currently gearing up for the next typhoon season. They plan to use what's left of the money from the last typhoon fund—something they all agreed to save so when it happens, they don't have to wait for people to donate—and to increase their fundraising efforts.
ADVERTISMENT - CONTINUE READING BELOW ↓
Cleo Loque
At 17, Cleo Loque is a Pinay entrepreneur who's already starting to make a name for herself. When she was only 15 years years old, she launched Hiraya Pilipina, a brand that champions women empowerment through statement tees, tote bags, and abaca masks. With humble beginnings, the business was a product of two things that Cleo loves: words of affirmation (her love language) and fashion. She was just an incoming Grade 11 student when she thought of the idea and presented it to her parents, who are also entrepreneurs. They were very supportive and loaned her P20,000 to kickstart the project.
"Each design has a deeper meaning and most are actually based on my experiences. When I experienced catcalling, we developed Abante Babae and it says, 'Hindi imbitasyon ang ikli ng tela, lalong hindi kabawasan ng aking halaga.' All these statements are meaningful to me, and once I was able to put them into statement shirts, I got to know that these words are not only impactful to me, but also to other women," Cleo explained. 
ADVERTISMENT - CONTINUE READING BELOW ↓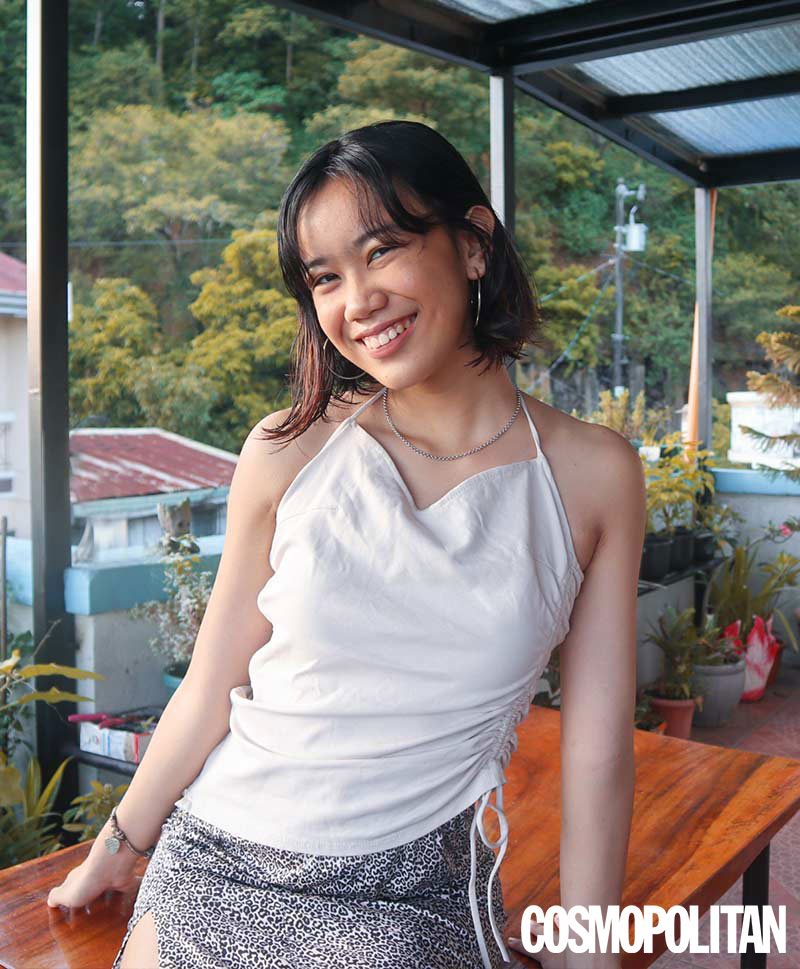 Managing a business all while getting a college degree in BS Entrepreneurship may sound like she's got a lot on her plate, but Cleo shared that she's able to make it work, thanks to her support system and experiences back in elementary school. Aside from having her parents as mentors, she has three teammates running the brand with her. As of writing, the Hiraya Pilipina team also includes a community manager, a social media manager, and a  graphic designer—all of whom are Pinay college students as well. According to Cleo, "Ever since I was in Grade 8, I've had a lot of extracurriculars already. Doon ko natutuhan mag-manage ng time and energy ko. Right now, I'm actually not only a student and the founder of Hiraya Pilipina, but I also create content on YouTube. It's my passion. Naba-balance ko siya lahat by making sure I still prioritize myself."
ADVERTISMENT - CONTINUE READING BELOW ↓
As an entrepreneur, her number one advice to those who want to pursue a similar path is to really feed your mind, do your research, and read more books. After college, Cleo hopes to continue building Hiraya Pilipina into a lifestyle brand and dreams of launching her own skincare line.
We asked them: What's the best part about the community you've built?
*Answers have been edited for clarity.
PRODUCED BY: Ysa Singson and Louise Ferrer
ART DIRECTION BY: Cyrille Calderon
VIDEO BY: Alyza Angeles
***