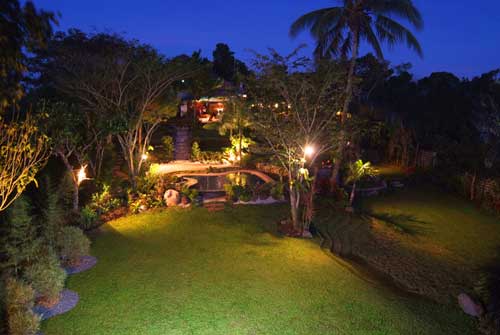 Nurture Spa Village Tagaytay

Stress Buster
Now that the holiday rush is winding down—you're done Christmas shopping, attending countless parties, and scurrying to finish work before the long break sets in—you realize you look like you've aged a year in less than a month. Aside from thinking and doing too much at a time and barely having time to eat or even look pretty, we're quite sure you barely slept a wink, too. So have you looked at yourself lately? Let us guess: you have dark shadows and bags under your eyes, your skin looks dull, you seem to have more fine lines than normal, and you have weird aches all over your body.

Here's what you need (rather, deserve): a pampering getaway to Nurture Spa Village Tagaytay. Take a break from your usual Tagaytay itinerary (eating, sight-seeing, having coffee) and instead treat yourself to an ultimate wellness experience. Start the year right by revitalizing your energy and rediscovering a relaxed, stress-free life. Do this by asking for one of their newest wellness programs called Stress Buster, which uses a combination of electrotherapy, massage, aromatherapy, exercise, diet, personal lifestyle counseling, and acupuncture (or TENS, if you're afraid of needles like I am). Read on to know more about each of these treatments.

Checking For Wellness
I opted to get into the Stress Buster one night and two days program (you also have the option to avail of two nights and three days), which I fixed with a Nurture wellness specialist prior to going to Tagaytay. Upon arriving at Nurture Spa, I was led to a small room where a wellness specialist administered a DMS (or Digital Meridian Scanner) Testing, a computerized check up that screens the body's overall wellness to monitor symptoms of illness in its early stage. It is the only clinically based online health check system of its kind today which produces, in less than 20 minutes, very specific, quantitative data based on human energy. It is proven 80 to 90 percent accurate and is absolutely safe, non-intrusive, and non-invasive!

I was quite worried that my liver would be the one most in need of attention, given that prior to this treatment, partying is my way of de-stressing. To my surprise, it was in fact my heart and brain! And the cause? Too much thinking and worrying, and not enough rest and sleep. Hah! Talk about accurate. I was told that if I don't watch it, I'll be a candidate for severe heart problems at such a young age.

I will describe each of the treatments on the next page.
[nextpage]
Continue reading below ↓
Recommended Videos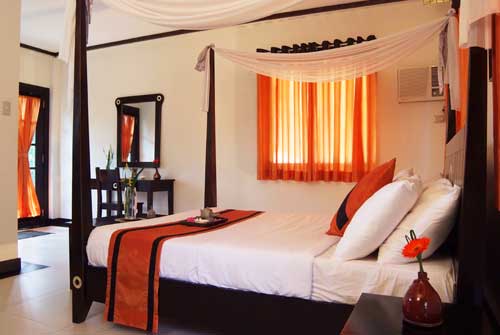 Forest View Room

Treatment Bliss
What followed next are my favorite parts of the package: the full-body massage and facial. We were first led to our Forest View room, which, to our amusement, is a honeymoon suite! It has a balcony overlooking a forest, a huge bed with drapings, and a pretty bathroom with a tub which, lo and behold, is only covered by strings of capiz! My best friend, Weng, and I had to agree to stay away from the bathroom area whenever one of us is using it.

Once we've settled in, our personal butler accompanied us to one of the massage rooms, where I was first able to take a luxurious shower before the treatment began. I was given an hour-long full body massage, wherein the therapist used signature strokes combined with light stretching. She kneaded my tight muscles with a blend of lavender essential oils to balance my nervous and emotional systems and create a revitalized sense of harmony and well-being.

Right after the massage, as I was still half-dozing, the therapist administered a Mutya Natural Facial, a refreshing all-natural treatment wherein she layered pure honey, almond and yoghurt mix, and actual cucumber slices on my face. Packed with Vitamins A and C and natural antioxidants, these ingredients worked together to cleanse and invigorate my face.

High-Tech Treatments
Once I've fully soaked in the benefits of the lovely back-to-back massage and facial, our personal butler led us to a more high-tech treatment room, where there was a special sort of bed right beside an otherwise ordinary looking chair with some wires attached.

I was supposed to be up for acupuncture, but since I am not comfortable with needles, I opted for T.E.N.S. or Transcutaneous Electrical Nerve Stimulator Therapy instead. Also called Non-invasive acupuncture, TENS stimulates nerves, muscles, and cells through the surface skin using low electricity, making the brain produce endorphins or natural pain killers to relieve symptoms and stop pain. It is said to be good for people who have arthritis and headache. They asked me what parts of my body hurt the most and I pointed to my shoulders and lower back, which is where they attached the wires. The treatment felt like a vibrator was pressed onto those parts for a few minutes, after which I noticed the pain on those areas lessened significantly.

The very next day, after doing Chi Gong, or a combination of breathing and stretching exercises, and eating a hearty breakfast, I was led back to the high-tech treatment room for the Biomat Therapy. I was made to lie on the bed I mentioned earlier, and was subjected to Infrared Negative Ion Treatment Detoxification. This treatment is meant to heal the body and eliminate toxins as I lie on a mat with infrared heat rays and negative ions. This method stimulates cleansing, sweating, and detoxification. After the treatment (which was just like lying in a warm bed wrapped in a thick comforter), I was asked to take a shower to wash away all the toxins from my body. I felt so refreshed afterwards.

Then I went back to the treatment room to go through two more treatments: another session of TENS and Biozapper, a machine that zaps and kills bacteria and viruses. I was asked to sit on the chair right beside the Biomat bed and hold two bars that are connected by wires to a machine. The frequency resolution therapy corrects the altered electromagnetic field of the body and destroys microbes dwelling within the cells and blood. While I didn't really feel anything special going on as I went through the treatment, I believe this really helped further improve my overworked and super-stressed body's capacity to heal itself.
[nextpage]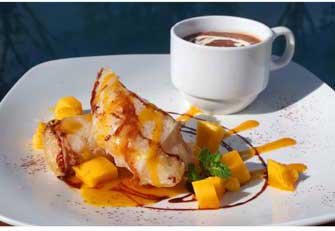 Healthy, Yummy Eats!
The package also includes all the meals you'll need throughout the treatment process. Since I'm still quite young and fortunately not prohibited from taking any particular food, I was free to enjoy the cuisine offered by Nurture Spa (although normally, the Stress Buster package would include three servings of juices, three servings of herbal teas, a shot of Via Viente daily, special herbs to help you energize, and daily dose of Fiber Health, plus a variation of salads and healthy dishes). I sampled the various delectable cuisine offered in their different dining areas.

Tanglad Bistro offers an intimate setting for enjoying lunch or breakfast, and features non-vegetarian and vegetarian options. For dinner, we opted to dine at Tan'aw Bar, which overlooks the swimming pool and garden, and sampled their delightful array of salads, fresh juices, sandwiches, and even spare ribs (my favorite!) in an al fresco, informal setting that's perfect for a barkada. This is really how you enjoy Tagaytay weather and fresh air at its finest!

At the end of the Stress Buster wellness program, I was given a nutritional and diet plan which I should follow to sustain and prolong the effects of the treatment.

Glowing Results
After spending one night and two days at Nurture undergoing all these treatments and pampering, my looks and overall feeling spoke for themselves: I was stress free! Even without makeup, friends noticed my skin had a healthy glow, which I haven't had since I started working late nights and worrying about so many things every single minute. My face cleared, the shadows and bags under my eyes were gone, and I felt happier, more at peace, and once more ready to take on the world.

And who wouldn't enjoy such results after getting all these: being surrounded by a serene tropical garden, first class accommodations, delicious cuisine, relaxing facilities, pampering spa treatments—what more could you ask for? Trust us, with all the hard work you put in, you deserve all these. Make it your gift to yourself this season (if you haven't gotten yourself one yet).

Package Price
Each wellness package varies, depending on the treatments and food your body condition needs. Prices begin at around P10,000++ for this treatment, but better call and inquire about specific prices and other available packages if you find this too much for your budget. But I have to tell you, it really would be money well spent, anyway, since it is for your well-being. It's the best way to start the new year.

Treatment For Every Wellness Need
Nurture Spa also offers other comprehensive wellness packages, with names that very clearly state the results you can expect to achieve: Radiant Impact (which my friend tried and we will also review very soon), Forever Young, Waist Watcher, Gentle Detox, and Holistic Health—which can last from one night and two days, to at least seven nights and eight days.

Where To Go
Nurture Spa Village Tagaytay is at Barangay Maitim II West, Tagaytay City. To get there, from Tagaytay Rotonda, drive straight going to Batangas. Your landmark is a group of restaurants (Starbucks, Leslie's, Dencios, and Carlos Pizza) to your left; right across (to your right) is Magallanes Square (where Figaro and Mocha Blends used to be). Turn right and follow the signs leading to Nurture Spa. For reservations and inquiries, you may call them through (02) 584-4228, 0918-888SPA, or (046) 483-0804 to 05.

Something Else You Should Know
Nurture Spa is open daily from 9AM to 10PM (with the last treatment time at 9PM). If you want to bring the Nurture Spa experience to your home, call them for their Spa Party Packages: They will reconstruct the natural ambience of Nurture Spa right in your very home or any chosen venue.
249