Zy-za Mayato lives in Panabo City, Davao del Norte but works an hour away in Davao City, which is why a car has been on her wish list since 2013.
"I used to borrow my dad's car to [go to] work, but before that, I was riding buses and cabs to get to the office, which for me was a bit costly," shares the 30-year-old marketing professional for a US-based company.
Last year, Zy-za finally crossed the item off her wish list when she bought a pearl white Mazda 3 2018 hatchback from a friend.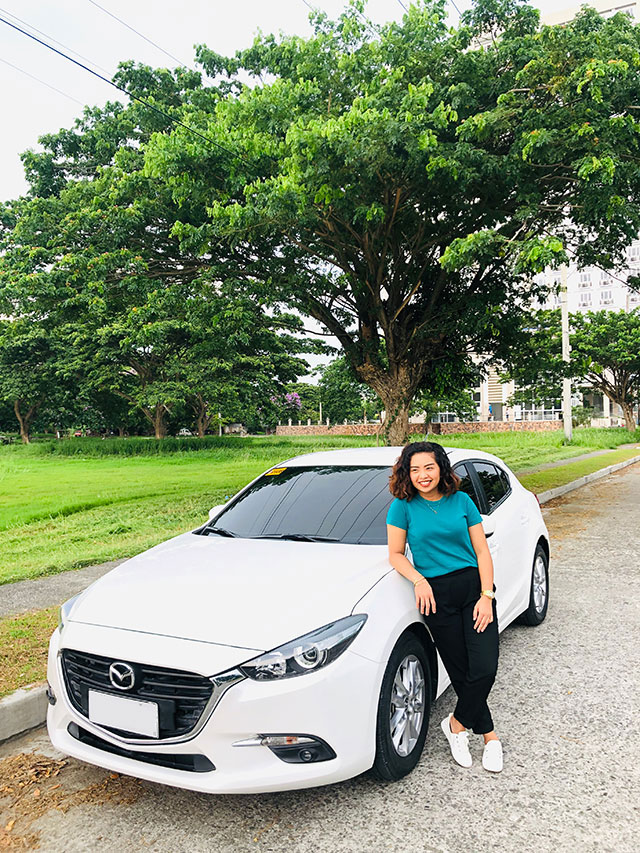 Continue reading below ↓
Recommended Videos
"I love my car and the joy it brings me to see and use it every day," Zy-za gushes. More proof that she loves her car to bits? She calls it "langlang"—short for "palangga," a Cebuano term of endearment.
But if it wasn't for her dad Ali, Zy-za never would've found her "langlang." "He's an inspiration to me; he started from the bottom and worked his way up to where he is now," she reveals. Because of his advice, she learned to patiently wait for years until the right car came to her—and come it did.
Below, Zy-za tells us how her dad influenced her decision to buy a car, how she's financing her purchase, and what she's learned from her experience that she wants other first-time car buyers know.
Her relationship with her dad:
My siblings and I grew up fearing my dad. He's strict and protective of us since four out of five of us are women. Growing up, we never understood why he was like that, until one day, a life-changing experience made him open up and talk to me.
Any decision I make, I consider him and his thoughts.
It made me realize that parents really are always right. Since then, I've listened to everything he tells me because I know he's been there and has done that. Any decision I make, I consider him and his thoughts.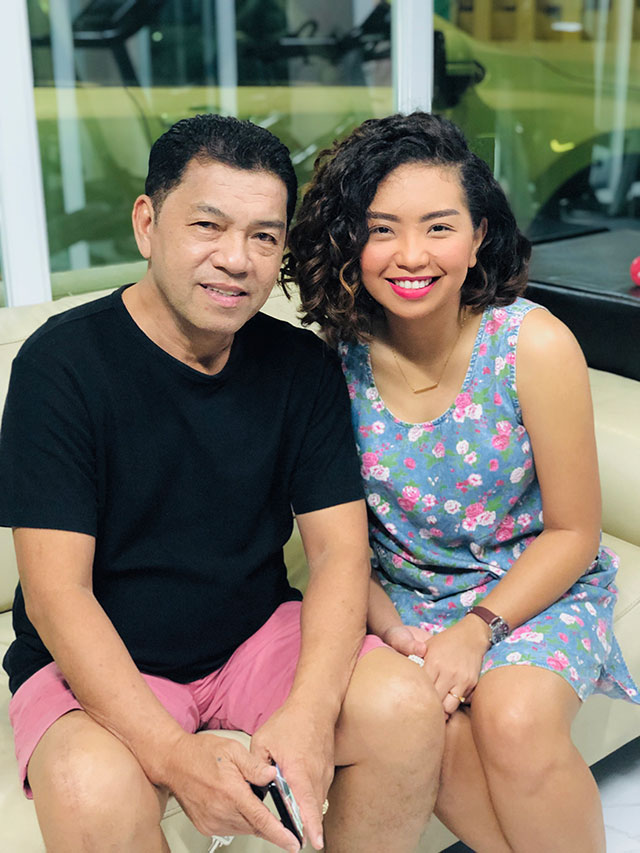 How her dad influenced her car purchase decision:

I got the idea of making wish lists from him; I write things on a list that I aim to buy to help me save up for it. The car was one of the items on my wish list. Somehow, the car became an indicator of my readiness to take on a bigger responsibility: Until I get to buy a car, I am not prepared for the next step in my life.
My dad's a businessman and he knows how to handle money and expenses. He didn't get to buy some of the things on his wish list until he was in his 40s, despite being a successful businessman. I had been envious of people getting to buy cars at a young age, so I had been asking him about it a lot. However, his answer was always a "no" followed by a lengthy explanation of why buying a car was not a good idea. Since I trusted him, I'd always accept what he said and tell myself I'd get that car next time.
As time passed, he would end his replies to me with "If it's for you, it's for you." I didn't get it then because I was living a "get what you want, when you want it" kind of life. But when I did the math myself, I slowly realized he was right, because if I did force myself to buy a car earlier, I could've drowned in debt, or worse, sold my car because I could no longer sustain it.
How she decided on her first car:
I had been eyeing the Suzuki Swift for a long time and thought that car was going to be my first. But when I saw my friend's car parked in the office, the first thing that popped into my head was: "That car looks and feels like me."
When my friend was about to leave the city, I randomly asked him what he was going to do with his car. He didn't plan on selling the car because he was in love with it, but after consulting with his family and getting their go-signal, he asked if I really wanted the car. He showed me the car specs and the rest of the details, and since I didn't know anything about cars, I sought my dad's opinion.
I was just holding on to a gut feeling that this car was me and I was this car. All thoughts about what used to be my dream car were gone; I was solely focused on this white car that looked sophisticated and intimidating on the outside, but was soft and comfortable inside.
How she got her dad's approval:
He got to look at the car once on his own, but we never really got to talk about buying it afterwards. It was about a week later when he brought it up, and by then, I was already under the impression that we were not getting the car. To my surprise, one night over dinner, he randomly asked, "So, are you going to buy the car?" My eyes widened, and I couldn't believe we were doing it. That was the "yes" I had been waiting for. I was teary-eyed telling him about all the times he used to tell me "If it's for you, it's for you." And now, we were actually there. It was one of the best nights of my life.
How she's financing her car:
The value of the car is P1,050,000, but because the payment is through bank loan, interest was added to the original value, for a total of P1,419,960 with interest. Monthly payments are P21,166 for five years.
My friend paid P150,000 for downpayment and had paid the bank for three months by the time I agreed to purchase it. Since he had already used the car for four months by then, we agreed that I would pay him the downpayment plus one month's worth of monthly payment for a total of P171,000, then I'd pay for the monthly payments from then on. I paid the P171,000 to my friend up-front. My dad offered to help me pay for it by giving me P50,000, but I took care of the rest.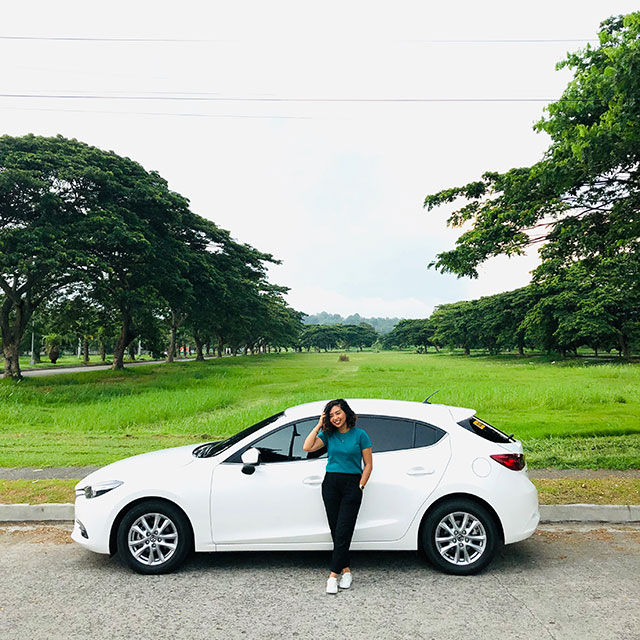 Since the transfer will not be valid until the full payment is complete, we've kept the payments still under my friend's name, and I do the deposits every month. It wasn't really difficult to arrange because we know each other.
Other costs of car ownership:
I spend approximately P500 on gas every two days.
The insurance was free for the first year, but I started paying for the insurance this year, which costs P25,000. Maintenance is still covered by insurance until 2020, so I've incurred no significant expenses for this yet. Approximately P5,000-P15,000 is projected as the cost every three to six months.
Registration is also covered by Mazda until 2020, so no expenses for this just yet.
Unanticipated incidents are also covered by insurance, at an average of P2,000-P3,000 per incident as participation fee if the damage does not amount to at least P15,000.
How owning a car has affected her income:
Before I had a car, I spent at least P400 per day for transportation, and P10,000 for an apartment. I lost a huge amount from my savings when I purchased the car, so I decided to move back to my family's house so I could save up the rent money and pour it into paying for my car.
I've done my cash flow; the only thing affected is the amount of money I'm supposed to put in the bank to save. I know it could have been spent investing on a business, but money will grow if you work hard watering your resources.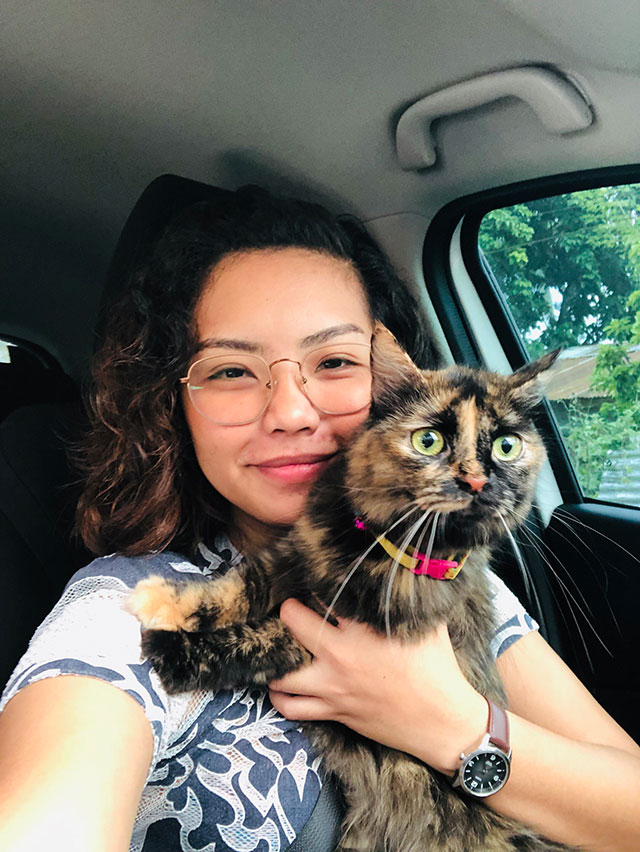 Tips for first-time car buyers:
Listen to those who matter to you. They are invested in you and your future.
Always calculate your cash flow. Do not purchase something if your remaining money will have you just "getting by," because there will be unanticipated expenses for your car, among other things. Just because you have the money now does not mean you can buy anything you want without considering the future.
A wise man once told me, "If it's for you, it's for you." This may not make sense now, but once it does, you'll know it's time.