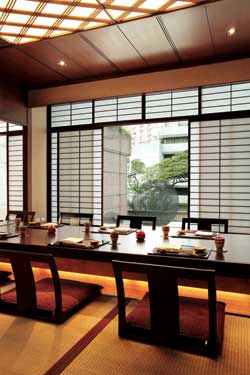 If your idea of summer fun is NOT going on a diet and sampling all the best eats you could possibly try, then you're reading the RIGHT Cosmo article. We've listed 12 establishments you simply must visit for their respective specialties—be it Chinese cuisine, Japanese dishes, Filipino cooking, or even buffets for that matter.
Our basis? The recently concluded 2009 Nescafe Gold Spot Awards, which hailed these 12 establishments as Manila's Best Restaurants in various categories. Now on its second year, the Nescafe Gold Spot Awards aims to honor the best establishments in the city and celebrate Manila as a dining destination. With four brand-new categories—Best Buffet, Best Restaurant Chain, New Restaurant of the Year, and Restaurant of the Year--over 489 restaurants were nominated by
SPOT.ph
readers in 13 categories for this year's awards.
Lusso
and
Lolo Dad's
topbill the list of winners.
Nominations were shortlisted by a panel of judges composed of Becky Kho, editor-in-chief of Cosmo's sister food magazine
Yummy,
Chefs Him Uy de Baron and Aileen Anastacio, popular blogger Franco of
Table for Three Please
(awarded Best Food & Beverage Blog by the 2009 Philippine Blog Awards), food writer and SPOT.ph food blogger JJ Yulo, and actress and foodie
Cherie Gil
. Over 270, 000 online votes were cast for 55 restaurants in 11 categories from December 1, 2009 to January 31, 2010. Winners for New Restaurant of the Year and Restaurant of the Year were selected solely by the panel of judges.
Here are the
12 dining establishments
you simply must sample this summer:
For The Best Japanese Food: Inagiku
For The Best Chinese Food: Shang Palace
For The Best Filipino Food: Abe
For The Best Italian Food: Paparrazi
The Best Steakhouse: 22 Prime
For The Best Buffet: Spiral
The Best Deli: Santi's Delicatessen
The Best Dessert Place: Cupcakes by Sonja
The Best Bar: Cav Wine Bar and Resto
(People's Choice) Best Restaurant Chain and Best Service: Cibo
New Restaurant Of The Year: Lusso
Restaurant Of The Year: Lolo Dad's
Continue reading below ↓
Recommended Videos
Visit
Spot.ph
for more information on these establishments, and click through to the gallery to see some of these dining places and their specialties.396