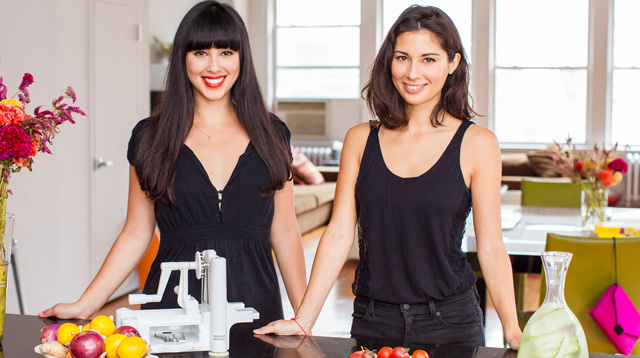 Jasmine Hemsley and Melissa Hemsley are part Pinay and English food enthusiasts hailing from London, and whose cooking has taken the food and health and wellness industry by storm. The duo have cooked for celebrities, and they've created the menus for high-profile events such as those of Louis Vuitton, Chanel, and Vivienne Westwood.
Jasmine and Melissa's flavorful and nutritious dishes are influenced by traditional Filipino food they've learned from their mom. The sisters say they cook like her. "She made everything with love and care. She cooked intuitively based on what was in the fridge and cupboards. She was efficient." Perhaps the only difference is that Jasmine and Melissa prepare these traditional dishes only with healthy ingredients (with quirky twists).
Jasmine and Melissa share with Cosmo.ph some of their healthy recipes, one of which is of our comfort food, the chicken adobo. The recipes below can also be found in their cookbook The Art of Eating Well.
Chicken Adobo with Broccoli Rice (serves 4)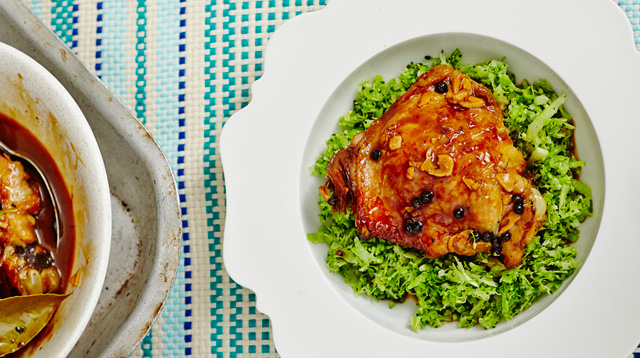 Continue reading below ↓
Recommended Videos
Jasmine and Melissa say that their secret weapon in this dish is bone broth. "It's a frugal and ancient food that we use in our cooking wherever possible. It's our elixir for glowing skin, packed with protein, vitamins, minerals, collagen, and keratin. Putting vegetables and other more complex carbohydrates in, then taking out or decreasing the more simple carbohydrates ensures that we are eating more whole foods which have a greater nutritional value while easily achieving five a day in vegetables."
They pair the adobo with broccoli, since broccoli "has a great effect on the body's detoxification process and is rich in vitamins K, C, B1, B6, A, and E. It's also a very good source of dietary fiber, pantothenic acid, chromium, folate, manganese, phosphorus, choline, potassium, and copper."
For the chicken
1 tbsp. coconut oil
4 large chicken thighs, skin on
5 garlic cloves, diced
800ml bone broth or vegetable stock
3 dried bay leaves
1 tsp. freshly ground white or black pepper
1 tsp. whole black peppercorns
3 1⁄2 tbsp. apple cider vinegar
2 tbsp. tamari or soy sauce (no extra salt needed since both are salty)
For the broccoli rice
1 head of broccoli including stalk, about 350 g
2 spring onions, finely sliced or 1 tbsp snipped fresh chives
sea salt and black pepper
Method
1. Heat the coconut oil over a medium-high heat in a wide pan with a lid. Once the oil is hot, place the chicken thighs into the oil and brown lightly, lid off, for about 3 minutes on each side. Remove the browned chicken from the pan and set aside.
2. Lower the heat and add the garlic. Sauté for another 30 seconds until it starts to color before adding the broth, bay leaves, pepper, peppercorns, and apple cider vinegar. Stir and bring the sauce to a simmer.
3. Add the chicken back to the sauce in the pan, turn the heat down to low and cover. Simmer the chicken in the sauce for 10 minutes, then turn the chicken over, and cover and cook for another 5 to 8 minutes until the chicken is cooked through. Add the tamari or soy sauce to the sauce and stir through.
4. We like lots of sauce to go with our broccoli rice, but if you'd like it thicker, remove the chicken and keep it warm (you can remove the skin at this point too, and put it on a baking tray and bake it until crispy—it'll be super tasty with all the adobo flavors), then reduce the sauce, uncovered, for a few minutes over a medium simmer.
5. To make the broccoli rice, use a food processor or the coarse teeth on a grater to grate the whole broccoli including the stalk into rice-sized pieces. Steam the broccoli in a pan with a few tablespoons of water (with the lid on) for 3 to 4 minutes until tender with a little bite, stirring halfway through. Season to taste and stir through the spring onion or chives, then serve immediately with the chicken.
If you want more recipes from Jasmine and Melissa, you can visit Hemsleyandhemsley.com. Their second cookbook Good + Simple will be out in 2016.
Follow Stephanie on Twitter.