I first heard of the keto diet the way most people heard about veganism, CrossFit, and spin class—suddenly, everyone around me was doing it, but I couldn't trace when or how exactly it had become a thing. "Low-carb, high-fat" became a mantra I'd hear among friends, but none of their anecdotes could convince me to break up with sweet, sweet white rice. That is, of course, until I put on some extra weight that, while visually inconsequential, made me feel not-myself. Around the same time, my boyfriend had just lost six pounds on keto. I decided it was finally time to try it out—and after about one and a half months on keto, I present to you five super-easy and budget-friendly keto recipes you won't get sick of!
(These recipes are fully customizable, so feel free to add or change ingredients as you wish, as long as they're keto.)
ADVERTISMENT - CONTINUE READING BELOW ↓
Lazy Keto Breakfast
Keto requires you to cook for yourself often, and I usually can't be bothered with something complicated in the a.m.
3 cheese hotdogs
1 egg
1 medium bunch broccoli
Pretty self-explanatory—you fry the hotdogs for five to six minutes and the egg for two to three minutes (mine turned out disastrous—I told you it was a lazy breakfast!). Then, you steam the broccoli in a rice cooker for about seven minutes, salt optional. All done!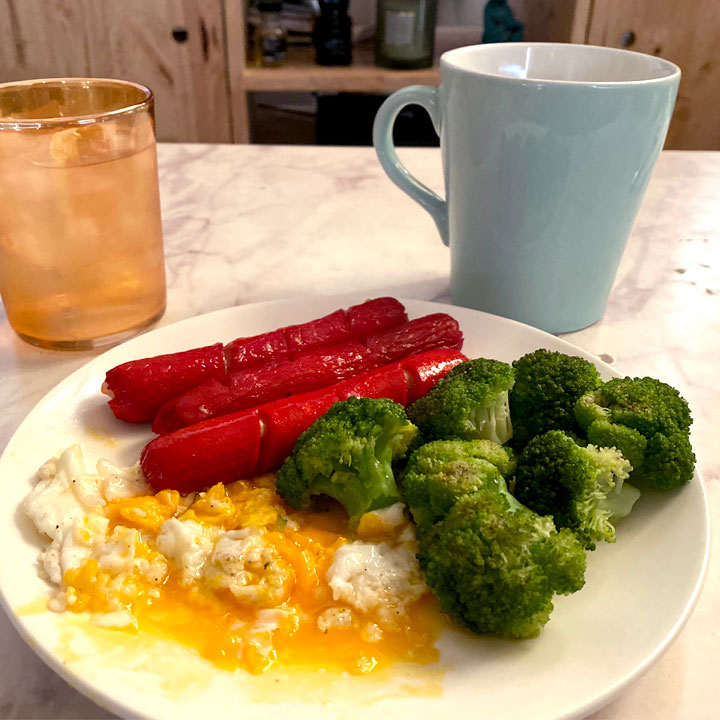 Protein-Heavy Lunch: Pork Chop and Eggs
When on keto, be prepared to be good, good friends with eggs.
1 pork chop
2 eggs
Lettuce, to serve
Thyme, to season
For the marinade:
1/3 cup light soy sauce
2 tsp Worcestershire sauce
4 minced garlic cloves
1/4 teaspoon black pepper
1 teaspoon dijon mustard
Place marinade ingredients in a ziploc bag, and massage to bring everything together.
Add chops to the marinade mix, and marinate for four to eight hours in the refrigerator. (Best to do this the night before!)
Half an hour before cooking, take the chops out of the fridge.
Drizzle oil in pan. With heat on medium, add pork and cook until the underside is caramelized, or for four minutes. Then, cook the other side for three minutes. Finally, cook both sides at 45 seconds each.
Take chops out of the pan, and feel free to add excess marinade.
Wrap chops in foil and let rest for three to four minutes before serving.
While the chops are resting (goodnight, chops), fry two eggs and top them off with thyme for added flavor. Use the lettuce as a bed for the chops once they're ready. All done!
ADVERTISMENT - CONTINUE READING BELOW ↓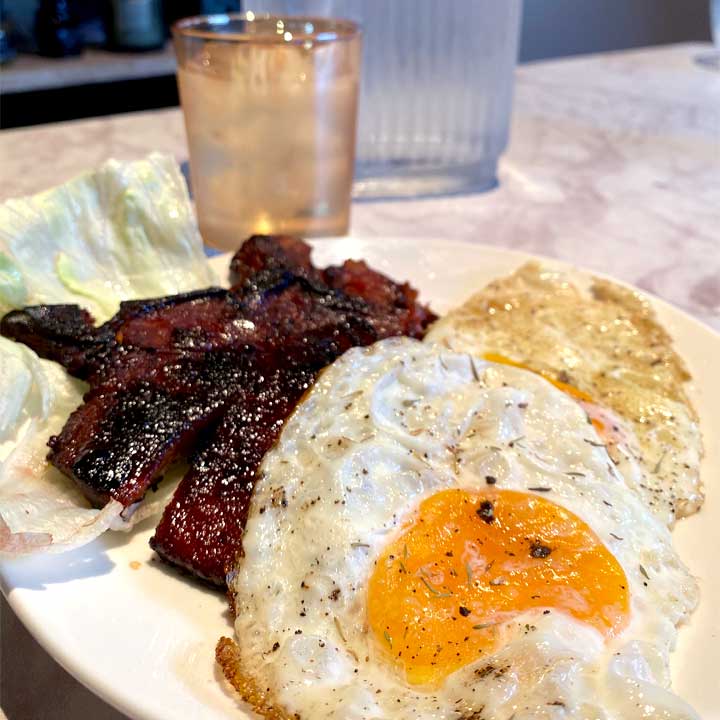 Easy Merienda: Cheesy Pesto Keto Bread
This recipe requires that you buy keto bread—I buy mine from Keto Filipino. Their Butter Loaf is made with pure almond flour, which is keto-safe.
1 keto butter loaf
1 pack of cheesy pesto sauce
5+ tablespoons cheese spread
All you really have to do is slice the loaf to the desired thickness, slather on some cheese spread, and add pesto on top. Easiest merienda ever! Best paired with a tall glass of Coke Zero, which is totally keto-friendly (but best in moderation).
ADVERTISMENT - CONTINUE READING BELOW ↓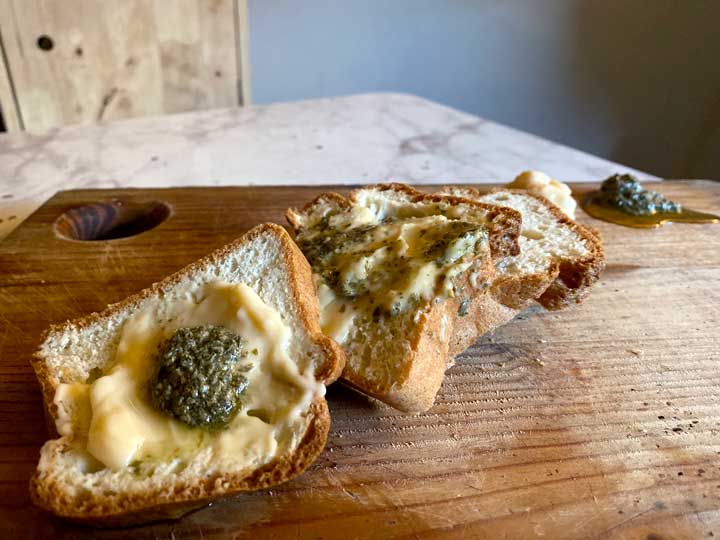 Light Dinner: Caesar BBQ Salad
I prefer to keep things light at dinner since keto is already so meat-heavy. I like to pair this with some Splenda-sweetened tea three hours later, just in time for bed.
1/3 head lettuce
4 sticks barbecue
BBQ sauce
Caesar sauce
1 small tomato
ADVERTISMENT - CONTINUE READING BELOW ↓
For the marinade:
1 cup vinegar
1 cup soy sauce
1 cup oyster sauce
3 chili peppers, minced
1 tablespoon ground black pepper
For the basting mixture:
1 cup oyster sauce
1/2 cup sesame oil
Store-bought BBQ is usually already marinated, but in case it isn't, pop the meat into a large bowl filled with your custom marinade, massage for five minutes, and let sit for three hours (or overnight).
Grill BBQ sticks for two to three minutes on each side.
Baste with oyster sauce mixture.
Using a knife, cut the barbecue shawarma-style (sliced straight off the BBQ stick into thin, uneven strips).
Cut/peel lettuce into the desired size and arrange in a bowl, then add sliced tomatoes. Add meat, then drizzle with caesar sauce.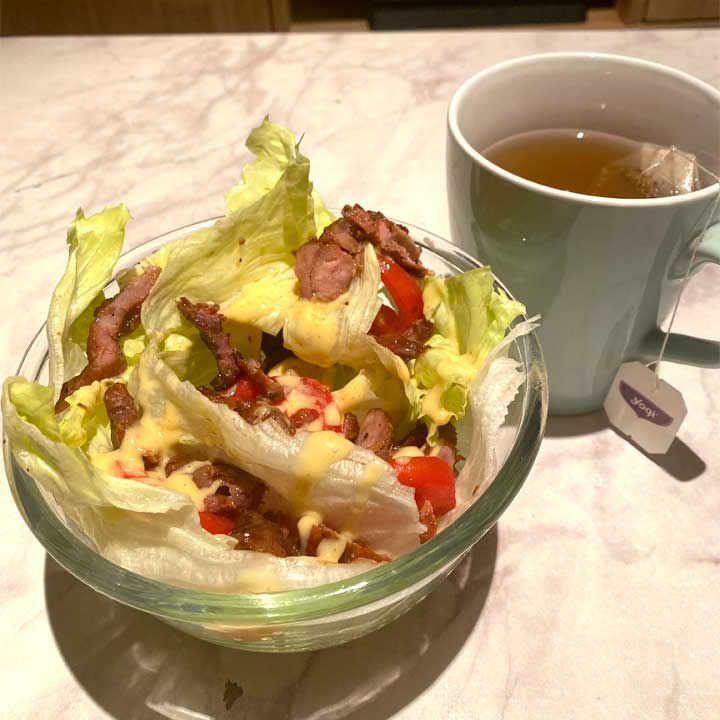 ADVERTISMENT - CONTINUE READING BELOW ↓
Sweet Ending: French Vanilla Ice Cream with Almonds and Cashews
My boyfriend came up with this super-simple recipe so you don't have to give up ice cream! 
2 250-ml tetra packs Magnolia All-Purpose Cream
6 or more sachets Splenda or Equal Gold (this really depends on your desired sweetness level)
1 teaspoon coffee powder
3 drops vanilla extract
1/2 cup almonds, crushed
1/2 cup cashews, crushed
In a large plastic tub or Tupperware, pour all-purpose cream and use a whisk (a beater does the trick, too) in circular motions until consistency becomes less watery.
Gradually add sachets of sugar as you mix.
In a very small amount of hot water, pour coffee powder and mix. Add this to your mixture once you've properly incorporated the sugar.
Finally, add three drops vanilla extract.
Once the mixture has a more creamy (not watery) consistency (this is usually achieved after 20 minutes of mixing), place ice cream in freezer.
Remove ice cream after two hours or once the mixture feels like soft ice cream. This is a good time to mix in the crushed nuts, as they will no longer sink to the bottom.
Return ice cream to freezer, and let sit for four more hours.
Enjoy! Some recommended toppings: chopped strawberries, pure cocoa powder, plain whipped cream, or cinnamon powder.
ADVERTISMENT - CONTINUE READING BELOW ↓