There comes a time in every samgyupsal-loving girl's life when she's just gets an urge to DIY a Korean food spread. After all, you can easily source the ingredients at the several Korean grocery stores popping up around Metro Manila (there are four in the Timog Avenue-Tomas Morato area alone!) And all those K-drama scenes where an eonnie, eomma, or ajumma whips up tasty-looking side dishes just nudge you further into trying out a recipe (or twelve) in your own kitchen.
When you talk about Korean food, you can't do without their side dishes, a.k.a. banchan (??). These range from simple stir-fried veggies to flavorful fares that entail fermentation and various spices. They can serve as appetizers or anti-umay palate cleansers, and they definitely help fill you up and tease your tastebuds.
For beginners out there, here are some easy Korean side dishes you can try at home.
Kimchi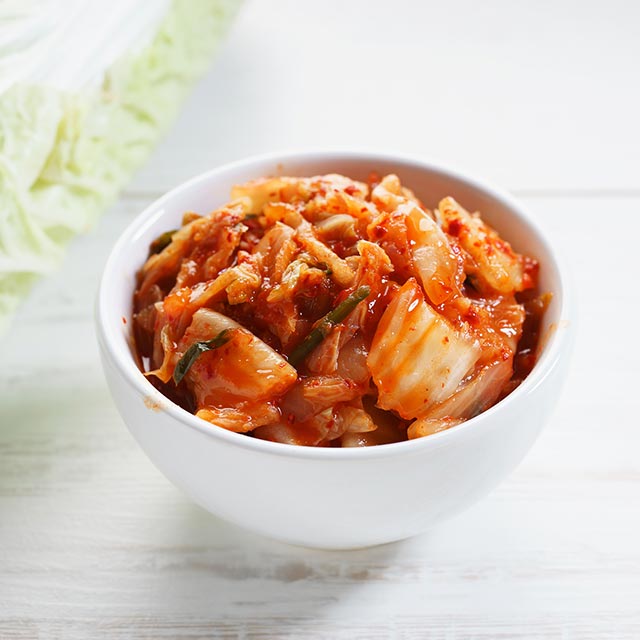 Continue reading below ↓
Recommended Videos
What You Need:
1 Napa cabbage (or Chinese cabbage, aka pechay Baguio)
1/4 cup rock salt
Water
Red chili paste or gochujang
4 to 5 spring onions, roughly chopped
5 cloves of garlic, minced
1 tablespoon fresh ginger, grated
1 teaspoon white sugar
Fish sauce or nori
1 large and 1 small mixing bowl
A large mason jar or any airtight glass container
How to Prep:
Remove the root end of the cabbage and chop the leaves into 1- or 1.5-inch bite-sized pieces. (Note: If you want to do the kimchi the traditional way, you can season the cabbage whole, too, then chop the head once it's ready to eat.)
In a large mixing bowl, season the cabbage leaves with the rock salt using your hands (you can wear kitchen gloves if you prefer). Next, add water until all of it is covered.
Cover the bowl and set it aside at room temperature overnight (or for at least three hours).
Drain the water. Rinse and then dry the cabbage leaves.
In your small bowl, mix the other ingredients well. You should be able to form a thick paste. Work this into the cabbage leaves and place them in your mason jar.
Pour about half a cup of water in the large bowl and swirl it around to get some of the leftover of the chili paste. Add this to the jar and cover it tightly.
Keep the jar out of direct sunlight and store it at room temperature. After one day, you can uncover the jar to let out the stinky gasses and press down the cabbage leaves to make sure they're submerged in the liquid.
After two or three days, refrigerate the kimchi and serve when ready.
Source: Yummy.ph
Steamed Eggs (gyeran-jjim)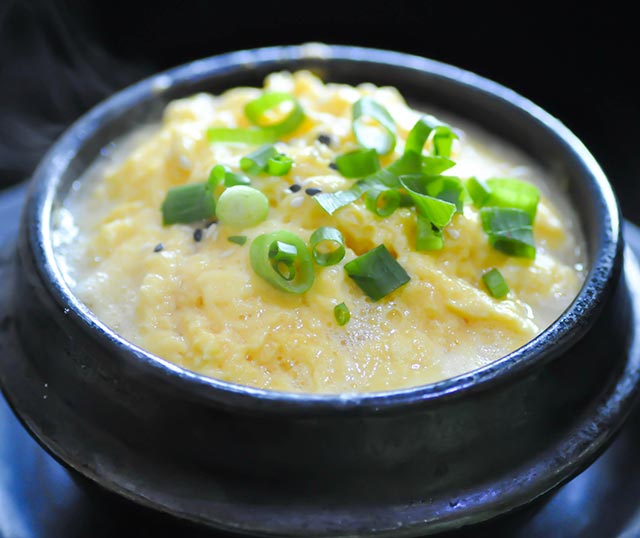 What You Need:
2 large eggs, beaten (can be strained for a silkier texture)
1/4 teaspoon salt (or a tablespoon of salted baby shrimp)
1/2 cup water
1/2 scallion, chopped
1/4 teaspoon toasted sesame seeds
A heat-safe ceramic ramekin with cover or a small ddukbaegi (the traditional stone pot used at Korean restaurants), lightly oiled or buttered
A mixing bowl
A cooking pot (with a clear lid if possible) or your trusty microwave oven
Optional: Instead of plain water, you can soak dried sea kelp in 1/2 cup water for 15 minutes, discard the kelp, and use the remaining infusion for the recipe. You can also add other veggies like julienned carrots to give the steamed egg some texture.
How to Prep:
Combine the eggs, salt or salted shrimp, and water in your mixing bowl. Whisk the mixture well, and pour it into your ramekin bowl or stone pot.
Cooking the Egg:
- If you're using a cooking pot and a ramekin bowl, place the bowl inside the pot and pour hot (not boiling) water until halfway up the sides of the ramekin bowl. Cover the pot, and cook for about eight to 12 minutes with low to medium heat. The water should just gently simmer and not boil over the ramekin bowl.

-Alternatively, just pop the covered ramekin bowl in the microwave. Cook for about five minutes on medium heat (this may take longer or shorter, depending on your oven).

-If you have an authentic ddukbaegi, you can place it on the stove-top directly and cook the eggs for seven minutes.
If you want the egg mixture to be evenly cooked, you can stir it gently every two or three minutes. But no need to stir or just lessen the frequency if you want that nice golden brown crust and a soft, silky center.
Sprinkle the chopped scallions and sesame seeds on top of the egg and cook for another three minutes in the pot or stove-top (one minute in the microwave). Serve it hot and steaming!
Egg Roll (gyeran mari)
What You Need:
5 large eggs
1 tablespoon rice wine (alternatives: sake, mirin, and dry white wine)
1/4 teaspoon fine sea salt
1/2 scallion, chopped
1/4 cup shredded mozzarella cheese (if you're using cheddar instead or mozzarella, use less salt)
2 tablespoons vegetable or any cooking oil
Large mixing bowl
A skillet and a flat spatula or chopsticks
How to Prep:
In your mixing bowl, whisk the eggs, rice wine, salt, and chopped scallions.
Place the skillet over medium heat and add cooking oil. Spread the oil evenly on the pan and reduce the heat to low.
Pour some of the egg mixture into the skillet to form a thin layer, and make sure to distribute it evenly by tilting the pan.
Once the edges are cooked and the top is almost done, add the shredded cheese.
Roll the egg with your spatula or chopsticks to one side of the pan.
Repeat steps two to four until you consume all the mixture. You have to roll your first egg roll into the new layer/s, so you end up with a thick egg roll.
Remove the finished product from the heat, cool it for five to ten minutes, and then cut it into bite-sized pieces.
Braised Baby Potatoes (algamja-jorim)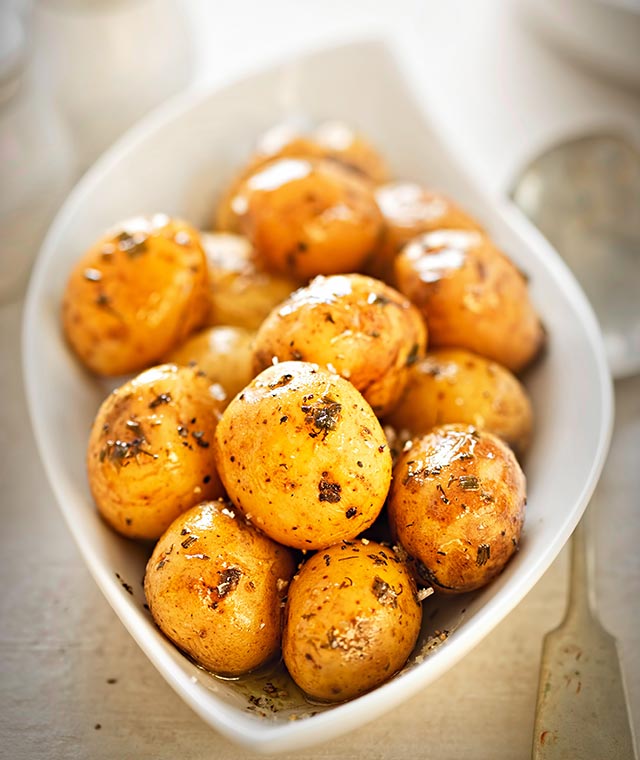 What You Need:
400 kg baby potatoes
2 tablespoons vegetable oil or any cooking oil
3 tablespoons soy sauce
3 tablespoons honey or sugar
1 clove of garlic, minced
1 teaspoon sesame oil
1 tablespoon sesame seeds
A skillet and a wooden spoon
How to Prep:
Wash the baby potatoes thoroughly.
Place the skillet over medium heat and add cooking oil. Add the potatoes, cover the skillet, and cook for 20 minutes. Make sure to shake the skiller or stir the potatoes with a wooden spoon, so they can cook evenly and don't get burned.
Stir in the soy sauce, honey or sugar, and garlic. Cook for another five minutes until the sauce is reduced and the potatoes look wrinkly.
Turn off the heat and mix in the sesame oil and seeds. Serve warm. (PSA: You may refrigerate leftovers for up to four days.)
Where To Buy Korean Side Dish Ingredients
If there's no Korean mart near you, you can head to big supermarkets and visit their Oriental Goods section. You'll usually find staples like sesame oil, gochujang, and nori there. Membership shopping groceries and a few online sellers also have some Korean ingredients on hand.
Follow Ginyn on Instagram.