Whether you're under extreme stress or just in the mood to munch on something, unless you're an expert on self-discipline, chances are you're probably reaching for a bag of chips (or a snack that's equally unhealthy) and not a healthier alternative. But what if you can have both in one bag? Makulay Chips, a new food business, is made from 100 percent real, all-natural fruit and vegetables!
In an exclusive interview with Cosmopolitan Philippines, co-owner Bianca Laxamana shared how the brand was initally just a fun conversation she had with her partner, Ciara de Leon. She shared, "We're a team of two. My partner is more focused on the branding, creating the materials for our social media pages, and other creative output, while I'm more involved in the logistics. But we help each other in all aspects of the business like repacking, shipping orders, and doing photoshoots together."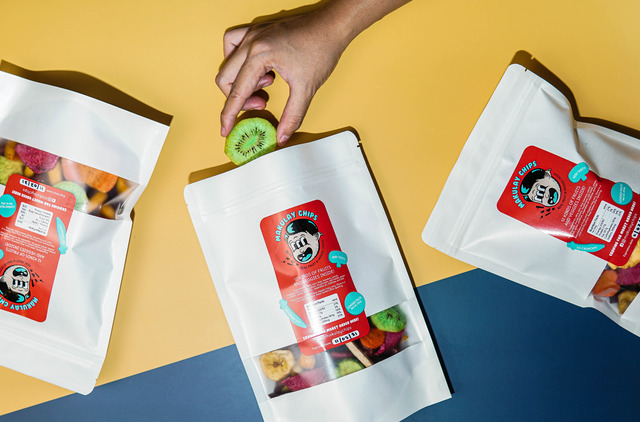 ADVERTISMENT - CONTINUE READING BELOW ↓
What's the story behind Makulay Chips? 
Bianca: "I got to try a similar snack from a friend while we were working on a video shoot. It was new to me and I didn't know that it was possible for a regular vegetable to be that good and crispy. I took some home and had my partner try it. Then one day, while we were going around Manila, we came across a store that sold fruit and veggie chips, and since these chips are usually hard to find, we bought a couple of bags and stocked up. We just initially liked it for our own consumption, but since it's unique, we eventually thought that it has good potential in the market. I've always been interested to try online selling but been unsure of what good product to [go for] until we came up with Makulay Chips as our first business venture."
How long did it take for you to launch the business?
B: "It just started with a very casual conversation with my partner about the possibility of selling these fruit and veggie snacks. We got excited with the idea and then we just found ourselves already looking for pegs for the branding; we were also coming up with random names and had long night discussions of what the name should be. It took us a month to launch the product, and there were a lot of frustrations in between. Since my partner and I are both creatives, it was hard for us to come to an agreement of what the branding should be. It was like being a client and a creative at the same time. It also took a good amount of time to look for a supplier of the chips, plus sourcing for our packaging and labelling needs."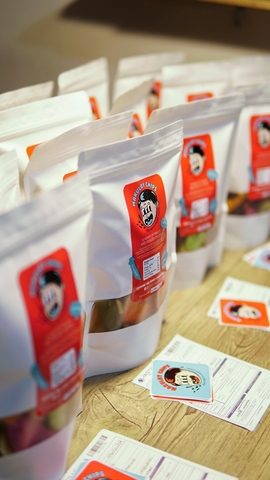 What was your capital for Makulay Chips? 
B: "When we started, we bought a few boxes to sell since were still testing the market. Our capital was roughly P10,000 for the first batch, which we came up with using our personal savings. We projected that our stocks would last a month, but luckily, we sold all our stocks in a week. Our clients really liked it! With the revenue we generated, we were able to restock with more boxes with every batch."
Are you running this business full-time or do you have another job/other sources of income?
B: "One of the reasons why I started this business was because I have some spare time since I just recently left my full-time job to do freelance work. While my partner has her full-time job. We consider this business as a passion project—something just for fun, experience, and no pressure! We simply want to share the experience of Makulay Chips to other people. Since the start of the pandemic, online selling has boomed and I have a lot of friends in the industry, so I gave it a shot too!"
ADVERTISMENT - CONTINUE READING BELOW ↓
How does your product stand out?
B: "The usual chips we have in the market are made of flour/starch and are just artificially flavored, while Makulay Chips is made from 100 percent real, all-natural fruit and vegetables. One pack contains 12 kinds of fruits and vegetables (okra, taro, kiwi, banana, carrot, sweet potato, purple potato, mushroom, red radish, green radish, dates, and jackfruit). You can really tell the difference from the regular chips. If you try to bite the okra, you can really see the seeds inside. Aside from that, Makulay Chips are vacuum-fried treats; this method retains almost 90 percent of the nutrition as compared to the traditional frying. Vacuum-fried snacks are more nutritious than regular fried snacks, and they taste awesome too! And I think that's our selling point, it's a guilt-free chips."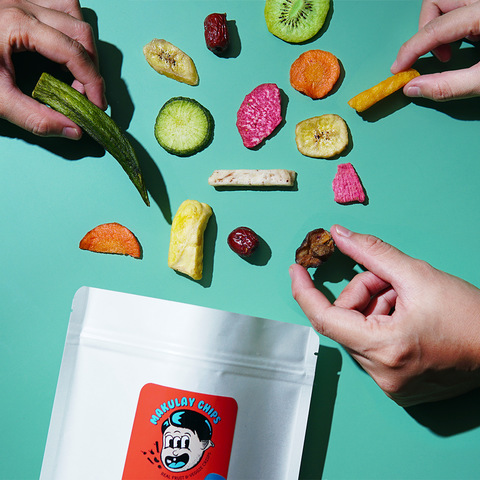 What are some challenges you faced?
B: "When we first launched Makulay Chips, sales were high and consistent. Though we expected the sales to be lower as the weeks go by, the challenge that we're currently facing, now that we're on our second month, is how to make the sales stable and keep it from constantly dropping. I think one of the factors is that our reach is not that wide yet, so we're looking for ways to boost our sales by doing social media ads and selling on more online platforms.
 
Another challenge is not being able to accommodate resellers at the moment. Since our manpower and budget are limited, we don't have the capacity to import a bigger bulk of the product yet."
What are your plans for Makulay Chips for the rest of 2021?
B: "There were a lot of inquiries about customizing fruit and veggies, so our goal for the rest of the year is to offer more choices and variety. We are planning on selling packs with an individual fruit or veggie or even giving the customer the freedom to mix and match to their liking. We are also thinking of the possibility to offer different flavors other than our current product that is lightly salted. We're also working on how we can accommodate resellers, especially those in other regions to make our product more available nationwide."
For more information, check out Makulay Chips' Instagram account. 
***
Follow Ysa on Instagram.