As a child, I wasn't the type to push my vegetables around my plate. My parents didn't have to go through great lengths just to get me to eat *glow* foods, lol. Still, it took me a long time to warm up to eggplant. Even when they masked it with egg (tortang talong), I had to drown it in ketchup to distract myself from the texture. And I don't think I'm alone here.
Eggplants might seem less straightforward than most vegetables, but if you give it a fair shot, it's actually so versatile. There's so many things you can do with it in the kitchen. When cooked, it becomes an excellent substitute for meat and a great source of protein. Uncooked, eggplants are firm and kind of rubbery; keep that in mind when picking one out at the grocery. You want to avoid ones with bruises. If you're wondering, do I have to peel an eggplant? The answer is no. You just have to cook it really, really well.
How To Cook Eggplant: Eggplant Tofu Stir Fry
Every new cook knows that stir fry is the easiest route to take if you have to do something for the first time. This recipe comes with cauliflower rice, but we'll focus on the stir fry!
Continue reading below ↓
Recommended Videos
Ingredients:
2 tbsps olive oil, divided
1/2 large onion
2 garlic cloves
1 inch ginger, sliced
2 chili peppers
1 large eggplant
1 1/3 cup mini bell peppers
Chinese broccoli, chopped
Firm tofu
Basil leaves
1 1/2 tbsps oyster sauce
1 tsp salt, to taste
Directions:
In a medium-sized pan, place one tablespoon of olive oil over medium heat. When ready, add the chopped onions, ginger, garlic, and chili pepper. Mix for around two minutes. You'll know you're ready for the next step when the onions are translucent.
Add the eggplant next and stir for another couple of minutes. If you notice that the oil is gone, feel free to add more. (Eggplants soak up oil pretty quickly.)
Source: Healthy Nibbles
How To Cook Eggplant: Eggplant Dip
Every time I don't know what I'm craving, I usually turn to dips because they always hit the spot. Here's an easy eggplant dip recipe you can follow for merienda or your midnight snack.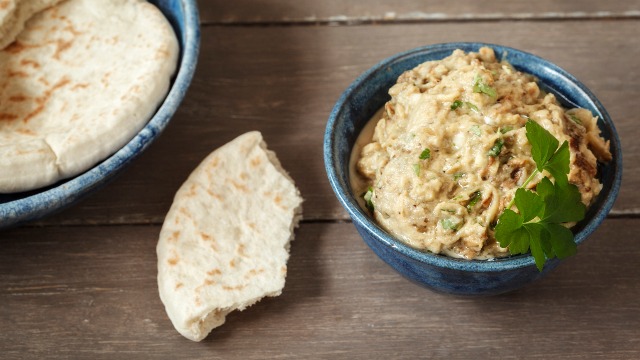 Ingredients:
3 small eggplants
2 garlic cloves
2 tbsps tahini (or sesame paste)
1 lemon, juiced
2 tbsps olive oil 
1 tsp paprika
salt and pepper, to taste
Directions:
Pre-heat your oven to 180 degrees Celsius. Place the eggplants in a tray and poke some holes in them. Splash olive oil all over the eggplants and sprinkle with salt. Before putting the tray in the oven, add the garlic cloves.
Roast the eggplants for half an hour.
Let them cool down before slicing them open. Scoop out the "flesh."
Using a beater, mix the eggplant with the remaining ingredients: peeled garlic cloves, tahini, juiced lemon, paprika, salt, and pepper. Serve in a bowl with paprika and more olive oil.
 Source: Hurry The Food Up
How To Cook Eggplant: Baked Eggplant Parmesan
If you feel pretty confident, however, you can up your game by going for a classic eggplant parm!
Ingredients:
2 medium eggplants, sliced
Eggs
Breadcrumbs
Mix of Italian seasoning, garlic powder, fine sea salt, black pepper
4 cups marinara sauce
Mozzarella cheese
Parmesan cheese
Fresh basil
Directions:
"Sweat" the eggplant to make it less bitter. Slice your eggplants, add salt, and leave it alone for 30 to 60 minutes. Rinse it with cold water and pat dry.
If you want to go the extra mile, toast your breadcrumbs so they're crispy and golden. Next, bread the eggplant slices by dipping them in egg wash first before covering them in breadcrumbs. Bake the eggplant until it's softer.
Get a baking dish (the size is up to you). It's time to layer everything in this order: marinara sauce, eggplant, marinara sauce, mozzarella cheese, parmesan cheese, basil, eggplant, marinara sauce, and mozzarella!
Pop this in the oven for 25 minutes until the cheese looks melted and the edges have turned a nice golden brown. Serve it while it's still warm.
Source: Gimme Some Oven
***
What does your zodiac sign say about you? Subscribe to Cosmopolitan Philippines and find out!
Follow Ysa on Instagram.