It's no question that we at Cosmo love all-things Korean. Interested in knowing about the latest K-dramas? Starting to explore the world of K-pop? Thinking about trying Korean beauty products and switching up your skincare routine? We've got you covered. And when you think about what else you love about the Korean culture, there's no denying they have some of the *best* dishes you've ever had. But more than KBBQ and kimchi, there's actually so much to learn about their dishes and dining etiquette.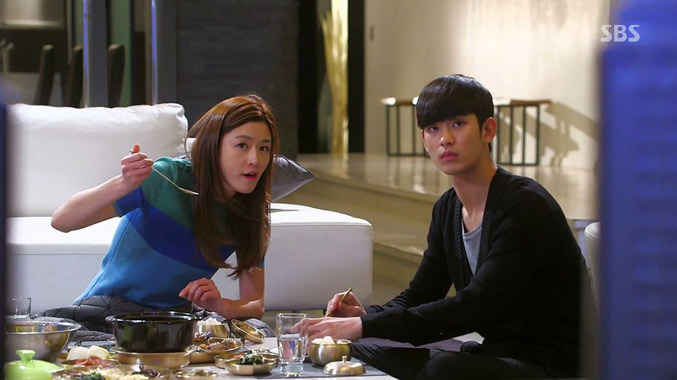 MORE KOREAN CULTURE STORIES, RIGHT THIS WAY:
South Koreans and their love for food
As seen on K-dramas and variety shows, South Koreans feel passionate about their food. They enjoy their meals with so much gusto that watching them is enough to make you hungry (yes, we're talking about mukbangs). 
Continue reading below ↓
Recommended Videos
View this post on Instagram
View this post on Instagram
For Pinoys who don't eat Korean food often, it might take time for them get accustomed to the taste. In an article by the National Geographic, Filipino cuisine leans more on the salty, sour, and sweet. As for Korean food, it uses more aromatic ingredients and seasonings, not to mention that it is often spicy, which is not something everyone can tolerate. For those who already love Korean food, however, there's a good chance you often crave it in the middle of the night (especially while watching a K-drama). 
The many health benefits of Korean food
Not only is Korean food delicious, it also has some pretty impressive health benefits. For one thing, a lot of vegetables are used as the main ingredients in their dishes; meats and seafood are cooked with less oil. A balanced diet? Check! Some even think that the secret to their glowing skin isn't just their skincare routine—their diet has something to do with it, too. 
View this post on Instagram
According to Harvard research, the more colorful the food, the healthier it is. It decreases the risk of heart disease and cancer. If you've ever eaten at a Korean restaurant, you'll notice that their banchans (side dishes) come in different colors: There's namul (seasoned vegetables) and gyeran jangjorim (soy sauce-braised eggs), to name a few.
View this post on Instagram
Speaking of banchans, a Korean meal is never complete without kimchi. More than a staple food in South Korea, it's also an essential part of their culture. In fact, there's a kimchi-making tradition called kimjang (you have probably seen this in the K-drama Crash Landing On You!) where the entire neighborhood comes together and uses fermentation as a process to turn cabbages into a much healthier source of nutrients. In an NPR article, a Korean chef compares kimchi to air: "It always has to be in the refrigerator in every house, a big batch." 
Korean dishes to expect on the table
There's a long list of delicious Korean dishes for you to try when you visit South Korea, but here are some of the most common ones:
Bibimbap ­­– a rice bowl with vegetables, egg, sesame oil, and gochujang (Korean chili paste)
Sundubu jigae – soft tofu stew
Gui – grilled dishes such as samgyeopsal (grilled pork belly)
Galbi – tender meat ribs
Bossam – steamed pork
Jeon ­– savory Korean pancakes
Mandu – Korean dumplings
Japchae – stir-fried glass noodles with vegetables
Ganjang gejang – soy sauce-marinated crab
Samgyetang – glutinous chicken soup with ginseng
Things to keep in mind
South Koreans practice social ranking everywhere they go, so knowing these are important for when you visit the country. It is best to know the hierarchy in the group prior to dining because the seats are based on those rules: If you're younger, you should be seated closer to the door. The sunbaes (seniors) should seat and eat first. 
In case you're invited to dinner at a Korean household, remove your shoes before entering their house.
When eating in a restaurant and you have to order food, don't just raise your hand as if you're inside the classroom. Get the waiter's attention by saying "Jeogiyo!" or "Excuse me!"

Before the meal starts, set up the utensils and pour everyone a glass of water. Doing this will immediately leave a good impression on your sunbaes.
Tell everyone that you will eat well by saying "Jalmeokgesseumnida!" This is also a way of thanking the chef or host for the wonderful meal.
Eat at the same speed as everyone. If they're taking it slow with every bite, you should do the same. Now if they're almost finished with what's on their plate, it's a sign for you to keep up (but remember that you should finish after them). Observation is key, and while this might seem like a hassle at first, you'll eventually get used to it, promise!
Don't lift your bowl no matter how good the stew is. Remember, this is not a K-drama scene where you're at home eating ramen alone from the pot. Use a spoon.
Food is served on numerous plates both big and small, and while the larger ones are tempting to start with, control yourself. Allow dishes to be served on a smaller plate first before you begin eating.
Hold your utensils one at a time—use your chopsticks and spoon in different hands.


View this post on Instagram

Never stick your chopsticks vertically into your bowl of rice. This will come off rude because it's a practice only done during funeral ceremonies in South Korea. If you want to let your chopsticks rest, place them on the edge of your bowl (or better if there's a ceramic chopstick material on the table).
Good hygiene must also be practiced, so when you're about to sneeze, cough, or blow your nose, turn your head away from the table.
Sharing is part of the dining experience, but not when it comes to spoons. Use a different serving spoon when you want to get more side dishes. At the same time, do not double-dip your samgyeopsal or any dish into sauces.
In case you find the food really delicious and you want to eat more, go for it! This is considered positive in Korean tradition and means that you truly enjoy the meal. Avoid piling a lot of food on your plate and just take what you feel like you can finish.



View this post on Instagram

Now when you feel like you can't finish your bowl of rice, don't let the pressure get to you. 
When the alcoholic beverages come in during your meal, you can check our full drinking guide for reference.


Lastly, thank your host after your meal and say "Jalmeokeosseumnida!" to express that you have eaten well. Enjoy!
MORE KOREAN CULTURE STORIES, RIGHT THIS WAY:
 Follow Hanna on Instagram.