It's the weekend and you know what that means: You finally have time to watch K-dramas! And what better way to enjoy your favorite pastime than to feast on some Korean snacks, right? The next time you pass by a local Korean grocery, make sure to grab these munchies (and the ingredients to the recipes below!).
Cheese Yopokki
This food is inspired by one of Korea's well-loved snacks, tteokbokki. These stir-fried rice cakes are super easy to prepare—you just have to boil them with the sauce in a small pan and wait until it softens. Madali lang, 'di ba?
Cheese Yopokki, P160, Lazada
Binggrae Melon Flavored Milk
Sure, banana milk is a Korean drink staple, but if your taste buds are looking for something a little different, you have to check out this melon-flavored variant. It's from the company behind the OG Korean ice cream, Melona, so you know it's gonna be delish.
Continue reading below ↓
Recommended Videos
Binggrae Melon Flavored Milk (pack of six), P300, Shopee
Tom's Farm Korea Honey Butter Almond
Before the rise of honey butter, Korean snacks were only one of two things: salty or spicy. But thanks to the honey butter craze, people have realized that it's possible to nibble on something both sweet and savory at the same time. These almonds are the *perfect* example of how addicting the flavor can be.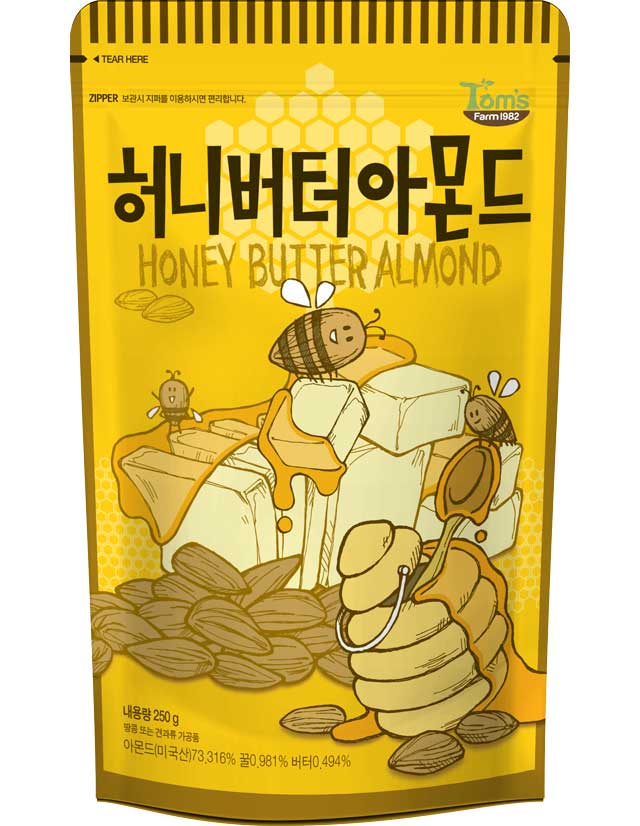 Tom's Farm Korea Honey Butter Almond 250g, P425, Shopee
Kimnori Crispy Seaweed
Of course, no Korean snack list is complete without seaweed! This snack is not only yummy, but it also fits every single one of your food moods—you can eat it by itself, as pulutan with soju, or sprinkle it on top of your ramen or rice!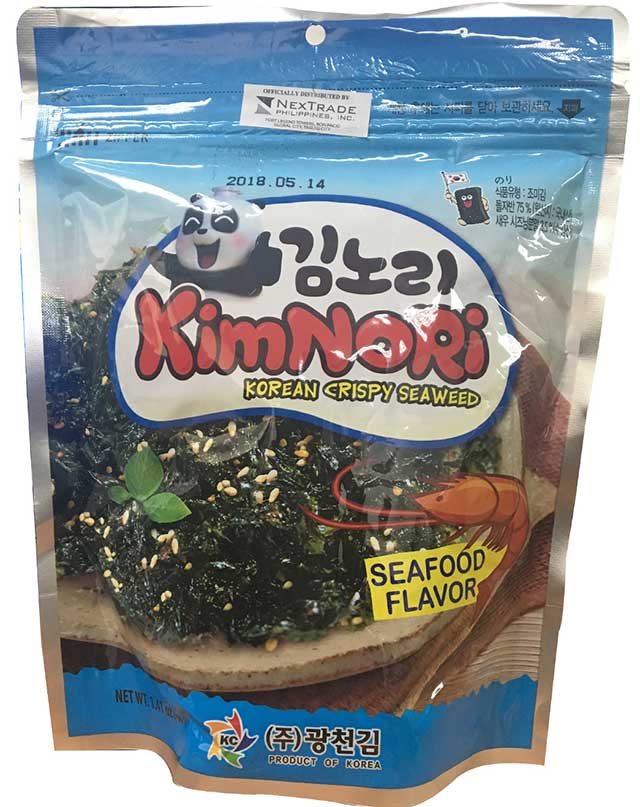 Kimnori Crispy Seaweed 40g, P112, Shopee
But if you want to be ~*extra*~, you can also serve dishes that you made yourself. Here are two easy recipes your barkada will definitely enjoy:
Kimbap
We know how much you love kimbap, so here's how you can make your own at home. Its many layers may look complicated at first, but promise, it's super easy to do!
Ingredients:
4 dried seaweed sheets
120g or 4.2 ounces spinach
2 eggs, beaten
1/2 carrot (120g / 4.2 ounces), sliced into matchstick-sized pieces
2 to 4 crab sticks, cut lengthwise
4 sticks of ham, cut into long strips 
4 yellow radish pickle (danmuji), cut into long strips 
2 1/2 cups cooked short grain rice
2 tbsp sesame oil, divided
Salt
Method:
Rinse the spinach and partly boil it in water for 30 seconds to one minute. Once it's slightly cooked, drain the water and run some cold water over it. Gently squeeze to remove excess water and put it into a bowl. Add 1/8 teaspoon salt and 1/2 tablespoon sesame oil, then mix well.
Pre-heat your pan and add a small dash of cooking oil. Cook the beaten egg over medium heat. Once done, cut the omelette into long strips. 
Next, separately cook the carrots, crab sticks, and ham over medium heat. 
In a mixing bowl, season your rice with 1/2 tablespoon sesame oil and 1/4 teaspoon salt. Mix well.
Gather your ingredients and set up your kimbap rolling station. Yes, it's time to bring out your bamboo rolling mat—remember, shiny side down! If you don't have a mat, watch this video to find out how to roll your kimbap. 
Place your seaweed sheet, then put rice and spread it evenly to cover about 2/3 of your seaweed. Take note: Leave about two inches of space at the top of your sheet. 
Next, add your filling ingredients.
Once you're done, roll your seaweed. If it doesn't stick, slightly wet the gap with water or add a few grains of rice. Set it aside. 
Repeat steps six and seven with your remaining ingredients. 
Lastly, line up all of the finished kimbap on a cutting board and lightly brush it with some sesame oil. Slice the kimbap into bite-size pieces.
Source: My Korean Kitchen
Korean hot dogs
When you're watching a K-drama, you just can't help but wish you were in Korea instead. But since you can't really book flights going there right this second, you can just recreate the experience by having one of their famous street foods. 
Ingredients:
6 hot dogs, sausages or mozzarella sticks
Wooden chopsticks
1 cup panko breadcrumbs
oil for frying
granulated sugar for coating
ketchup, mustard, spicy mayonnaise, and other hot dog condiments of your choice
For the batter:
1 1/4 cup all purpose flour
2 tbsp granulated white sugar
1/2 tsp salt
2 tsp baking powder
1/2 cup cold fat free milk
1 large egg, from the ref
Method:
Using your wooden chopsticks, skewer your hot dogs, sausage, or mozzarella. 
Pat dry the ingredients and keep them in the ref while you make the batter. 
In a large mixing bowl, add flour, sugar, salt, and baking powder. Whisk until everything is incorporated. Add your milk and egg, then continue to blend until smooth. Take note: The batter should be malapot. 
Place the batter into a loaf pan as this will make it easier to coat the skewers. In another loaf pan, add the panko. 
In a frying pan, add enough oil for deep-frying. Preheat the oil.
Get your skewers from the fridge. Place it on the loaf pan with batter and turn them until completely coated. The batter expands when it's fried so make sure your coating isn't too thick. 
Next, roll the skewers in panko breadcrumbs. You can also use your hands to sprinkle and make sure everything is covered in breadcrumbs.
Deep fry your hotdogs and lift them once golden brown. 
For a pinch of sweetness, sprinkle your hotdogs with sugar. 
Source: Kirbie's Cravings
**
We are officially on Viber! Be part of the Cosmo Viber Community by clicking here! You can also visit the Sticker Market and download the "Cosmo Girl Sticker Set" here to be automatically part of the group. The stickers will only be available until April 27, so don't miss out on the fun!
Follow Karla on Instagram.