At the risk of sounding completely uncool, we have been dying to try Liz Uy's Mood Bake cookies ever since it made its debut on social a few months ago. ICYDK, celebrities like Jennylyn Mercado and Solenn Heussaff have also been trying their hand at baking, so it's looking like a big year for cookies. ;)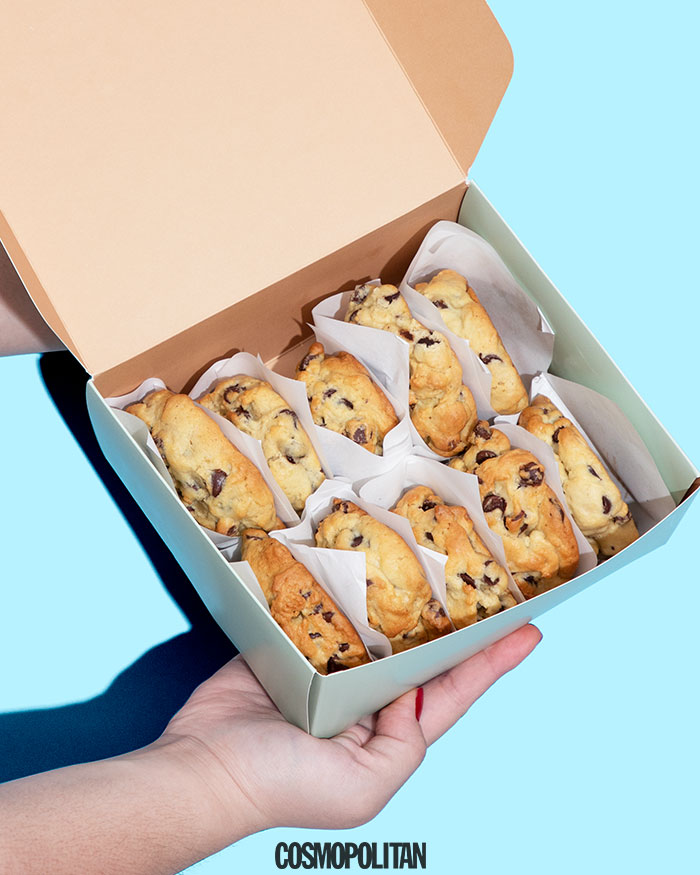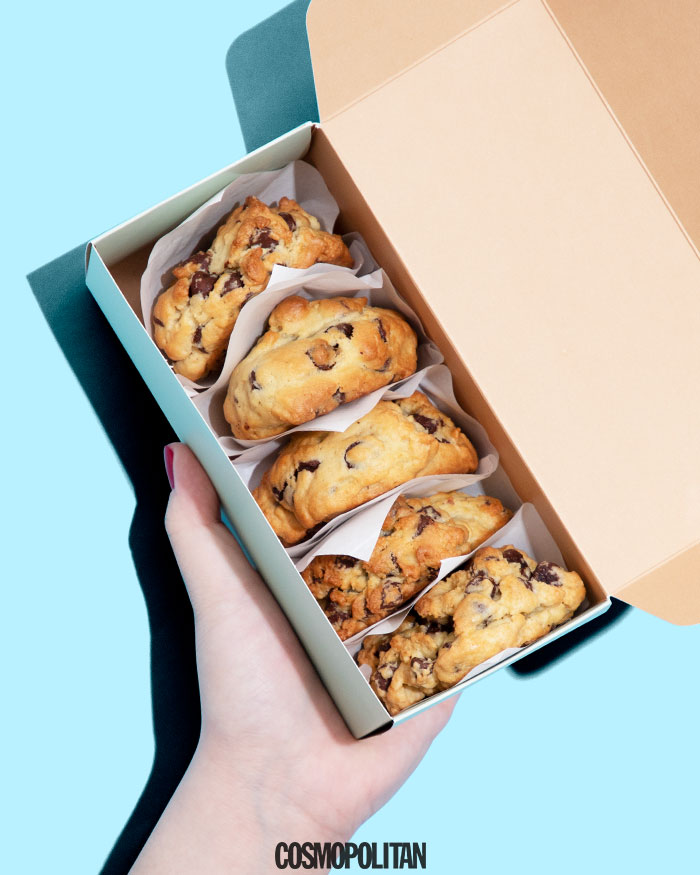 When we found out that Mood Bake was setting up shop at Greenbelt 5, we were emotionally prepared for the line, especially since they sold out fast on their first day. We showed up hydrated right before 11 a.m. and were fifth in line! In case you've been off the grid, everyone and their mothers are posting about these famous cookies, and finally, we're here to give you our honest reviews.
Continue reading below ↓
Recommended Videos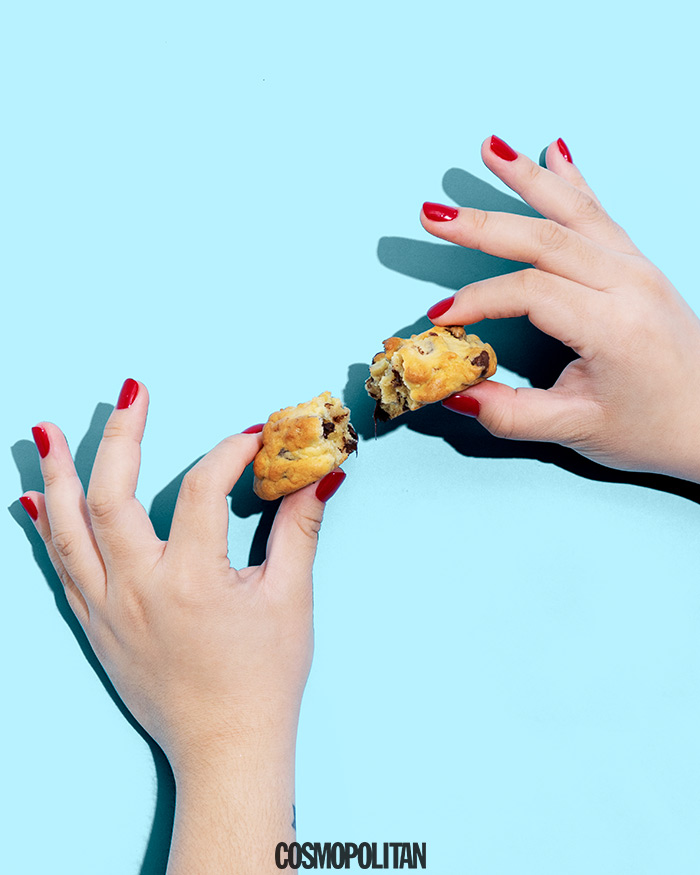 Our Honest Reviews Of Mood Bake:
Ysa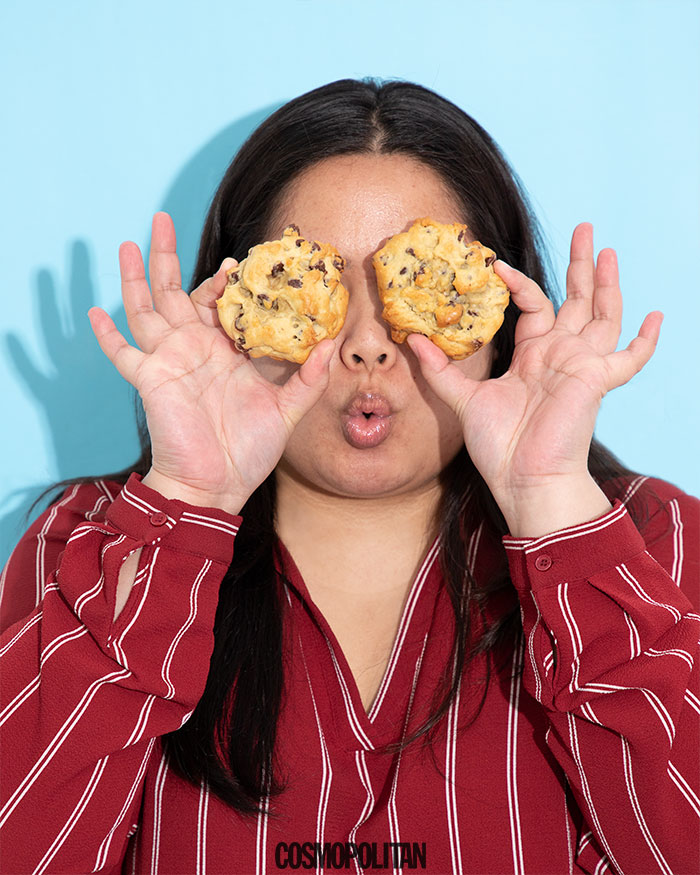 "I assumed they'd taste like how a vibrator feels. Well, issa no." - Ysa
Review: While I don't consider myself to be a cookie connoisseur, I can't remember a single time I've ever turned one down. And because I saw Mood Bake daily on every celebrity and micro influencer's Instagram Stories, I assumed they'd taste like how a vibrator feels. Well, issa no. 
Because it's described to be crumbly on the outside but chewy on the inside (by literally every existing review out there), I expected more resistance while breaking this cookie. But it just snapped. In terms of the texture of the cookie, Mood Bake's is reminiscent of a scone; that's not a bad thing, but it might not be what you want from a cookie. Taste-wise, there's little else going on here for it to merit much thought. Customers are advised to heat it up before consumption—something you probably won't do if you buy one from the pop-up store and still have some shopping to do—so I did, and I guess it was sort of a different experience. But it's kind of like that hesitant feeling you get when you think/pray/hope Lindsay Lohan is about to pull her life together and make a comeback: better...but only by a little. 
Priced at P99 per cookie, the good news is that I didn't feel robbed—it's dense and there's enough chocolate packed in every piece. I would eat this again if it was around me 'cause, duh, it's still a cookie, but Mess Hall's cookies still wear the crown. 
Cindy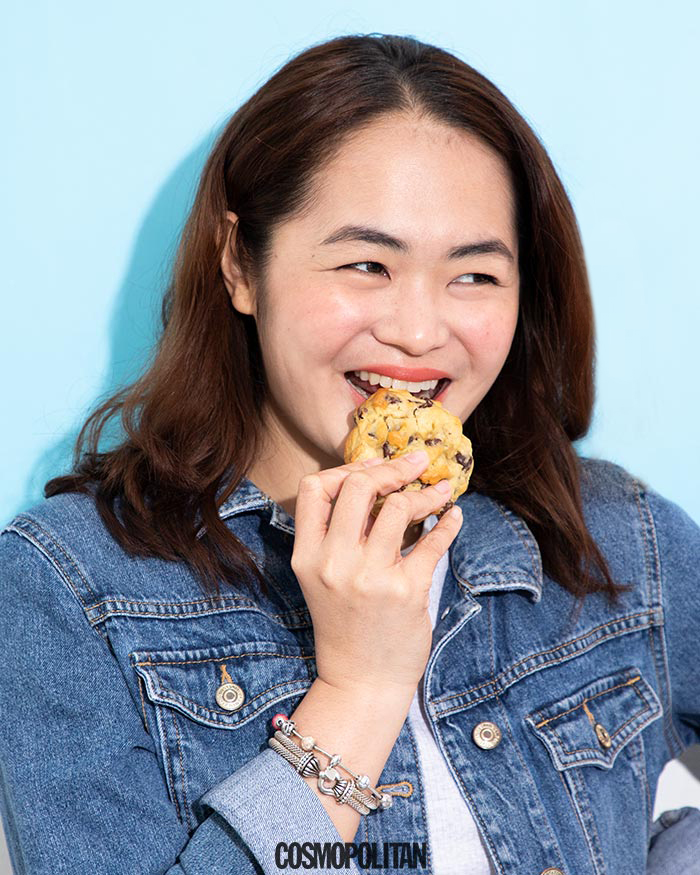 "There were A LOT of chocolate chips." - Cindy
Review: Ever since Liz Uy's Mood Bake made the rounds on every It Girl and Boy's Instagram account a few months ago, I've always wondered if those meteorite-sized cookies (no kidding, they are HUGE!) actually taste good. As someone who is by no means a food connoisseur and loves comfort food, trying out these cookies was right up my alley. Let's start with first impressions: As I said, Mood Bake cookies are huge. The size of a single piece is bigger than a usual cookie—almost twice the size even. With it being crumbly, you'd get a peek of how generous the chocolate chip servings are. So, how about the taste? I first tried it without heating it—which, if you must know, is not what is recommended. FYI, each Mood Bake box comes with a note on how it is best served: heated.
For everyone who wonders how it tastes like as it is: It was just okay. Biting into it was a bit tough because the crust was thick and crumbly. I was surprised, however, to find out that the chocolate chips were still a bit gooey! And there were A LOT of chocolate chips. This being said, it was enough for me just to have a single cookie because of the serving size but, of course, I still had to try it out as suggested. So, after heating the same cookie for a minute in a microwave (sorry, no ovens for us!), I tried it in all its heated glory. The verdict: It was good. The dough was soft but not enough to fall apart, and the chocolate chips were gooier than ever! My final thoughts: The only thing that really got to me was how overwhelmingly big Mood Bake cookies are. I mean, I get it, they look good—great even—in photos. But eating them IRL? These cookies are definitely better shared than eaten alone. But as a personal preference, I'd rather stick to eating my favorite Mrs. Fields chocolate chip cookies, tyvm.
Ira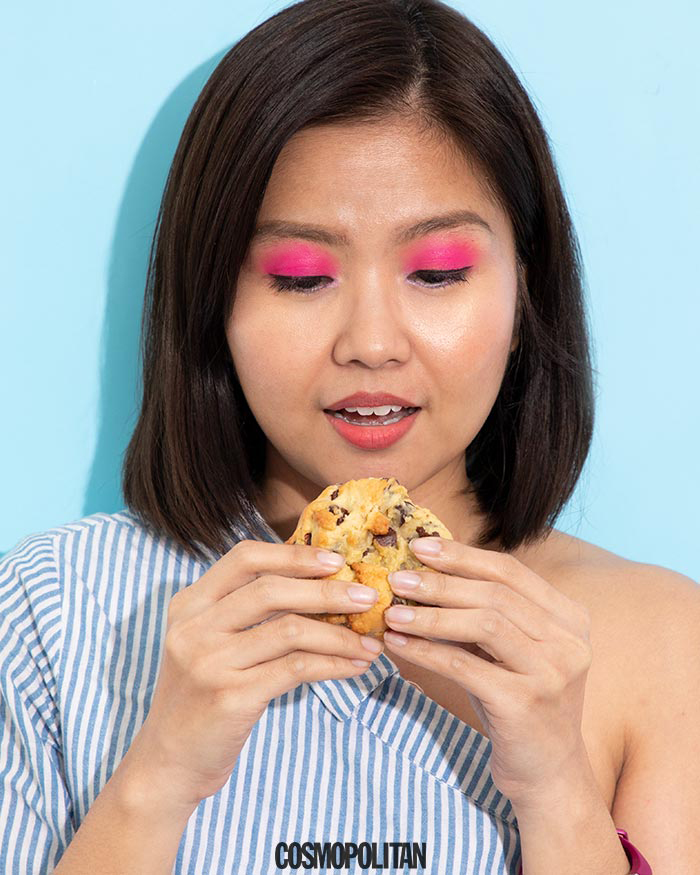 "I'm a chewy cookie type of gal, so the cakey texture of Mood Bake was a 7/10 for me." - Ira
Review: Out of all the sweet things invented by mankind, cookies are my weakness. I never let a week go by without consuming at least one cookie. It's part of my ritual, my life. Naturally, after seeing the chunky Mood Bake cookie on Instagram, I felt the ~need~ to try it. I consider myself a cookie connoisseur—after all the cookies I have tried since I was a toddler, my tastebuds have become discerning and sophisticated (or so I think, LOL!). 

Of my first bite of Mood Bake, I thought, "Oh wow, this is one meaty cookie!" It did not scrimp on chocolate chips, which is a major plus for me. I'm a chewy cookie type of gal, so the cakey texture of Mood Bake was a 7/10 for me. The best thing about Mood Bake is its "just right" sweetness: Your throat won't feel stabbed by sugar but enveloped in warmth. Its size is filling. I skipped lunch after eating one! Another life hack: Pair Mood Bake with a cold glass of milk or iced coffee for the complete experience.

Will I buy it again? I think I'm good. My current Top 3 gourmet cookie brands still hold their spots on my list. But if I'm in Greenbelt, I'll probably still buy it because of my body's calling to take home every cookie I see. 
Retty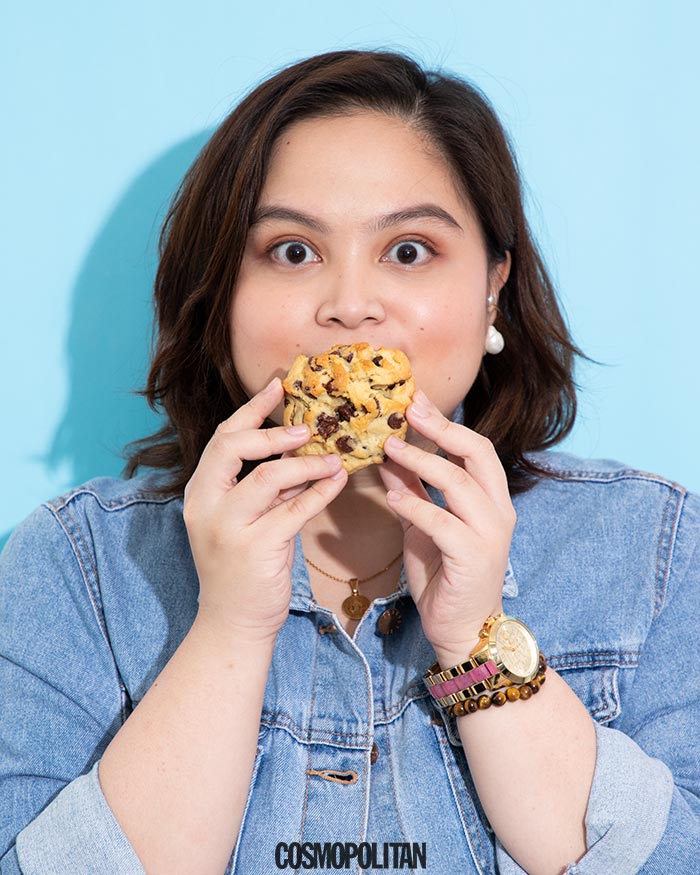 "It was literally what my chocolate chip cookie dreams are made of." - Retty
Review: The first time I tried a cookie from Mood Bake, it was at a friend's house, and the cookies were already a day old. She chilled the cookies overnight before serving them for dessert after we had Saturday lunch. After taking a bite of the slightly chilled cookie, I let out an "OH MY GOD" because it was literally what my chocolate chip cookie dreams are made of. There were huge chunks of chocolate (that were not umay-level of sweetness), and the dough was chewy and delicious. I loved how the texture was cookie dough-like. I enjoyed the cookie so much, but found myself feeling satisfied after eating just half of it. I saved the other half to eat for the next day because I wanted to enjoy it some more.
When I heard my teammates were planning to line up for the cookies so we could review it, I immediately volunteered to do a review so I could get a bite of the heavenly cookie one more time. This time around, the cookies were not chilled—I consumed one at room temperature because self-control is hard to practice when you have a whole box of heavenly cookies right in front of you. The cookie was a bit more crumbly and firm than my first try, but I didn't mind it at all. It kind of reminded me of a soft scone (if that makes any sense)—an extremely delicious one, at that. I didn't find the cookie dry and the chunks of chocolate were just as good as I remembered them. These cookies are sold for P99 a piece, and I think that's worth it—they're HUGE. I'd recommend that you chill the cookies in the fridge for a few hours or overnight for a different way to enjoy it. Do I think it's worth the hype? Yes!
Lou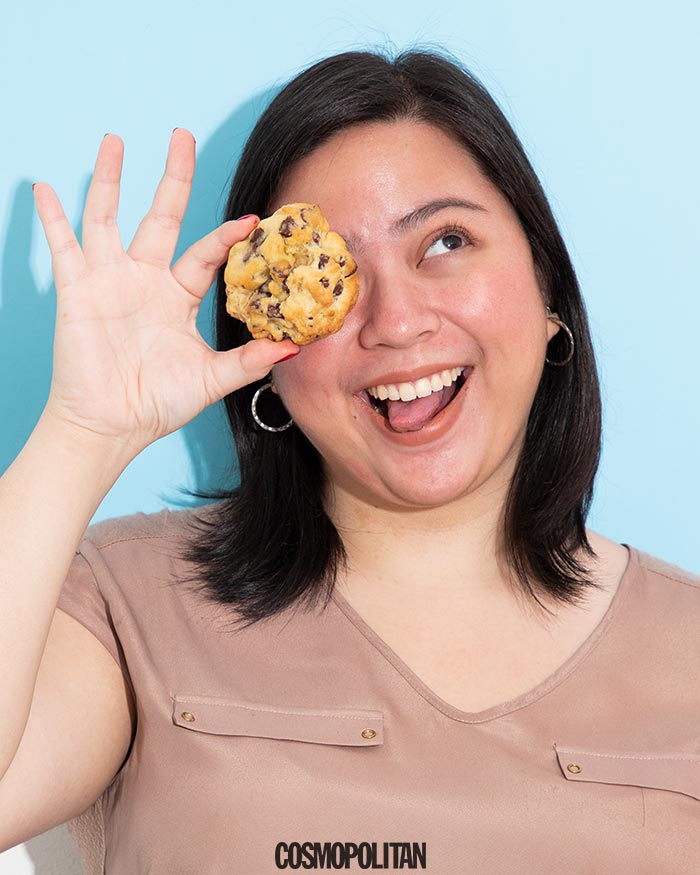 "It wasn't really love at first bite." - Lou
Review: When it comes to my list of favorite desserts, cookies don't usually rank first. I almost always go for chilled desserts like ice cream, chocolate, or cake. The only cookies I've ever truly liked are the chocolate chip cookies from Mess Hall, Subway, and Family Mart. I've heard my friends and officemates talk a lot about Mood Bake cookies by Liz Uy, so I told myself I was very much willing to give it a try.
One thing I noticed though was that all the cookies were either already packed in bags or boxes (and they were running out fast). I honestly thought that the cookies would be fresh out of the oven, but sadly they were not. Nevertheless, their service was pretty quick and we got our order in no time.
It wasn't really love at first bite. I expected the Mood Bake cookies to be a melt-in-your-mouth, soft, and moist kind of treat. I'm no cookie expert but in my opinion, it was a bit cakey and dry. It crumbled easily, and it was more crunchy than chewy. Overall, the taste was good. Coming from someone who has a sweet tooth, I was very happy to see that Mood Bake was generous with their chocolate chips. TBH, I didn't get a chocolate chip in every bite, but I still found it pleasing to the taste buds.
Not sure if I'll actually crave for Mood Bake in the future, but if I wanted to get something sweet after a meal, I wouldn't mind eating this cookie again.
Lily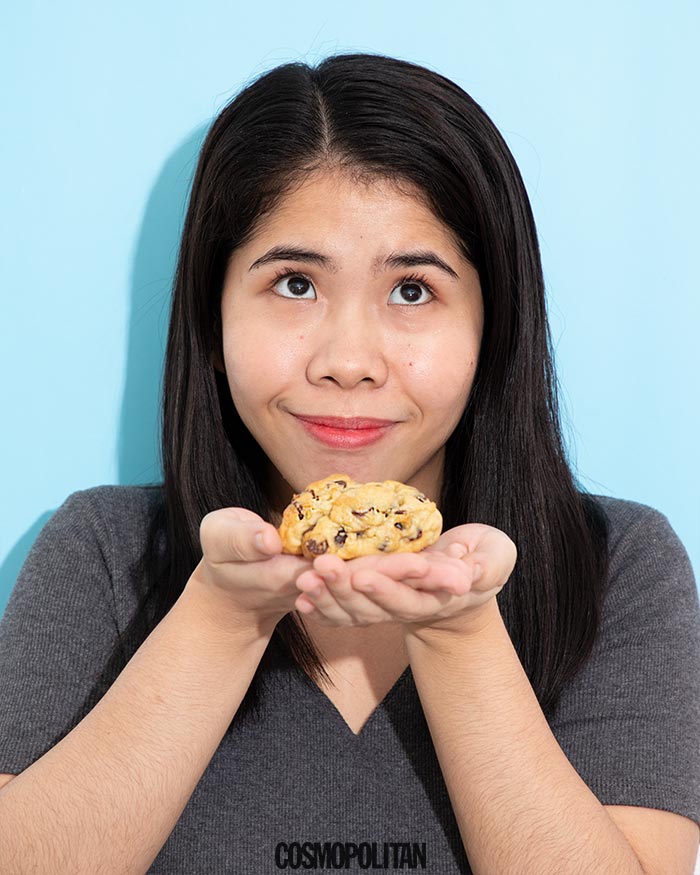 "The cookies smelled sooo good! You can really smell the butter upon opening the box." - Lily
Review: Not going to lie, I'm sort of a dessert ~monster~. During buffets, I always take a look at the dessert section first before diving in. Cheesecake, tapioca pudding, fudge brownies—I wanna have them all! I've been hearing a lot of good things about Mood Bake Cookies and I jumped at the chance to try them. Yay, sweets!
First impressions: The cookies smelled sooo good! You can really smell the butter upon opening the box. The size was sort of overwhelming. I'm used to flat and circular cookies, but the Mood Bake cookies were on a whole different level. They were unusually CHUNKY!
I read online that they're best enjoyed warm, so I heated a cookie before consuming it. My review: It's NOT just a cookie. Cookies are usually snacks, but for me, this one could pass for breakfast and would probably taste great with coffee. Or, because of the size, I could eat it in two sittings instead of one. I liked that they really were chocolate chip cookies because generous helpings of chocolate chips always make me happy. They were also really gooey. When it comes to the taste, I liked that the cookie wasn't TOO sweet, which means that I didn't get tired of it easily.
On to the discouraging part: I expected the cookie to be super chewy because of the chunkiness and was a little saddened that it...wasn't. It wasn't exactly crunchy, but it easily broke into pieces while I was eating it. Maybe it's just me, but I prefer my cookies soft and not-so-crunchy.
While I didn't particularly dislike Mood Bake, I didn't fall in love with it either. It's worth trying, but I'm not sure if I'll be spending money on it in the future. My favorite chocolate chip cookies are the ones from Subway—and after today, they still are.