Another day, another TikTok food trend discovery! This time, it's an upgrade to your favorite instant noods. Yes, I'm talking about pancit canton, a *classic* in every Pinoy's pantry, LOL. If you've been scrolling through your #foryoupage lately, then you've probably come across videos featuring this ~*unique*~ way to cook your go-to merienda. Instead of just boiling the noodles and adding the typical flavors that come with it, this kitchen experiment turns your pancit canton into a pancake! In fact, I've seen it first on content creator Nana Silayro's TikTok. And since I'm absolutely curious when it comes to all things food, I decided to try it myself. Keep on reading for my honest review.
How to make a pancit canton pancake
Ingredients
Two packs of pancit canton

Two eggs, beaten

Minced garlic 

Minced onions 

Black pepper (optional)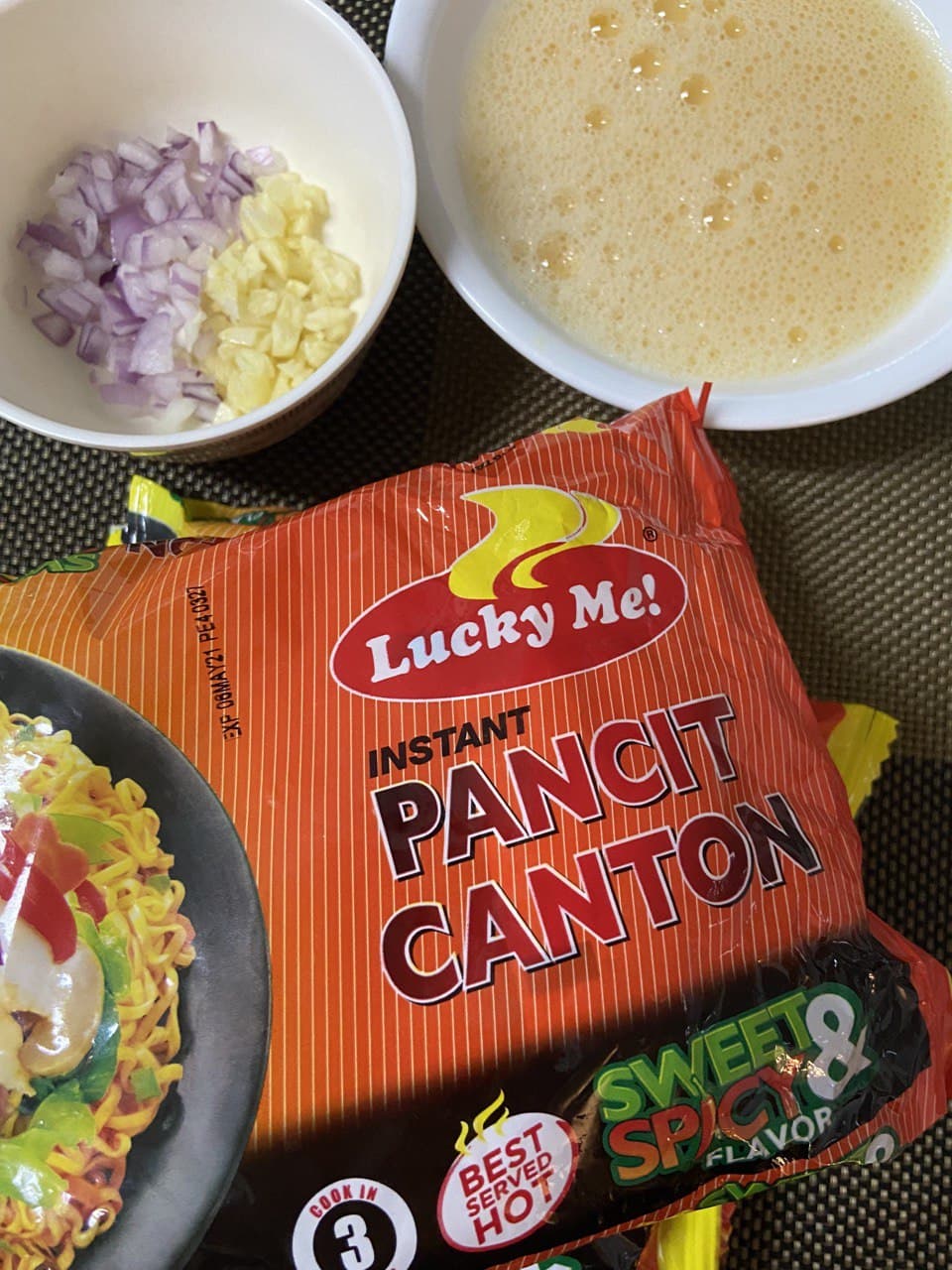 Continue reading below ↓
Recommended Videos
Procedure
Cook your pancit canton noodles in boiling water. 


While waiting for your noodles to cook, chop some garlic and onions.
In a separate bowl, beat two eggs.
Add the oil, seasoning, and powder from your pack of pancit canton into the bowl. 
Add the garlic, onions, and black pepper. Mix well. (This mixture will serve as the "pancake batter.")


Once your noodles are cooked and drained, dip them in the "pancake batter." Make sure they're covered with the egg mixture so that the noodles can soak up all the flavor. 
Get a ladle and fill it with a spoonful of noodles. (Alternatively, any sandok would work just fine, too.) 

In a preheated pan with oil, cook the noodles as you would a regular pancake. 


The end product should look something like this! 

Watch the video below to see how content creator Nana Silayro made her pancit canton pancake.
Is the pancit canton pancake worth the hype?
The fact that it's pancit canton in pancake form is honestly such a new concept to me, which makes it even more interesting. Yes, it's worth the hype but I would like to point out that there are some things I'do differently next time, haha! Number one: I would add more eggs (and perhaps a bit of flour) so that the noodles would be easier to handle. From experience, I felt like the ingredients were all over the place because they didnt have enough of the ~pancake batter~. Flipping the entire thing was such a challenge too, but I'm glad it all worked out in the end. Next time, I'd also consider eating the pancake with other ingredients like melted cheese or nori (seaweed) sheets! 
Overall, I enjoyed making this dish because it was so quick and easy. You don't even need a lot of ingredients. Most of them can be found in your pantry already! Tastewise, it was a good combo of sweet and spicy flavors. I also liked how some noodles were a bit crispy, while the others were not. If you're tired of the usual pancit canton meal and are looking for new recipes, I recommend that you try this! You won't regret it 'cause TBH, mabubusog ka talaga. 
***
Cosmo is now on Quento! Click here to download the app for iOS, Android, and desktop and enjoy more articles and videos from Cosmo and your favorite websites!
Follow Lou on Instagram.