Everyone who goes on a trip to Cebu makes sure they eat lechon at least once while they're there. Cebuanos have a couple of stellar recommendations, and usually, one of the options is Rico's Lechon. The good news? Lechon lovers won't have to fly 350 miles for a taste.
Rico's Lechon is now in Manila; its first branch is at Fort Entertainment Complex in BGC. 
An Honest Review Of Rico's Lechon:
TBH, I'm not the biggest fan of lechon. I only ever have it when I go home to Pangasinan, and even then, I'm satisfied after a few bites. To give Rico's Lechon a fair review, I invited two certified lechon enthusiasts: Ira and Andie. 
We ordered the: Original Lechon, Lechon Sisig, Fried Rice Trio, Seafood Kare-Kare, and a Pandan Tapioca dessert.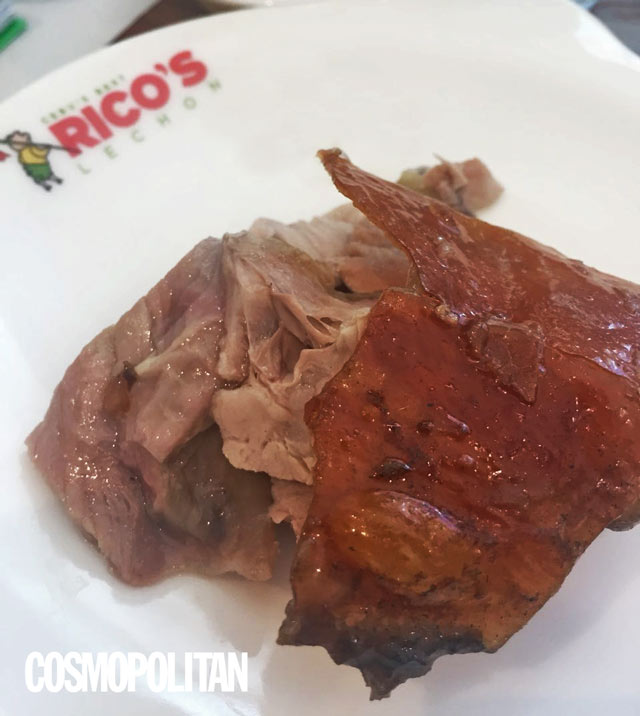 Continue reading below ↓
Recommended Videos
Ira: I've been to Cebu twice, and I always made sure to have a huge serving of their famous lechon every day of my trip. I remember always having a happy tummy after each meal. The damn open-fire roasted pork was just sooo good—I even hand-carried frozen lechon to bring home. I heard from the locals that Rico's Lechon is even better than its competitors, so I expected so much from the Rico's BGC branch.
I was perfectly okay with the waiting time. The restaurant was full of hungry people—the establishment invited only the media for its soft opening. First up was Lechon Sisig and Fried Rice Trio, which actually could be a full meal. The sisig had bits of crispy skin, much to my cholesterol levels' delight, LOL! The fried rice was sauteed in egg with bits of fish in it. I found it very Pinoy.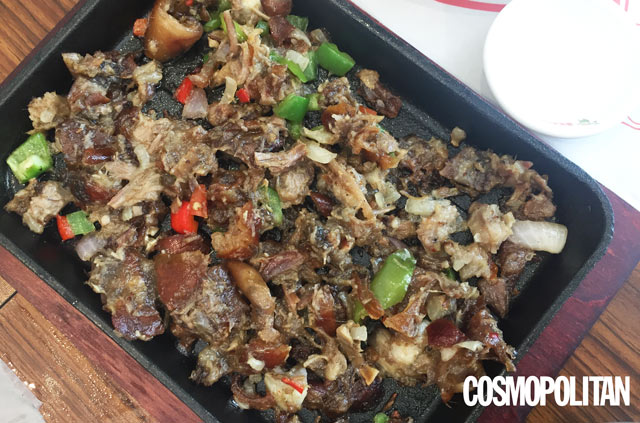 As for the Original Lechon, the skin was shiny and crispy, but the meat lacked flavor and it was quite tough. Maybe because they rushed the roasting? My tip would be to soak it in spicy vinegar to balance the oil oozing from the slab.
The Seafood Kare-Kare was great! The shrimp, squid, and mussels were cooked to perfection—they were all tender and flavorful. The peanut sauce tasted so good with the Fried Rice Trio!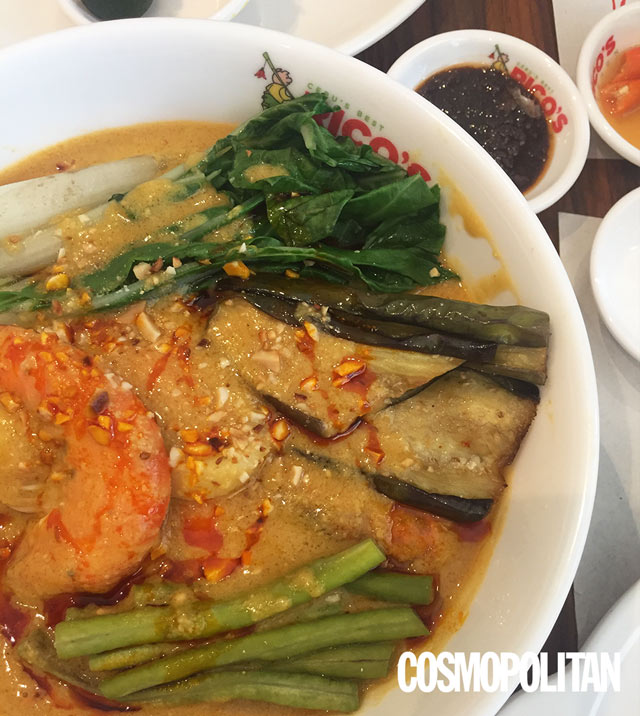 To finish off the heavenly meal, we had the Pandan Tapioca dessert, which I wanted a second serving of! It wasn't too sweet, I loved the cream dressing, and the tapioca balls were firm and chewy. I wish they would sell a tub of it, even just for Christmas!
Andie: I ~love~ lechon: My family always serves it during our annual Christmas party, so I've tried several local versions over the years, but nothing beats authentic Cebu lechon. The Lechon Sisig was tasty and the skin remained crispy, so it hyped me up for the day's main attraction.
When the Original Lechon finally arrived, I was a bit disappointed. The lechon skin was crispy and definitely flavorful, but the meat was slightly overcooked—it was bland and slightly dry if eaten without the skin. I'm allergic to seafood, so I sadly wasn't able to try the fried rice. The highlight of my day was definitely the dessert: The tapioca pearls were chewy, the cream was sweet without being overpowering, and each spoonful was full of pandan. Despite the generous portion, I definitely wanted more!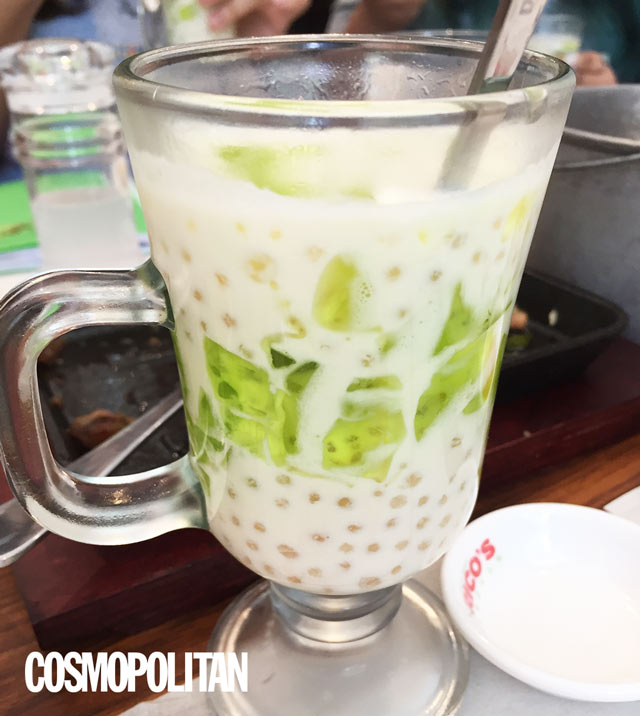 Ysa: My expectations were really high because when you hear the words "Cebu" and "lechon" in one breath, you expect it to be better than most. It wasn't. Because it was a dry run and the place was packed, we didn't mind waiting 30 minutes to an hour for the Original Lechon. When it finally came, the experience was disappointing. For one thing, it wasn't hot. I mean, after waiting for so long, I expected the lechon to feel like it was just cut from a pig that was roasted minutes prior to being served. The skin was perfectly crisp, but the meat was tough and dry. I liked the Fried Rice Trio, though; it had a lot of egg and bits of danggit, tuyo, and tinapa. I was in heaven. But my favorite dish was actually the dessert! I'd go back for that.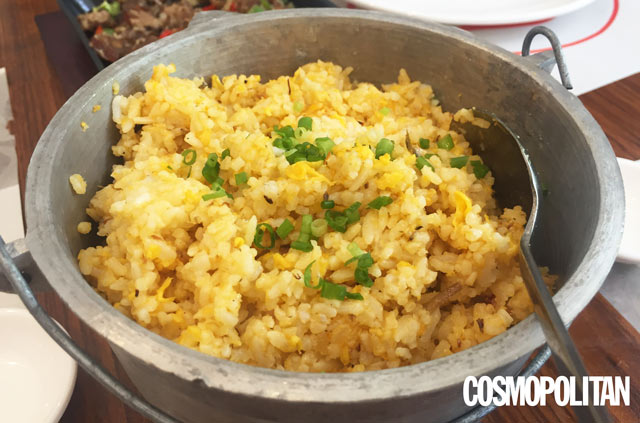 Check out our other honest food reviews here:
Follow Ysa, Ira, and Andie on Instagram.