Christmas, as they say, is a time for giving and sharing. But for the dessert-lovers out there, it's also the most wonderful time of the year to indulge in all things sweet! We're approaching the end of the year, after all, which (especially given the mess that is 2021) could well be considered a huge accomplishment—one that's worth rewarding yourself for with a swoon-worthy dessert. A couple of brands have come out with holiday-themed sweet specials and we've rounded them up in this list; whether you're looking for a show-stopper to wow your guests at your holiday spread, searching for crowd-pleasing treats to share with family and friends, or just craving a good dose of sugar, we've got you covered.
These Christmas desserts will make the holidays all the more sweet:
Hazelnut Chocolate Cake, Tiramisu French Flan + More from Workshop
It doesn't get any more alluring than a grand chocolate cake that delivers on presentation and flavor—like Workshop's Hazelnut Chocolate Cake (P525/slice, P3,900/whole)! This stunning cake features the well-loved pairing of chocolate and hazelnut, with layers of a dark gianduja mousse, whipped cream cheese, moist chocolate cake, and a cornflake-cookie crust for crunch. If you're more for a silky-smooth dessert, go for one of their new French flans, or baked custards in sable crusts; the Vanilla Bean French Flan (P280/slice, P1,900/whole) goes for a simple but stellar combo of a baked vanilla bean custard in a lemon sable crust, while the Tiramisu French Flan (P295/slice, P2,200/whole) delivers a coffee-tinged profile with a coffee custard, coffee-soaked ladyfingers, and whipped mascarpone creme. And if you're looking for a lighter bite, don't miss the Fruits and Yogurt Entremet (P420/slice, P3,600/whole) with vibrant, fruity layers of mango and strawberry yogurt mousse, passionfruit gelee, matcha almond cake, and a whipped dark ganache. You can easily place your orders via the Workshop section of The Grid's website.
ADVERTISMENT - CONTINUE READING BELOW ↓
For orders, visit Workshop on The Grid Food Market's website. You can also check out their Facebook page.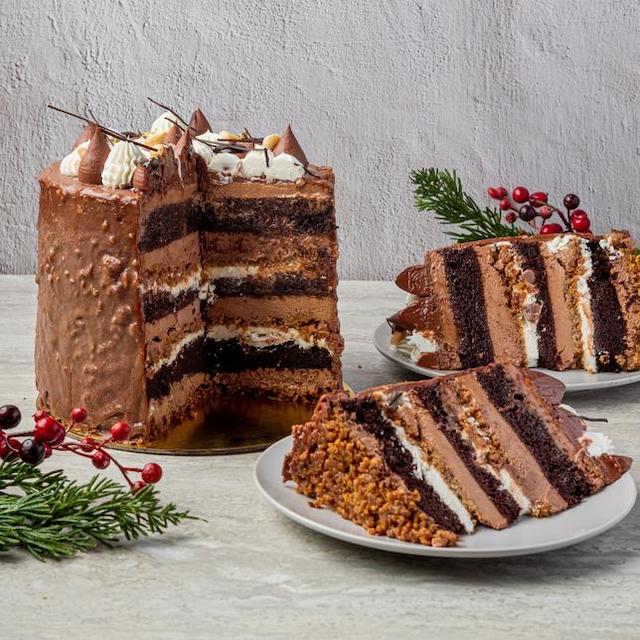 Bibingka Ice Cream Cake, Eggnog Ice Cream + More from Sebastian's Ice Cream
Bibingka is a simbang gabi staple, and Sebastian's is taking it to a cool and creamy new realm with their Bibingka Ice Cream Cake (P165/slice, P1,750/whole), a grand ice-cream cake with layers of bibingka (baked in banana leaves for that signature smoky aroma!), Queso de Bola and Salted Egg Yolk ice creams, salted egg slices, and grated cheese to really emphasize that savory-sweet element. As they do every Christmas, Sebastian's also has a line of special ice cream flavors, including the returning Puto Bumbong (P405/pint) that's got glutinous rice and muscovado sugar in the mix; the nostalgic Cathedral Window (P405/pint) with fruity colored jelly cubes in milk ice cream; and the standout Eggnog (P405/pint) with a custard ice-cream base infused with brandy and nutmeg. Also on their holiday roster are their Chilly Burger ice-cream sandwiches with ice cream in between dark and chewy crinkles; the Peppermint (P140), in particular, is a standout. Just head to Sebastian's Ice Cream's website to get your fix.
For orders, visit Sebastian's Ice Cream's website. You can also check out their Facebook page.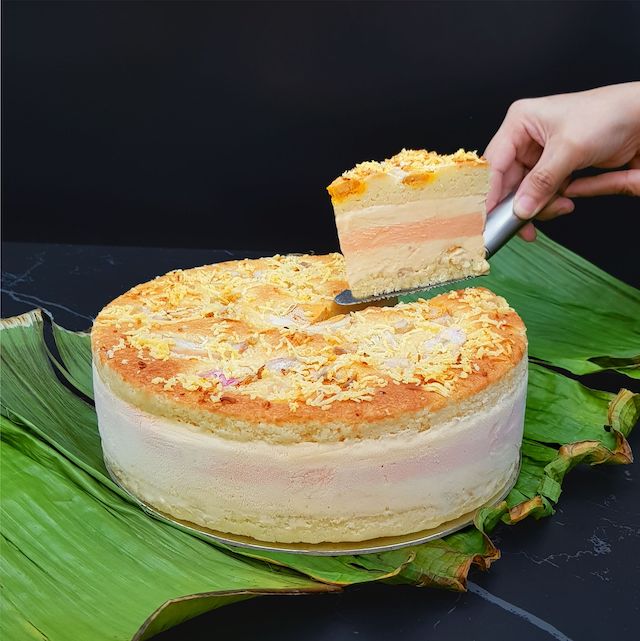 Holiday Wreath Cake, Christmas Balls + More from Bizu
What better way to say "happy holidays" than with an attention-grabbing cake decorated like a Christmas wreath? Check out Bizu's Holiday Wreath Cake (P795), which wows not just with its appearance but also its swoon-worthy combo of genoise sponge, fruity mango jelly, cream, and smooth buttercream! There's also the stunning Noelle cake (P1,855), which goes for an elegant presentation and delivers creaminess and fruitiness thanks to layers of white chocolate ganache, pistachio mousse, creme brulee, strawberry jelly, and an almond shortbread crust.
ADVERTISMENT - CONTINUE READING BELOW ↓
For a treat that's smaller in size yet impactful in flavor, go for the Rudolph (P385), which are shaped and embellished like Christmas balls and come in pistachio-raspberry and strawberry-vanilla flavors. And for gift-giving, don't miss the Christmas Cakesicles (P195/solo, P780/box of four) which have a dense butter or chocolate cake mixture, dipped in chocolate and given uber-Christmasy decorations. You can preorder these sweet treats and more via Bizu's website.
For orders, visit Bizu's website. You can also check out their Facebook page.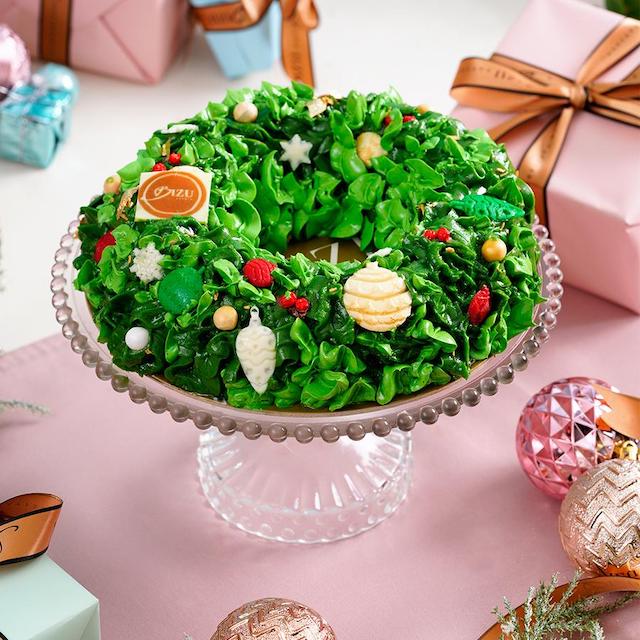 ADVERTISMENT - CONTINUE READING BELOW ↓
Candy Cane Crunch Ice Cream Bars from Bubu Bars
There's nothing like candy canes—in all their sweet, minty glory—to deliver the Christmas feels, and the classic confection is the star of Bubu Bars' festive new ice cream bar flavor, the Candy Cane Crunch (P220). It's got their creamy vegan peppermint ice cream covered in crackly shell of Auro 77 percent dark chocolate, topped with crushed candy canes and salted pretzels! As with all their bars, it also happens to be dairy-free. You can head to their website for orders.
For orders, visit Bubu Bars' website. You can also check out their Facebook page.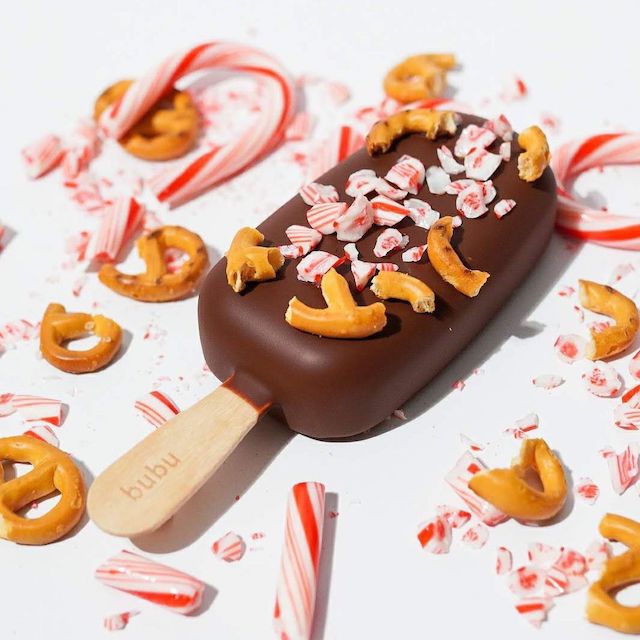 ADVERTISMENT - CONTINUE READING BELOW ↓
Cheesecakes in Pinoy Flavors from Max's Corner Bakery
Cheesecake is a well-loved dessert for its dense and creamy character—not to mention its ability to take on all sorts of classic and creative flavors. Proving this point are Max's Corner Bakery's special Cheesecakes (P424) for the holiday season—take your pick from the salty-sweet Bibingka, muscovado and coconut-topped Puto Bumbong, and bittersweet Champorado flavors! Sure doesn't hurt that these cheesecakes all come in foil trays with plastic covers for easy gift-giving and storage. Place your orders via Max's delivery website.
For orders, visit Max's delivery website. You can also check out their Facebook page.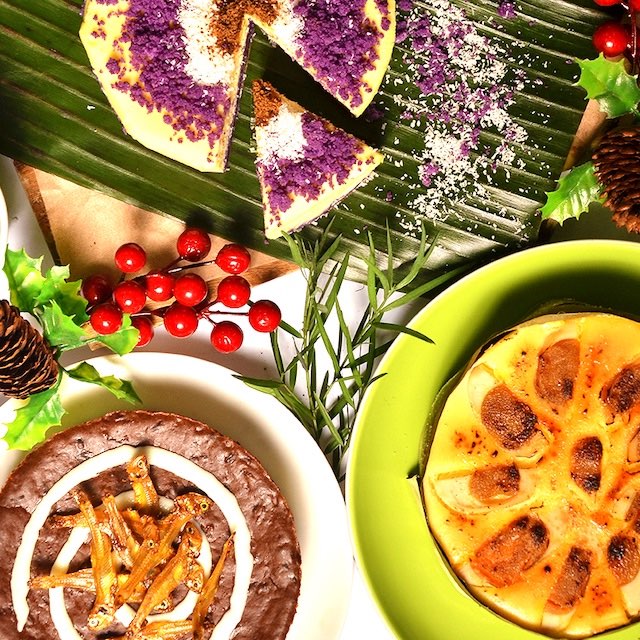 ADVERTISMENT - CONTINUE READING BELOW ↓
Sparkling Strawberry Cake, S'Mores Cake from The Daily Knead
The Daily Knead is best known for their excellent breads, but they've also got a great hand at sweet treats—and for Christmas they've got two must-try cakes on their lineup. The S'Mores Cake (P850) is for the kids-at-heart as it features their chocolate olive oil cake, their own homemade marshmallows for a gooey bite, crushed grahams, and Italian meringue that's lightly torched at the edges. For a more grownup-pleasing treat that takes the usual strawberries-and-cream affair to more luxe heights, go for the Sparkling Strawberry Cake (P2,200)—a dainty cake with a strawberry compote and strawberry chantilly cream, as well as Chandon Brut cream for a welcome (and very festive!) opulent touch. You can place your orders via their website.
For orders, visit The Daily Knead's website. You can also check out their Facebook page.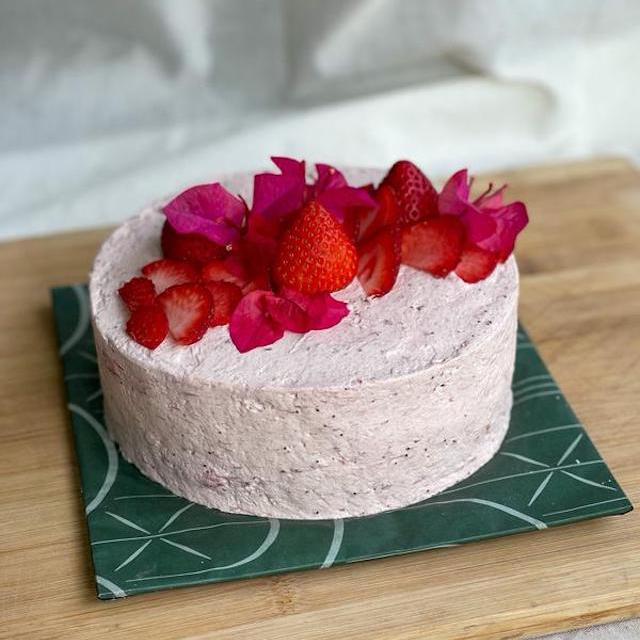 ADVERTISMENT - CONTINUE READING BELOW ↓
Puto Bumbong, Sans Rival + More Filipino Flavored Doughnuts from Dot Coffee
If it's the soft and sweet bite of a classic doughnut that you seek, Dot Coffee's got your back with their doughnuts—and they recently came out with festive new flavors based on simbang gabi eats and other Filipino desserts. There's the Bibingka Donut (P60) with a creamy coconut buttercream, desiccated coconut, and savory toppings of salted egg and torched cheese; and the equally playful Puto Bumbong Donut (P60) with a nutty ube buttercream filling plus desiccated coconut and latik on top. For a fruity bite, go for the vibrant-fruity Peach Mango Donut (P60); and for a truly indulgent treat, you'll want to try the Sans Rival Donut (P60) that's filled with buttercream and covered in cashew meringue! For a taste of all four, go for the Holiday Donut Sampler (P220) that's got one of each flavor. You can head to the website of their parent company MadEats to order.
ADVERTISMENT - CONTINUE READING BELOW ↓
For orders, visit Dot Coffee on MadEats' website. You can also check out their Facebook page.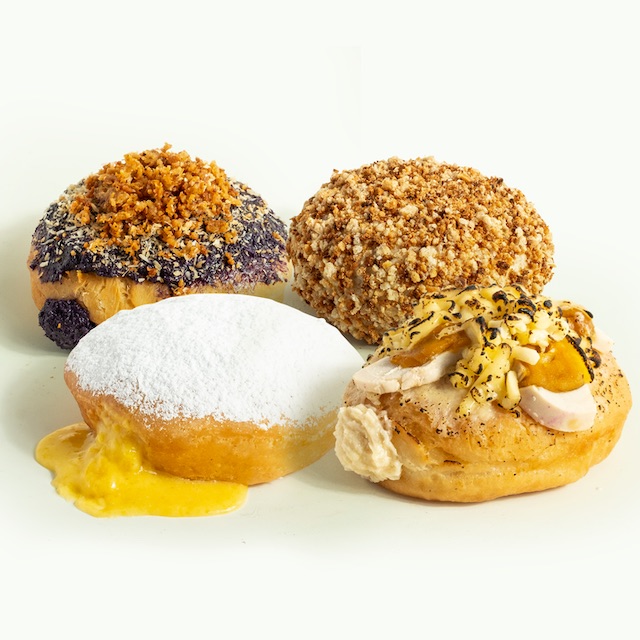 Christmas Smashball, Caramel Obsession Cake from Aperitif.ph
Maybe, just maybe, you've had quite the hectic year and are eager for the opportunity to unleash that stress—in a legal and socially acceptable way, of course. Aperitif.ph's Christmas Smashball (P2,300) is just the thing. Yup, it's essentially a chocolate piñata cake decorated to look like a Christmas ball; grab the hammer and smash away its Belgian chocolate shell to get to its filling of chocolate-coated cookies, Ferrero Rocher, and Hershey's Kisses! Aperitif also has a golden and gleaming Caramel Obsession Cake (P3,700) with an interior of moist chocolate cake layered with lush, buttery caramel. You can reach out to them on social media or give them a call to try these treats for yourself.
ADVERTISMENT - CONTINUE READING BELOW ↓
For orders, contact (0917) 844-8558. You can also send a message to Aperitif.ph on Facebook or Instagram.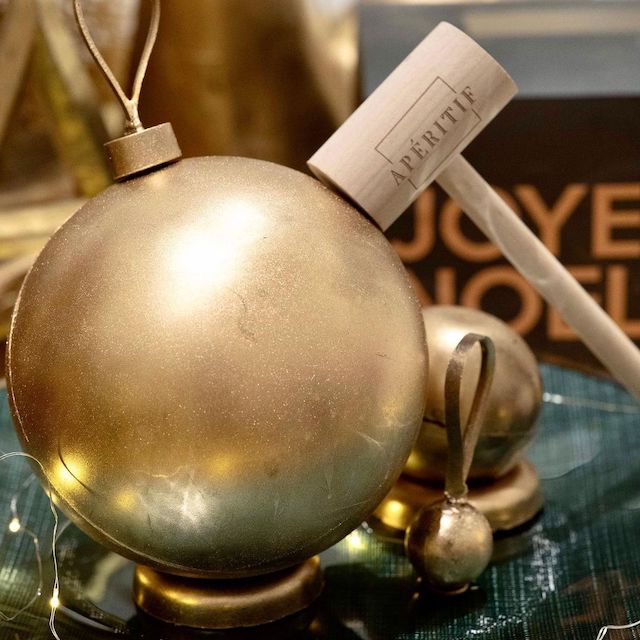 Holiday Macarons from Jane Dough Desserts
If you're not in the mood to commit to a whole cake, macarons give you a bite-sized dose of decadence—and it sure doesn't hurt that they typically look uber-aesthetic with their colorful shells and dreamy fillings! Local purveyor Jane Dough Desserts has come up with three nostalgic flavors for Christmas: the dark and warming Spiced Chocolate, nutty Ube Puto Bumbong, and whimsical Ultimate Champorado (complete with rice crispies around the side)! You can get a six-piece sampler box for P615 or a dozen for P1,200; just send them a message on social media.
ADVERTISMENT - CONTINUE READING BELOW ↓
For orders, send a message to Jane Dough Desserts on Facebook or Instagram.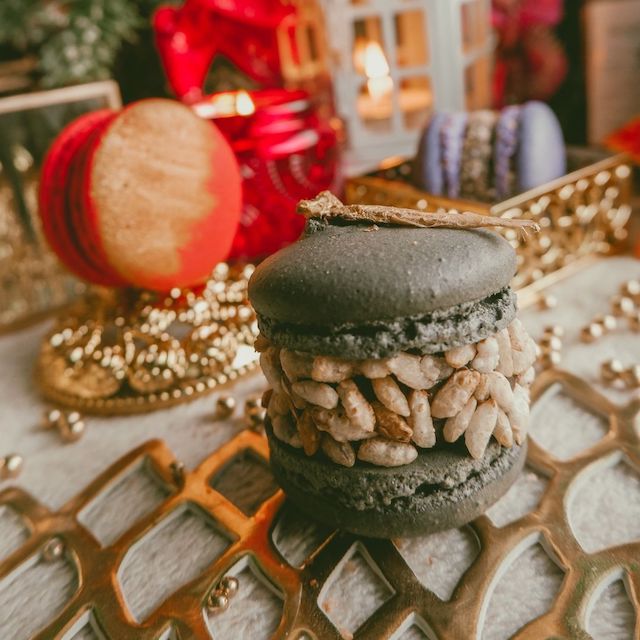 Quezo de Bola Cheesecake + More Bakes from Katherine's Cafe
The thing about cheesecake is that you can also use this dessert format to have other kinds of cheese in the mix. Katherine's Cafe, for one, highlights the Filipino noche buena favorite that is quezo de bola—known for its sharp, nutty profile—in their special Quezo de Bola Cheesecake, which also has layers of strawberry-white chocolate mousse and a crunchy wafer crust for a creamy, crunchy contrast. For a more chocolatey treat, try the Belgian Chocolate Cake, which is infused with rum and topped with nuts and dried fruits that glisten against the light. You can place your orders by filling out their order form.
ADVERTISMENT - CONTINUE READING BELOW ↓
For orders, fill out Katherine's Cafe's Holiday order form. You can also check out their Facebook page.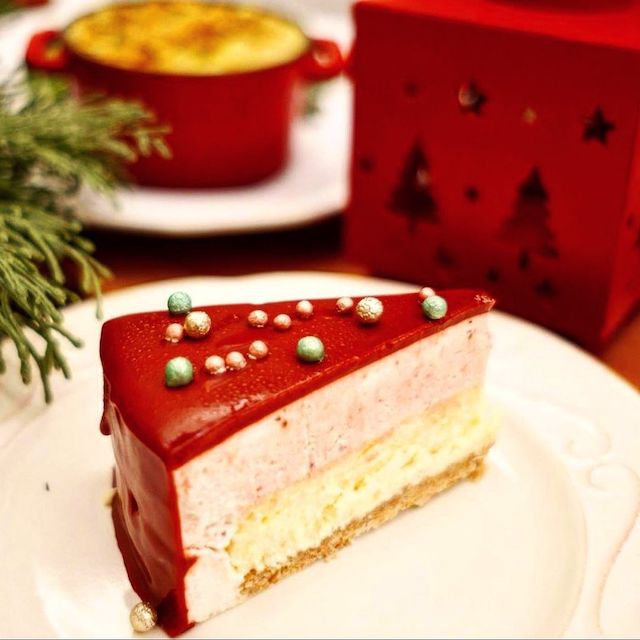 Spiked Doughnuts from Poison Doughnuts
Poison is known for their inventive doughnut flavors, and they go the even more sinful route by being spiked with alcohol in their special holiday line! These boozy flavors include the rum-soaked, cola-frosting topped Cuba Libre (P95), the mojito-infused Mojito (P95), the coffee-custard filled and Kahlua-glazed Irish Coffee (P110), and the tropical-tasting Piña Colada (P110). Not one for liquor? Fear not; the non-alcoholic Dark Chocolate Mint (P110) and Berries Yakult (P110) are well worth a try as well. You can try these doughnuts for yourself by heading over to Poison's Pickup.ph website, or by coursing your order through the delivery websites of the Tasteless Food Group or The Grid.
ADVERTISMENT - CONTINUE READING BELOW ↓
For orders, visit Poison Doughnuts on Pickup.ph, the Tasteless Food Group's website, or The Grid's website. For more information, check out Poison Doughnuts' Facebook page.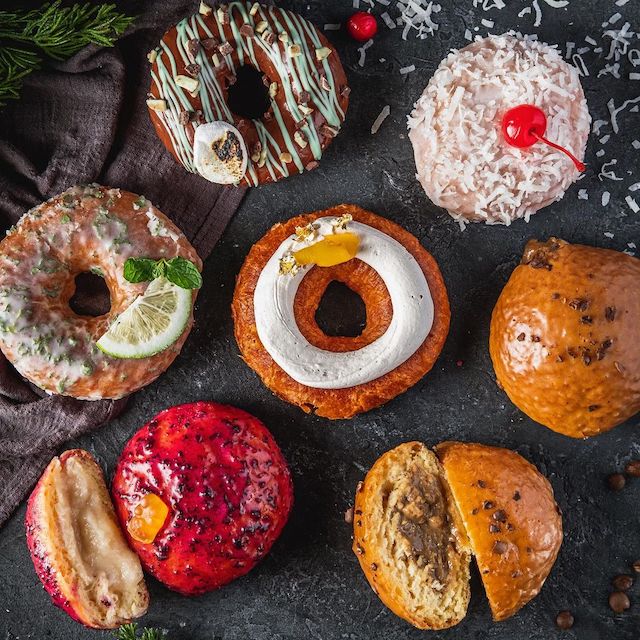 Suman Latik Bibingka from Bibingka MNL
With its signature savory-sweet taste with a touch of smokiness, bibingka by itself is already quite the treat—but add a sticky, chewy suman filling, a lush latik sauce, and grated quezo de bola to the mix and you've got yourself one heck of a rice cake. That's exactly what you get with Bibingka MNL's Suman Latik Bibingka (starts at P450/box of six)—and yup, the chewy suman melds beautifully with their soft yet substantial bibingka base, especially when it's served warm. This can be ordered via their delivery website on Cococart.co or by messaging them through Viber.
ADVERTISMENT - CONTINUE READING BELOW ↓
For orders, visit Bibingka MNL's Cococart website or contact (0995) 159-3990 through Viber. You can also check out their Facebook page.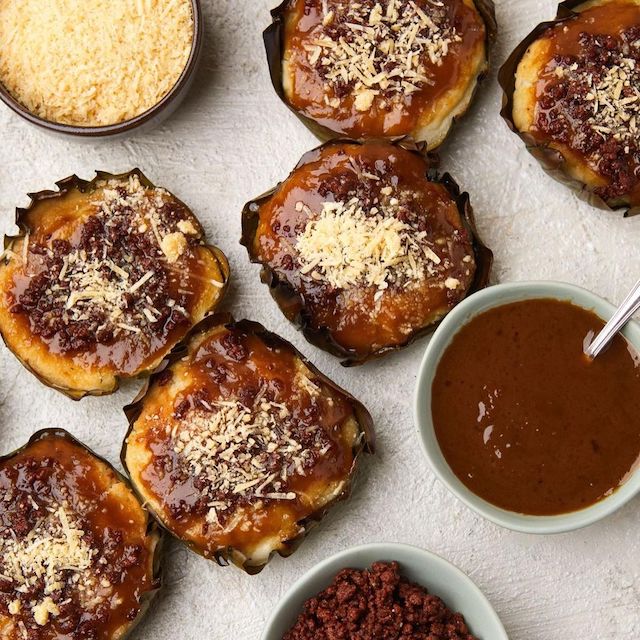 Billy Biscoff Cream Puffs from The Puff Dough
Chewy and creamy worlds collide in the French confection known as cream puffs. For a cream puff that evokes the fuzzy feeling of the holidays, you'll want to try The Puff Dough's special Christmas flavor—the Billy Biscoff (P600/eight pieces, P800/twelve pieces for the solo flavor; P620/eight pieces, P820/12 pieces for an assorted box)! They mix in cinnamon and caramel cookie butter for a spiced, warming profile that melds beautifully with the choux pastry shell and whipped cream. Alternatively, you can go for a savory bite with their other holiday cream puff, the Sally Spinach with spinach and earthy portobello mushrooms.
ADVERTISMENT - CONTINUE READING BELOW ↓
For orders, fill out The Puff Dough's order form. You can also check out their Facebook page.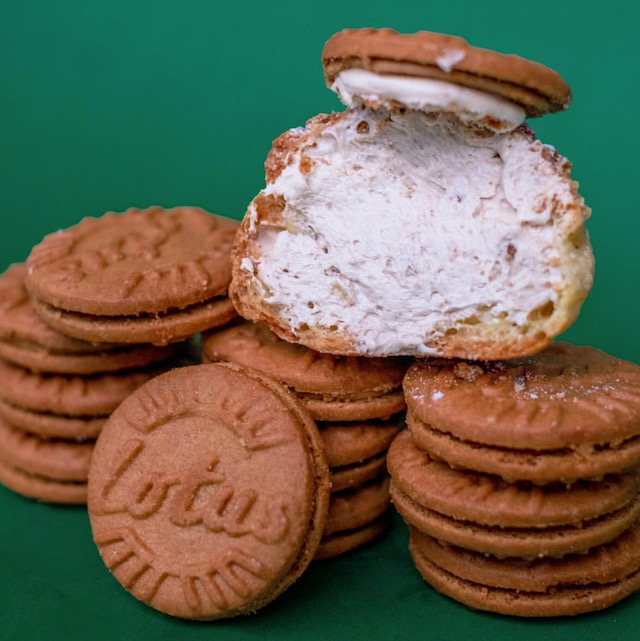 Check out Spot.ph's Viber Community, download their cool Sticker Pack, and subscribe to their Chatbot.
MORE DESSERTS YOU SHOULD TRY:
This 'Friends'-Inspired Ice Cream Is Just What You Need For Your Next Marathon
ADVERTISMENT - CONTINUE READING BELOW ↓
Here's Where To Get Biscoff Ice Cream, For All The Cookie-Butter Fans Out There
This Butter Ball Ice Cream Is The *Perfect* Dose Of Nostalgia