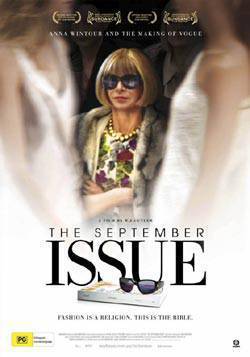 "Fashion's not about looking back it's always about looking forward."
--Anna Wintour
I recently watched
The September Issue
starring the staff of
American Vogue
. I'm more of a Cosmo girl in terms of dressing fashionably on a relatable, practical scale. But I liked watching Anna Wintour and her team, (particularly Creative Director Grace Coddington) and I liked how the former described the forward-thinking characteristic of fashion.
Sometimes it's too easy to dwell on the past--be it a fashion faux pas, a beauty boo-boo, or even a particular person you've regretted dating. Yet living a charmed and meaningful life involves the ability to pick up the pieces, remember the lessons from every experience, and hopefully move forward armed with an enlightened mind and heart.
Here are three things to take away from the quote above and tips on moving past life's curve balls.[readmore]
1. When something keeps happening to you, there's something about the situation that you still have to learn.
I realized this from what one of my aunties said back in 2003: the year I notoriously dated guys who kept breaking my heart. During one of my sob sessions (the guy I was dating practically ditched me via text; so much like Carrie and Berger's Post-it breakup) she told me, "Never ever let a guy make you feel that way. Ever!" While looking out the window,
a la
Sharon Cuneta, complete with raindrops, I realized an important lesson:
Guys who were insecure and caused so much stress were NOT worth it.
(Eventually I found a steady, laidback, no-hang-ups guy whom I'm marrying next year.)
2. Don't take yourself too seriously.
So what if you wore a
baduy
outfit? Or showed up with concealer two shades lighter? People around are more than likely to be absorbed in their own mishaps to notice (or remember long enough) yours. I've had my share of many style-
sablay
moments but have learned to belly up and fake confidence when needed most.
A few years ago I was invited to a beauty event which turned out to be part of the grand opening of Mall of Asia. Cosmetic company executives arrived in business suits, while brand managers and designers wore flowy, flirty dresses. It was a Saturday, so guess what I had on? A white tank and khaki shorts! Thank goodness I had some makeup on, a cute headband, and wore comfy heeled leather sandals. Whew! If I were back in college I would have been mortified (see "Short Shorts" post
here
). But I reckoned people thought I dressed that way on purpose; which was also true because I'd heard how massive MOA was, so I put on something comfortable I could walk in for hours.
At the end of the day, it all works out. And if it doesn't, tomorrow's another day. So put on a smile--and move along.
3. There's a reason for every setback.
This quote merits a whole blog post altogether because I've witnessed its truth on many, many occasions. But I'll save the details for later. As much as it's ideal to live a "forward-themed" life, sometimes, things don't go as planned or certain disappointments and setbacks emerge. Don't fret. If you look back, notice that when you expected something but didn't get it, you actually ended up with something better. Now that I've started talking about this, I'll dish some examples on my next blog post! So watch this space, Cosmo girls!
Mariel Chua is the former beauty editor of Cosmopolitan Magazine Philippines. Visit her personal blog at http://nyminutenow.com.
ADVERTISMENT - CONTINUE READING BELOW ↓