The field of science and technology, as far as we know, has for a long time been dominated by men. But history—or should we say, herstory—has also revealed that women have made some of the biggest breakthroughs imaginable while working in the background. (Remember the movie Hidden Figures?) For Women's Month, the National Planetarium of the Philippines hopes to inspire more women to go into the sciences as they offer free admission to all females on International Women's Day: March 8, Sunday.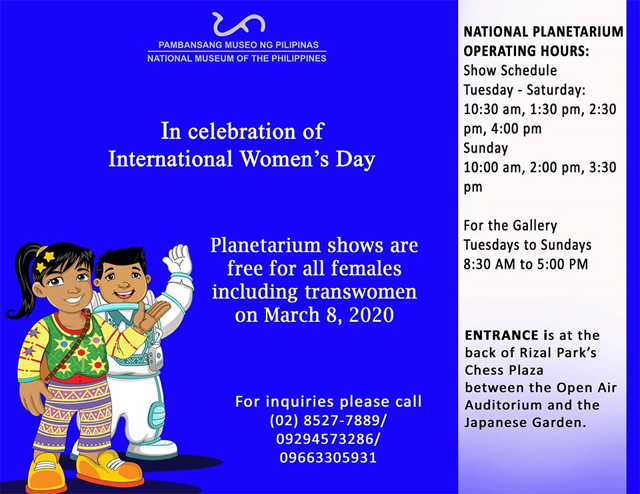 Planetarium shows are scheduled at 10:00 a.m., 2:00 p.m., and 3:30 p.m.; visitors can also check out the gallery from 8:30 a.m. to 5:00 p.m. The National Planetarium and National Museum of the Philippines, in a progressive move, specified that free admission is also offered to transwomen.
Continue reading below ↓
Recommended Videos
The National Planetarium is located between the Open Air Auditorium and the Japanese Garden at Luneta Park in Manila City. Entrance is at the back of the Chess Plaza. It is open from Tuesday to Sunday, from 8:30 a.m. to 5:00 p.m. For more information, follow National Museum of the Philippines on Facebook.