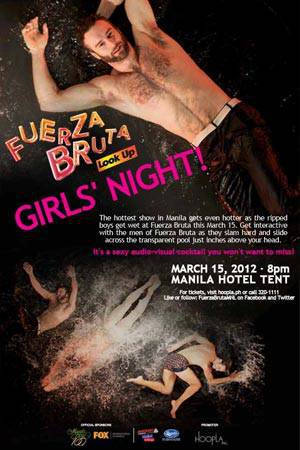 There's currently one show that's got everybody--from top celebrities to Cosmo editors--talking and raving: the theatrical event known as Fuerza Bruta. This dreamlike show has traveled all over the world and is currently transforming the Manila Hotel Tent into an alternate universe where beautiful people swim above you, grab you for a dance, and shock you with wondrous aerial imagery. The show, which originated in Buenos Aires, encourages you to "Look Up" at fantastic sights. And, for one night only, all you ladies are in for an extra special treat.

Tomorrow night is Fuerza Bruta Girls' Night, a special show that's been a smash hit in places like New York and Mexico City. Instead of the usual mermaid-like women floating above you in the multi-dimensional hanging pool, you can feast your eyes on the hunks who headline the cast!

After each of the shows, you can immerse yourself in a one-of-a-kind clubbing experience at the chic Fuerza Bruta Lounge or avail of one of their exclusive room packages with special discounts for ticket holders. Don't miss this chance to be part of the all-night experience that is the talk of the town!

Since the show premiered last Valentine's Day, it's been getting rave reviews and has had several celebrity spectators. Last month's Cosmo cover girl Georgina Wilson, last month's Man On Fire Borgy Manotoc, Raymond Gutierrez, Tim Yap, Tessa Prieto-Valdes, and members of the Philippine Volcanoes are just some of the familiar faces we spotted in the Fuerza Bruta audience.

Launch the gallery to see some of the celebs who've experienced the interactive show.


Fuerza Bruta Girls' Night is on March 15, 8PM, at the Manila Hotel Tent. The regular show will run until March 26. For inquiries and ticket purchases, contact the Manila Hotel concierge or call 320-1111. Ticket prices are P2,500 from Monday to Thursday and P3,000 on Friday and Saturday. Manila Hotel Prestige members can get Fuerza Bruta tickets at 10% off when they buy them at the hotel concierge.
1871
Continue reading below ↓
Recommended Videos