Long day at work? Your crush totally ignoring you? We feel you! Sometimes, you feel like giving in to burnout or worse, stress eating. Before you succumb to eating your feelings or hiding out in your room, know that there are ways to instantly feel better, faster. Here's how:

1. Tune in to your fave tunes.
If Justin Timberlake's tunes will make you crack a smile (and maybe get you dancing), then go ahead—relaxing and happy tunes might just do the trick.

2. Plan your next big vacation.
Burned out from too much on your to-do list at work? Taking a break can be a good thing. Take a week off (or maybe two?) and see the rest of the world. Traveling often gives one perspective and even boosts one's creative juices. Plan that trip now, hit the reset button and say hello to a recharged you.
3. Round up the girls.
There's nothing an all-girl's night out can't cure—whether you spend it dancing or enjoy an all-nighter catching up on each other's lives—everything seems lighter when shared with your best girls.

4. #Instaswitch your scent.
Remember how a familiar scent brings you back to a happy memory? Different scents can boost your mood instantly: snuggle up to clothes washed with Downy Parfum Collection which has the new Scent Switcher technology. With every rub you can change your scent instantly; each rub gives off a different perfume experience and instantly lifts your mood.
Continue reading below ↓
Recommended Videos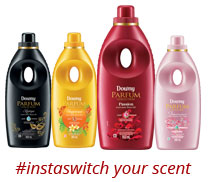 Switch scents instantly by rubbing the fabric of clothes used with Downy Parfum Collection because with the new Scent Switcher technology, each rub is a different perfume experience. Make it a habit to #instaswitch!