Sosyal Dining: Old VineThe Vibe:
Do you all want to dress up and get all Stepford Wife-y in a sunny vineyard setting? Walk into this restaurant's warm, sunshine-y interiors and attractive vine motif that evoke that sentimental countryside feel.
The Fare:
You and your gals can share the goodness of
Old Vine's Trio Salad
(P230 for two, P500 for a bigger serving), which combines sauteed prawns, shiitake mushrooms, and escargots on a bed of organic lettuce drizzled with balsamic variation dressing. Tuck into a hearty serving of their tender
Poele Lamb Spareribs
(P395), which comes with a savory mushroom risotto. Cap off this homey feast with
Chocolate Gooey Fudge
(P120) for dessert.
Don't Miss This:
Order a glass of wine to complete your vineyard experience. You can choose from Old Vine's collection of wines from Australia, Argentina, Chile, South Africa, Italy, France, Spain, California, and New Zealand.[nextpage]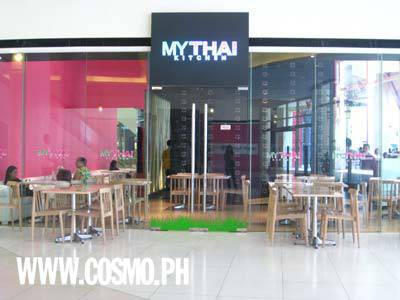 Fearless Fare: My Thai Kitchen

The Vibe:
You and your girls will feel at home in the simple, laidback, yet fun atmosphere of this casual Thai restaurant. You'll enjoy looking
fasyon
in its bright interiors.
The Fare:
Fire up your appetite with
Spicy Deep Fried Catfish & Green Mango Salad
(P195), a no-fail classic that'll make you crave for more Thai fare. Craving for something spicier? Try their
Tom Yum Goong
(P195). But if the soup gets too hot to handle, soothe your tingling tongue with
Thai Iced Milk Tea
(P75).
Don't Miss This:
You won't need to order another entree when you try My Thai's savory
Bagoong Rice With Sweet Pork & Green Mangoes
(P195). It's super sulit with its generous side serving of sweet pork, egg strips, green mango, and onions![nextpage]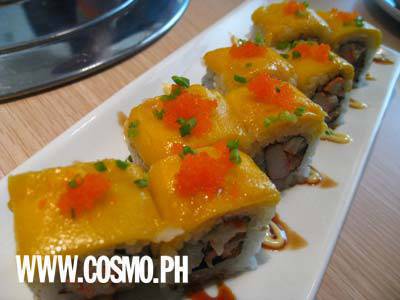 Snacking On Japanese: Lucky Niku CafeThe Vibe:
Separated from My Thai Kitchen by a wall of shelves, Lucky Niku employs the same casual, laidback ambiance, albeit a bit more subdued. It's perfect for an afternoon get-together.
The Fare:
Maki and sushi are always good for sharing. Split hearty servings of
Sun Dragon Roll
(P325), a mango-barbecued eel-crabstick combo that'll satisfy your taste for the exotic. If you'd rather have a classic maki with a twist, try the cafe's signature
Lucky Niku Special Roll
(P350) which has salmon, unagi, shrimp salad, spicy mayo, and sinful crispy chicken skin.
Don't Miss This:
If you're watching your diet or craving for a light appetizer, you'll enjoy
Lucky Niku's Kani Salad
(P195), a delightful combo of kani (crabsticks), cucumber, and Kewpie mayo.[nextpage]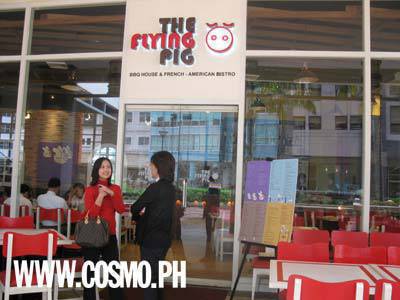 Comfort Food Heaven: The Flying PigThe Vibe:
Your group will have fun looking at the funky cartoon illustrations of flying pigs in this bright bistro--a great cheat day destination.
The Fare:
Vegetarians beware: The Flying Pig is mostly about pork! But if you love your meat, you and your friends will enjoy their unique
Flying Meat Loaf
(P275), which is generously wrapped in bacon, drizzled with gravy, and served with mashed potatoes and vegetables. Love
pata
? Be sure to order their
Frying Cuchi Frito
(quarter P532, half P1,495), which will surely bring some festive cheer on your table.
Don't Miss This:
A trip to The Flying Pig is not complete without a taste of their best-selling
Back Ribs Dreams
(half slab P532, full slab P635). We're sure you'll love sucking its sweet, smoky meat off the bone! You can only do this with your
barkada
, after all. Don't ever attempt it on a date.[nextpage]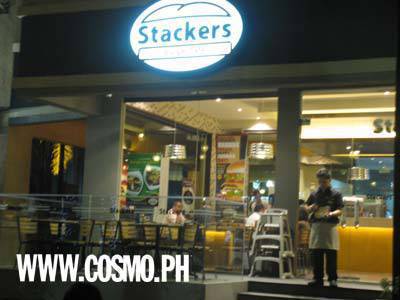 Cheeseburger Moments: Stackers

The Vibe:
Stackers is a fusion of a normal burger joint and a cozy coffee shop you'll love to hang in for hours. You'll have trouble leaving your seat if they happen to be showing your favorite movie on their flat TV screens, too.
The Fare:
You can try the classic
Stack Burger
(P95), which crams the joint's Australian beef patty, tomato, onion bits, lettuce, and tomato between mildly sweet buns. Feeling adventurous? Go for Stackers premiums such as the hefty
Philly Cheese Burger
(P245), which comes with sauteed sweet peppers, onion rings, and mozzarella cheese smothered with ranch dressing.
Don't Miss This:
Their fat, finger-sized
Mozzarella Sticks with Jalapeno Dip
(P95) are the best cheese sticks we've ever tasted! Cheese lovers won't be able to resist this treat.[nextpage]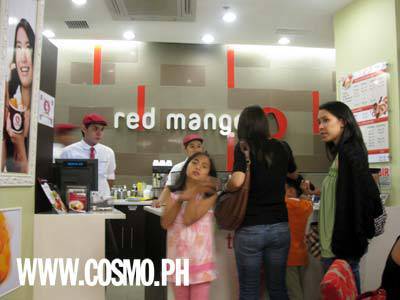 Guiltless Dessert: Red Mango

The Vibe:
This yogurt parlor's cool, bright interiors reflect the refreshing taste of its creamy fro-yo.
The Fare:
Red Mango is famous for its all-natural frozen yogurt, available in two flavors:
Original
(P80 for small, P115 for medium, P150 for large, and P220 for family size) and
Green Tea
(P85 for small, P120 for medium, P155 for large, and P225 for family size). Go for a double treat by combining these two into a yummy swirl. You can always enjoy your plain, creamy fro-yo, but it's best to go wild with the toppings! Choose from peaches, blueberries, kiwi, mango, banana, watermelon, pineapple, mandarin orange, pomelo, and grapes; cereals special K, muesli, Cap'n Crunch; and almond mochi, sliced almonds, crushed graham, red bean, Fruity Pebbles, Hershey's chocolate chips, and cocoa pebbles. For one choice of topping, add P20; P30 for two; and P40 for three.
Don't Miss This:
Indulge in Red Mango's
Heart-Shaped Waffles
, which you can top with blueberries and cream (P85) or banana and almond (P85). If you've had enough of fro-yo, this treat will surely satisfy your sweet tooth.
Continue reading below ↓
Recommended Videos
EXPLORE COSMO