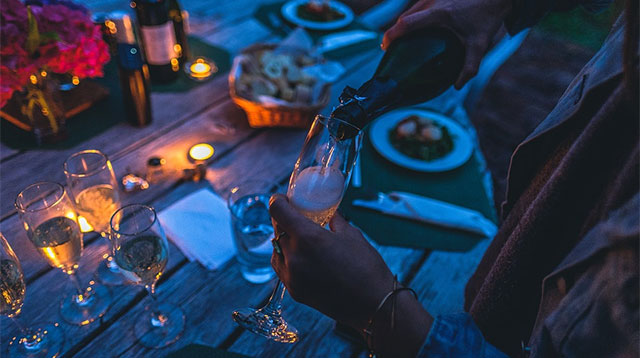 1. Sort your playlist out. 
 Nothing kills a party like a bad selection of tunes. Get it right and you'll ace the evening—plus, guests can spend those awkward first few minutes bonding over how much they love (or hate...) your playlist. Try this jukebox app which lets guests log in from their phones and help select tunes for you. Coolest. Party. Ever.
2. Time it right. 
 According to a recent poll, most party guests arrive a whopping hour after the specified start time—rude or what? Bear it in mind when inviting guests and give them a start time of a little earlier than planned (especially in Manila, where traffic is a nightmare).
3. Work on your opener. 
An impressive display of canapés laid out on the table as your guests walk in? A LOL-worthy karaoke hour to round off the night? Figure out an amazing opener and closer to the evening, and the middle portion of the night will take care of itself. According to psychologists, that's the most forgettable bit anyway.
4. Go simple on canapes and cocktails. 
It's better to stick to easy food bits you know you're awesome at, rather than trying to make that thing you can't even pronounce. Remember, your guests are looking forward to your company, so whether or not you whipped up that cheesecake from scratch is hardly going to lose you friend points. Plus, there's even a psychological theory (the Pratfall Effect) which says the less perfect you are, the more people like you. So there.
5. Get the heat right. 
Sounds pedantic, but temperature can make or break a party. Too much heat makes us feel angry and flustered, and cold temperatures are proven to make us sadder. Just remember that you're bound to be slightly warmer than your guests thanks to running around sorting drinks and snacks (plus booze = flushed cheeks), so take it down a notch for optimum happiness.
6. Don't be afraid to delegate. 
57 percent of us think throwing a party is more stressful than work (madness, we know). So if you're throwing a party and are planning on doing it all yourself, then DELEGATE! Even just asking a couple of friends to take care of a few decorations or collecting empty cups throughout the night will ease the load—and we promise, they'll enjoy feeling useful. Just tell them in advance, not ten minutes before they're due to arrive…
7. Focus on one person. 
It's tempting to join in on every single LOL-worthy conversation across the party—after all, how often do you get all your friends together in one room? But try to focus on just one person at a time—studies show that when we switch from task to task (or person to person), we pay less attention and don't fare as well. Give each guest your undivided attention—and listen to their answers.
8. Prep beforehand. 
Do as much as you possibly can ahead of the event—ideally the day before. Playlists, lighting… sort it all out ahead of time and you won't get that headless-chicken-panic thing.
9. Don't rule out party games. 
Granted, organized fun can be cringeworthy, but party games are the BEST way to liven up a lagging crowd. We love Heads Up, created, randomly, by Ellen Degeneres (find it on the App Store). It's the 2015 version of Pinoy Henyo (you know, that game where you stick famous names on your forehead for ages like a buffoon?). Karaoke Sing and Record lets you sing songs along with your favorite videos for FREE (you can even save them and play them back for LOLs the next day). Or, play it safe with Cards of Humanity—the game guaranteed to get the loudest LOLs.
***
This article originally appeared on Cosmopolitan.co.uk. Minor edits have been made by the Cosmo.ph editors. 
Recommended Videos