Though we've made strides in shedding a light to #HerStory and advocating how we can #PressForProgress, the ASEAN SOGIE Caucus challenges our notions of womanhood pointing out that, "when we #PressForProgress for women, we must ask: For which women?"
In a statement released by the LBTQ Caucus who met up in Phnom Penh, Cambodia last December 2017, they strongly called out the violence and discrimination that lesbian, bisexual, transgender, and queer persons have experienced and continue to struggle with due to the highly patriarchal society and religious values and structures that govern more traditional and conservative Asian countries. The Philippines is definitely one such country and below are true stories of Filipinas that show just how serious the problem is.
But first, a quick crash course on some of the terms we'll come across.
SOGIE stands for Sexual Orientation and Gender Identity and Expression. To differentiate these concepts, a simple mnemonic goes: sexual orientation = who you sleep with; while gender identity and expression =  who you sleep as.
Your sexual orientation is dictated by who you are attracted to and the terms heterosexual (woman attracted to a man and vice versa), lesbian (woman attracted to another woman), bisexual (a person attracted to people of the same and different sexes and genders), and pansexual (a person attracted to other people regardless of their gender or sexual orientation) would fall under this.
Gender identity is how you identify as. Operative terms under this concept are cisgender (to identify oneself the same as one's assigned gender at birth), transgender (to identify oneself differently from one's biological sex) and queer (an umbrella term for more complex gender identities such as non-binary, bi-gender, genderfluid, etc.), to name a few. While gender expression refers to how you present yourself (regardless of gender identity) with respect to how you dress and how you act—be it more feminine, masculine, or a mix of both (that is, an androgynous gender expression).
Continue reading below ↓
Recommended Videos
That's honestly just the tip of the iceberg, which is why it's important that we hear out and understand what these Pinays have to say:
Ginelle Petterson
Bisexual
"Still not everyone is open to [bisexuality] or understands it, for that matter. A previous boyfriend and I had this tiff over his jealousy na not only guys daw ang ka-compete niya, pati girls daw. I've also had two other girlfriends before and l keep getting asked the same question: 'Sino ang 'boy' and sino ang 'girl'?' This is another misconception that needs to be 'unpacked' for people who are not exposed to those who are LGTBQ.
Back in college, I've also always gotten that very blatant objectification na 'mas hot' ka kasi possible ang threesome, kuno'. But then, kahit naman bisexual ka, or even pansexual, if 'di ka comfy having two partners at a time, 'di ka pa rin papayag sa threesome, e.
Usually, I just shrug it off in the same way most women have to live with shrugging off the usual kind of objectification. Pero, I have to admit na parang may double standard din kasi. If a close friend of mine makes a joke about it being hot that I'm bi, it's easy to let it pass, and often, it's really funny. But of course, when a stranger makes a comment like that, it's not a joke, and you just ignore it, and let the awkward moment pass. It can be awful kasi you don't know when to police your own friends. Like, do they do that kasi they know you'd be chill with it so you just let it pass? Or is it something na baka gawin din nila with a stranger, and if so, as a friend, kailangan ko sila pagsabihan para they don't make that faux pas? Ang hirap to read between the lines.
When I started dating my current GF, I told my mom immediately about it because I'm really open with my family. This was in 2015. You know what my mom told me? She said, 'Eeeeh. Enjoy-in mo lang 'yan. 'Wag mo jowain.'
I was actually super surprised with her reaction kasi my mom knew about me and my high school girlfriend. I spoke to her about it 'nung break na kami. She comforted me about our breakup, and she seemed super okay about it. I guess she really thought it was just a phase when I took it as a clear 'acceptance.'
Acceptance of non-hetero relationships are hardly tolerated by majority of Filipino families, still. It's like, 'I can accept LGBTQ couples, as long as it doesn't happen to MY family,' which is not real acceptance. Although, of course, my mom has long since already truly accepted my girlfriend."
Pat Bringas
Transwoman
"Top of mind [na difference ng experience of a transwoman from a gay man] is appearance. When you come out as trans, people will judge you by how you look—how feminine you are, how 'passable' you are; which are all problematic because our trans identities should not rely on our looks. And it creates unnecessary pressure and insecurity for a lot of us.
Also, there's this misconception of deception. Most of the time, people do not acknowledge us as women. They still consider us to be men masquerading as women. They think we try to deceive people into seeing us as women. People are a little more comfortable with gay men kasi parang what you see is what you get. With trans, may fear na baka 'nanlilinlang'.
Nakakainis nga sa mga trans pageant or even Super Sireyna when the girls need to introduce themselves as celebrities, further reinforcing na 'nanggagaya' lang kami ng hitsura ng babae.
To be honest, before transitioning, I was afraid, precisely because of that judgement people put on transwomen. There was also that fear na if you didn't end up 'passable', you'll be ridiculed more than gay men do. Note na hindi pa ako mulat sa LGBT advocacy at that time so 'yung fears ko were results of my experiences with people around me.
[What made me decide to push through with my transition was the feeling na] I just don't want to pretend to be gay for the rest of my life. That wasn't who I was. It's like living half a life if I didn't live as a woman. [I picked up this attitude] na parang, bahala na. Kebs sa kanila. I'll do whatever I feel is right and what will make me happy.
It may sound cliché, pero it really was such a freeing and liberating experience. And honestly, a few months after hormone therapy, I already felt fulfilled with my transition na e. Parang once you've embraced yourself fully as a woman, and everyone treats you so, OK na 'yun."
Dove Subingsubing
Pansexual cis female currently in a lesbian relationship
"Right now, I' m in a relationship with a lesbian transgender woman (think of me as Joey Mead and my partner as Angie King. My partner's preferred pronouns for now is 'they' or 'them,' pero gusto niya to use 'she' eventually.). My partner, who is no-op (no operation and not using hormones yet), isn't completely out yet to everyone they know, so they're still passing as a straight cis man. To compensate for it, during the weekends, holidays, or non-work days, I help them go shopping for skirts and dresses. And when we'd go out on weekend dates they would wear women's clothing.
It's a very unique dynamic. On most days, we pass as a straight couple, but we deal with members of their nuclear family that still do not get it, and have downright adverse reactions especially when we're not 'passing.'
Case in point: One time, we were waiting for a Grab with my partner's mom outdoors. And she was begging us not to go out in public with them in a skirt because she was ashamed of our relationship. I really feel like I'm in a unique position. As a cis woman, I feel more compelled to protect my partner from people who try to erase their gender identity, because of our ability to pass.
From my end naman, sobrang supportive ng family ko. My parents are separated and my mom is in a lesbian relationship, so they understand and support us both. I do feel very lucky, being in the kind of family I'm in, where both mom and dad and their partners get it. Hindi siya nagiging mabigat dalhin.
Ever since nakilala ko 'yung partner ko, though, I've been more sensitive to the discrimination that trans women and men experience. It's an entirely different struggle altogether kasi exclusion is coming from both binary and non-binary ends.

Comparing this with my previous relationships with cis women, I realized that society's level of understanding is that they understand lesbian relationships between two cis women more than a cis woman and a transwoman. I guess because we still tend to label people based on genitals, it's easy to deny a person their gender identity.
[Now, on the days my partner and I don't 'pass'], almost everyone does a double take when they see us, especially because my partner wears brighter colors than I do (my default is black, almost everyday). Our friends have been very accepting, and with strangers, so far, no one's confronted us directly about it pa naman.
It's a nice reassurance for us na for the most part, no one really cares or bothers us—and this is the part of our relationship that I wish my partner's mom would see; that there's no reason to be ashamed because no one cares enough to actually shame us. And if anyone does, I'm ready naman to make them see why and how queer relationships and identities work."
Amber Quiban
Bisexual Transwoman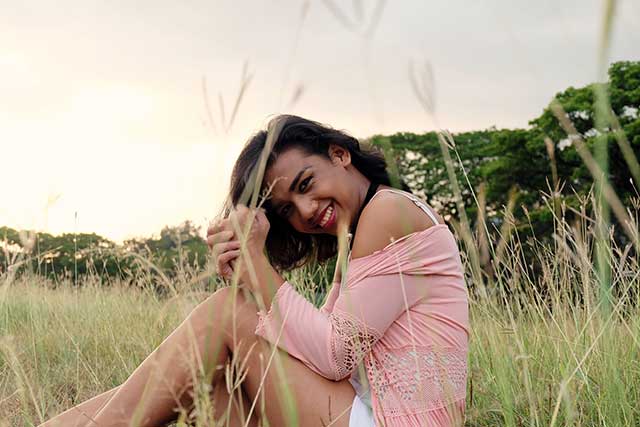 "I was outed as gay by a classmate in Grade 2. I was eight years old then.  My family didn't like the idea that I was gay (was, 'cause I thought before na gay man ako) but they [tolerated me 'cause I'm their child]. Then when I realized na I'm trans and told my family na trans nga ako (after being outed just a year ago by a workmate of my father who saw me online and sent my pic to him), I got kicked out of the house. Me being trans was unacceptable for them. So now, I'm living on my own.
Being trans is especially hard because not everyone understands what a transgender person is. In my experience, misgendering is my common enemy. Misgendering is when people assign me to or address me with a different gender, which makes me anxious in public. I try to correct them or defend myself every now and then, but sometimes, it just doesn't work.
Other instances of misgendering is when I am forced to leave the female restroom and use the male restroom (which obviously, I won't do), and when I am forced to line up in train carriages for men, instead of the dedicated carriages for women.
These are the experiences which gay men do not have to go through. They are not misgendered because they still identify as men. They do not have to impose their gender because society recognizes their gender.
[Street harassment is another big thing. I experience all types, from] catcalling to wolf whistling. They also attempt to imitate "gay sounds" to mock me and my sexuality and shout sexual profanities at me. Minsan pa, it's not just street harassment na verbal. Even in trains, I get harassed pero physically naman. Like, may nakahawak sa puwet ko or stuff.
There's this problem din madalas with gay men—especially masculine gay guys—na ino-oppress nila mismo ang mga transwomen. Ayaw nilang na-a-associate sa mga transwomen and effeminate gays. Merong desire to tag us as 'bakla'—na ang mga effem and transwomen talaga ang bakla, while sila ay mga paminta lang. I have nothing against pamintas naman.
But my concern is how they treat us and segregate us. They are just reinforcing the bad things people say about us transwomen, na parang we can't be contented with our bodies. They have these notions na masyado raw kaming trying hard and they question why we have to change our bodies pa raw. More than that, they make us feel less worthy. People tend to attach a different meaning and value to us din.
Our bodies are fine naman. It's just that we don't feel right in the bodies we have. It's not about contentment. Being trans kasi is not just about being flamboyant. It's more towards the actualization of ourselves as women."