For most of my grade school and high school life, I was on the badminton varsity team. I wasn't the best player in the roster. I wasn't even the strongest hitter, highest jumper, or the most agile. If I were to have any superlatives, it would be that I was the biggest one there. My teammates never made me feel any less, even though I knew I was falling far behind. I let my frustrations of never looking and being like everyone else get the best of me, and eventually, I fell out of love with the sport. In the summer after high school, I gave badminton up completely.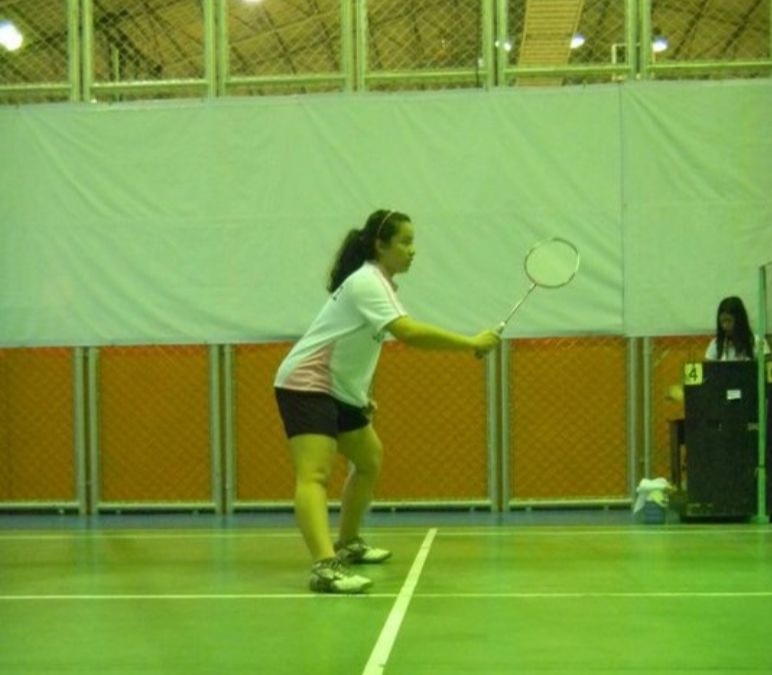 ADVERTISMENT - CONTINUE READING BELOW ↓
In college, I saw little to no physical activity, except for P.E. classes and the far walks from building to building. The thought of not looking like the pretty girls I'd see around school was always at the back of my mind, yet it never really bothered me enough to actively do anything about it.
After I graduated, my good friend Kyla Gancayco began her fitness career by teaching at an indoor cycling studio. While I wanted to give her classes a try, I was self-conscious. "It's just like dancing on a bike," she said. And that did it for me. I gave it a try, and it instantly became part of my weekly routine. Plus, I became hopeful that this could kickstart my way into healthier living. 
Trying to be on the frugal side as I was new to the workforce, I would attend one cycling class a week—or two, if I felt I could afford to treat myself. I made new friends and reconnected with old ones. Because I believed that each workout called for a celebration of great food with good friends, I used my once-or-twice-a-week classes as an excuse to indulge in whatever I wanted, whenever I felt like it. While I very much enjoyed the social aspect of attending group classes, I slowly started to realize that I didn't feel as great about myself as I thought I would. I still kept at it—but minus the meals out after class, and always with high hopes that my exercising would finally serve its purpose.
Later in 2019, Kyla started teaching at a then newly-opened High Intensity Interval Training (HIIT)-Strength studio. I was intimidated to try it out to say the least. It took a while for her to convince me to be one of the studio's two "guinea pigs." It was only then that I started to get serious about my fitness.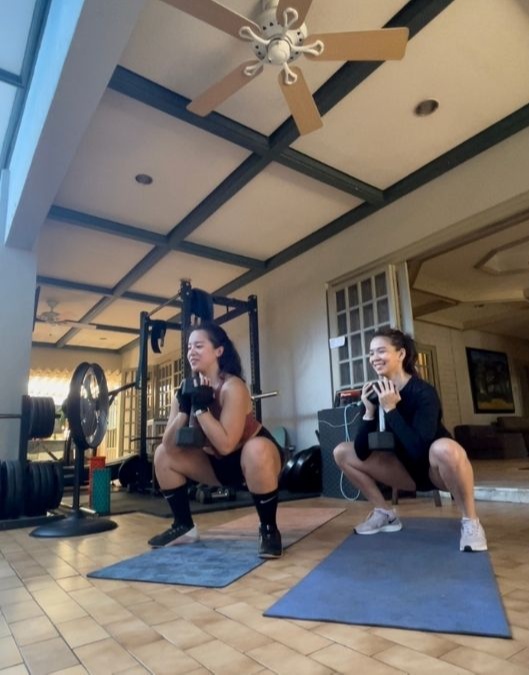 ADVERTISMENT - CONTINUE READING BELOW ↓
I had to attend at least three classes a week, while top health and fitness coach Ida Paras took me under her wing with a personalized diet plan. I was easily able to incorporate attending classes into my schedule and my nutrition plan seamlessly fit into my lifestyle. I loved challenging myself to do things I didn't think I was capable of doing, and I was hooked on to the progress I was making. My clothes started to fit better, everyday tasks became easier to do, and my energy and focus were at a whole new level. I was always excited to go to the studio for my classes because I fell in love with seeing how much more my body could surprise me.
My newfound routine was short-lived as the lockdown struck. We were confined to exercising at home with whatever equipment we had. As a firm believer in consistency, I stayed motivated in doing home workouts. When the studio I frequented started offering online workout classes, I was one of the first to sign up. It was my way of staying accountable towards my progress.
ADVERTISMENT - CONTINUE READING BELOW ↓
As we all started getting into learning new things and developing new hobbies over the quarantine, Kyla got certified as a personal fitness trainer. She asked me if I was open to being coached, so that as we worked towards my goal, she could practice handling clients too.
My goal wasn't to look like the women around me, but rather to be strong like them, in whatever way that meant to me and my body.
Because I've had the opportunity to work with some of the country's best fitness instructors, and since I've learned to be more open-minded when it comes to my health and fitness, saying yes was a no-brainer. I told Kyla that my goal wasn't to look like the women around me, but rather to be strong like them, in whatever way that meant to me and my body.
Fortunately, I come from a family who has always been into sports and working out, so equipment wasn't really a problem. Our home gym is about 10 years old. It has always had a barbell, some plates, a dumbbell rack, a squat rack, and a bench. My brother, who had to give up going to the CrossFit box he frequented pre-pandemic, decided to upgrade our setup further by adding the following:
ADVERTISMENT - CONTINUE READING BELOW ↓
Another barbell (approximately P12,000)
Additional sets of plates (roughly P30,000 for all)
Gymnastics rings (about P2,000)
An ab mat (roughly P700)
Rubber mats (P9,000) to pad the floor 
Since I spend more time in my condo than at home, I purchased some equipment as well, but most of these were for the online classes I still take. These include different kinds of resistance bands (around P500 to P1,000 per set), and a small 20-kilogram adjustable barbell set (approximately P6,000) that I can use in small spaces.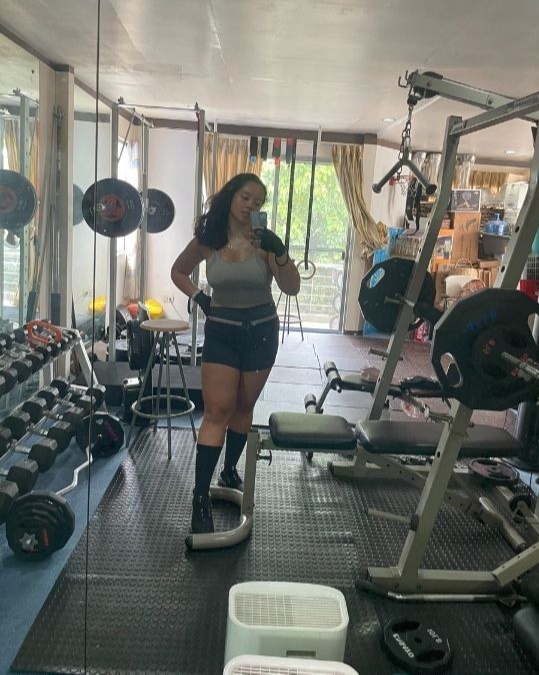 ADVERTISMENT - CONTINUE READING BELOW ↓
Kyla took into account my current fitness level and crafted a personalized, three-day strength program that addresses my goals, supplements my current workout, and makes use of the equipment I have at home. I could do it anytime of the week, combined with two to three days of my usual HIIT-Strength classes, and even options for active recovery or rest days.
Each strength day consisted of four compound lifts, or exercises that target several muscle groups all at once, and two upper-body supersets that had two moves per set. On average, it would take me around an hour and a half to two hours to complete—warm up, cool down, resting time, and accidental dance breaks included.
Going to our home gym to lift weights became my favorite escape.
I started this new training style excited and optimistic, despite never setting foot in a gym before. I found a new challenge to pursue and I was looking forward to seeing how I could progress. With the amount of stress work brought at that time, going to our home gym to lift weights became my favorite escape. I squeeze in my sessions whenever I can—be it mornings, during my lunch break, or in any small window I had between meetings. Despite the tight schedules, I notice boosts in productivity and sharper focus each time I get back to work after. Not only am I able to finish my tasks faster, but I'm also able to do them well.
ADVERTISMENT - CONTINUE READING BELOW ↓
When my day is quite light, and I have the time to leisurely lift weights after work, I'm able to channel the flow of happy hormones into the time I spend on myself. Whether it's pursuing other creative hobbies or even just simply unwinding, the best part about working on myself through working out is feeling good after.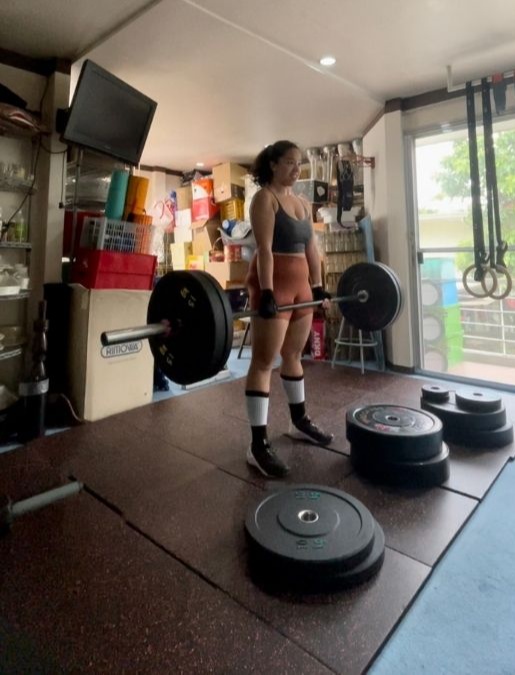 ADVERTISMENT - CONTINUE READING BELOW ↓
More than the toned back and shoulders, learner arms, and appearance of some abs (during the rare times I supplement consistent movement with eating extra well!), I'm proud of how I'm able to lift heavy everyday objects with ease. I get to climb several flights of stairs with barely any difficulty, and even witness the effects of my strength training manifest in my cardio-strength classes. My endurance has gotten better, I'm able to jump higher, and I find that I'm a lot more agile. I finally know what it means to be proud of what my body can do.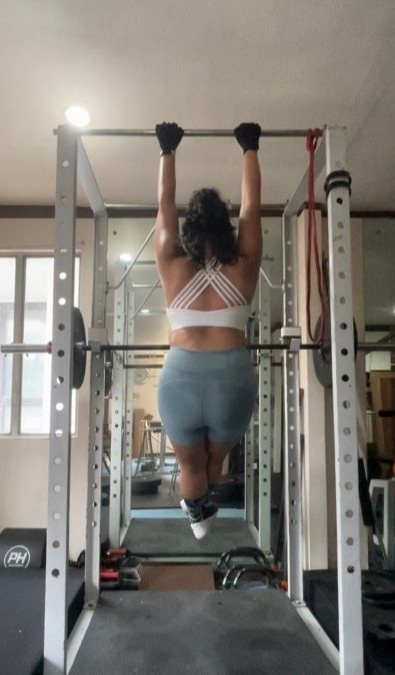 ADVERTISMENT - CONTINUE READING BELOW ↓
Perhaps what I enjoy most about strength training is that despite progressing through how heavy I can carry, I move in my own time and I'm hardly ever out of breath—which are pretty much the opposite of playing sports and doing the more cardio-based workouts I was used to. I think it was helpful that I trained alone at home, in my own safe space, with no one around me to compare myself to. As my check-ins with Kyla were only via videos I would send over chat whenever I'm unsure of what I'm doing, the only standards I felt I had to pass were my own.
Lifting weights became the perfect pairing for my HIIT-strength classes. While the latter eased me into moving with proper form, the former helped me not shy away from the web camera and watchful eyes of instructors. While my journey towards my best and most confident self was 24 years in the making, it made me realize that it's better to have started late than to never start at all. Now, because I know what it feels to take care of my body, I know when to push and when to give myself a break. I don't think I've ever felt as healthy before as I do now.
ADVERTISMENT - CONTINUE READING BELOW ↓
As I was starting out, one thing I would always say is, "My only competition is myself," and up until now, it couldn't be more true. We progress at our own pace, and no one else knows how to push ourselves better than we do. While I see my instructor-turned-good-friends lift a lot heavier than me, and while Kyla would sometimes tease me on how I'm so conservative with the weights I lift, I'm proud that I can carry more than three times the weight I started with last year. Wins, no matter how small or how long they take to achieve, are always worth celebrating.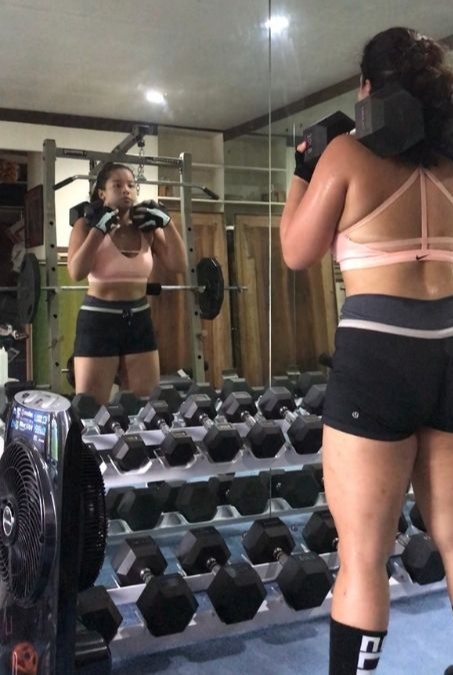 ADVERTISMENT - CONTINUE READING BELOW ↓
The road to where I am now hasn't always been uphill, but that's okay. Cliché as it may sound, the most important thing I learned throughout this lifelong journey is to always listen to my body. It's a never-ending process to learn what it likes and what it doesn't, and it's not always easy, but I promise it's always worth it. Had I not gone through what I did, I'm almost certain that I would have never learned to love myself.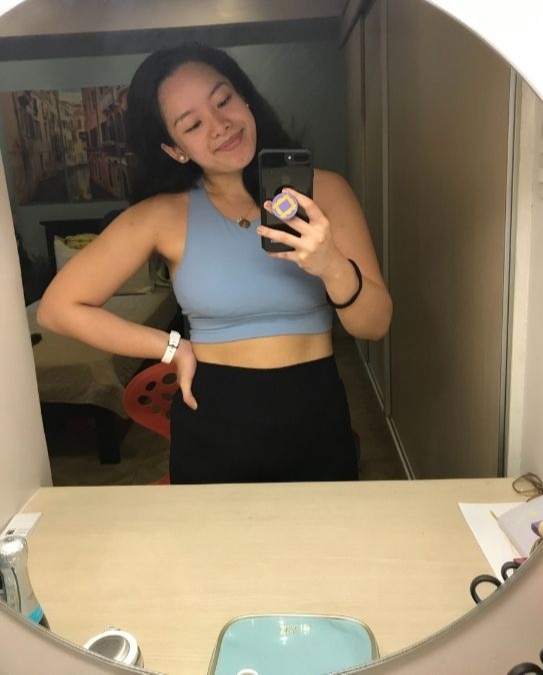 ADVERTISMENT - CONTINUE READING BELOW ↓
***
Follow Maia on Instagram.
MORE HEALTH AND FITNESS INSPO, RIGHT THIS WAY:
Dimples Romana On Her Fitness Journey: 'Progress is progress'
Bea Alonzo Has Lost 15 Pounds Since Starting Her 2021 Fitness Journey
Pauleen Luna On Her Fitness Journey: '[I'm] not doing this for my husband's attention'