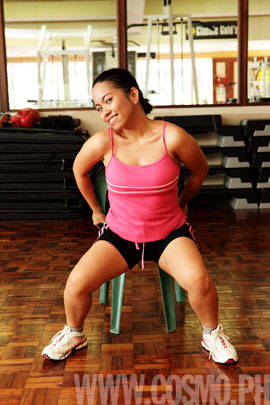 It's time to get physical, girls. It's undeniable that staying fit is part of the Cosmo lifestyle. You need regular exercise to help keep your metabolism running, especially if part of your job description requires sitting in front of a computer all day or all night. We all know the benefits of working out, and I can talk nonstop about its benefits. But let's be honest. We don't always wake up in the morning (or evening, for night shifters like me) with enough drive to step on the treadmill. Not everyone has enough energy or willpower to go to the gym after a long day at work. In my case, I'd rather sleep as soon as I get home. But this month, I learned that working out doesn't have to feel like a chore. That is, if you dare to try a workout routine that definitely spells fun and fearless: a striptease class at Gold's Gym.
What makes this workout unique is that it can instantly make you feel a lot sexier, even while you're doing it. Most of the steps involve bumping and grinding and swaying and booty-shaking, so you get to work your core muscles as you learn new moves you could use on the dance floor--or somewhere private, if you know what I mean.
My favorite part was the chair routine. It really tests your balance and works the leg muscles. For me, though, it was more than that. It was an out-of-the-body experience, since I've obviously never done it, and I have no idea where else I'll have to.
You don't need to be a natural-born dancer like Shakira to do this workout routine. Just work it with all your sexual energy, and you can instantly feel like a Pussycat Doll or even Dita Von Teese. But no, you won't have to take any of your clothes off. In fact, you can do it in your most comfortable workout clothes and shoes. Oh, did I mention that it'll really make you sweat and burn those calories?
I had my share of awkward moments, too. I almost fell on the floor when I lost balance working the chair. It was a bit embarrassing, but despite the missteps every once in a while, I was on a natural high. Learning those new moves and watching myself do them introduced me to a more sensual, feminine, graceful side of myself. I'm not that much of a good dancer, but who cares? Just let yourself go, channel your inner sex goddess, and translate those vibes into movements.
More than anything, I found the workout to be therapeutic. Let's face it: life can get boring sometimes--stressful even. But nothing beats the thrill of getting to try something totally different from what we're used to. This Makeover Your Life activity somehow got me out of my shell, and showed me that there are a lot of other things I could try to make life a little more interesting. So go ahead. Sign up for a striptease class or any activity as off the wall or out-of-character you can think of, and you can feel all the stress, boredom, and toxicity melt away.
ADVERTISMENT - CONTINUE READING BELOW ↓