As children, we were all asked this question: What do you want to be when you grow up? I remember wanting to be a wedding dress designer one year and a teacher the next. My answer kept changing until after college. But for Martha May De Leon, she always knew she wanted to be a pilot—a dream she declared in her Grade 6 yearbook. 
She opens up, "Most people think women aren't as good as men when it comes to flying. They think men are more mechanically inclined. If you tell them you want to be a pilot, they will tell you, 'Bakit hindi ka na lang mag-FA?' Let's face it: When you say 'pilot,' people think of men." Martha is the first woman to graduate from the first batch of Cebu Pacific's Cadet Pilot Program.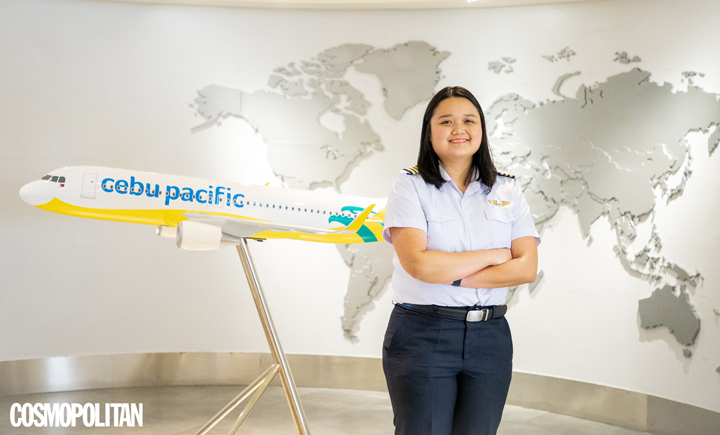 Launched in 2017, the Cadet Pilot Program is a "study now, pay later" program that trains you to become a commercial pilot. The best part? Guaranteed employment with the airline if you pass. 
In the initial application, apart from their basic information, their grades in Math, Physics, and English were taken into consideration. It was a month before she heard back and was invited to take an exam that tested for pilot aptitude and skill set. Two months later, after passing the exam, she was interviewed. 
In March 2018, along with the other applicants, Martha started ground school in Clark. There, they were introduced to the seven basic subjects of flying: half of the day was spent in computer-based training and the other half was dedicated to learning communication techniques needed to fly the aircraft. 
"I can still remember the first session of flying. I was frozen. I was looking at my instructor like, what's happening? Are we taking off?"
In mid-April of the same year, they flew to Australia for ground school, and in the first month, they learned subjects for the Commercial Pilots License (CPL). The first stage of flying came a few months later in June 2018. Martha recalled, "I can still remember the first session of flying. I was frozen. I was looking at my instructor like, what's happening? Are we taking off?" During training, she did circuits that involved practicing how to take off, land, turn; they got the feel of how the aircraft's controls worked while flying around the airport. Each circuit presented a different scenario. In this stage, the goal was to be able to fly on your own: "You'll be with an instructor. If you show him consistent safe maneuvers, he will get off the plane and let you fly solo." 
Continue reading below ↓
Recommended Videos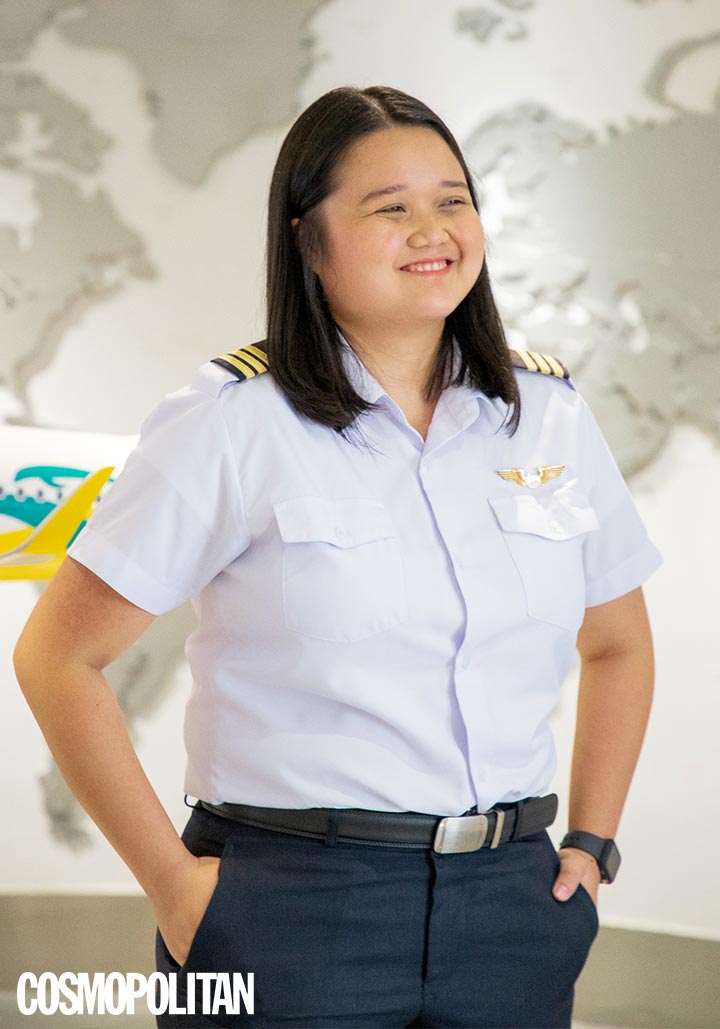 Then, it was back to ground school for a few months before eventually, they practiced flying to other airports: "They'll teach you navigation so you know how accurate your computations are based on the timing and distance. You'll have to multitask. The instructor will be with you for three to four sessions before you're released for solo navigation. It's also a requirement to have long-distance flights on your own in order for you to test for the licensure. You need to have around 170 hours for CPL." 
Martha took her CPL test in January 2019. She flew a single-engine aircraft. But she also had to learn how to fly a double-engine aircraft. Why is this important? "The main focus is to control and to analyze. If you have one engine, you have to look for a place to land. With a double engine, if one fails, you still have another. The key is to learn how to control it. It'll prepare you for the jet and build your decision-making [skills]," Martha explained. 
Perhaps the most fascinating thing I learned about their training is Instrument Rating. During training, these flights are done when there are no visual cues and you have to rely on the instruments. According to Martha, "You close your eyes while your instructor maneuvers the aircraft. When you open your eyes, you should recover. If you close your eyes and you just trust your senses—they're not accurate. They'll teach you how to overcome that and trust the instruments."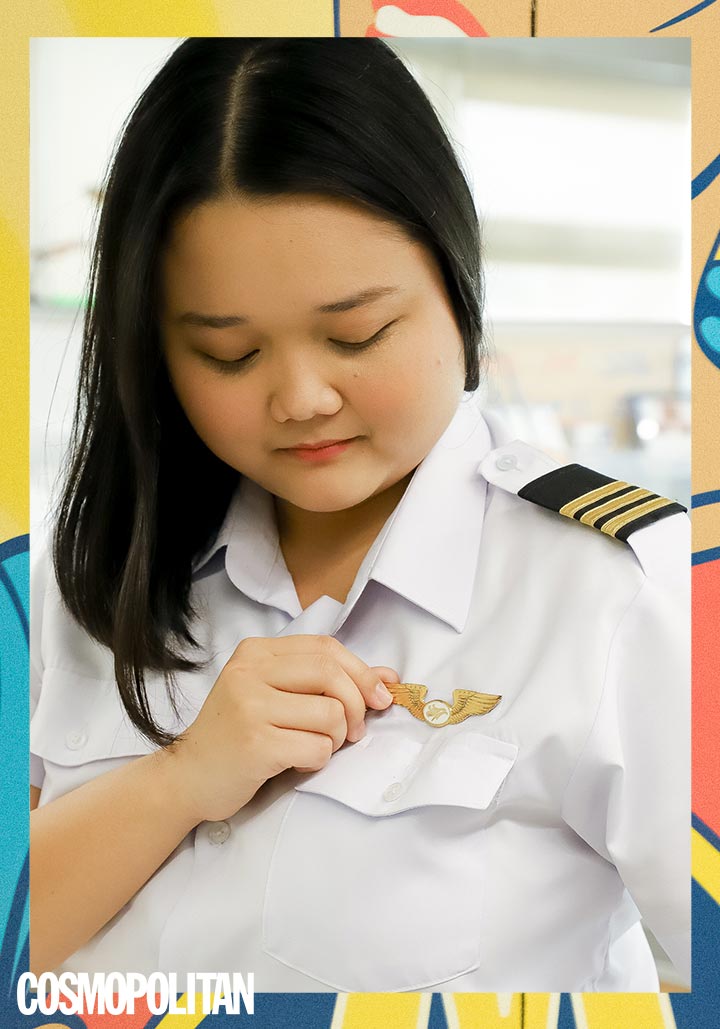 At some point, Martha also got to fly to Singapore to learn about aircraft systems, which was also added to her license. Over the course of a few months, her batch also underwent several rounds of ground school or practical training. 
Then, there's Supervised Line Flying (SLF) where you demonstrate if you can operate the aircraft as a co-pilot. In general, SLF has 40 to 60 sectors (one sector = a one-way flight); while training, they had around four sectors per day. Martha said, "While flying, the instructor will ask you different sets of questions, including the company policies. You have to provide the reference of those policies. You'll fly and then go home to study. There will also be a safety pilot there so he or she can take over if something happens. The goal is to have the instructor say you can do without one."
On January 10, 2020, Martha was released as a First Officer (a Captain's partner, essentially). The Captain is the one responsible for the aircraft while the First Officer is there to assist. She shared, "What I love about Cebu Pac is [that] they encourage you to speak up. You're not there just to follow. It's not that way. Most captains would tell you, 'If I forget something, just remind me. Don't be shy to correct me if something is wrong.'"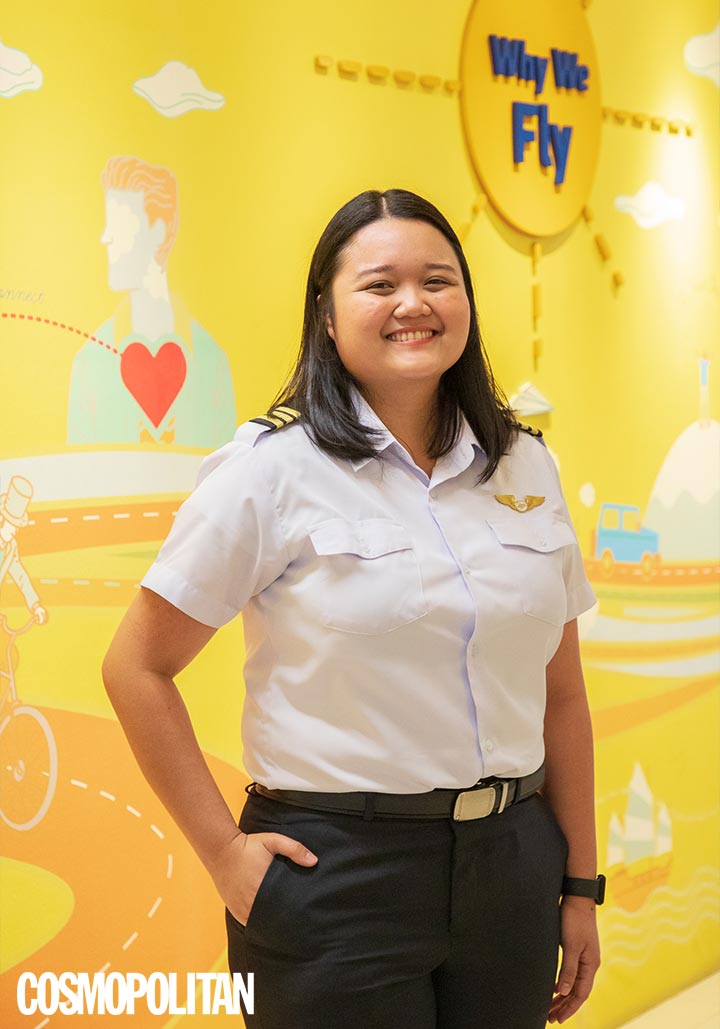 Four days later, she flew to Zamboanga and Caticlan: "When it's your first day on the job, you don't know what to expect, even if you really trained for it...Even now, I'm still nervous about every flight. But that's normal. If it's your first time to fly to Boracay, you don't know what to expect. What's the wind like? What does the airport look like? It's still all new. But you'll gain more confidence along the way." 
To keep her grounded, Martha carries a little piece of home with her on every flight: "I always bring a keychain my mother gave me of the patron saint of pilots...To make sure that I always have faith. [It's] my safety net."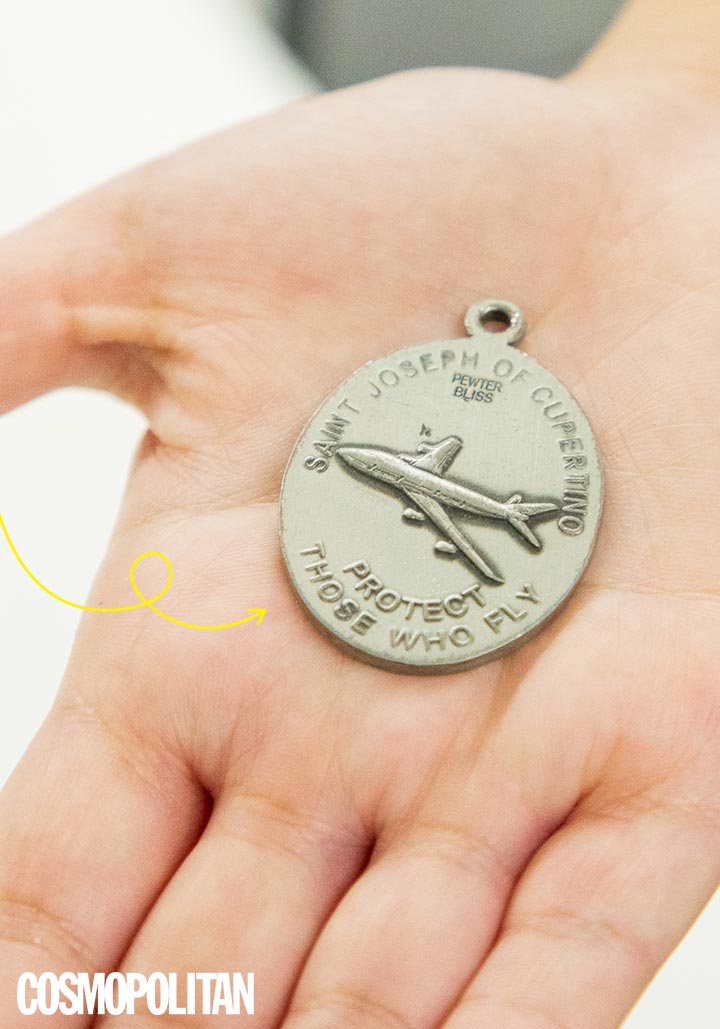 Note: This interview was conducted in March 2020. 
***
What does your zodiac sign say about you? Subscribe to Cosmopolitan Philippines and find out!
Follow Ysa on Instagram.