SAN FRANCISCO - Thanks to my dad's thin gene, I never had to worry so much about what I eat and the corresponding weight gain that goes with my food intake--not yet, at least. I love food and I'll eat almost anything, except perhaps the more exotic fare that have squiggly, once-alive creatures comprising the list of ingredients. I haven't gotten that far yet.

My personal preferences are mostly Asian and a bit of European cuisines; I never was a big fan of American food. I was last here in the States a couple of years ago for nearly six months, and aside from my aunt's steak nights, the occasional fast-food during road trips, and the diner jaunts for when I was in old-timer mode, I rarely went near burgers, milkshakes, waffles, corn dogs, buffalo wings, pulled-pork sandwiches, mashed potatoes, and whatever else Americans are weaned on. I just don't like how heavily this sort of food sits in your stomach after the meal. Besides, I didn't want to put much stock on the thin gene--I never know when it'll let me down.

This time around, though, I am more willing to give half-pounders a try because of a Travel Channel reality show called Man v. Food that my colleagues and I are nuts about. Basically, host Adam Richman goes from state to state, searching for the best food spots in each town and sampling their specialties for the benefit of all those people watching at home, eating bland popcorn. He also participates in one food challenge per episode, which always involves something crazy--like finishing a pizza with the same diameter as a ten-wheeler's tire in under an hour. It's the sort of thing only Americans will dream up.

Luckily, Adam has made the rounds of San Francisco and the Bay area already, and one of the places he visited was The Olde San Francisco Creamery Co., conveniently located in Walnut Creek where my aunts work.


Continue reading below ↓
Recommended Videos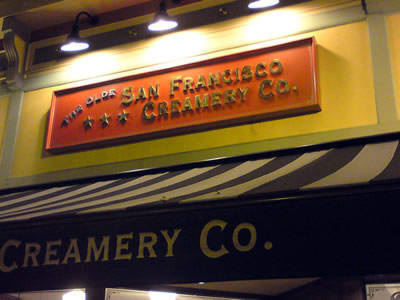 The diner's old-fashioned sign puts you in a good mood right away even before you get to eat anything.

[readmore]

As you might've guessed from the name, the Creamery is famous for gigantinormous servings of ice cream drizzled with syrup and toppings--all homemade. But since it's not wise to skip straight to dessert, we had to sample the diner staples first.
One of the meals we ordered was the
S.F. Chicken Burger
(because the previous night was a steak night, and we were trying to cancel out that overindulgence). It actually had a thick slice of perfectly grilled chicken breast instead of a ground-meat patty inside the bun so it's more a sandwich than a burger. Still, I don't care what it's called--it tastes great all the same.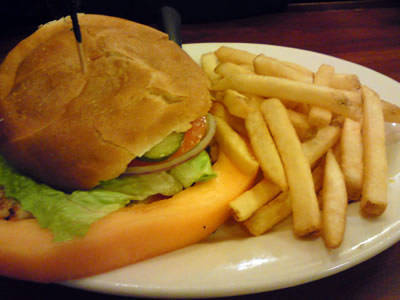 The cantaloupe clears your palate for the next bite of burger and fries, so you don't get overwhelmed.
We also had the Friday special, which was chicken marsala over pasta, and it was just as good as the burger. It's a step up from your usual diner fare, but still very homey and filling.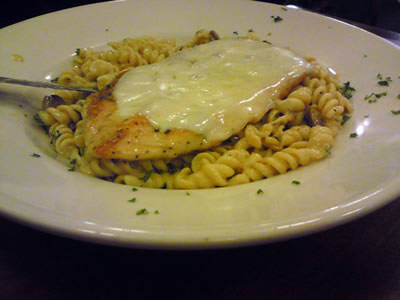 I couldn't even take a proper picture because I was being told to hurry up so we could tuck in.
As for me, it looks like I might've gotten the short end of the stick because my grilled cheese sandwich and cup of minestrone looked boring compared to the two previous dishes. But Swiss cheese melted between two slices of sourdough bread hits the spot right in the middle. The minestrone was also perfect for warming up, especially since the temperature was on the low forties outside.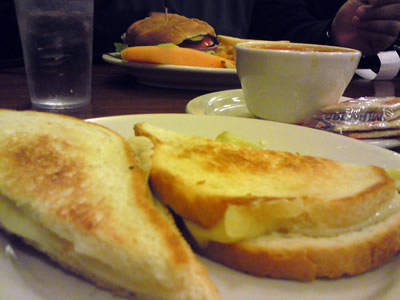 Here's comfort food at its best ...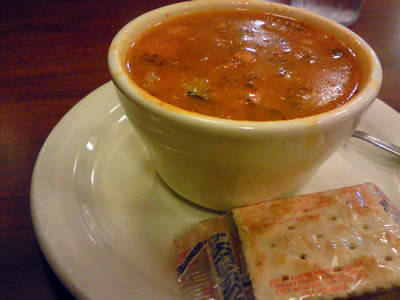 and finest


Still, the cold weather didn't stop me from getting a chocolate milkshake, whipped thick and creamy using globs of ice cream and whole milk. No nonfat options here.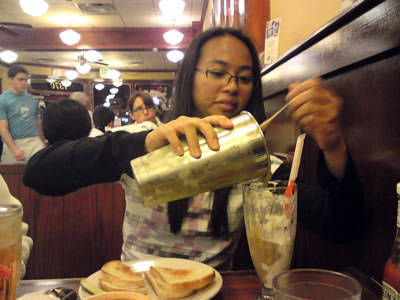 Note that this tumbler of milkshake is the smaller of two available sizes.


For the grand finale, I didn't even think about getting The Kitchen Sink, which was what Adam Richman gobbled up in under an hour for his challenge. A group of eight kids two tables down ordered it, and in that Kids v. Food showdown, food nearly won (the kids stumbled out of the diner in a daze an hour later, and I'm willing to bet they won't be telling their folks what they'd been up to).

Me, I had this: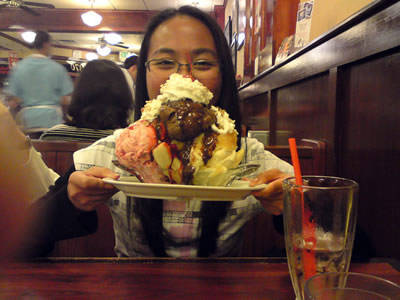 It's called the Really Big! Banana Split. I don't think I even need to explain why.


If you can see how my knuckles are nearly white from holding that thing up, you'll get an idea of how heavy it was. Those scoops of ice cream are solid all the way through and not hollow in the middle--I think each is nearly a pint's worth. Suffice it to say it's the most ice cream I've ever had in my entire life, and I'm not about to go near even a spoonful of ice cream at this moment.

Obviously, Me vs. Ice Cream ended with the ice cream emerging the victor. I'm still nursing a sore throat from this challenge. It was good to try something new for a change, but I'll be keeping away from super-sized American specialties in the next few days. I doubt my thin gene will help me survive a week of this.