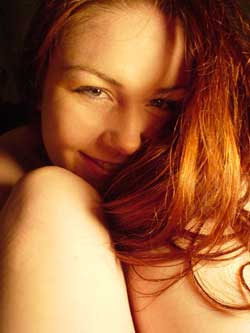 You've had a long week at work, and the only thing on your mind is spending the weekend in bed with your man. But since your schedule's been crazy, you suddenly realize it's been quite a while since you've hit the gym and neither have you been eating healthily. So you notice some unwanted flab here and there, and you suddenly find yourself being self-conscious and having second thoughts about the perfect weekend you've planned. I feel you.

Just because we don't have that centerfold-worthy body doesn't mean we can't be in the buff without feeling like we'd have to cover ourselves half the time. One thing to remember is that even models and celebrities are airbrushed in print! So, yeah, they also have their flaws (Remember Kim K. admitting to having cellulite?) but they know how to work with what they have.[readmore]
I've found that in planning an all-nighter, the key is lighting. Though fluorescent bulbs are energy-efficient and environment-friendly, they're not exactly forgiving, as they're too harsh. Try using a softer, yellow-light bedside lamp for such occasions.

When you've got lighting down pat, make sure you slip on good lingerie, to give him some eye candy. Find out what tickles his fancy. Black lace? Hot red underwear? He might even leave them on half the night, if you know what I mean.

However, working it is perhaps the most difficult, since if we're already feeling self-conscious, how in the world can we walk around the pad in our birthday suit? If the idea of being stark naked scares you, leave something to the imagination. I try to practice the art of seductively rolling out of bed while partially covering myself with a blanket, then sashaying my way to the bathroom. I know men look at the overall picture, and though he might notice the little lumps and bumps, he wouldn't really care.
Continue reading below ↓
Recommended Videos