I am what you would call a reluctant runner. I've attempted—on several occasions—to get into the habit of running at least once a week, but I find that it just doesn't excite me. I might even hate it a little, lol. Which might be surprising because I don't actually hate exercising. I just tend to gravitate towards more dance-related activities because that's my background. At three years old, I started ballet and trained in it until my teens, moved onto jazz and contemporary shortly after, then ventured into more acrobatic styles like pole and hoop post-college. In retrospect, I should've picked up running ages ago to help with the stamina needed in dance. And I'm surprised I never did because my whole family runs— except me!
Cut to July 31, 2019: I'm in the middle of Seoul's Jongno district, the city's center, running a total of four kilometers to test the newest running shoe to join the Nike fam, the Joyride Run Flyknit, and I find myself (gasp!) not hating the experience. (Who is she?!)
ADVERTISMENT - CONTINUE READING BELOW ↓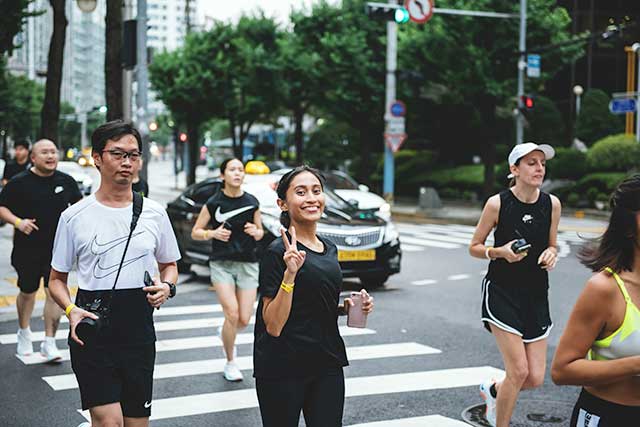 What is the Nike Joyride? 
Even if you aren't a runner (like me), you can automatically say that running on soft grass would be infinitely better than running on pavement. Nike designed the Joyride with that in mind. Their aim was to help make the experience of running as easy as possible with their new Conforming Cushioning System, something they've been developing for years! There's no limit to how far you can run because of how much cushion it has, according to William Moroski, Nike Running's Senior Product Line Manager: "If someone is really enjoying the experience—5k, 10k, 15k, [the shoe] is gonna protect the runner for as long as they want to run in it." 
ADVERTISMENT - CONTINUE READING BELOW ↓
Recommended Videos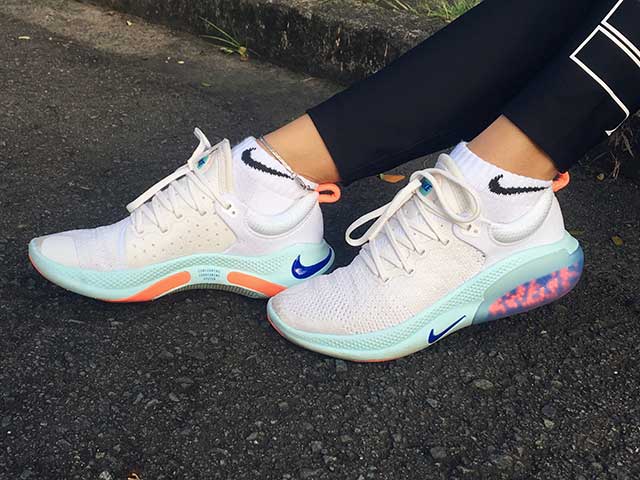 This cushioning system uses thousands of TPE beads (a copolymer of plastic and rubber) that are dispersed into specially zoned pods to help target the different points of your stride. Having these beads present in the midsole allows the foam to expand in all directions (they call this "multi-dimensional displacement") so that you can run with more ease—something a lot of runners, both seasoned and novice, struggle with. Because the beads eventually conform to your feet, it feels like having a personalized cushion for them. 
ADVERTISMENT - CONTINUE READING BELOW ↓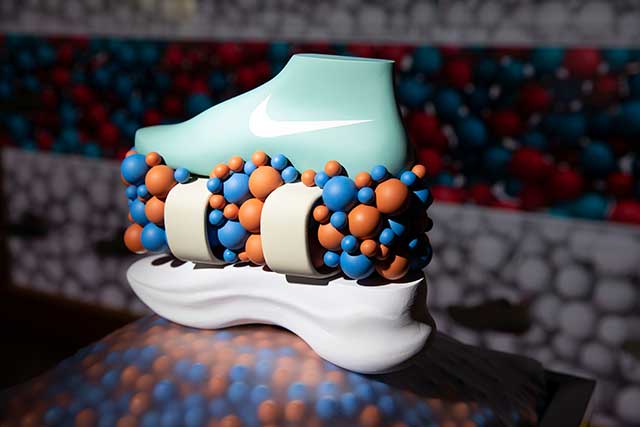 Nike chose Flyknit, a well-known model among Nike fans, as the first upper (this is the top part of the shoe) for the Joyride since it complements the bounce the beads give. The material is light and flexible, so it keeps your foot close to the beads while giving your feet room to breathe. 
ADVERTISMENT - CONTINUE READING BELOW ↓
Nike Joyride vs. Free, Zoom and React
Running shoes are not created equal. Prior to learning about the Joyrides, I wasn't aware of this fact. I mean, I know running shoes get better over time due to advancements in science and technology, but I've never stopped to think that each running shoe is developed to answer different needs of every kind of runner. 
Nike has a plethora of running shoes to choose from, all designed with different purposes in mind. Nike Free helps runners run stronger; Nike Zoom to run faster; and Nike React to go for longer. So what sets Joyride apart from its predecessors?
Joyride, like its name suggests, is meant to make running, well, enjoyable. The beads do the work for you by absorbing more of the impact as compared to just a pure foam base. (If you're curious, it's 14 percent more than the Nike Air Zoom Pegasus 36 and Nike Epic React FK2.) This would be the pair more seasoned runners would put on for a reset run. As for newbie runners, the Joyride options will make the running experience a lot more fun.  
ADVERTISMENT - CONTINUE READING BELOW ↓
Who is the Nike Joyride for? 
Anyone can wear the Joyrides and find it beneficial. You can run in it for as long and far as you want, because it makes for an easier run. Moroski said that there's no limit: "We see the possibility of it also being used as a cross-training shoe because of how flexible it is." 
But the shoe was really meant to invite new runners: those who are just starting to pick up the habit and want to invest in a good pair; or those who hesitate to even go on a Sunday morning jog, and just need a little inspo to get them going. As someone who identifies as the latter (hello, fellow reluctant runners!), this is a good place to start.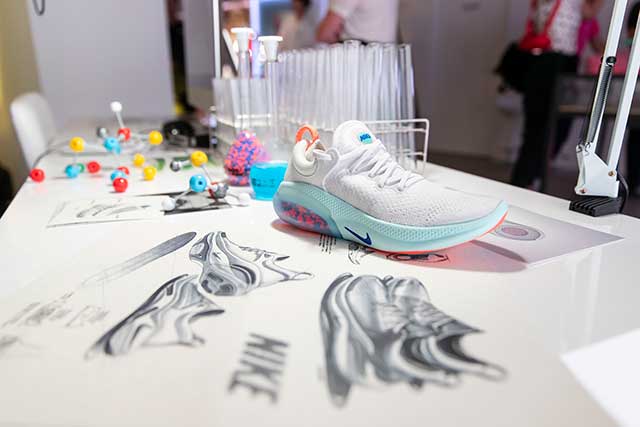 ADVERTISMENT - CONTINUE READING BELOW ↓
A reluctant runner's first impressions of the Nike Joyride Run Flyknit:
Going back to my first time trying the Nike Joyride Run Flyknit: As we were gearing up to start the run, heading to our first stop of the day (which turned out to be around two kilometers because we took a detour), I was literally dreading it.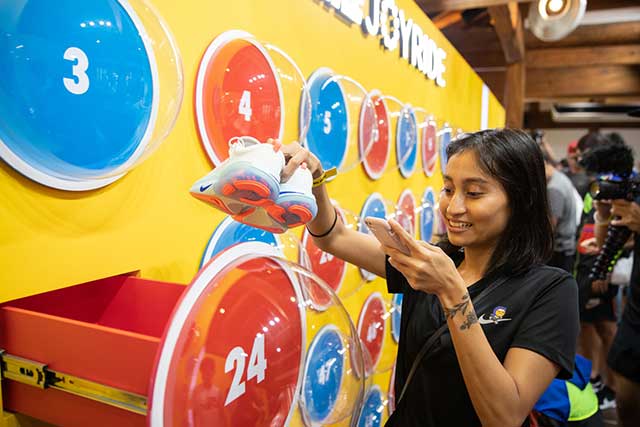 ADVERTISMENT - CONTINUE READING BELOW ↓
But soon enough, things started falling into place. It wasn't as bad as I expected! What's more shocking is that I found the second half of the run (from the second venue to the third) even more pleasant. I couldn't believe it: Running was actually fun. 
Not going to lie, though: It was definitely still challenging for someone who runs a total of four kilometers maybe every six months, but did it all in one afternoon. The uphill climbs were major roadblocks for me, but I'm proud to say I made it without having to be dragged by the NRC (Nike Running Club) pacers. 
After the end of the run, this is what I noticed while wearing the Nike Joyride Run Flyknit: 
Allow me to be a little superficial and say that this shoe is super cute! I'm not even a sneakerhead, but I'm so into the design. The debut colorway is fresh: mostly all-white, accented by light blue and neon orange. You can even see the TPE beads—also in the accent colors—through the heel and under the sole. 
Felt like I was walking on bubbles! You can literally feel the beads underfoot. Another cool-slash-interesting feature about the shoe is that it lacks a sockliner (this is sneaker talk for insole) so your feet are basically resting on the beads. The only thing separating your foot from the midsole is a layer of fabric and rubber, and the he shoes have a definite bounce to them. 
It's really flexible and light! Nike chose wisely when they made the Flyknit as the upper because it's snug without being constricting. This is great because you wouldn't want to stop your run mid-way out of discomfort. 
I have an old, minor knee injury from my dancing days, and I usually feel a pain in my right knee when I go on short runs. But I noticed that with the Joyride, the pain was barely there. Apparently, this is the beads at work. Through consumer testing, they found out that knee pain (common in runners) isn't as bad. The Joyride "has more cushioning but is just as responsive," Moroski said. 
Overall, I had a good time during my first-ever run in the Joyride Run Flyknits. For someone who claims she hates running, this is kind of a big deal. 
ADVERTISMENT - CONTINUE READING BELOW ↓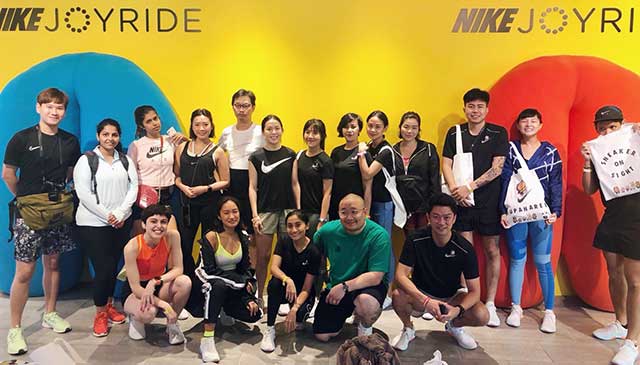 The Nike Joyride Run Flyknit definitely lived up to its name. From its look to its function, it's a shoe that I think runners and reluctant runners will find enjoyable.
The Nike Joyride will be available in the Philippines soon. Stay tuned for more updates!
Follow Daniella on Instagram.
ADVERTISMENT - CONTINUE READING BELOW ↓
EXPLORE COSMO