I often joke about what a dream it would be to just saunter around braless each day, and I'm sure a lot of women feel the same. But ever since I was old enough to start wearing a bra, I've pretty much accepted that my breasts are just something I have to contain in fabric contraptions lest they offend conservative sensibilities or arouse hapless men, so that dream continued to remain a dream.
GOODBYE, BRAS!
I've just grudgingly lived with bras as a tiny yet permanent annoyance in my everyday existence, the kind of lingering irritation you could really do without when you're already stressed out about work and your commute and the bills you have to pay yet have to put up with anyway because what would be the alternative? To let the twins run amok and risk offending conservative sensibilities or arousing hapless men? Heaven forbid! 
Blame it on getting older and being less likely to put up with societal norms just for convention's sake, but over the past year, I found myself being drawn more and more to the appeal of going bra-free. After having attempted to go braless for short stretches while on vacation on summer islands, I recently vowed to walk the walk and go braless for longer than that, and certainly not just in beach towns where a lot of women were free-boobing it anyway.
Continue reading below ↓
Recommended Videos
I could've done my bra-free experiment in the Philippines, but I didn't think my more conservative environment was ready for my ta-tas to be swinging in their faces on the reg; besides, all my family and friends were here and I wasn't ready to scandalize the very people I'm supposed to live with day by day. (Yet. But more on that later.) 
So, in the interest of just seeing how comfortable or uncomfortable a braless me would feel in public, I decided to ban the bra on a recent week-long trip to Bangkok, which is one of the world's most popular cities for tourists and is just crawling with people who DGAF.
I do recognize that no two pairs are alike, and I'm lucky—or unlucky, depending on how you look at it—mine is an inoffensive A-cup tandem that allows me to pull off the no-bra look without attracting sticky stares from leering men. (As a friend so charmingly put it when I let the girls hang on Day 1 of my bra-free week, I was "parehong likod.") Other women are more endowed in the chest area than I am and might actually need the support bras provide for health reasons, in addition to being more hesitant about setting their own twins free. But if you're like me and you want to give your breasteses a break from their wire-and-mesh prisons and you can manage it without experiencing pain or getting the morality police on your case, here are some helpful tips.
Wear something with a tight bodice so your twins aren't flopping around.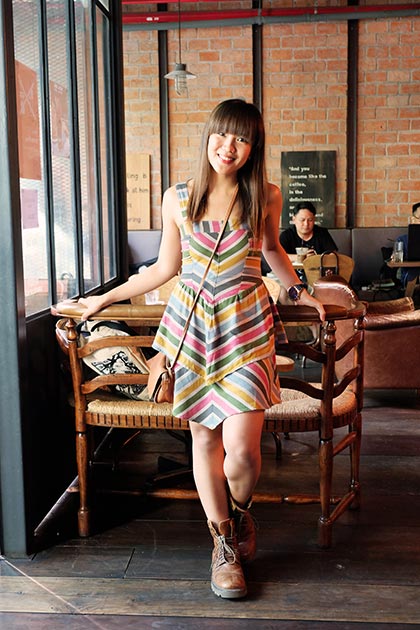 If it's a warm day out, you can head out in a tightly-sewn top or dress without worrying that the sisters will be jiggling and spilling out of your top like Jell-O. When the temperature dips, however, pieces like this can make nip pop-ups likely, in which case tip #6 will come in handy. Keep reading.

Afraid to free-boob in a sheer outfit? Go for a bandeau with no cups instead.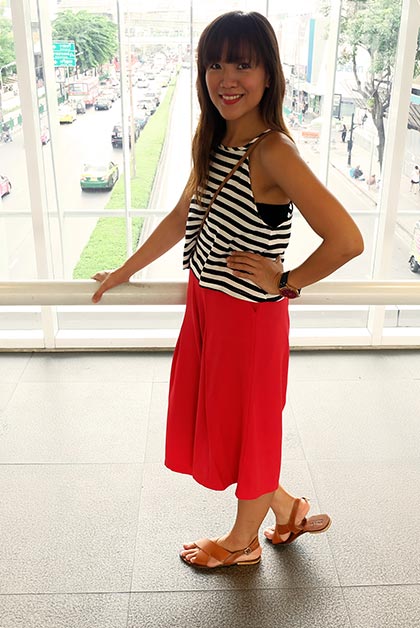 Underneath the slightly sheer top I'm wearing here is a bandeau that's really just a strip of cloth held in place by a garter. Clearly, this outfit makes me look about as chesty as a 12-year-old boy, but what I lost in inches I made up for in comfort. Other options are bralettes, tank tops, tube tops, or camisoles that offer an extra layer of cloth between your twins and the outside world, but without suffocating them.
You can't go wrong with something loose, dark, and thick.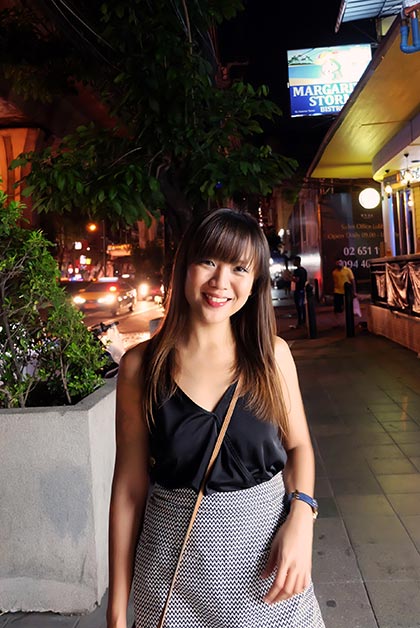 Loose clothes tend to just hang down your torso, dark colors are the best at downplaying curves, and thick fabrics just make that single layer between your twins and the outside world more impenetrable. I did realize too late that the top I wore in this photo was made of a shiny, slinky material which creased to accentuate strategic places on my body, but by the time I wore it on Day 6 of my bra-free vacation, I had pretty much forgotten I even had breasts, so whatever.

Opt for outfits with neckline details that conceal boobage.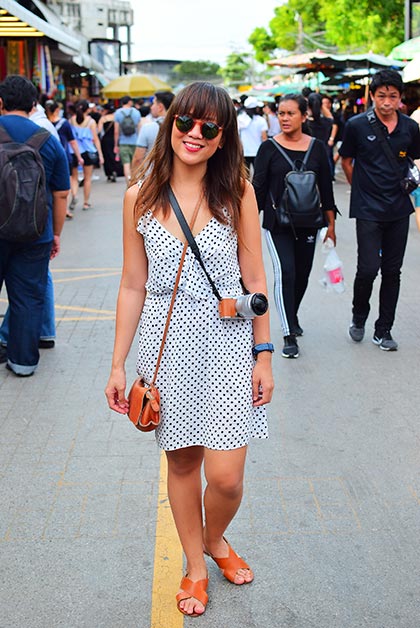 I normally wouldn't recommend white or anything light-colored when free-boobing it, but since the dress I wore here had flouncy ruffles cascading down the neckline, it lessened the chances of perky nip intrusions. Other boob-concealing details that will work: fringes, patches, embroidery, or giant cheerleader pom-poms if you're into that sort of thing.
Go for prints—the busier, the better.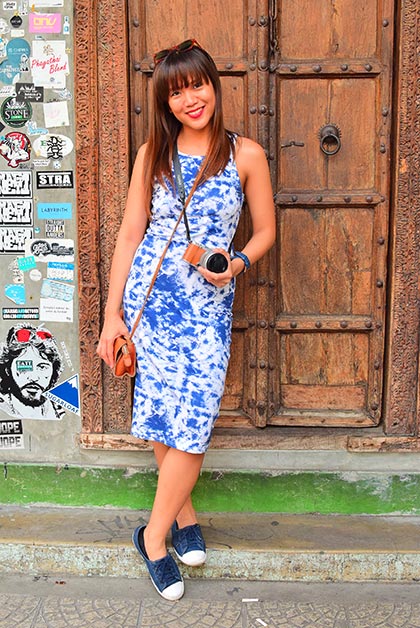 Prints and patterns camouflage perky nips and breast silhouettes so they don't stand out the way they would in solid-colored clothing. While the base color of my dress in this photo was white, I was confident enough in the blue tie-dye print to camo away my womanly features so they're not too offensive to society's easily-offended eye.
A scarf will be your new best friend.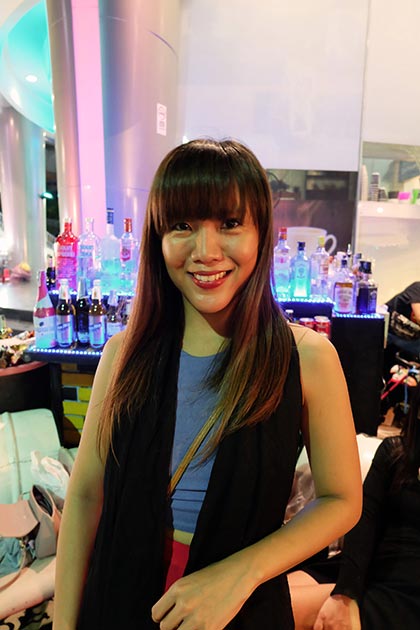 Jackets, cardigans, or vests also help, but I prefer scarves because they're pretty low-maintenance; just drape them over your shoulders or knot them around the strap of your bag and bam!—they're just like any old accessory. In this photo, I had on a tight crop top that did prevent jiggling yet failed when it came to random nipple pop-ups—good thing I had a scarf with me for such emergencies. And even if you've followed any or all of the tips listed above, a scarf hanging down your chest will offer enough warmth and coverage to your nips so they're not so goddamn sensitive all the time.
After that incredibly freeing braless week in Bangkok, I've decided to go on more free-boob moments—not just while on vacation, but in my daily life. The obvious reason is that it's just more comfortable; when you're not wearing a bra, you stop being conscious of that lingering pressure on your breasts, making you freer to think and feel and notice other sensations. But a nice by-product of this experiment was that I actually began to love my own pair more. For the longest time, I've been wearing a bra to improve the appearance of my breasts under clothing by making them look firmer and plumper, which is ironic since a bra also serves to keep women's highly-sexualized breasts hidden (seriously, what is it you want from us, society?!). But after my bra-free week, I realized that hey, I actually really like my tiny, unobtrusive breasts.
Plus, with this experiment, it became clearer to me that it wasn't just a good-looking rack that could make me feel attractive—I could accentuate my tanned skin, my nice shoulders, my pretty hair.
Most of all, I liked the confidence that came with each day I freed my breasts. Just having one less thing to hold me back made me feel that tiny bit more unstoppable. And just the fact that, by doing this, I was giving less fucks about the everyday standards imposed on women felt incredibly empowering.
GOODBYE, BRAS!
Sure, I'll still wear a sports bra to the gym because I'm not a total masochist, and I'll don a regular one to work engagements, family gatherings, and Sunday mass so I don't get completely banished from society, but if I can get away without one, and more importantly, I want to go without one, then baby, I'll go without one.
"Parehong likod," and proud.