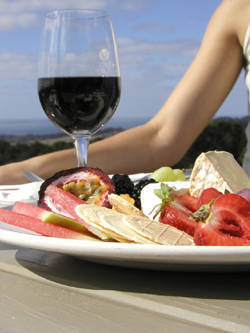 I've accepted that I'm one of those people who experience things at a slower pace and learn via a more languid approach. I tend to take my time growing into things, and getting familiar with my situation and surroundings. It doesn't help that I'm slow to move in the morning. That's why I find it very convenient that I no longer have to make a mad dash for the train doors before they close, and that I have, for the time being, traded my stilettos for fluffy bedroom slippers. My "office" is now wherever I can connect to the internet.
In terms of being a late bloomer, I can list so many examples showing why I've taken this description to heart, and here are a few:
[readmore]
•
I got my first kiss and first boyfriend at 20
, an age where most girls are touching bases and hitting homeruns in the XOXO department.
•
Of the seven girls in my high school barkada, all have gotten married ahead of me, and my own nuptials are about two years away from the last girl's I do's
. She now has two babies. I reckon I am going to be the last to bear children as well; probably when my friends' kids' are in high school is my wild guess.
•
Back when I did Taekwondo, most of my teammates got their black belts within two years
. I (finally) got mine by the fourth year.
• In terms of writing, my former boss gave herself a deadline of one year to finish her second novel.
I've been working on my own manuscript for years, with plenty of pit stops along the way.
And just when I thought I'd finished, it turns out I need to overhaul the whole thing
. So far, I've spent the past couple of months paying closer attention to the delicate and intricate mix of plot, conflict, and resolution, and making sure I have a better understanding of how to incorporate the three to make for a compelling story. Ask me where I am now in terms of editing and rewriting? Chapter 3.
Sometimes I get frustrated with myself. But most of the time, honestly, I'm okay with it. If stretching things out over time is the best way for me to learn and understand life,
slow
be it.
I was reading
O,
The Oprah Magazine wherein the famous talk show host had recently interviewed Jay-Z (The
O
Interview; "Oprah Talks to Jay-Z"; October 2009; p.184). In it, the rapper, entrepreneur, and music producer listed his favorite books. Among them was
Outliers
by Malcom Gladwell.
"This book is about the principles of timing and repetition—about preparing yourself for luck, really," Jay-Z shares. "[The author] talks about a hockey team, and how the players born in January had a year up on the guys born in December."
At this point, I cringe and get a bit worried: My birthday is in December. I think to myself,
So is Jay-Z saying I'll never really be successful simply because of my birth month?
I keep reading. "They were fortunate that their birthday was early, but they also practiced—they put the work in."
Whew! Reading further, I discover Jay-Z's birthday is also in December. Double whew!
So the point, after all, is the amount and quality of work one puts in.
I now realize, I may be slow, but I get a kick out of being productive. True, I make a 'Today to-do' checklist for Monday and actually end up ticking everything off by Thursday, but at least when I look back on the sheet after some time, I know I've crossed everything out—I've done what had to be done and have tangible results to show for my efforts.
And by then, the pace by which I'd finished, experienced, and accomplished something no longer matters.
Mariel Chua is the former beauty editor of Cosmopolitan Magazine Philippines. Visit her personal blog at http://nyminutenow.com.

Photo Source
ADVERTISMENT - CONTINUE READING BELOW ↓
ADVERTISMENT - CONTINUE READING BELOW ↓
Recommended Videos
EXPLORE COSMO