While Metro Manila is filled with art galleries and museums, the opportunity to visit in person doesn't always present itself. Whether it's traffic or your schedule that's preventing you from going, the Internet's got your back: Local arts-and-culture spaces can now be found online and accessed 24/7. If you've suddenly found yourself with some extra time on your hands, here are a few places you can go for a virtual tour. 
Check out these local museums and galleries you can visit online:
Presidential Museum and Library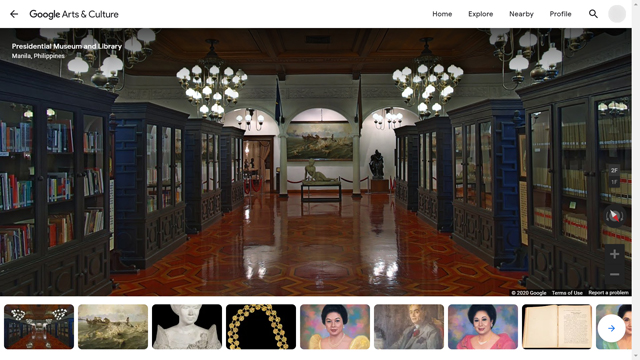 Within the walls of the Malacañang Palace—official residence of the president of the Philippines—is a small museum that stores reference material and memorabilia on the history and heritage of the Philippine presidency: Presidential Museum and Library. Through a virtual tour, you can check out the collection, which includes a copy of President Emilio Aguinaldo's Acta de la Proclamación de la Independencia del Pueblo Filipino (1960), a chalkboard with a sketch of Camp Crame during the tumultuous EDSA Revolution (1986), and Manuel L. Quezon's desk, crafted by Vidal Tampingco in 1937.
ADVERTISMENT - CONTINUE READING BELOW ↓
You can also see two online exhibits: Malacañang as Prize, Pulpit, and Stage, which showcases the Palace as a place for national decision-making and other activities; and Relics of Power: Remembering Philippine Presidents, which features remarkable artworks and souvenirs from more than 120 years of Philippine leadership. 
CANVAS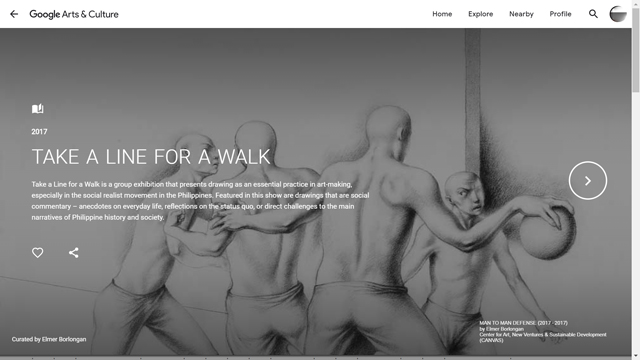 Center for Art, New Ventures & Sustainable Development, a non-profit organization that advocates nation-building through art, partnered with Google Arts and Culture to come up with a series of online exhibitions meant to raise public awareness on Philippine art. This includes Take a Line for a Walk, which is an explainer on the local social realist movement as portrayed through drawings; Perya, a nod to the unique Philippine tradition of fiestas and carnivals; A Fish Tale, a showcase of Daniel dela Cruz's whimsical fish-inspired sculptures; and more. 
Martial Law Museum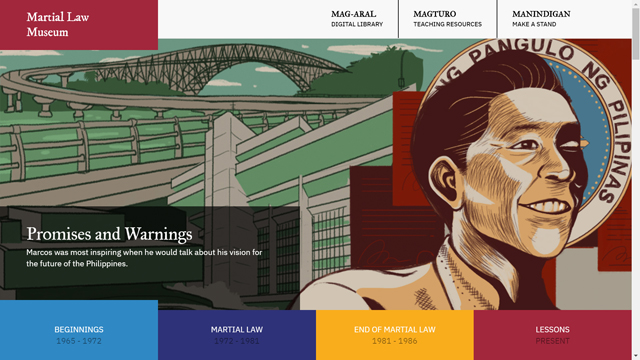 Stories about the Marcos-led Martial Law period in the Philippines range from narratives of famine and poverty to tales of torture and abduction. Unfortunately, this part of our history is seldom emphasized in school or in textbooks so it became easy to spin information and spread "fake news" about it. Aiming to immortalize what really happened under the regime of late dictator Ferdinand Marcos, Martial Law Museum puts together a comprehensive online learning resource culled from more than 300 references and about 100 experts. The digital library starts from 1965, when Marcos was elected as president, to 1986, when a bloodless revolution toppled the authoritarian government.
Ayala Museum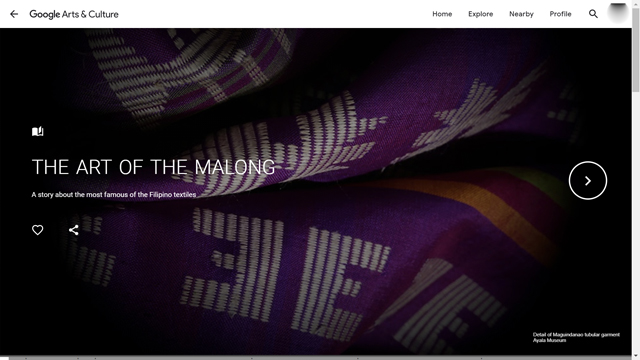 Ayala Museum has been temporarily closed for renovation since June 2019, but has shifted to digital displays and exhibitions in the meantime. Aside from their entry on Google Arts and Culture, the Makati-based museum also has a trove of online resources on their website: From coloring pages inspired by their diorama collection to a YouTube channel that showcases not only their physical collections but also the stories behind the artifacts. Their exhibition The Art of the Malong is also available online. 
ADVERTISMENT - CONTINUE READING BELOW ↓
Filipinas Heritage Library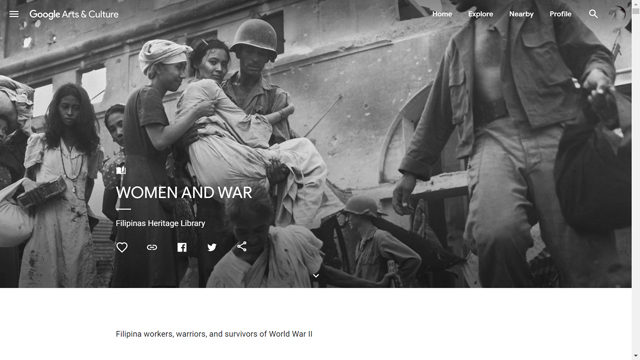 Filipina Heritage Library shares a space with the Ayala Museum on the corner of Makati Avenue and Dela Rosa Street. Online, they complement the museum's collection about Philippine history with digitized photographs. This special library has three online exhibits: Women and War, which tells the story of Filipina workers, warriors, and survivors of World War II; "We look before and after, and pine for what is not," a fascinating look into the story of Pines Hotel and Baguio during the American colonial period; and Manila Reborn, which includes black-and-white photographs of old Manila.
Curare Art Space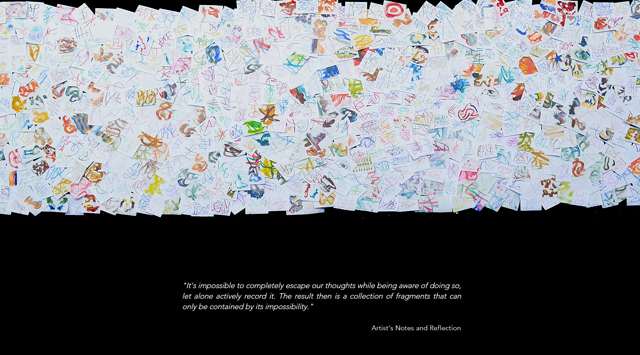 Founded by John Alexis Balaguer in 2019, Curare Art Space is an art gallery that goes beyond the limitations of a physical space and pushes the boundaries of the vast virtual world. "Curare aims to accommodate most forms of art not solely visual, such as music, video or film, literature, and performance," Balaguer—who is also the curator of the website's online exhibitions—told SPOT.ph in an interview. See animated GIFs, PDFs, and other bits and pieces of technology come into play at Curare Art Space. 
FilipinoArt.ph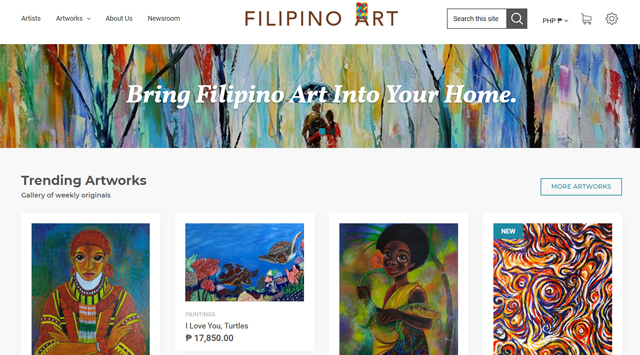 ADVERTISMENT - CONTINUE READING BELOW ↓

FilipinoArt.ph lets you view and buy art from the comfort of your own couch. The beauty of this digital platform, which was launched in October 2019, is that it allows artists from outside Metro Manila to showcase their art—whether in the Philippines or beyond. You can browse through the works by artist or by form: either painting or drawing. Plus, there's a button where you can view how a piece of art looks in a digitally rendered room—a huge help if you're planning to "add to cart."
Cartellino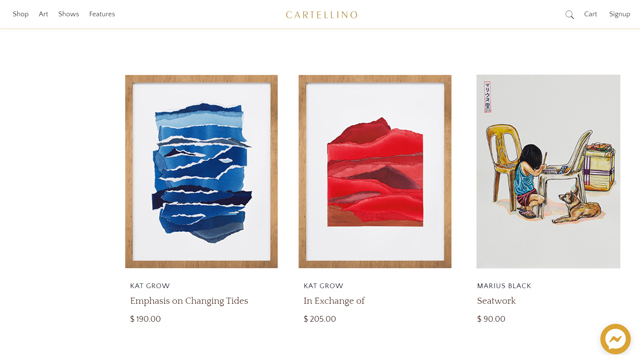 Cartellino, a digital art-selling platform named after the Italian word for "small piece of paper," not only showcases works by local artists but also sells tote bags and merchandise that feature Filipino-made art like a comic strip by Manix Abrera or a painting by Kiko Capile. It makes art-buying a whole lot easier because you don't have to attend a gallery opening or a crowded art fair. All you have to do is browse through their website, which lets you filter works of art according to artist, price range, or size.  
Filipino Street Art Project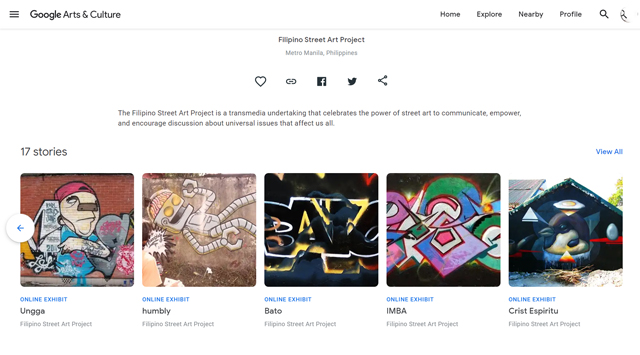 Metro Manila's collection of murals is not restricted to just one location. Digital art campaign Filipino Street Art Project solves the problem of going from one city to another to check them out. This project celebrates the power of street art in encouraging discussions about social issues, such as environmental preservation, the protection of indigenous people, and gender norms. On display for the Filipino Street Art Project are works by Quiccs of Pilipinas Street Plan, Sim Tolentino, and Rai Cruz, among others. 
Museo de Intramuros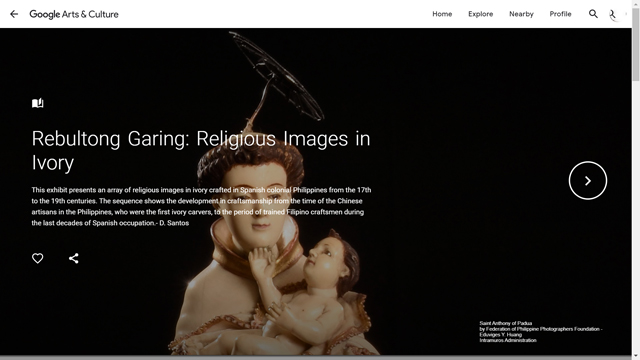 ADVERTISMENT - CONTINUE READING BELOW ↓

One of the newest museums in Manila is Museo de Intramuros, which opened to the public in May 2019. It houses about 500 religious artifacts found in old churches near and around the Walled City. If you can't drop by, Intramuros Administration partnered with Google Arts and Culture to create six online exhibitions of religious sculptures, from ivory statues to wooden images. This includes a collection of ivory pieces from Macau and India, a short history of the image of La Purisima—declared as the Principal Patroness of the Philippines by Pope Pius XII, and other religious images created from the 16th to 19th centuries when the country was under Spanish colonial rule.