Let's be real: Once in a while, we all need a little guidance. Whether it's shifting careers, dealing with relationships, or handling money, let's face it: ~Navigating through life~ isn't always easy, LOL. And at one point, chances are you've also asked yourself, "What else does life have in store for me?" Living in uncertain times has probably even made you question your plans for the future.
If you're curious about what path the universe has laid out for you, it might be helpful to consider tarot readings. These allow you to look deeper into your spirituality. In an exclusive email interview with Cosmopolitan Philippines, we got to meet Pinoy couple Nisee and John. Below, they share their experience on what it's like to get into tarot and how they eventually started doing tandem readings together.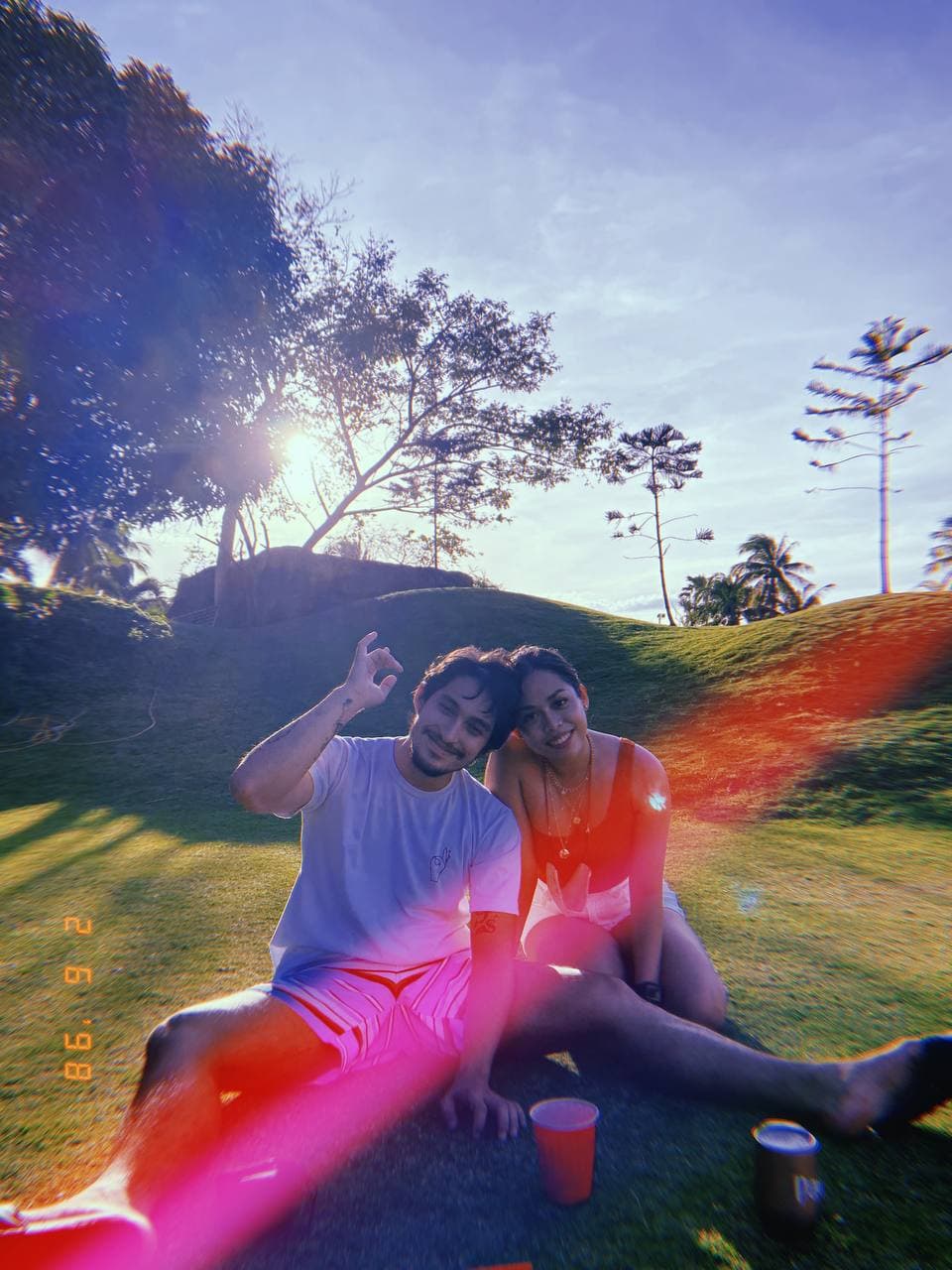 ADVERTISMENT - CONTINUE READING BELOW ↓
What is tandem reading? 
Nisee: "Tandem reading involves two readers and one client as opposed to the typical tarot readings, which are commonly one-on-one (one client and one reader). Each tandem reading will have a designated main reader, who will facilitate the first part of the reading or the General Energy Read, and a supporting reader, who will independently draw either tarot or oracle cards to channel more messages for the client. These cards could either support the initial reading or provide a different perspective."
"We adopted the reading structure of my late tarot reader, Dinggay. I felt that the flow of the sessions I had with her made sense, so we stuck with it and added our own personal touch."
Each session can be broken down into three significant parts:
General Energy Read

"We use a Celtic Cross Spread, which requires a total of 10 cards to be drawn by the client. Each card is then laid down in a specific arrangement with each card representing different areas of the client's life. The General Energy Read allows us to identify the client's energy state and the possible trajectory of the client's energy, which could reveal futuristic events. We identify the challenges as well as the factors affecting the situation and then we reveal the most probable outcome based on the client's state. The main reader will interpret the Celtic Cross while the supporting reader will draw about five to 10 cards independently to support the Celtic Cross reading."

ADVERTISMENT - CONTINUE READING BELOW ↓

Recommended Videos

Q&A

"This is where it gets juicy. After the General Energy Read, which is usually around 30 minutes long, we open up the floor to five to 10 questions. In this section, the client may ask any question about any situation in his or her life, and both readers will draw separately to answer each of the client's questions."

ADVERTISMENT - CONTINUE READING BELOW ↓

Conclusion

"We wrap up the reading with a summary. Both readers will draw cards, and this does not necessarily follow a spread like in the first part. Here, we identify the messages and action points that the universe wants the client to focus on coming from the General Energy Read."
How did you two get into tandem reading?
N: "Our journey began separately. With me, the interest was somehow planted when I first experienced tarot in 2018. I had my heart broken that year. The sadness and the hopelessness I felt pushed me to try one session with Dinggay. I was desperate for any form of reassurance that everything was going to be okay, and true enough, the cards did not lie.
The brief conversation I had with Dinggay prior to my first session completely changed all of those thoughts I had about Tarot being demonic, dark, or dangerous. As a Theology professor, she gave me a quick lesson and addressed the common notion that tarot is "evil" by putting emphasis on the fact that the cards are merely tools, and just like any tool, they're neutral in nature, meaning they're neither good nor bad. What we can classify as good or bad would be the intention a person has in using the cards. Therefore, if tarot is used in good faith, tarot shouldn't be considered evil. If anything was to be vilified, it should be the reader and/or the client, not the tool itself."
ADVERTISMENT - CONTINUE READING BELOW ↓
The cards are merely tools, and just like any tool, they're neutral in nature, meaning they're neither good nor bad.
"After that, I got into it—not as a reader, but as a client. I started watching a series of Pick-A-Card videos on YouTube, wherein the viewer can get a *general* read on a specific topic. Since it became a hobby for me, I was already subconsciously absorbing and memorizing the meanings of each of the cards in the standard deck."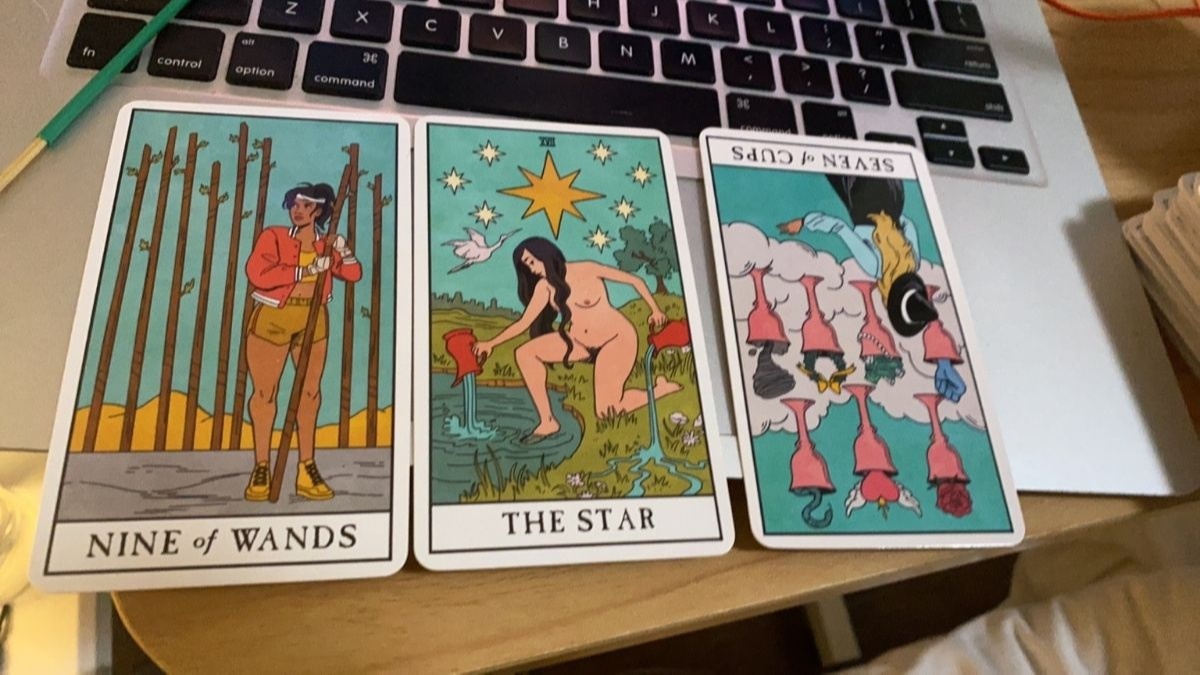 ADVERTISMENT - CONTINUE READING BELOW ↓
"Fast forward to the pandemic, I found myself browsing online and checking out two decks to jumpstart my reading journey. In a span of five months, two decks became four, then six, and then eight. Now, I own a total of 12 different decks, which I have been using on friends and other people as practice. Somewhere along the way, I met John. He learned I practiced Tarot, so he would let me read him, and he would watch me read others as well, which sparked his interest. He went on his own journey and practiced until we both decided to try doing the readings together. We received great feedback, and the synchronicities were mind-blowing. After all, two heads are always better than one.
As for certification, there are a lot of institutions that teach Tarot like Mysterium Philippines and House of Mystics. I explored tarot on my own at first and then eventually with my boyfriend. We will continue our journey under the guidance of our mentors, JV Yap and Tony Tsuvega from the House of Mystics."
ADVERTISMENT - CONTINUE READING BELOW ↓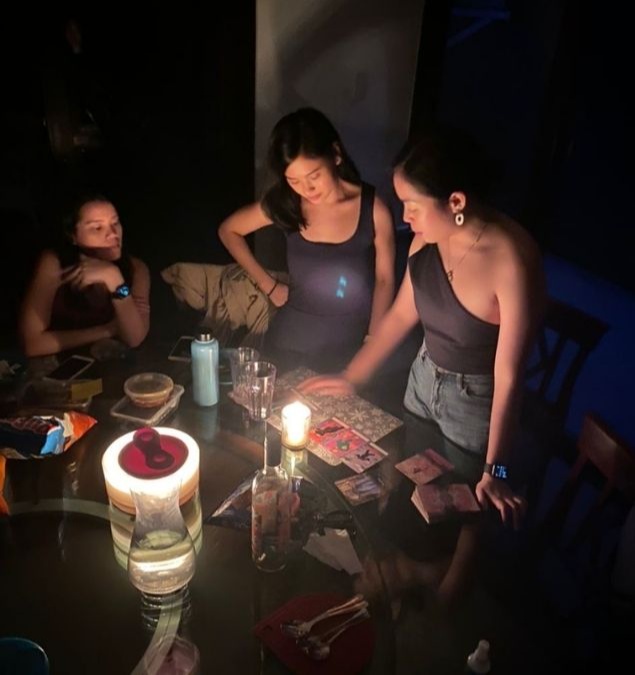 J: "The first time I encountered tarot was back in 2017, at the bar I used to intern for. During this time, I recently came from a very toxic relationship. One day at work, a lone customer came in and sat by the bar in front of me. Surprisingly, his name was also John. I started talking to him, and after a series of conversations, he brought up tarot because of my stories about my previous relationship. He drew a card that deeply resonated with my state back then. It felt that it made perfect sense but I just took it with a grain of salt. I've never had another tarot reading after that and I essentially have blocked myself from anything spiritual up until my relationship with Nisee. 
ADVERTISMENT - CONTINUE READING BELOW ↓
Meeting her was the biggest game-changer of my life because not only did I learn how to hold a much kinder heart, but I have also met people through her who have led me to perspectives much greater than I had before. Through these, it was easier to absorb the essence of openness to tarot and spirituality. I knew I had the heart for it already, and I didn't hesitate because I was already ajar in spirituality through Nisee.
She gave me a quick reading and it deeply resonated with me—the same way it did during my encounter with John in 2017. But this time, having an open mind to it felt different. From then on, I joined her journey with tarot. I would constantly volunteer for her to practice on me, and join her when she would read other people. This was also my way of familiarizing myself with the cards and gaining a different perspective of the reading.  When Nisee gave me my first deck early this year, that propelled my practice even further. I would read on friends and sometimes even ask people to send me a direct message on Instagram for quick readings or full online readings. At one point, Nisee and I joined a Facebook group where as approved readers, we got to read at least two to three people a day. 
ADVERTISMENT - CONTINUE READING BELOW ↓
Through our guides, JV Yap and Tony Suvega, we got to know more about the essence of spirituality. This helps us understand tarot in a much deeper sense. With that, we are able to use it as a tool to connect to the spiritual path that is laid before our clients."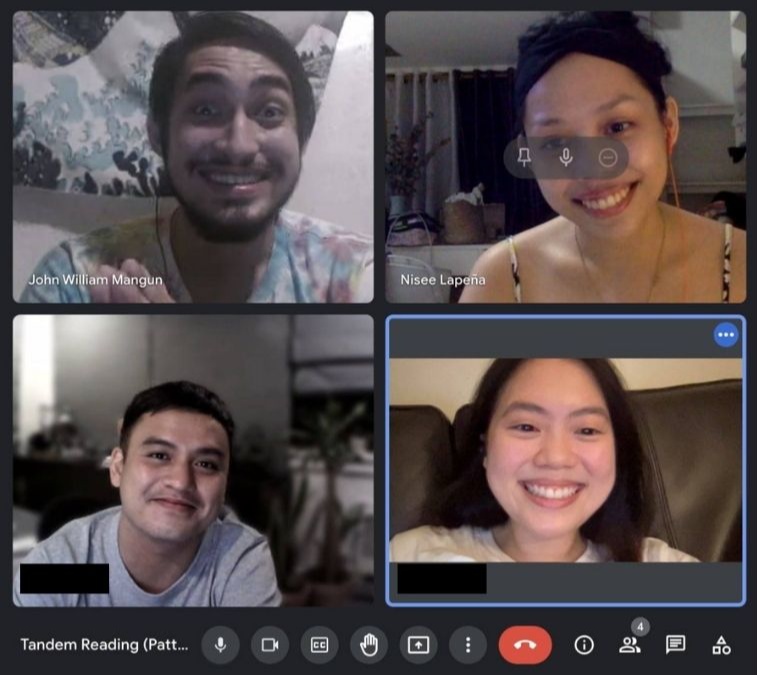 ADVERTISMENT - CONTINUE READING BELOW ↓
What's it like to do tandem readings as a couple?
N: "Amazing! I feel confident and invigorated whenever I do my readings with John, and the synchronicities never fail to blow my mind. We draw in front of the client over video call in our own rooms, and we still manage to get similar cards and messages. In some cases, even the exact same set of cards! Crazy!"
J: "We began tandem readings when I invited Nisee to help me read one of my friends through a Zoom call. Although, there are times that our draws are completely dissimilar, this just allows us to provide more perspective and options for the client. We realized that our connection as a couple strengthens our skill through the mix of our energies. Through this, we're able to immerse ourselves much deeper into the cosmos and its wisdom."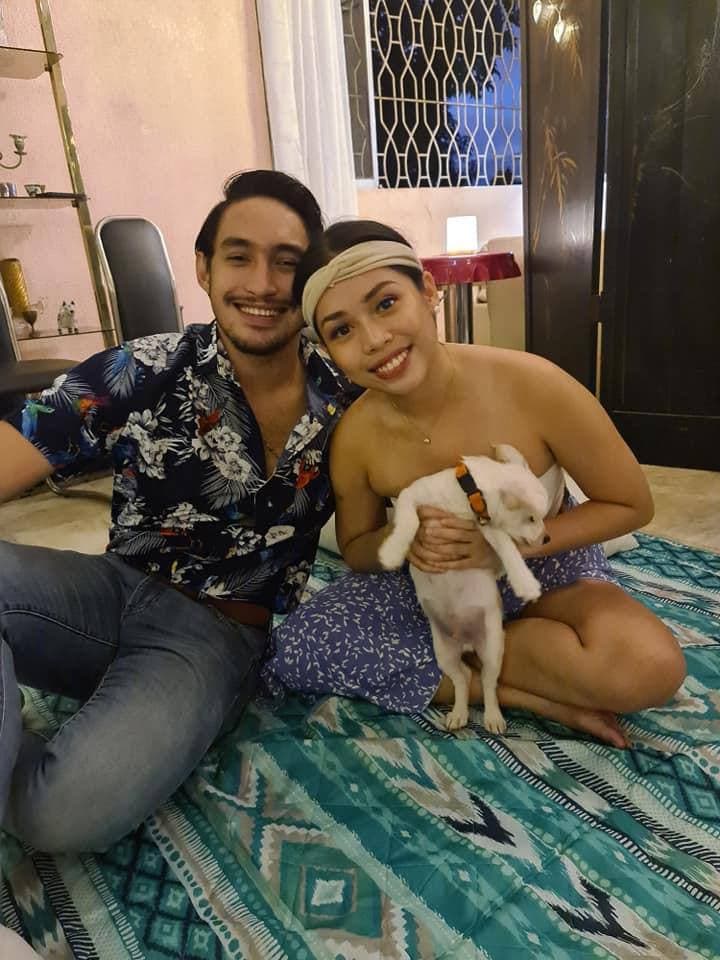 ADVERTISMENT - CONTINUE READING BELOW ↓
What's something you wish more people knew about tarot readers, tandem readings, and astrology in general?
N: "Free will exists, and we are the creators of our own destinies. The cards and astrology are simply guides, so we have the choice to follow the advice or to forge a completely different path. Keep an open mind, and trust that there really is more than what meets the eye."
We are the creators of our own destinies. The cards and astrology are simply guides.
How much do tandem readings cost?
N: "This depends on where you get it, who you get it from, and what kind of consultation you're looking to book. The typical one-on-one sessions I've had with readers range from P500 to P2,000 per hour. I've also encountered readers who ask only for donations as an energy exchange.
Any advice for people who want to pursue a career in this field?
N: "Listen to your gut and don't be afraid! Trust that the journey will be different for everyone. Follow what resonates with you, and things will naturally fall into place. Learn the basics, but more importantly, learn how to give your own interpretations to the cards. Tarot is not a science. Allow the tool to unlock the universe that is in your mind."
ADVERTISMENT - CONTINUE READING BELOW ↓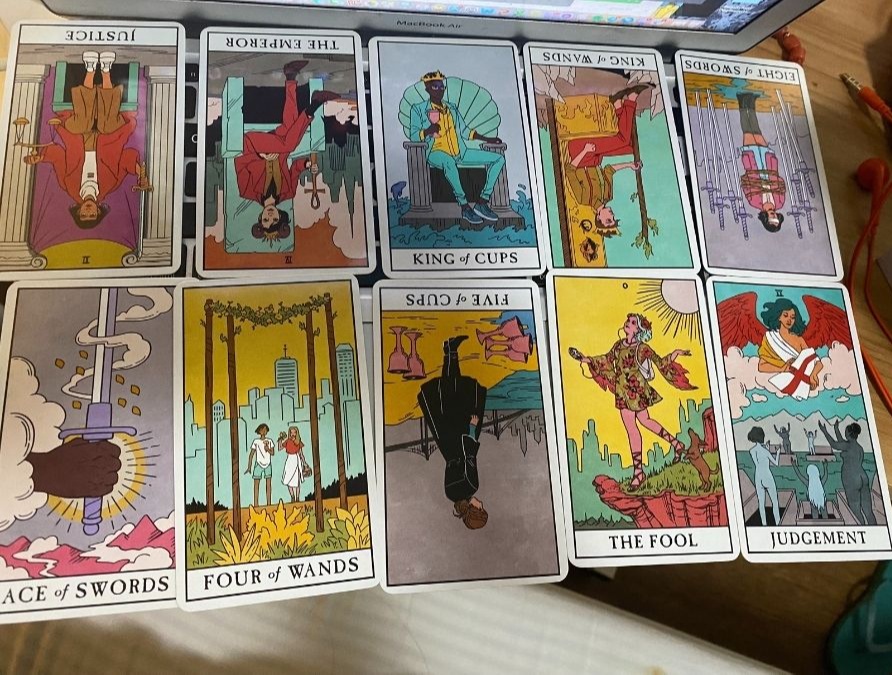 ***
Cosmopolitan Philippines is now on Quento! Click here to download the app and enjoy more articles and videos from Cosmo and your favorite websites!
Follow Lou on Instagram.
READ MORE STORIES ABOUT TAROT HERE:
Wait, What Questions Can You Actually Ask Tarot Cards?
I Felt Lost And Confused; Tarot Cards Helped Me Get In Touch With Myself
ADVERTISMENT - CONTINUE READING BELOW ↓
Where To Get Online Tarot Card Readings If You Want To Know Your 2021 ~Vibe~
EXPLORE COSMO